27 Vegan Mexican Style Recipes for year-round enjoyment. Why not have the most delicious variety of the best Mexican food recipes so that you can enjoy casseroles to cornbread to drinks.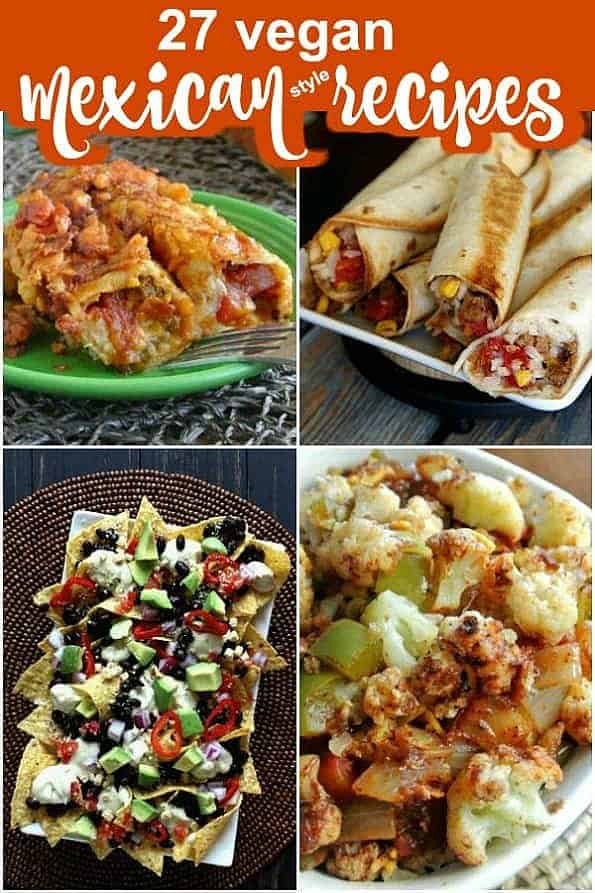 Whether you live in the southwest of the US or not Mexican Style food is a hot commodity.
You can't argue with the hint of spicy mixed in with tortillas or rice or beans. From appetizers to desserts we've got you covered.
Start scrolling through the recipes below and you'll be amazed and enthralled with these 27 Vegan Mexican Style Recipes.
Mexican style appetizers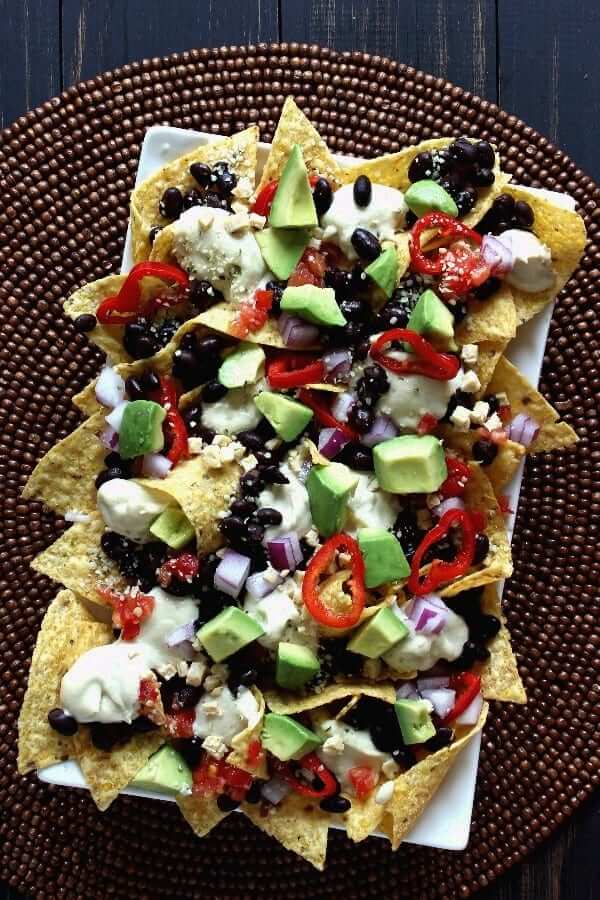 Vegan Nachos is a fabulous array of ingredients that are dotted with creamy vegan nacho cheese. Make your homemade cheese, be a sous chef and sprinkle the fresh veggies in layers for a perfect appetizer, lunch or dinner.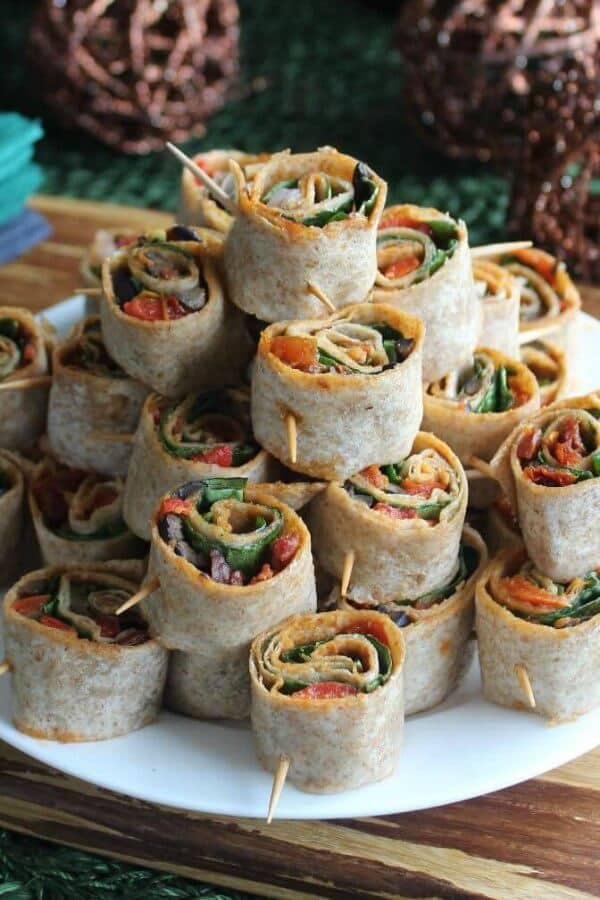 Spicy Tortilla Rollups are layers of flavor starting with a spicy pesto base and ending with fresh baby spinach but it all takes just minutes to prepare. Roll up tight, slice and pop in your mouth.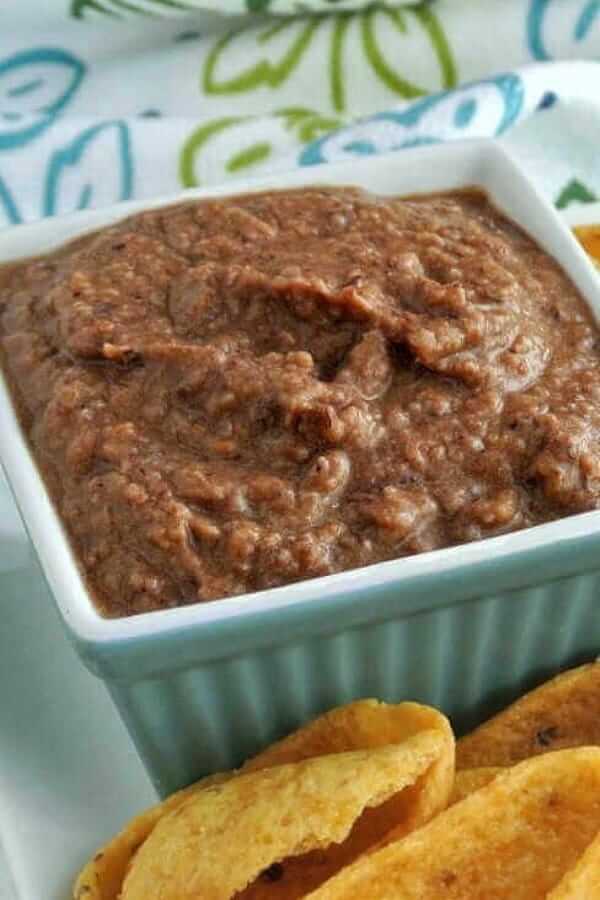 Black Bean Dip is a favorite and when it is made Mexican style with mild green chilies and a secret ingredient it's over-the-top good! Dip in some chips but it's great with veggies too.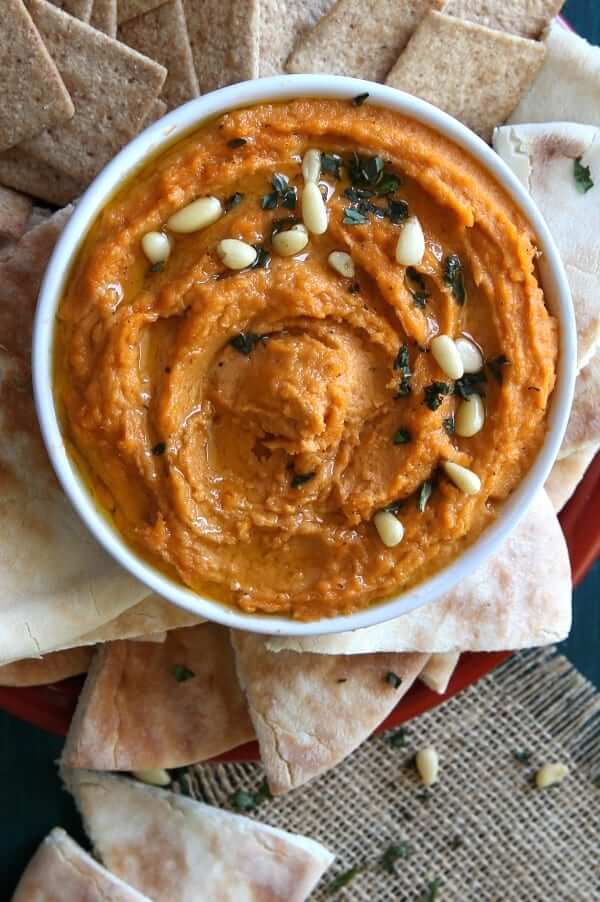 Chipotle Spicy Hummus has just enough pizazz to add a little kick to your dip. Chipotle peppers in adobo sauce are added to make an extremely easy and delicious appetizer dip so serve it up as soon as you can.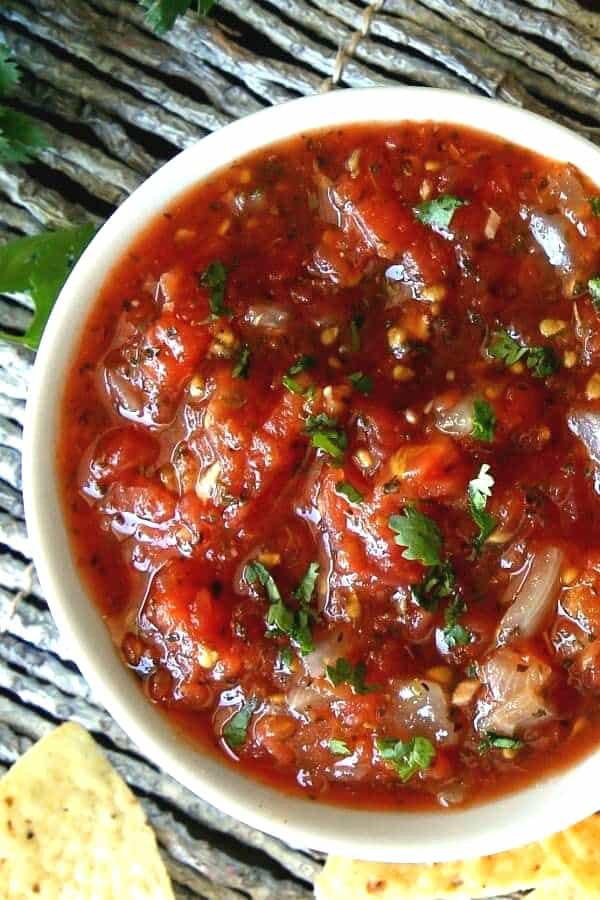 The best Chunky Salsa Recipe is healthy, fresh, easy, and tasty. It even doubles as a condiment. Go ahead and dip it, layer in tacos, roll up in burritos and stir into Spanish rice but don't forget to make it soon.
Filling mains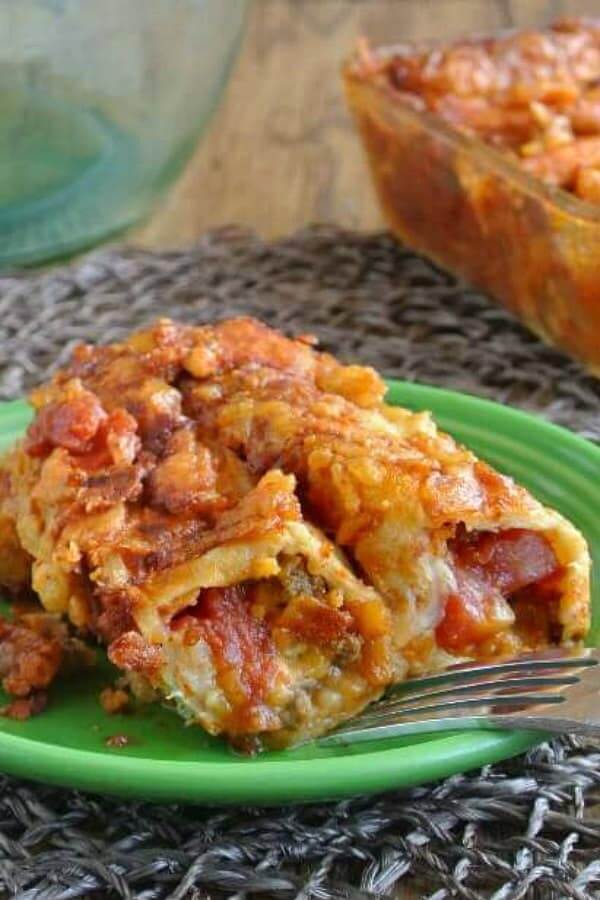 Slow Cooker Enchilada Sauce and Vegetable Enchilada Casserole have rich and deep flavors for the perfect enchilada combination. Make this easy sauce soon so that you can get to enjoying enchiladas.

Vegan Rice and Beef Burrito is a main meal centerpiece. Tomatoes and corn are also on the inside along with spices and other veggies! Good to grab for people on the go too.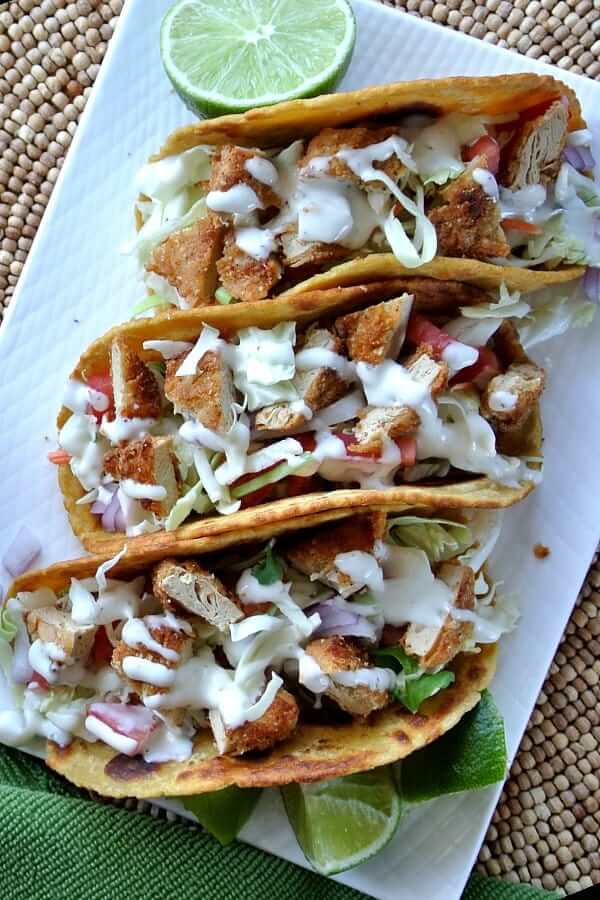 Vegan Chicken Meatless Tacos are crispy tender on the inside and will satisfy everyone's cravings. Only six ingredients and minutes to make these irresistible vegan and vegetarian tacos.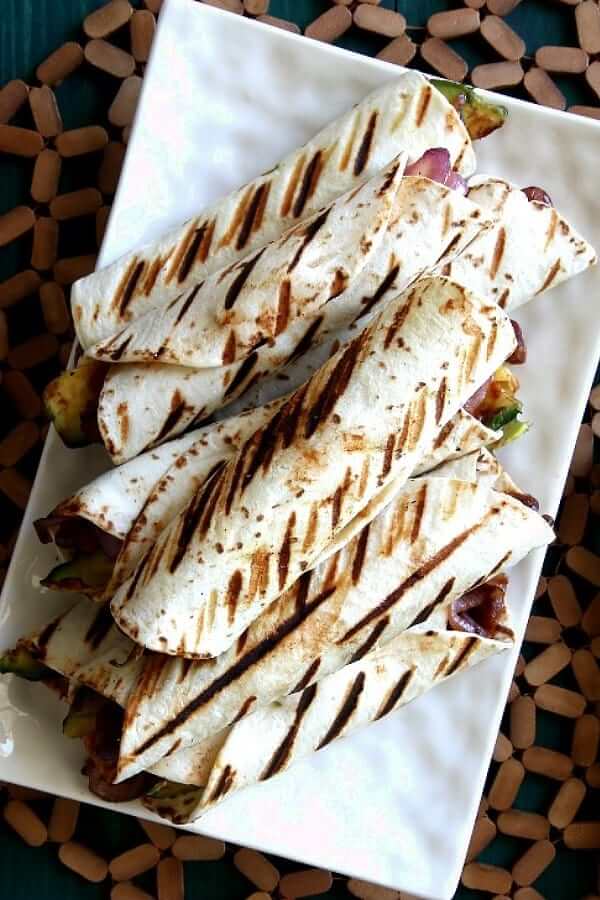 Grilled Tortilla Wraps are a delicious pinto beans recipe that takes advantage of barbecue sauce. There are sautéd vegetables and avocados inside too so make this inexpensive and easy burrito wrap meal for lunch or dinner.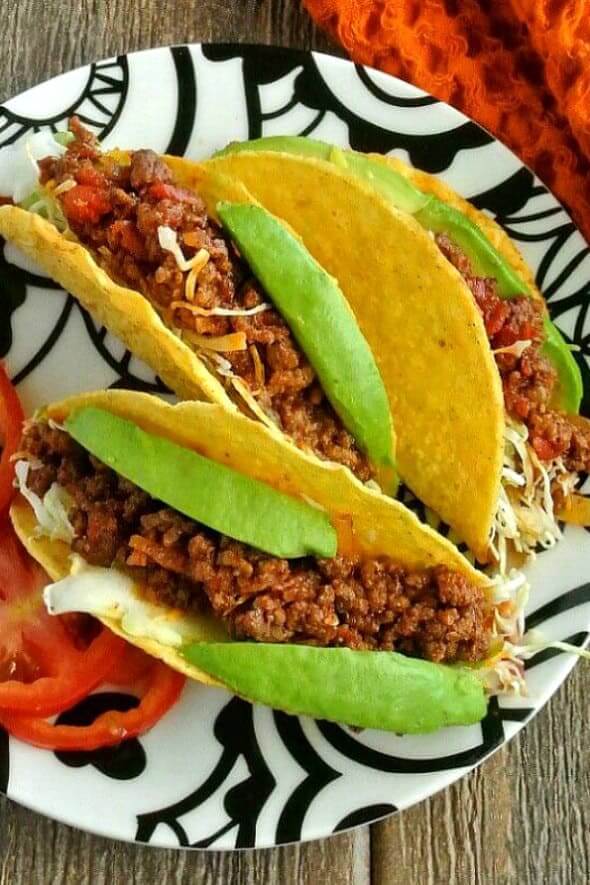 Mexican Sloppy Joe Tacos sound unusual don't they? They are! Easy, unusual and delicious and it will take you under 20 minutes. Just hold it over your plate and take a big bite.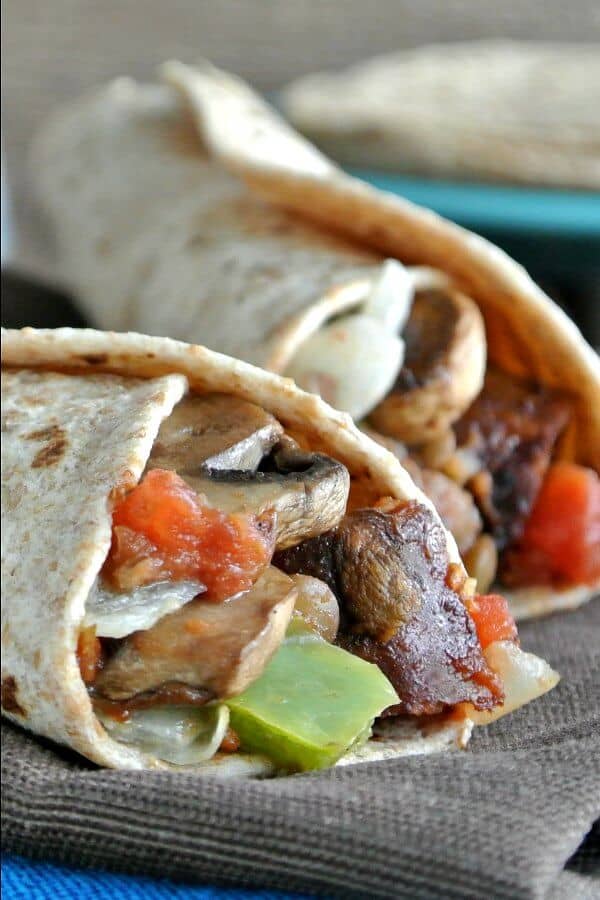 Healthy Breakfast Burrito is a veggie bundle of goodness and a Mexican food recipes star. This burrito is layers of flavor upon flavor and served up for breakfast but you can sure have them for dinner too.

Ranch Cauliflower Tacos are full of a great mix of veggies that have been cooked just right but hardly take any time to prepare. The tangy coolness of homemade ranch dressing will make you want this taco recipe every single Taco Tuesday.

Homemade Vegan Empanadas have an easy delectable dough that is filled with sauteed mushrooms, sofrito, and spices. There are many rave reviews for this recipe and in other words, you'll be in heaven with your first bite.

Vegan Fajitas are filled with plant-based chicken are filled with a variety of grilled vegetables. Live the spicy life with flavors of the southwest! A great simple dinner or celebration meal but don't forget the cerveza.

Mexican Cassoulet Recipe with Plant-Based Sausage is good & spicy. A one-pot meal that comes together in under 30 minutes with protein & veggies included.

Slow Cooker Chipotle Tacos are easy meal and they have an unusual list of ingredients. You would never guess what they are but put them all in a crockpot and when done stuff those taco shells and – Whoa!
Great spicy side dishes

Mexican Cauliflower Casserole is a fantastic side dish. There are many spices and accent vegetables that blend just right but it is still easy to make and healthy too.

Homemade Slow Cooker Refried Beans is an easy side dish. So much tastier and so inexpensive compared to the store-bought beans. Made from scratch!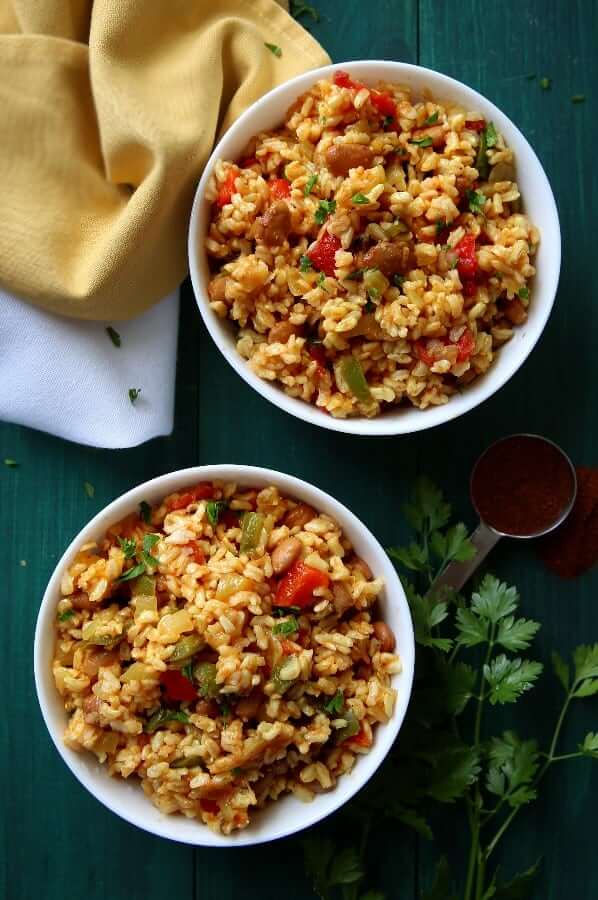 Vegan Spanish Rice and Beans recipe is a colorful and tasty side dish. It's made with healthy brown rice and it also has the perfect combo of vegetables and spices that will elevate any Mexican style meal. Now it's time for Fiesta!
There's another Spanish Rice recipe on the blog and it utilizes canned green chilies. Make that one someday too!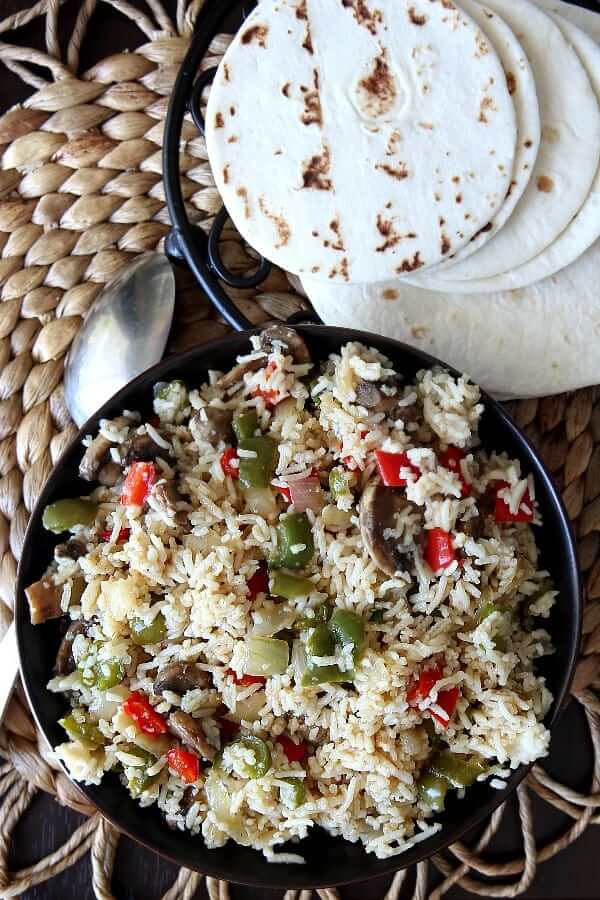 Spicy Mexican Rice is one of those simple and delicious dishes that take no time at all. Whole foods are combined for a satisfying confetti rice side dish and the veggies and spices also makes great Mexican rice for burritos.

Green Chili Cornbread fills the bill for so many Mexican style meals. Cornbread is perfect to help cut the heat so it complements any bean dish, chili or tamale.

Chipotle Scones are a perfect side dish because they not only go with Mexican food but they also go with soups, stews, beans and so much more. In other words, enjoy this bread soon!

Homemade Taco Seasoning Recipe! All you need are 2 tbsps. to match one of those store bought packets. It is a better mix too but so is much more inexpensive.
A simple dessert to enjoy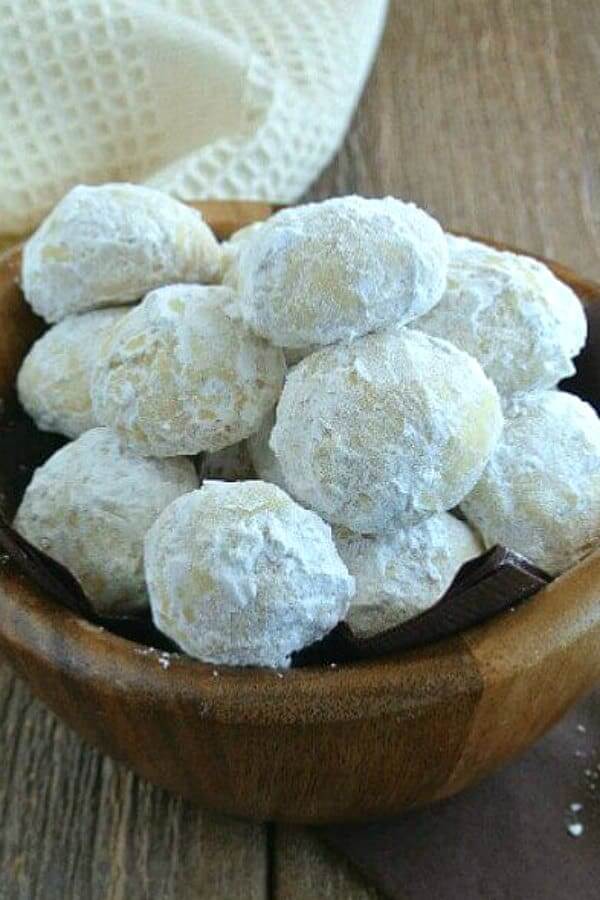 Mexican Wedding Cookies simplicity makes them accessible to everyone because they are easy to make and come right out of their own oven. Fresh, lightly crunchy and ready to pop in your mouth so fill up a bowl.
Refreshing cocktails

Add a little spice to your life with a Michelada. The perfect balance of tomato, lime, hot sauce and an ice-cold beer so it's a tradition that you shouldn't miss.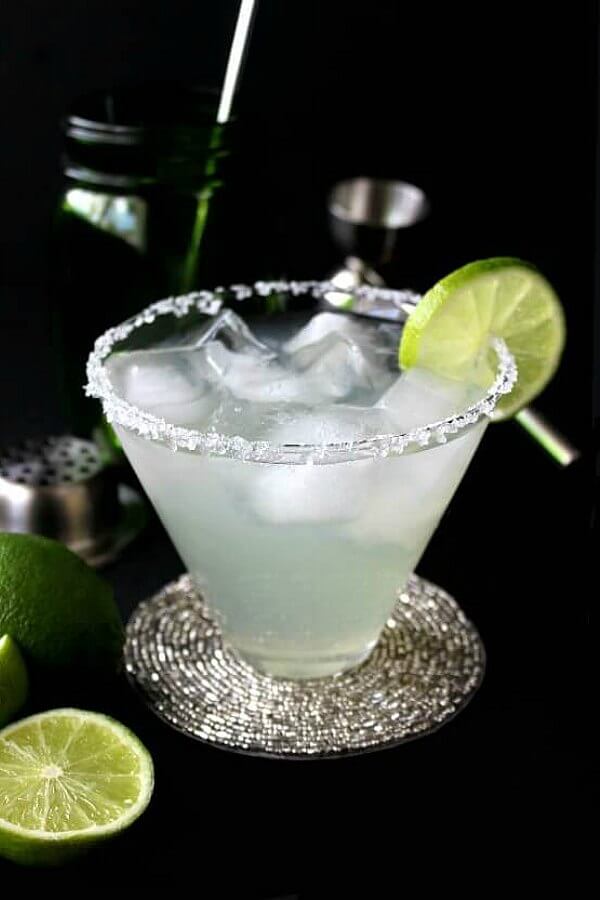 Silver Cadillac Margarita is a special cocktail with a perfect balance of 5 ingredients. Serve on the rocks or sip it with a straw. Either way, it will go great with any Mexican style meal or on any holiday.
Let me give you a nice little cocktail recipe to go along with all of these 27 Vegan Mexican Style Recipes
📋 Recipe
Copper Cadillac Margarita
Copper Cadillac Margarita is a perfect cocktail with 5 special ingredients.
Ingredients
3

ounces

tequila

2

ounces

simple syrup

see notes below

1

ounce

triple sec

1

ounce

lime juice

- freshly squeezed

1

ounce

Cointreau

coarse salt

- optional
Instructions
Slice a couple of small slices through the center of the lime before I squeeze the lime for it's juice. Then I have a pretty garnish. This is optional.

Pour all of the ingredients (not the salt) into a one cup measuring cup. Stir.

Sprinkle salt into a sauce so that it will hit the rim of your glass when you dip it down.

Take a bit of your leftover lime and run it around the rim of your cocktail glass.

Flip glass and go straight down, rim first, and dip it into the sea salt.


Flip it over again and fill the glass with ice so that you don't knock off any of the salt.

Fill up your glass and garnish with the lime.
Notes
To make a simple syrup add ¼ cup coconut sugar and ¼ cup water to a small saucepan.
Bring to a boil and let cool.
This will give you 4 ounces of simple syrup.
Nutrition
Serving:
1
Drink
Calories:
246
kcal
Carbohydrates:
52
g
Sodium:
35
mg
Potassium:
35
mg
Sugar:
51
g
Vitamin C:
8.5
mg
Iron:
2
mg