This Grilled Tortilla Wraps recipe is a delicious pinto beans recipe that takes advantage of barbecue sauce. There are also sautéd vegetables and avocados inside to make an inexpensive and easy burrito wrap meal for lunch or dinner.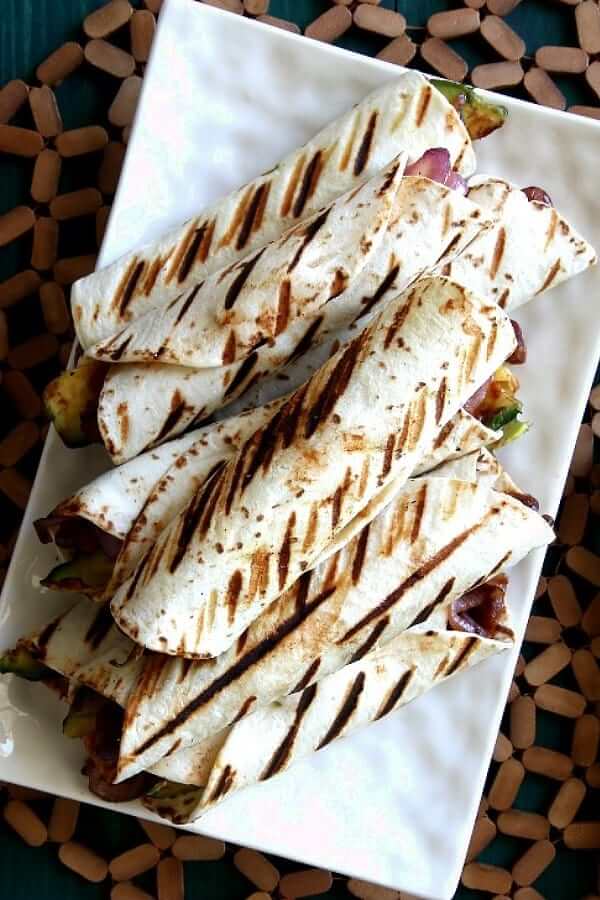 Sometimes we deserve to take it easy. Making a dinner that's quick and delicious is one of those rewards. I'm sure you've been there.
Your day has been extremely hectic, and all you want to do is kick back and relax. Even more now, when the sun is still doing its job, and you can enjoy a meal on the patio.
It is on those days that I pull out the grill pan and plan to have dinner alfresco. Tonight's menu starts with easy vegan wraps.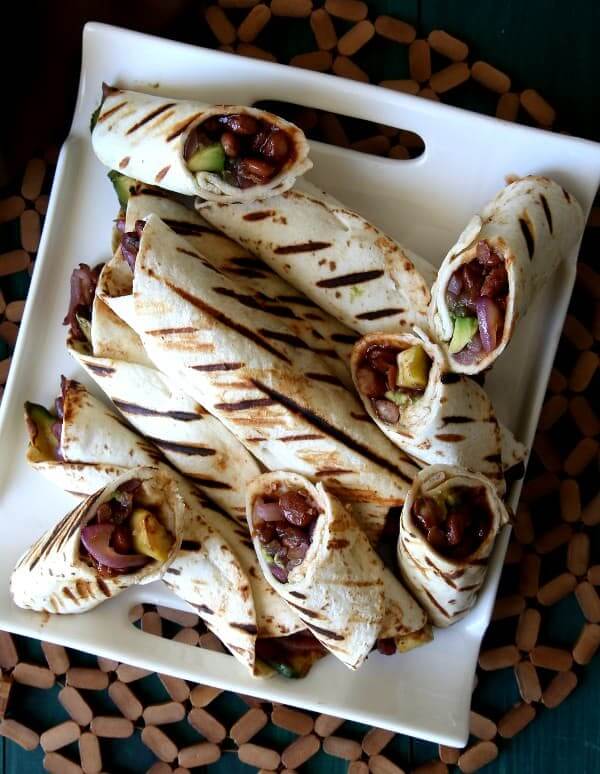 The recipe is pretty straight forward with just 7 ingredients. Basic ingredients that you may already have on hand and it won't be long until you have a filling and satisfying meal.
When I served this the first time everyone gobbled them up with no verbal comments but lots of yums and ohhs.
I particularly love these quick, comforting vegan wraps because they require very little prep work. It is a win-win!
How to Prep for this Tortilla Wraps Recipe
Measure the ingredients first.
Peel and slice the onions and peel and chop the zucchini.
Start to sauté the onion first and add the zucchini after about 5 minutes. Just like in the photo below.
Place the pinto beans and barbecue sauce in the empty fry pan just to heat through. Now start filling the tortillas.
I don't cut the avocado until I want to lay them on the open tortillas.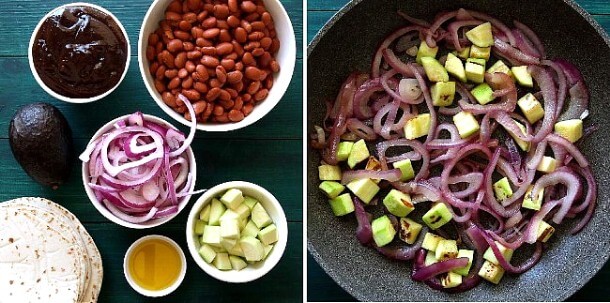 I've made this tortilla wrap recipe with 8" tortillas and 10" tortilla wraps. You can see in the photo below how the ingredients fill out the tortilla.
Below, the top photo is a 10" tortilla. Not so full but full enough and they are much easier to keep together when grilling.
The second photo shows two 8" tortillas. Much fatter but they still wrap around with an overlap. I actually use a toothpick to hold them closed when grilling and then I remove the toothpick. They keep their shape.
10" Tortilla Wrap above and 2 8" tortilla wraps below that picture.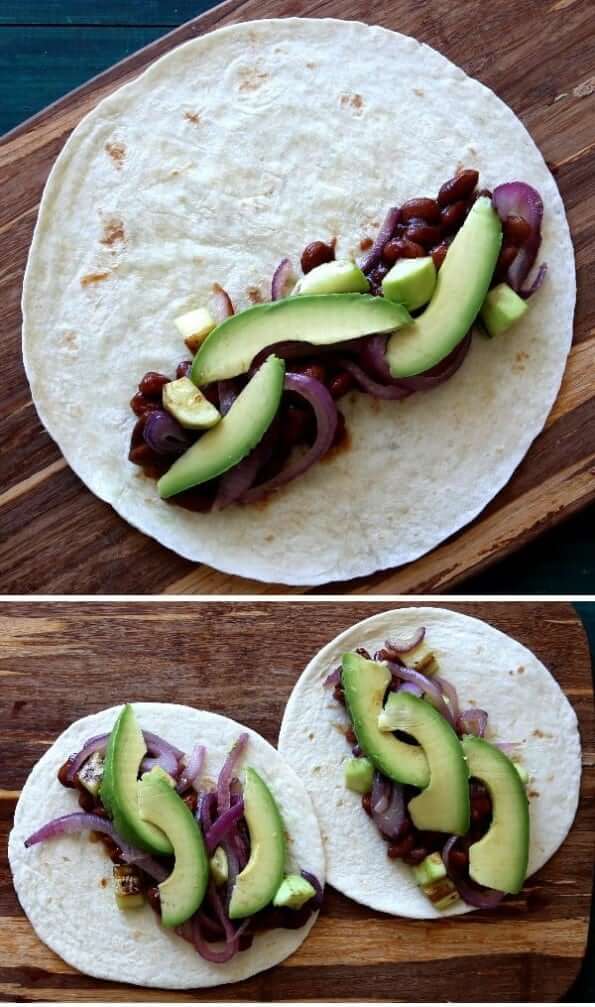 Start to roll up while pulling back to inside filling nice and tight and keep rolling.
If you're using the 8" tortilla have toothpicks right there and sew in and out next to the closing. You can see what I mean in the photo below.
Lightly grease the grill pan. You aren't getting much oil as the tortilla is only toughing the high ridges in the pan.
Cook over medium-high heat and when the grill marks are the darkness that you like, turn the tortillas one quarter. Use tongs. It makes it really easy.
That is it! Place on a platter to serve. They taste delicious at room temperature too.
The whole thing is just an easy and healthy meal. The pinto beans, in particular, make everything extra hearty, flavorful and incredibly filling.
Just in case you have some friends pop over this is also a meal that everyone will enjoy. Other recipes can be added to make an all-around feast.
They look very beautiful when stacked up in a big pile on a large serving plate.
What Can You Serve with Vegan Wraps?
That's an easy one! Vegetables for sure and these Fresh Foil Wrapped Veggies are delicious!
Vegan Spanish Rice and Beans are a must-have!
How about a nice refreshing Michelada?
I hope you'll make this Grilled Tortilla Wraps Recipe because you deserve them!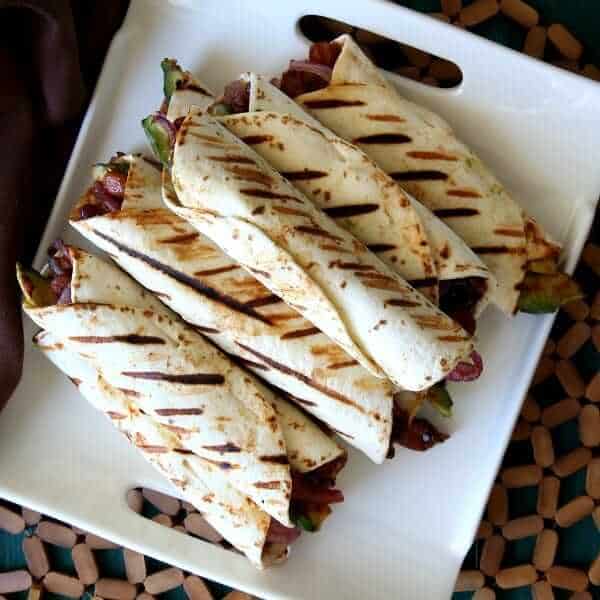 What Do You Think?
If you take a photo of your delicious burritos I would love to see it. Follow me over on Instagram and tag me on your photo @vegan_in_the_freezer.
Your opinion means a lot to me and if you'd like to leave a comment and possibly a star rating I'd love to hear your thoughts.
📋 Recipe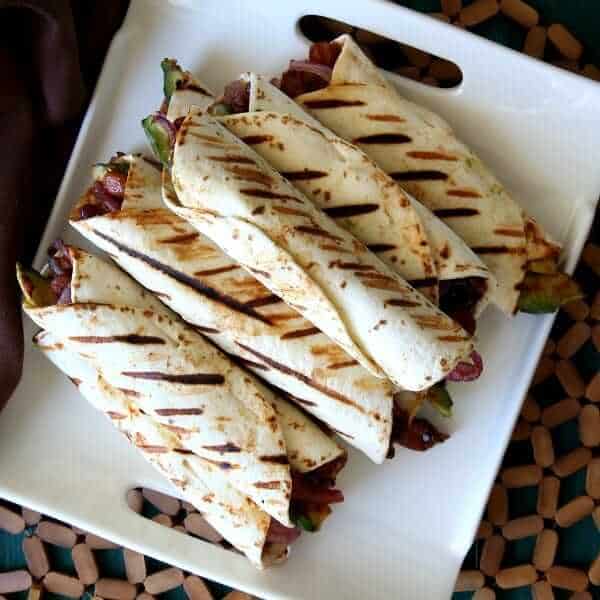 Grilled Barbecue Tortilla Wraps
Grilled Barbecue Tortilla Wraps are lightly grilled and stuffed with pinto beans, barbecue sauce and more.
Ingredients
39

ounces

pinto beans, 2 cans drained and rinsed

1

cup

red onion, sliced

1

zucchini, cubed in larger pieces

½

barbecue sauce

8

tortillas, 8" or 6 10" tortillas

2

tablespoons

extra virgin olive oil, divided
Instructions
Heat 1 tablespoon oil in a skillet to medium heat.

Add red onion and saute about 5 minutes and then add the zucchini pieces. Sauté another 5 minutes. Remove from pan and set aside.

Add the pinto beans to the pan and saute about 3 minutes then pour in the barbecue sauce. Heat through.

Lay the ingredients in one long row closer to one edge than in the middle. See the photo above.

First, lay about 2 ounces of pinto beans mixture then the onions mixture then a couple of thin slices of avocado.

Roll up tight. If you're using the smaller 8" tortilla use a toothpick to hold the wrap closed as shown in the photo above.

Heat your grill and grill lightly on all four sides.

I brush oil on the grill pan and heat to medium-high heat. Grill for about 4 minutes on each of the four sides.
Notes
Lots of protein in each burrito wrap - 9 grams!
Nutrition
Serving:
1
Tortilla
Calories:
247
kcal
Carbohydrates:
39
g
Protein:
9
g
Fat:
6
g
Saturated Fat:
1
g
Sodium:
580
mg
Potassium:
520
mg
Fiber:
8
g
Sugar:
4
g
Vitamin A:
49
IU
Vitamin C:
7
mg
Calcium:
105
mg
Iron:
3
mg