The best Chunky Salsa Recipe is healthy, fresh, easy, and tasty. It even doubles as a condiment. Go ahead and dip it, layer in tacos, roll up in burritos and stir into Spanish rice.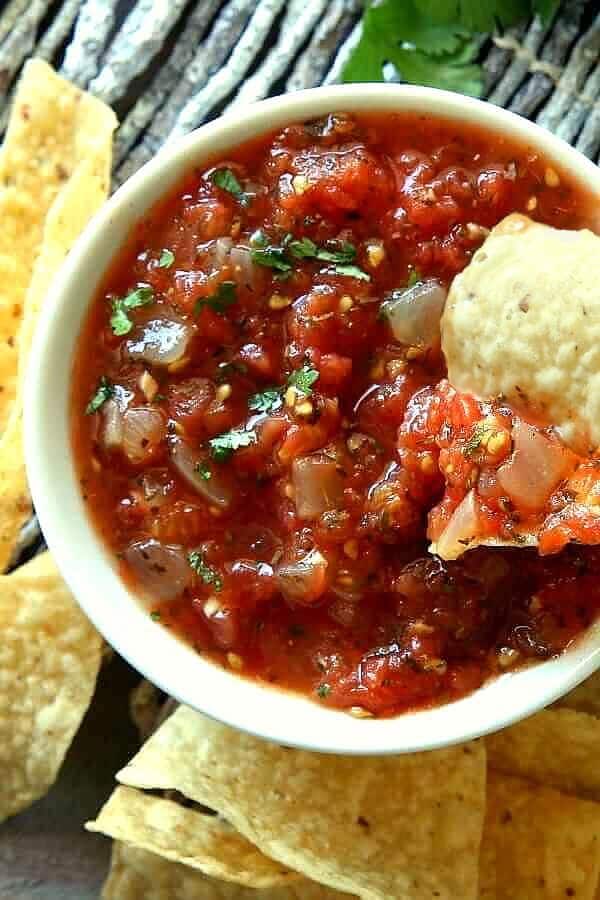 I might be bragging a little but this Chunky Salsa Recipe is the best tomato salsa I have ever had.
It has such flavor that I want to use it in everything and it isn't spicy and that's one reason why it's so versatile.
Don't get me wrong. All you have to do is add diced jalapeno or a chili pepper or even some Tobasco and you will have it as spicy as you like.
A wonderful fact is that all tomato salsas are vegan. There are only takes a few healthy ingredients and some spices to make this appetizer recipe complete.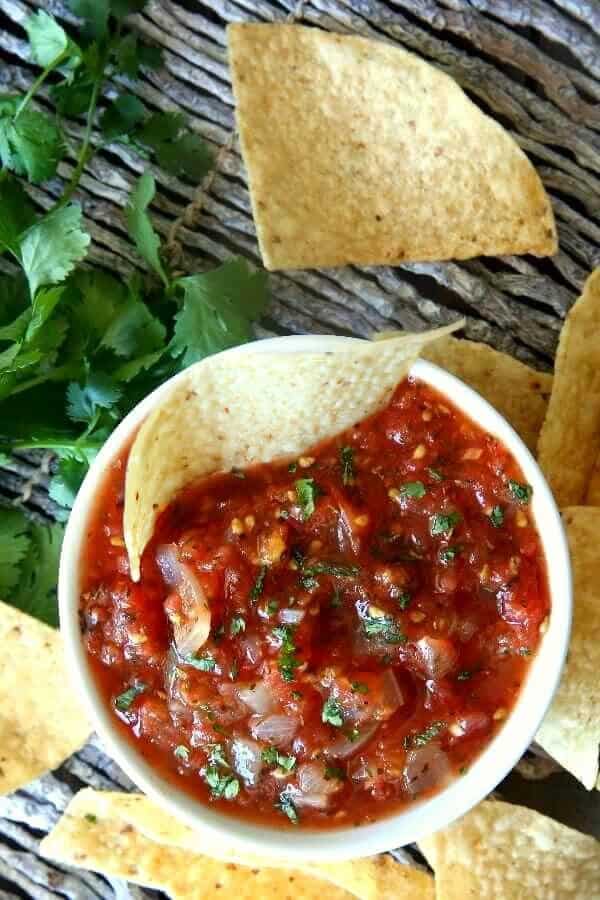 It ticks off all the boxes for a healthy homemade Mexican-style tomato salsa
- It is super easy to make
- The texture is deliciously chunky
- Is super versatile so that you are able to use it in numerous recipes
- It bursts with incredibly fresh flavors that I want to use in pretty much everything
- And it is made with fresh peeled tomatoes— peeling is my tip for this homemade salsa
How to Make Homemade Salsa
The fresh salsa calls for fresh red tomatoes.
Some recipes call for a can of fire roasted tomatoes but this dip is all about fresh.
If you planted tomatoes this year, then you probably already have enjoyed a lot of these fruits directly from your garden in raw salads or sauces.
And then you know that there is nothing better than getting tomatoes straight from the vine, especially when it comes to making an authentic salsa.
But markets and grocery stores are offering this time of the year the sweetest and fleshiest red tomatoes that smell incredible. So now is the perfect time to make good use of this fruit.
But want to know what really gives this sauce it's incredibly intense and hearty flavors? Flash dipping the fruits into boiling water and then peeling them.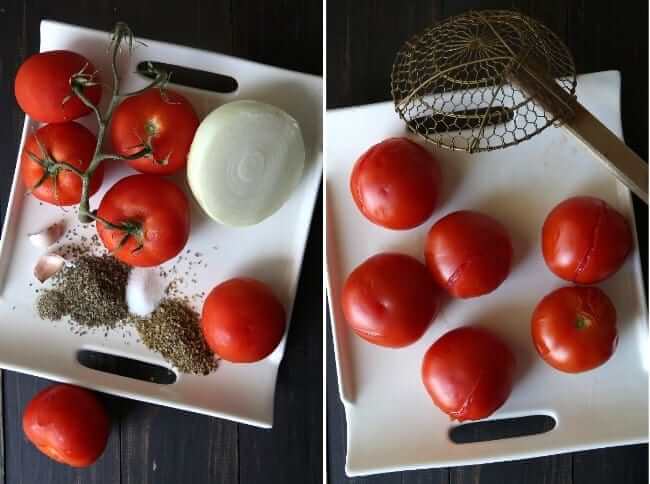 How do you flash dip tomatoes?
Yep, and it just takes a few seconds to do this. When the water is boiling, I carefully drop the fruits one at a time. By the time you get the last one in it is time to take the first one out.
The skin usually splits all by itself but you may have to make a small slit using a paring knife. It will peel from there.
You can see in the photo above on the right the split skins. It's like magic the way the skin pulls away from the inside fruit. There's no cutting at all.
Let them cool for a couple of minutes and then just pull away the skin. I also like to cut out the top of the core.
This is a cooked salsa which really still only takes a few minutes but it adds depth to the sauce. It also makes it easy to can the salsa if that is something you'd like to do.
Place the tomatoes in a food processor and pulse a few times. You want to just do it a little bit because that is what is going to make this recipe chunky.
See the photo below? There are small chunks. On the right is a saucepan with the cooked onions and with the herbs added.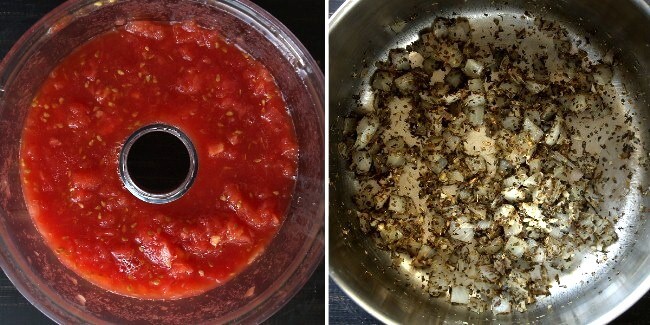 So that's it and only a few Salsa Ingredients
Fresh tomatoes
White onion
Garlic cloves
4 herbs and spices
Chunky Salsa or Spicy Chunky Salsa
What I love most about this salsa is that you get to decide on the intensity of the spices. You have some people that like it extra hot while some prefer it more on the mild side.
You can even divide the salsa into two bowls and make two different spiced flavors.
For mild, serve as-is. The onions and spices are already going to give the salsa a nice kick.
If you like to take it up a notch, then add another ¼ teaspoon of black pepper. You will be amazed at how much spicier it is with only that much.
For those who like it extra hot, go ahead and add a fresh jalapeno or a red hot chili pepper into the food processor.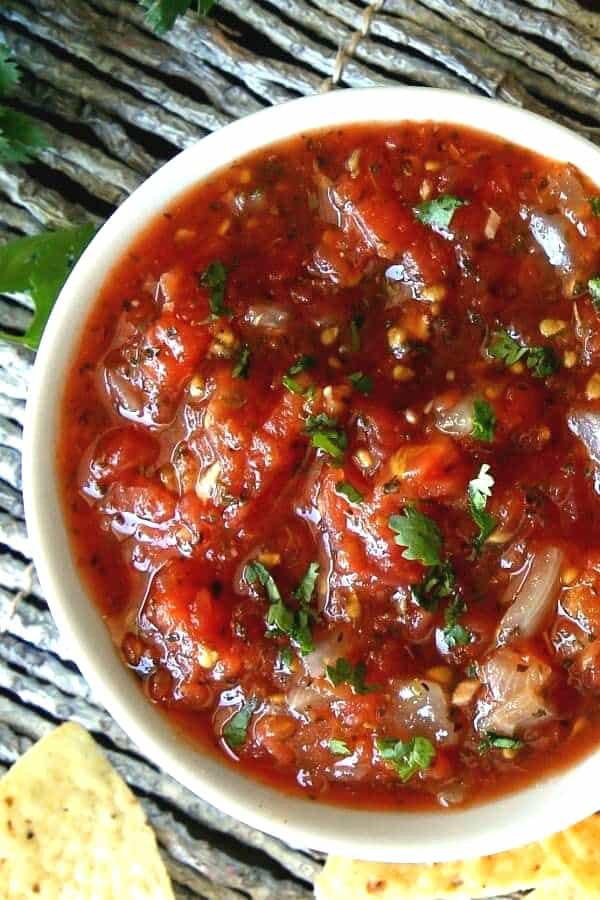 Use this restaurant style salsa just about any way you like. I froze my extra in 4-ounce freezing jars because we have a household of two. One jar is a perfect size for a salsa dip.
Now if you're looking for an uncooked tomato recipe you'll have to try Homemade Tomato Bruschetta. It is traditionally used as an Italian appetizer on little crostini toasts. I also use that one as a dip.
Use this recipe straight up as a dip, to enhance tacos, roll up in burritos and stir into Spanish rice.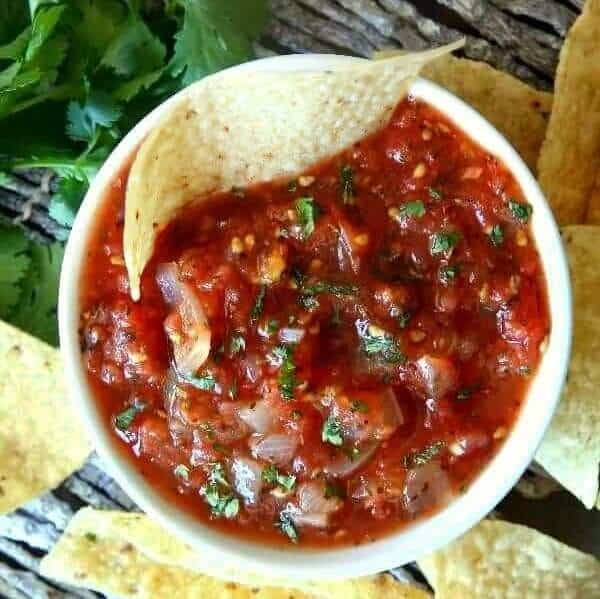 This post contains affiliate links. Read my disclosure policy here.
What Do You Think?
If you take a photo of your fresh and chunky tomato salsa I would love to see it. Follow me over on Instagram and tag me on your photo @vegan_in_the_freezer.
Your opinion means a lot to me and if you'd like to leave a comment and possibly a star rating I'd love to hear your thoughts.
📋 Recipe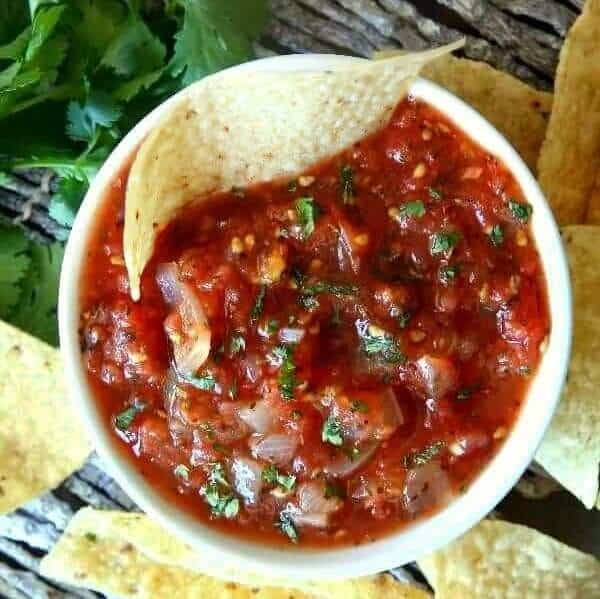 Chunky Salsa Recipe
The best Chunky Salsa Recipe is here! And this recipe is healthy, fresh, easy, and full of flavors.
Ingredients
24

ounces

fresh tomatoes that measure about 1 ½ lbs.

8

ounces

white onion, diced

2

cloves

garlic, minced or chopped very finely

1

tablespoon

dried basil

2

teaspoons

dried oregano

½

teaspoon

sea salt

⅛

teaspoon

black pepper
Instructions
Take the skin off the tomatoes. The way that you do this is by bringing a pot of water to the boiling point. Drop in the tomatoes and let boil just a minute or so. The skin will split as seen in the photo above.

Take the tomatoes out of the water with a large perforated spoon. Let cool. Peel off the skin.

Cut into halves and cut out the core at the one end.

Place in a food processor and process coarsely. I pulse a very few times. Do not puree.

In a large saucepan heat 3 tablespoons water to a mild boil. It happens quickly. Turn down the heat.

Saute the onion about 8 minutes or until translucent.

Add the garlic, basil and oregano. Stir 1 minute.

Add the tomatoes, salt and pepper. Bring to a boil. Lower heat and simmer 5 minutes, uncovered, stirring occasionally.
Notes
You can freeze any extra salsa in 4-ounce or 8-ounce freezing jars you also have the choice to can this salsa.
Nutrition
Serving:
2
Ounces
Calories:
10
kcal
Carbohydrates:
1
g
Sodium:
37
mg
Potassium:
65
mg
Vitamin A:
180
IU
Vitamin C:
3.5
mg
Calcium:
9
mg
Iron:
0.2
mg
This recipe has been updated from when it was originally published in June, 2013. There has been information added for clarity and also new photos have been taken.