This Chipotle Spicy Hummus Recipe has just enough pizazz to add a little kick to your dip. Chipotle peppers in adobo sauce are added to make an extremely easy and delicious appetizer dip.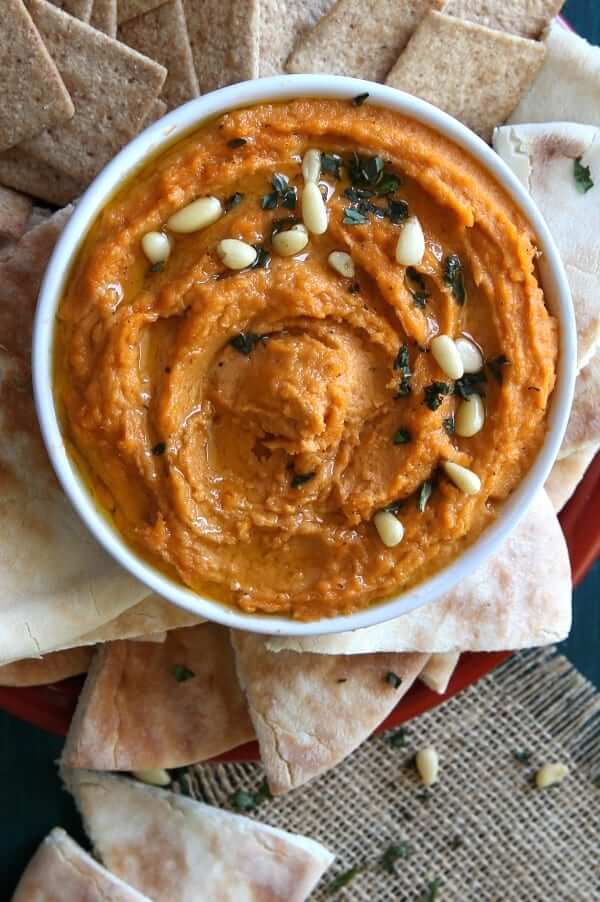 You've heard of breakfast for dinner. Well, I would love to have appetizers for dinner. I could do that every day. In fact, I do that at restaurants a lot.
It's also easier to find vegan options in the appetizer section in some of the chain restaurants. That's just a little helpful tidbit.
But seriously, this spicy hummus recipe surrounded by pita triangle, carrots, and jicama would really make me happy and fill me up too. I think that's a spread to share.
It is Such a Simple Recipe
If you've ever made any kind of hummus you already know what I mean and you probably have all of the ingredients in your cupboard.
You may have to go and pick up a small can of chipotle peppers in adobo sauce but that's probably it.
A food processor is also a must-have in my opinion. That takes everything down to smooth and creamy in minutes. Like, about 3 minutes tops.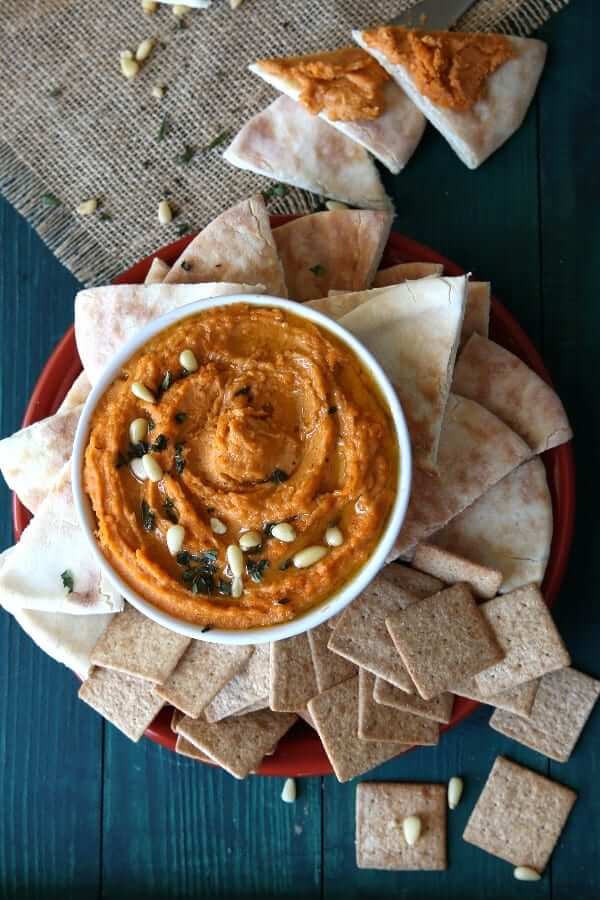 There are only 6 ingredients in this chipotle hummus recipe not counting the salt and pepper. The main ingredient is chickpeas and the major flavor deliverer is chipotle peppers in adobo sauce.
I've made this recipe using just one can of chickpeas (garbanzo beans) but, please, if you are serving a few people double the recipe or even triple it. That's how delicious the hummus is.
And if you'd like it spicier add in another tablespoon or more of the chipotle peppers in adobo sauce.
My cousin used two cans of chickpeas and used the whole small can of chipotle peppers and he said it was pretty hot.
Well, yes, I think it probably was. But I still love people to experiment in the kitchen.
You can see the ingredients for a single recipe below. Remember you can easily double (or more) this recipe.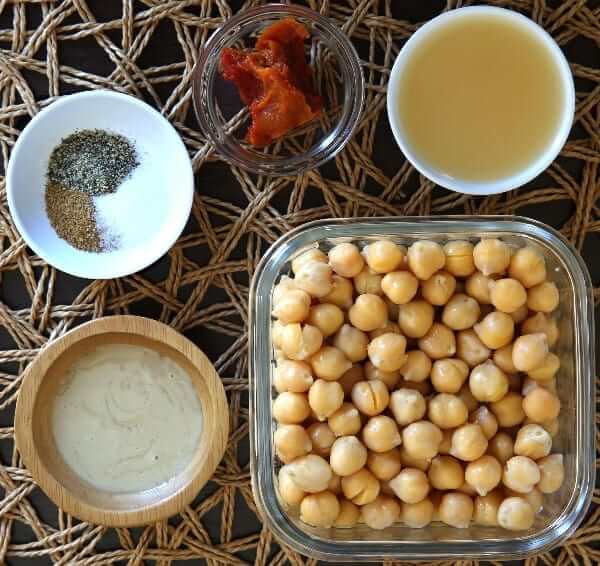 I freeze my chipotle in adobo sauce in ice cube trays after I open the can. That way it doesn't go bad before I can use it again.
That is also the explanation of why the adobo sauce is a bit stiff looking in the photo. It's defrosted but still chilled.
You may also be wondering why my hummus looks so much more orange in the photos above. Well, I did do a double batch for us and I added some extra adobo. We like it pretty darn spicy.
Way down at the bottom of the page are older photos where they are a lighter color with the recipes adobo sauce measurement included.
See all the extra room in the food processor?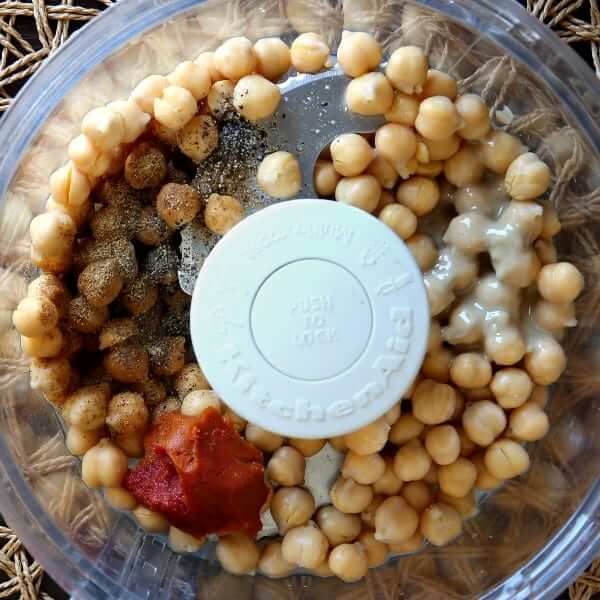 What Can You Dip Into Spicy Chipotle Hummus?
That's an easy one! My photo above has fresh pita triangles and wheat thins but any of your favorite crackers would be perfect.
Fresh vegetables, of course. Sweet red bell peppers and carrots would be great for contrasting flavors.
Vegetables such as broccoli, cauliflower and jicama could make a meal.
And don't forget classic pita chips and I think corn chips would be perfect.
Instead of sharing more hummus recipes with you right here I think I'll mention other recipes that take advantage of chipotle peppers in adobo sauce.
I think there are 5 on the blog but I'll just mention a couple that are very different. You may just love them!
More Chipotle Peppers n Adobo Sauce Recipes
Here I go again. Appetizers for lunch! So let's eat!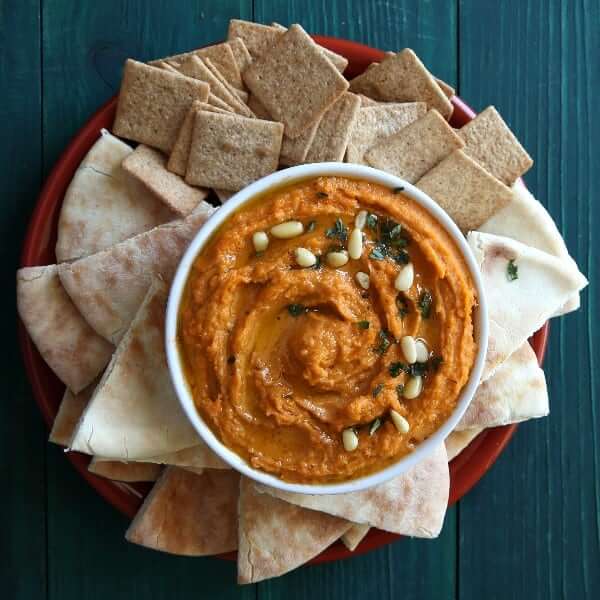 This post contains affiliate links. Read my disclosure policy here.
What Do You Think?
If you take a photo of your spicy hummus recipe I would love to see it. Follow me over on Instagram and tag me on your photo @vegan_in_the_freezer.
Your opinion means a lot to me and if you'd like to leave a comment and possibly a star rating I'd love to hear your thoughts.
📋 Recipe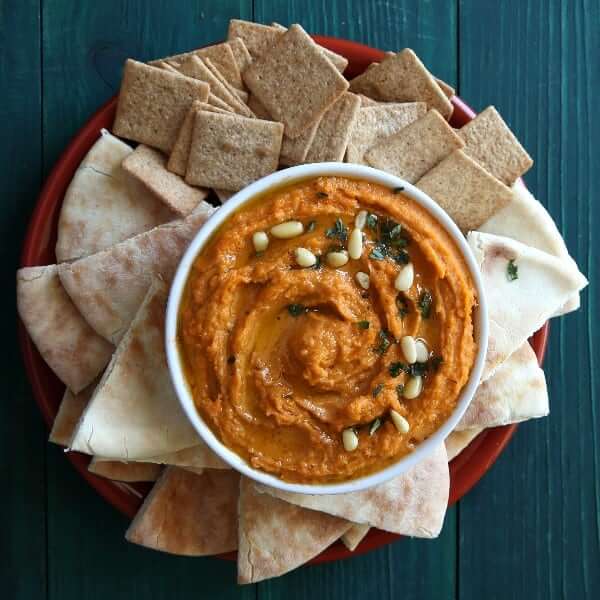 Chipotle Spicy Hummus
Chipotle Hummus has just enough pizazz to add a little kick to your dip.
Ingredients
15

Ounces

chickpeas/garbanzo beans, drained

, can, drained

1

tablespoon

chipotle peppers in adobo sauce

, depending on how hot you like it - I used 2 tablespoons

1

tablespoon

tahini

- or cashew butter or almond butter (I have used all three at one time or another and I don't want you to go out and buy tahini for one tablespoon.

2

tablespoons

lemon juice

3 tablespoons is ok too

1

tablespoon

extra virgin olive oil

½

teaspoon

ground cumin

½

teaspoon

sea salt

¼

teaspoon

ground black pepper
Instructions
You just put everything into a Food Processor and process.

No need to pre-grind anything. It all blends together perfectly.

Turn off the processor and scrape the sides a couple of times during processing.

That is it.

This recipe is simple to double or triple so buy ingredients according to how much dip you will need. This makes about 2 cups
Notes
IF FREEZING:
Package in rigid sided containers.
TO PREPARE AFTER FREEZING:
Remove from the freezer and put in the refrigerator overnight because it is a pretty solid mass and will take longer to defrost. Stir before serving with crackers and/or veggies.
Nutrition
Serving:
2
Ounces
Calories:
57
kcal
Carbohydrates:
7
g
Protein:
2
g
Fat:
2
g
Sodium:
90
mg
Potassium:
81
mg
Fiber:
2
g
Sugar:
1
g
Vitamin A:
25
IU
Vitamin C:
1.2
mg
Calcium:
14
mg
Iron:
0.9
mg