Mexican Wedding Cookies simplicity makes them accessible to everyone - right out of their own oven. Fresh, lightly crunchy and ready to pop in your mouth.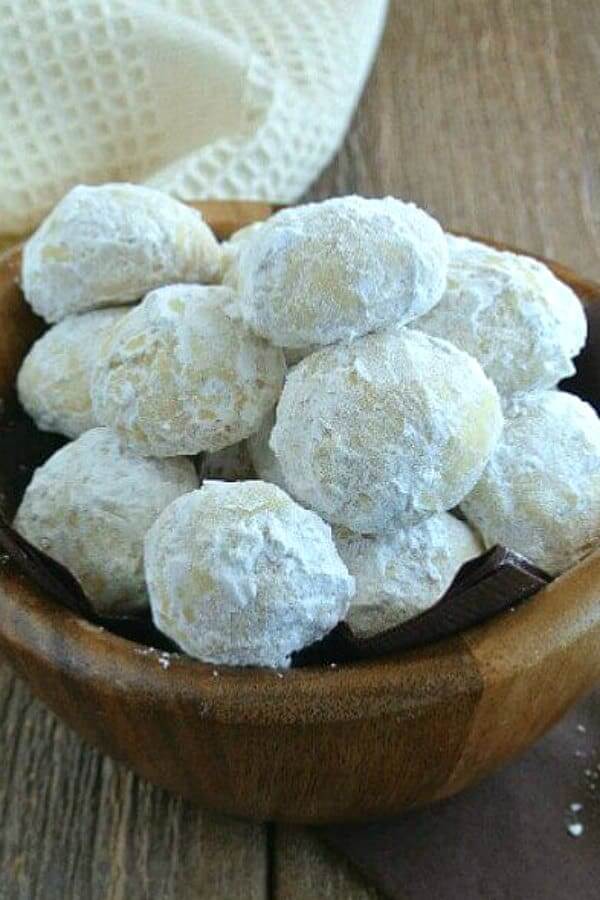 I have loved these type of cookies since I was a little girl. It was later that I learned that they are called Mexican Wedding Cookies.
My mother brought them home from the grocery store and they were in a long pink box.
Mom also started making them for us. It wasn't often but they sure were good.
When I started grocery shopping for myself I again looked for that long narrow pink box. For a while, I was able to find them but now I haven't seen them for years. Luckily I already knew what they were.
In my first days of moving out of the house, the only things I knew how to make were Enchiladas and French Toast. I sure didn't know how to bake special cookies like these.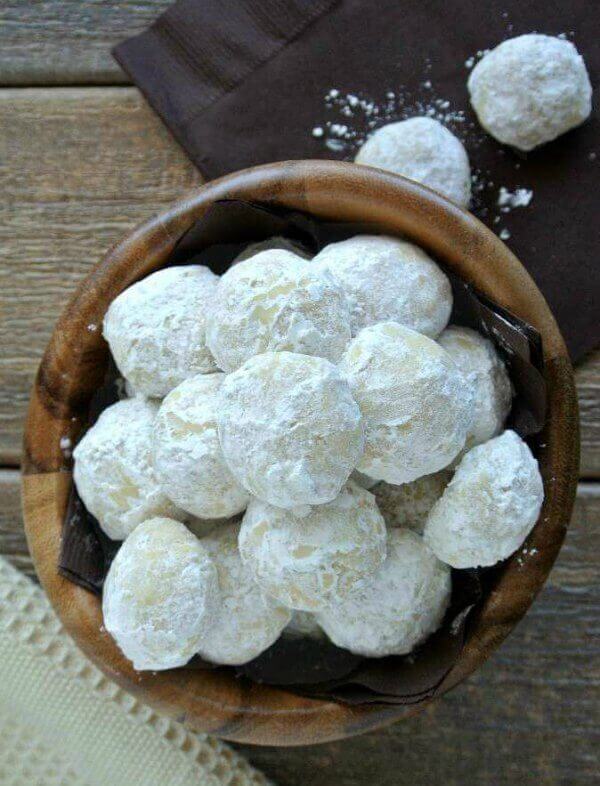 Jump to:
Thank goodness mom had her recipe. I can't find that pink box anymore and I wish I could. If only, for nostalgic reasons. Oh yeah, Van de Kamps chocolate chip cookies were the best too but that's another story.
Now you can enjoy these world-famous cookies as a vegan. Just use dairy free butter and organic powdered sugar.
Now many years after that - I have learned that there are versions of the same cookies from Russia, India, Germany, Denmark, Croatia and I am sure many many more countries. You see? It is a really good cookie!
I hope you get to try this recipe because it really is rewarding and is delicious enough to be named after a very special day.


🍪 Cookie history
Mexican wedding cookies are also called biscochitos. The texture on the inside is just like shortbread.
Cookies like these also come from many nationalities from all over the world.
Some of the names are Russian Tea Cakes, Danish Cookies, Polvorones, Italian Butter Nut, Viennese Sugar Balls, and so many many more.
They do need to bake a little longer than most cookies but are really simple to make.
Some versions are made with other nuts but almond is classic and definitely the ones used in Mexico.
As you can guess, Spaniards brought the traditional cookie recipe from Europe.
Don't forget to add these to your Christmas cookie list too.
🥘 Ingredients
Dairy-free butter - makes the taste of the cookie so buttery good.
Organic powdered sugar - goes on the inside and outside of the cookie. Wow!
Vanilla extract - is a little bit of extra flavoring.
Almond extract - more flavoring for the almond background.
Whole wheat pastry flour - adds some nutrients. You can use whole wheat flour.
Almonds - are gound and add so much to the cookies.
Salt - is that little bit of contrasting seasoning that you really can't taste but it's there.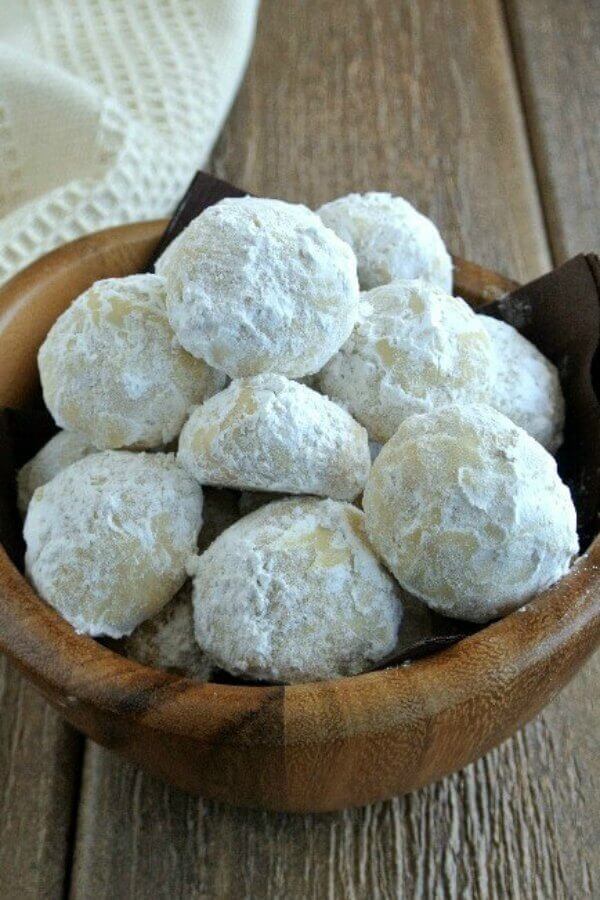 💭 Can they be frozen
Yes, they can.
If serving later you may need to re-roll in powdered sugar right before serving. But maybe not. It depends on the heat in your house.
You will definitely need to re-roll after freezing.
Nothing wrong with that. Ha!
📋 Recipe
📋 Recipe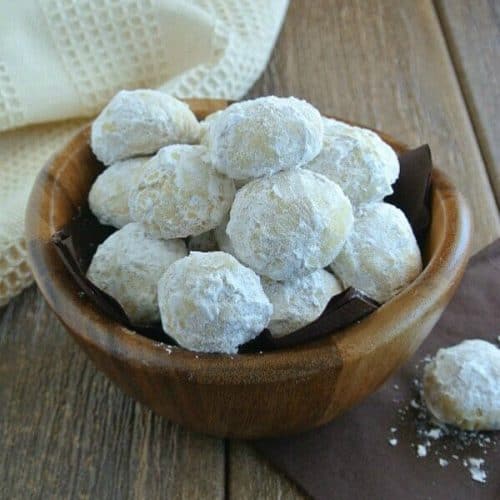 Mexican Wedding Cookies
Mexican Wedding Cookies simplicity makes them accessible to everyone - right out of their own oven.
Ingredients
1

cup

dairy-free butter, softened

½

cup

organic powdered sugar, for inside the cookies

1 ¼

teaspoon

vanilla extract

1 ¼

teaspoon

almond extract

1 ¾

cup

whole wheat pastry flour

1

cup

ground almonds, raw

¼

teaspoon

salt

⅔

cup

organic powdered sugar, for coating at the end
Instructions
Cream the vegan butter and the ½ cup of organic powdered sugar with a hand mixer.

It takes a little while to get it light and fluffy and I do this at medium speed. Stir in both of the extracts.

Mix in the flour and ground almonds, salt and stir until smooth.

Chill for one hour.

Form into 1"balls - I use a small cookie scoop. Place on a baking sheet.

Bake at 300° for 35 minutes.

Transfer to a rack to cool for about 10 minutes.

Roll cookies in powdered sugar. Let cool completely.

Serve or refrigerate or freeze.
Nutrition
Serving:
2
Cookies
Calories:
77
kcal
Carbohydrates:
7
g
Protein:
1
g
Fat:
4
g
Saturated Fat:
1
g
Sodium:
48
mg
Potassium:
19
mg
Sugar:
3
g
Vitamin A:
205
IU
Calcium:
7
mg
Iron:
0.3
mg