Vegan Spanish Rice and Beans recipe is a colorful and tasty side dish. It's made with healthy brown rice and it also has the perfect combo of vegetables and spices that will elevate any Mexican style meal. Now it's time for Fiesta!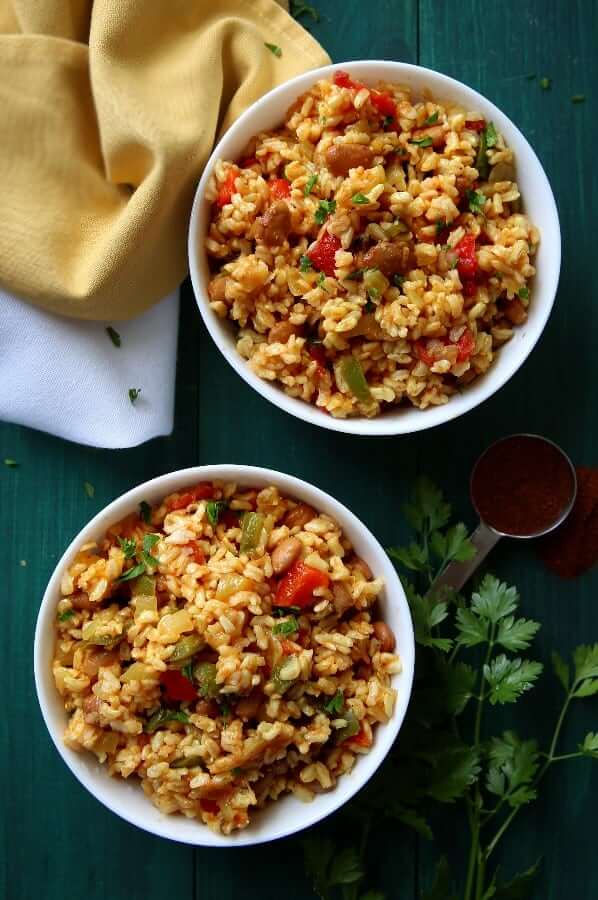 Who doesn't love a good Mexican-style side dish with big flavors? Today this healthier version of Spanish rice is packed with so many delicious and nutritious ingredients and every one of them has flavor to beat the band.
This incredibly delicious side is going to satisfy your tastebuds and it also comes together very quickly.
This recipe is always a big hit with friends and family and it's extremely versatile. You can pair it with many different dining options for a wonderful complete meal.

What Goes With Spanish Rice and Beans?
You can serve it with a specialty burrito. Something like this Healthy Breakfast Burrito and really make a meal out of it.
Taquitos

Vegan Fajitas

aka Meatless Chicken Fajitas
And always a perfect match with tacos, any one of your favorite and especially alongside these

Ranch Cauliflower Tacos

Mexican Spanish Rice also looks so festive at the dinner table.
Vegan Spanish rice is surprisingly easy to make, and it starts off with the traditional method of sauteing all the veggies and spices in one skillet until everything is golden brown.
Let me intersperse some photos of vegetable preparation. Like this one of the easy and neat way to cut up a bell pepper.
A nice way to dice bell peppers, in any color, is to start by cutting into fourths. Cut out the core and slice from the inside out. It's much easier. Then cut crosswise.

This beautiful side dish freezes beautifully too.
There are a lot of Spanish rice recipes out there, but this healthier version is one of my favorites. A nice little addition is that you can make it as spicy as you want. Simply add hot sauce or salsa during the final heating.
Some tips to make this side healthy, super easy to make and full of flavor!
Brown rice: I make this dish with fluffy and tender brown rice. And I highly recommend it!
It has a nice chewy bite to it.
This tasty grain contains a higher amount of fiber and keeps you full longer! In general, brown rice has a lot more to offer nutrient-wise.
Onion and bell peppers: I first saute these vegetables for about 10 to 15 minutes before adding the rest of the ingredients. You want these vegetables to be soft so that they can release their natural sweetness.
Check out how to dice an onion. Cut in half keeping the core intact. Slice downwards, again without cutting through to the other end. Now slice a couple of times through the center and then dice.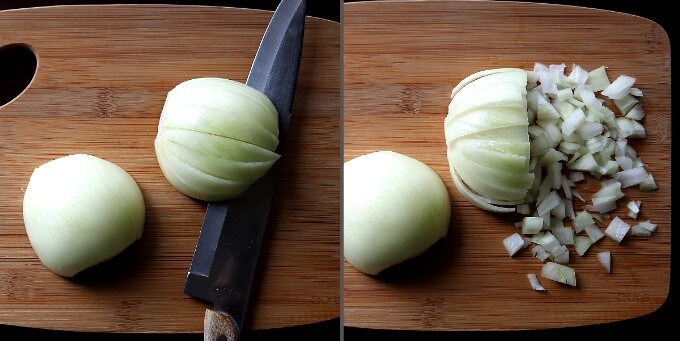 Pinto beans: Yep, I am also adding hearty and filling pinto beans. It is such a nutrient-dense food and pairing protein-rich beans with grains makes it a complete protein source!
Besides all that good stuff, they are my choice of legumes here because they have that beautiful creamy, earthy flavor.
I am also keeping it simple here by using canned beans. I always have a stockpile of canned beans in my pantry for a quick addition.
Below is a photo of everything added to the one skillet except for the cooked brown rice.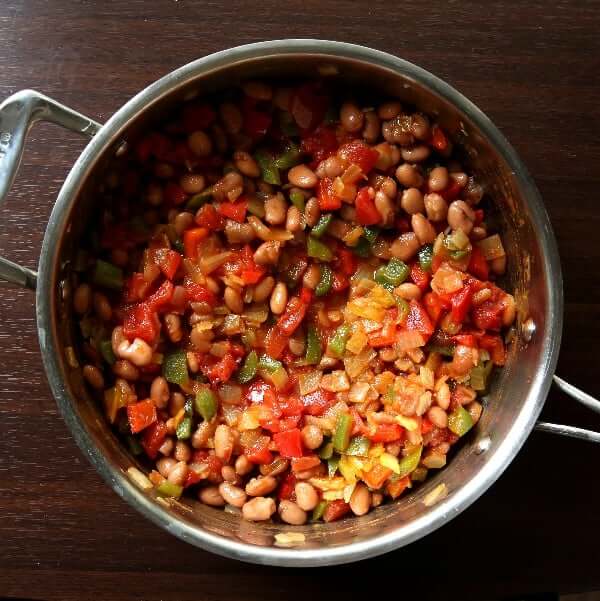 Tomatoes: traditionally Spanish rice calls for fresh tomatoes and you certainly can substitute them here—especially if you grow your own in your backyard this summer.
However, I have found that using canned diced tomatoes (especially a good quality brand you like, and organic) works perfectly in this recipe.
It makes this whole side dish easy to make. It is not only a lot easier to add canned diced tomatoes, but I also think that they add to the intensity of the flavors.
Turmeric, Chili Powder, Salt and Black Pepper give the rice that nice color and spiciness. Make sure you serve it with hot sauces of your choice so others can add more of a kick if they so choose.
Here is your complete Vegan Spanish Rice dish all in one skillet.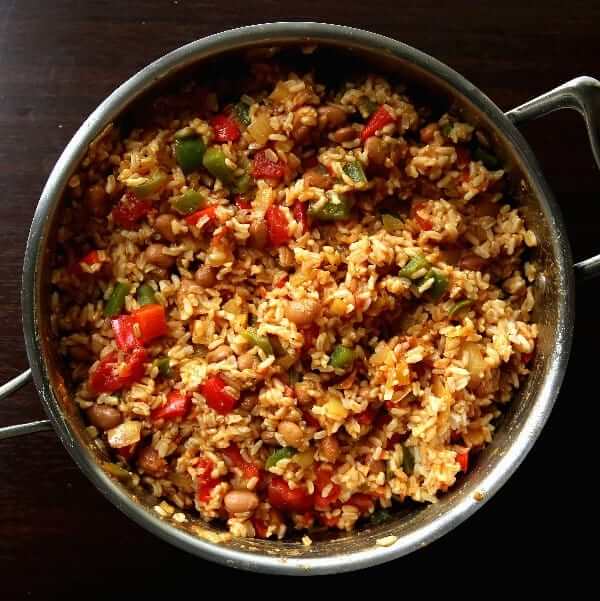 I think you all are going to love Mexican Spanish Rice and Beans.
It can easily be served as a main meal too.
The only thing to think of now is … Fiesta!
📋 Recipe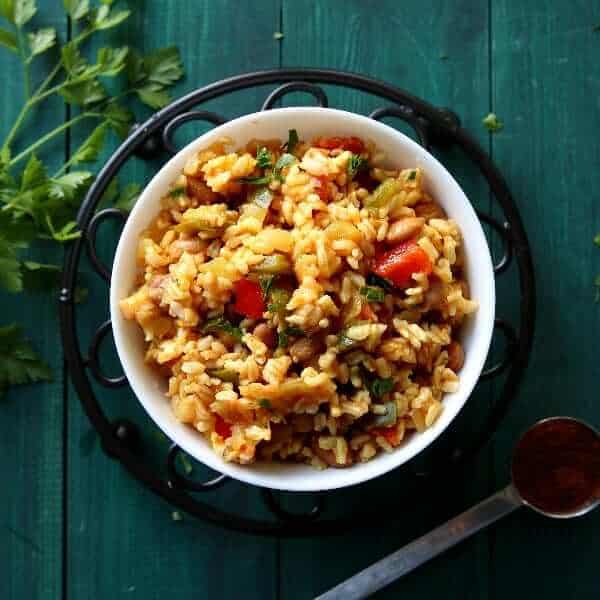 Vegan Spanish Rice and Beans
No wonder Spanish Rice is served with so many Mexican style meals. It is the perfect side dish along with being colorful and tasty.
Ingredients
2

cups

brown rice

1

tablespoon

extra virgin olive oil oil

1

yellow onion

- diced

1

red bell pepper

- diced

1

green bell pepper

- diced

2

cloves

garlic, minced or finely chopped

15

ounces

diced tomatoes, 1 can

1

tablespoon

chili powder

- plus 1 teaspoon

1

teaspoon

turmeric

1 ½

teaspoon

salt

½

teaspoon

pepper

15

ounces

pinto beans

- drained
Instructions
To a large saucepan add 2 cups brown rice and 4 cups water.

Turn on high and bring to a boil. Turn down to low and cover with a lid.

Simmer for 45 minutes until water is absorbed. Remove from heat and set aside.

While the rice is cooking heat oil in a large skillet. Saute the onion and bell peppers until the onion is translucent, about 10 to 15 minutes

Add garlic and cook 1 more minute.

To the skillet add the diced tomatoes, chili powder, turmeric, salt and pepper.

Add the beans and cooked rice to heat through. Serve hot.
Notes
IF FREEZING:
Let cool to room temperature.
Package in rigid sided freezer container.
TO PREPARE AFTER FREEZING:
Remove from the freezer and put in the refrigerator for 6 to 8 hours.
The night of serving -
Put all in a large saucepan and heat through. They also can be heated in the microwave if you prefer.
Nutrition
Serving:
1
Serving
Calories:
276
kcal
Carbohydrates:
56
g
Protein:
9
g
Fat:
4
g
Sodium:
630
mg
Potassium:
562
mg
Fiber:
8
g
Sugar:
3
g
Vitamin A:
880
IU
Vitamin C:
37.5
mg
Calcium:
66
mg
Iron:
2.9
mg