Vegan Broccoli Rice Casserole is a favorite for rice loving children and for us big kids too. Easy to make and a classic recipe all year round.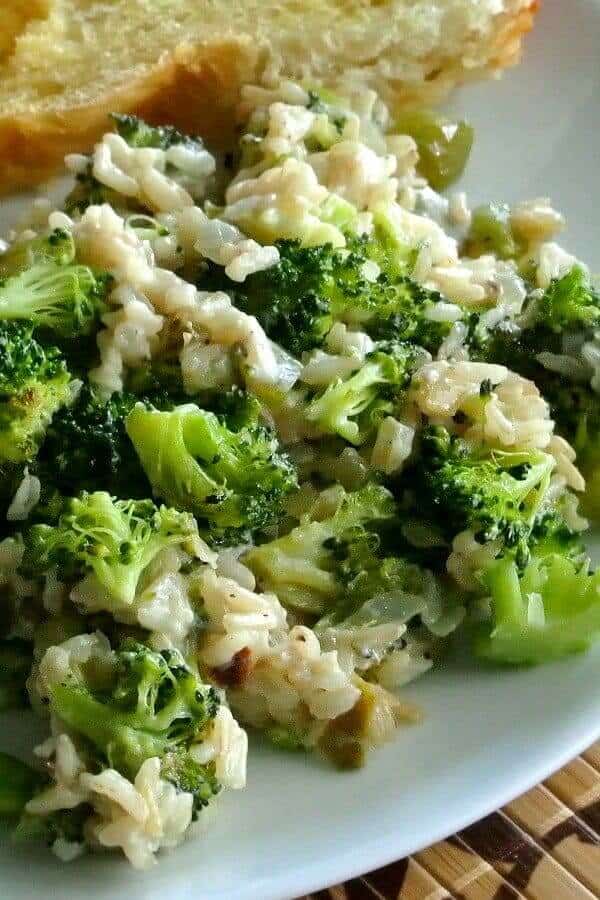 Have you ever noticed how much children like rice? Of course, it usually has soy sauce on it but this Broccoli Brown Rice Casserole is another favorite for little ones.
It's such a relief when kids look really happy when they get to the dinner table. Or even before that when they say "What's for dinner?"
The cheese is a mild one. I used a vegan Jack cheese that melts and melds right along with the sweet green bell peppers.
Brown rice also makes the dinner seem more hearty. It has a unique flavor that kind of stands out as a star.
How Does Brown Rice Become White?
Rice is a grain and both brown and white rice come from the same grain.
When only the outer layer of the husk is removed you have brown rice.
To make white rice the husk is removed and also the bran layer and germ layer. There you have it - white rice.
Brown Rice sure goes great with broccoli. Simple and flavorful. As you can see in the photo I served it alongside edamame and crunchy garlic bread.
Man, that makes my stomach growl.
Not only is this a wonderful meal throughout the week but it is a classic that is served at all the holidays from Easter on through Christmas.
It's quick and all of the ingredients are easy to find so a last minute plan is definitely doable.
Vegan Broccoli Rice Casserole as Comfort Food
This is an old-timey basic comfort food recipe. There are only 8 ingredients and that's counting the salt and pepper. It's like one of those recipes you would have found in a Betty Crocker cookbook in the 60's.
Simple casserole cooking is something you need to have in your recipe box. Family-pleasing and different enough that you aren't feeling like your cooking the same old, same old.
You know when you can't think of what to cook for dinner? Well, this is a great recipe to build your dinner around.
Maybe a soup entree such as Slow Cooker Tomato Soup and crusty bread. You can always add a salad if you want even more greens. As I mentioned before I served this with a side of steamed edamame.
This vegan broccoli rice casserole actually can serve 6 as a side but we often have it as the main dish and our servings become much larger. Then I would say it serves 4.
Truly, you can have this for lunch too. It is so satisfying and really sticks to your ribs.
Just make enough for dinner and you can heat the leftovers in seconds in the microwave.
Heat about 30 seconds, stir and then heat another 30 seconds and there you go. Simple and uncomplicated.
📋 Recipe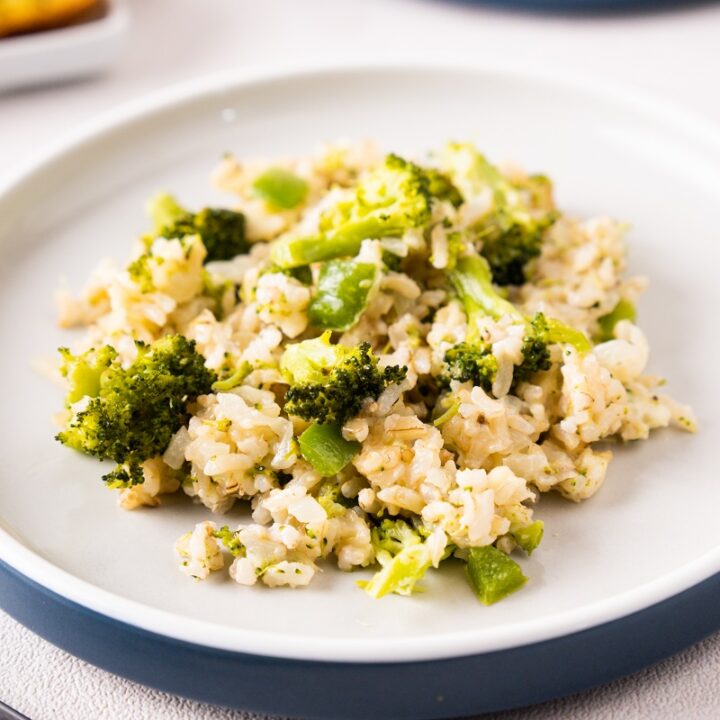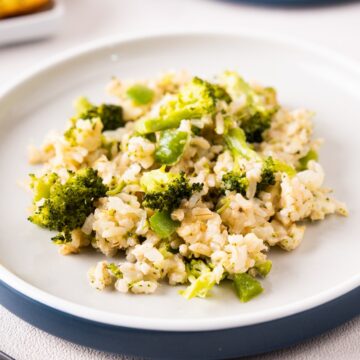 Vegan Broccoli Rice Casserole
Vegan Broccoli Rice Casserole is a favorite for rice loving children and for us big kids too.
Ingredients
4

cups

broccoli - cut into florets

1

tablespoon

extra virgin olive oil

½

cup

yellow onion, diced

1

cup

green bell pepper, diced

, chopped

3

cups

brown rice, cooked

8

ounces

dairy-free jack cheese, cut into cubes

1

teaspoon

sea salt

¼

teaspoon

pepper
Instructions
Lightly oil a 9" x 9" baking dish.

Steam the broccoli florets for 10 minutes only and set aside.

Heat the oil in a skillet and add the onion and bell pepper.

Cook for about 10 to 15 minutes or until the onion is translucent. Turn off the heat in the skillet.

Stir in the cooked rice, broccoli, cheese, salt, and pepper. Turn all into the prepared casserole.

Bake at 350 degrees for 20 minutes.
Nutrition
Serving:
1
Serving
Calories:
421
kcal
Carbohydrates:
57
g
Protein:
8
g
Fat:
17
g
Saturated Fat:
4
g
Sodium:
1187
mg
Potassium:
444
mg
Fiber:
7
g
Sugar:
3
g
Vitamin A:
705
IU
Vitamin C:
112.6
mg
Calcium:
106
mg
Iron:
2.1
mg
IF FREEZING:
Freeze before baking only.
Please follow any of the directions defined in my article Preparing Food for the Freezer
TO PREPARE AFTER FREEZING:
Take out of the freezer and put in the refrigerator at least 6 to 8 hours before baking (or the day before). Bake, covered at 350° for 20 minutes and then uncover and bake for 10 minutes.