Healthy Breakfast Burrito is a veggie-packed bundle of goodness. This burrito is layers of flavor upon flavor and served up for breakfast.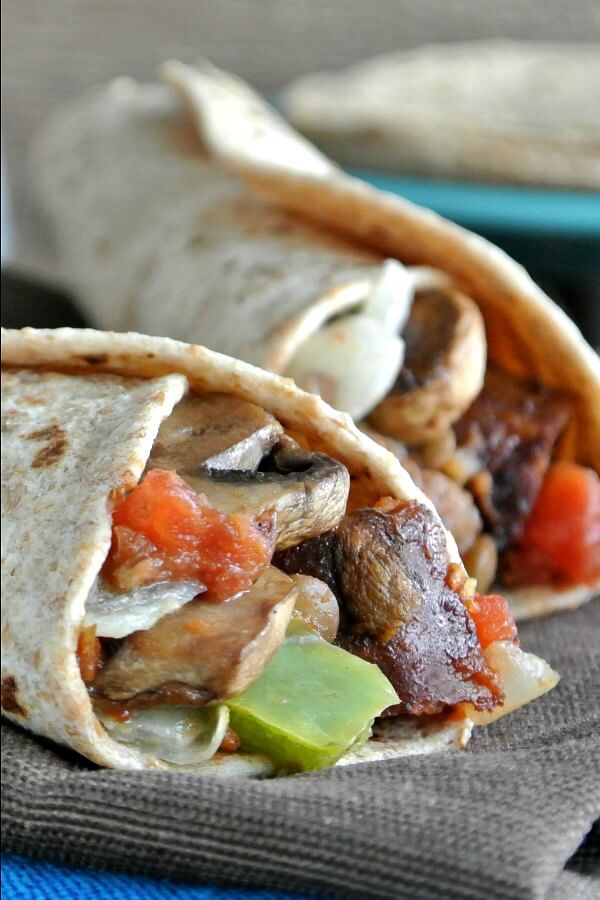 One of the healthiest ways to start your day is with the Best Healthy Breakfast Burrito in Town! It's a veggie-packed bundle of goodness and you've come to the right place to find out how to do it.
I want to tell you that I have the burrito whipped and conquered.
There are lots of combinations out there but this one is totally plant-based. Three different veggies are sautéd and then lentils and vegan sausage are added.
Scroll down to the photo of the plate full of the prepared ingredients. Can you imagine a big bite of all of that? Wrapped up in a tortilla for easy handing too.
Don't forget to come back!
The plant-based sausage links are also fried and then cut into chunks before assembly. You can use your own seitan recipe but make this quick and easy go ahead and buy pre-made breakfast sausages.
The ones from Field Roast are delicious. This isn't a sponsored post it's just that this handy product is really good.
Another nice feature for these burritos is that they're perfect for grabbing as you run out the door. You can zap them in the microwave for a few seconds and they'll be perfect for your ride to work.
This healthy breakfast burrito recipe can also be made ahead of time. Way ahead of time. Like if you're having company over for the weekend they will keep in the refrigerator safely for three days.
In the morning lay them out on a baking sheet and bake in a preheated 350 oven for 20 minutes. Serve as is or serve with salsa on the side.
Healthy Breakfast Burrito and Friends
I have a couple of other burrito recipes on the blog that they are in this same vein. at now or make ahead.
The reason I love this is that they're just so easy to throw together.
Slow Cooker Black Bean Burritos are good for breakfast lunch or dinner. It's great for putting the ingredients in a crockpot and letting them cook while you're doing other important things.
You can have Vegan Rice and Beef Burritos recipe for lunch or dinner. Here's a photograph of those burritos.
Tips for making Healthy Breakfast Burritos
Pare and slice and dice and chop all the vegetables before starting to cook
Fry the sausage links to get a nice char before cutting into chunks.
Lay all of your tortillas out on a flat surface side-by-side, assembly style, so that she can evenly disperse all of the filling into each tortilla.
Roll up for dinner and/or wrap some for the future.
Flavor upon flavor and served up for breakfast.
Short and sweet and to the point this breakfast burrito is a favorite because of it's ease in preparation. Besides tasting delicious they also keep you feeling full right on up to your next meal time.
Satisfaction guaranteed.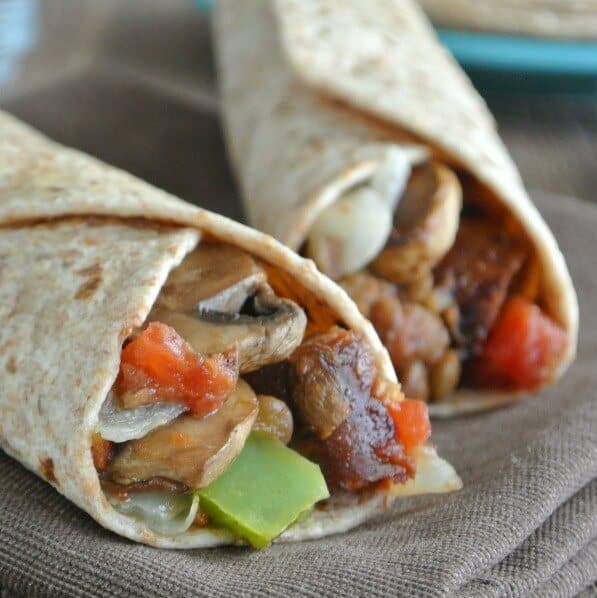 TO FREEZE:
You can freeze these burritos with no problem whatsoever.
Wrap each burrito individually so that it's possible to just take one at a time.
After all the tortillas are wrapped place them into one large freezer bag for handy storage.
Remove as many burritos as you want the night before and place in the refrigerator to defrost overnight.
Place on a baking sheet and heat for 20 minutes at 350° for a nice warm breakfast.
The burritos will keep in the freezer for up to six months.
📋 Recipe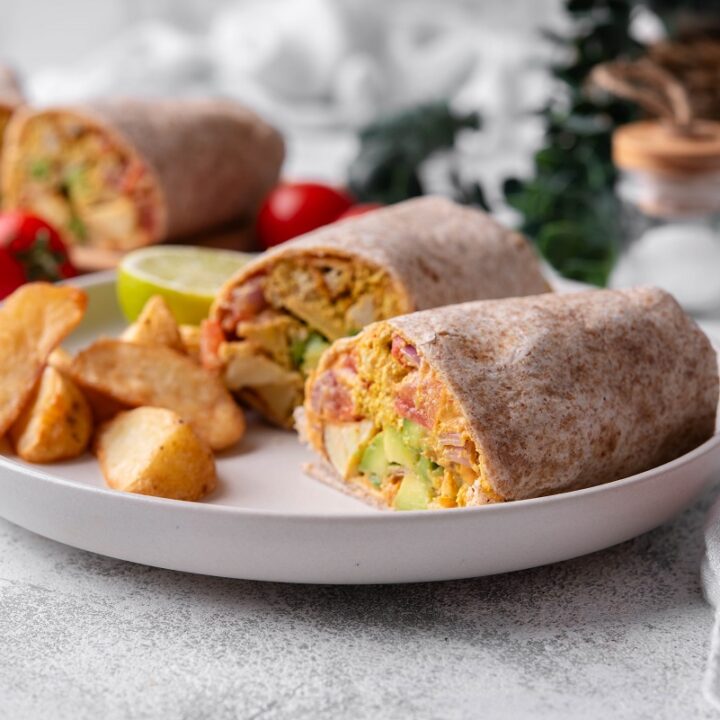 Vegan breakfast burritos
Ingredients
For the burritos:
2

whole wheat tortillas

¼

cup

Vegan queso

1

cup

roasted potato wedges

½

cup

pico de gallo

1

avocado

peeled, chopped

2

tsp

lime juice

Salt and pepper

to taste
For the scrambled tofu:
12

oz.

Firm tofu

drained

½

tbsp

olive oil

1

tbsp

tahini

1 ½

tbsp

nutritional yeast

⅓

cup

non-dairy milk

½

tsp

paprika powder

¼

tsp

onion powder

¼

tsp

turmeric powder

¼

tsp

red pepper flakes
Instructions
Make the scrambled tofu; whisk tahini, non-dairy milk, nutritional yeast, paprika powder, turmeric powder, onion powder, and red pepper flakes in a bowl. Set aside.

Heat olive oil in a skillet over medium-high heat.

Add tofu and cook stirring for 5-6 minutes. Add the spice mixture and scramble the tofu for around 1 minute.

Peel, pit, and chop avocado. Season the avocado with salt, pepper, and lime juice.

To assemble; spread 2 tbsp of Vegan queso over tortillas.

Add pico de gallo, potatoes, avocado, and scrambled tofu.
Notes
to make the roasted potatoes; preheat oven to 425F. Peel 2-3 large potatoes and cut them into wedges. Toss the potatoes with 1 tbsp olive oil, salt, and pepper, to taste and 1 tsp of paprika powder. Roast the potatoes for 20 minutes.
Pico de gallo; you can use homemade pico de gallo or try our tomato bruschetta instead
For the pico de gallo you will need:
-3 plum tomatoes
-¼ red onion, finely chopped
-1 jalapeno, chopped, optional
-1 tbsp lime juice
-Salt and pepper, to taste
-1 pinch cumin
-1 small clove garlic, minced
Toss all of the ingredients together and use as desired.
You can serve burritos just like this, but you can also heat some oil in a skillet, and give them a quick sear – just to add some crispiness to the tortilla.