This Skillet Potato Recipe with Lentils and Carrots makes a great vegan hash whether it's for breakfast or dinner. It's all from scratch with the textures varied and flavorful.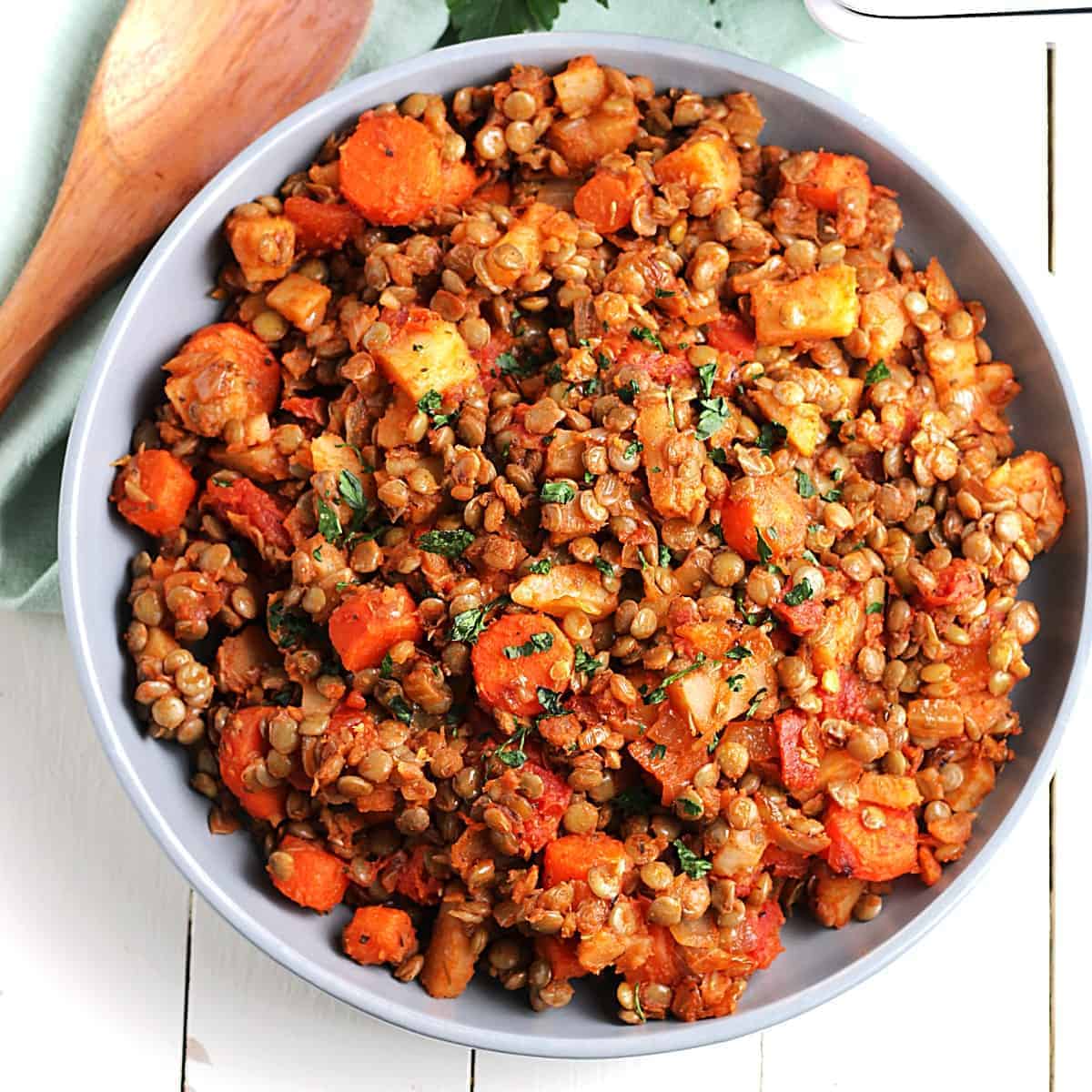 Comfort food is warm, filling, and tasty and those are exactly the sentiments this Skillet Potato recipe conjures up.
We seem to have some sort of lentil about once a week. Besides being full of protein - lentils actually come in different varieties that cook up quite differently.
Ed has even requested colors before. Like, 'How about some green lentils tonight?' So I happily comply.
I am not sure he is thinking of a special dish but green lentils it is.
Actually, any direction is very appreciated. My mind goes blank on some nights.
I am sure you've been there. What's for dinner? I know that meal planning is the way to go but don't those weeks just fly by sometime?
Jump to:
You think you are set with all the food and recipes lined up for the week and then all of a sudden those days are behind you and the food is gone.
Once, I even made a one month list in which I figured I could do the same rotation every month and no one would notice. Just favorite recipes.
It worked really well but then I wanted to update it with new recipes and delete others and I never got back to it - and then I forgot.
This post has been a real help to me in reminding me to do a new month of recipes for rotation. Believe me, this Potato Skillet recipe will be on it.
Did I mention how easy it is? Pre-cook the lentils and cook everything else in one skillet.
The textures are varied and the flavors divine. It makes me smile.
Another lentils dish that is also on this blog that adds lots of comfort is Hearty Chickpeas and Red Lentils. That's an easy and fun recipe to tackle that offers even more protein.
🥘 Ingredient tips
Dried green lentils are the best tasting lentils and they also add a lot of protein to this dish.
Vegetable broth adds the necessary liquid and you can use low sodium if you so choose.
Sauté Onion to mellow out its strength or a sweeter taste.
Russet potatoes make a great veggie base and they brown up really nice. You can use larger chunks than in some of these photos.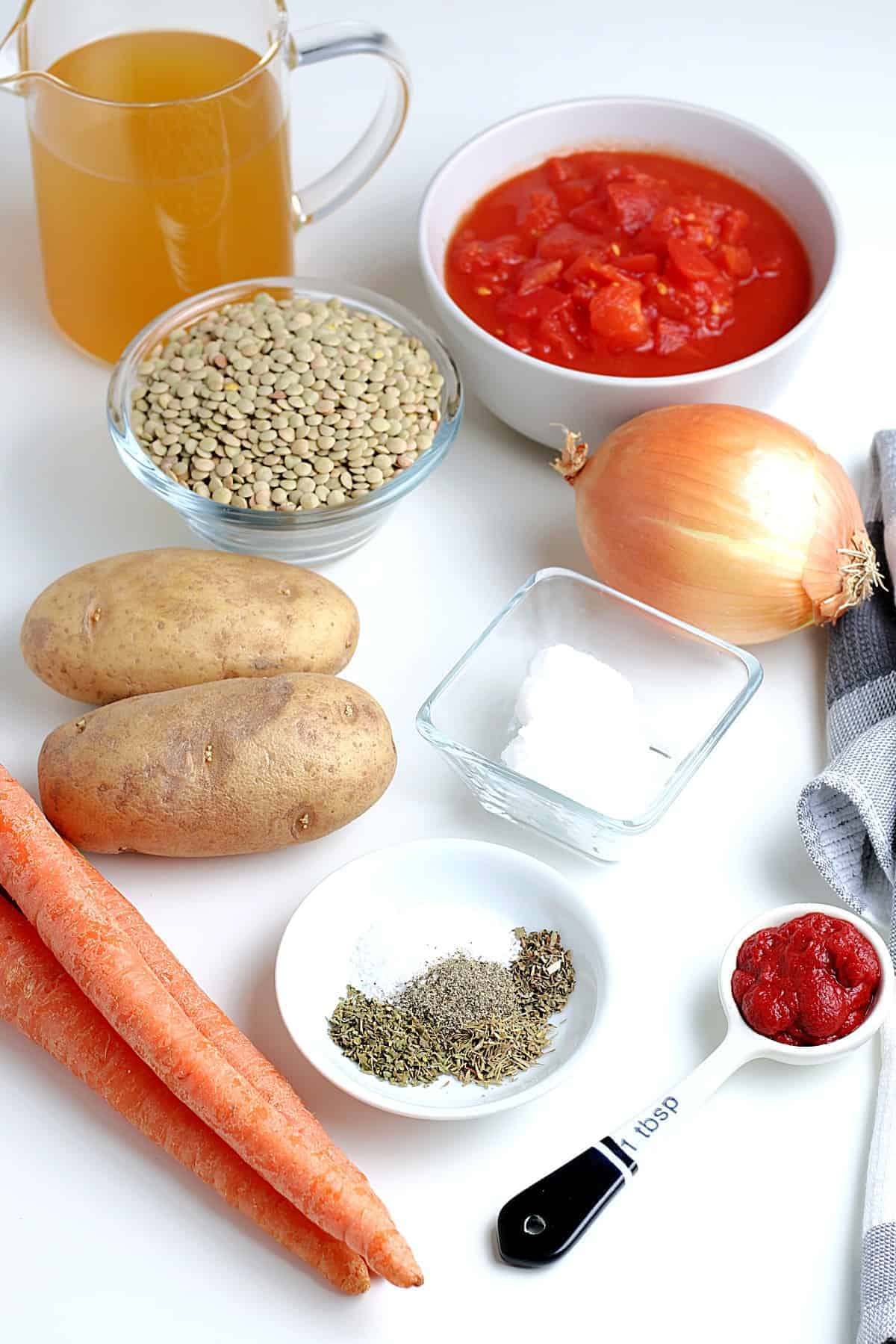 🔪 Instruction tips and visuals
First, you do want to cook the lentils. Your package will tell how to cook them but if you've poured your dried lentils into a decorative jar then here are directions.
Add the broth to a medium sized saucepan and bring to a boil.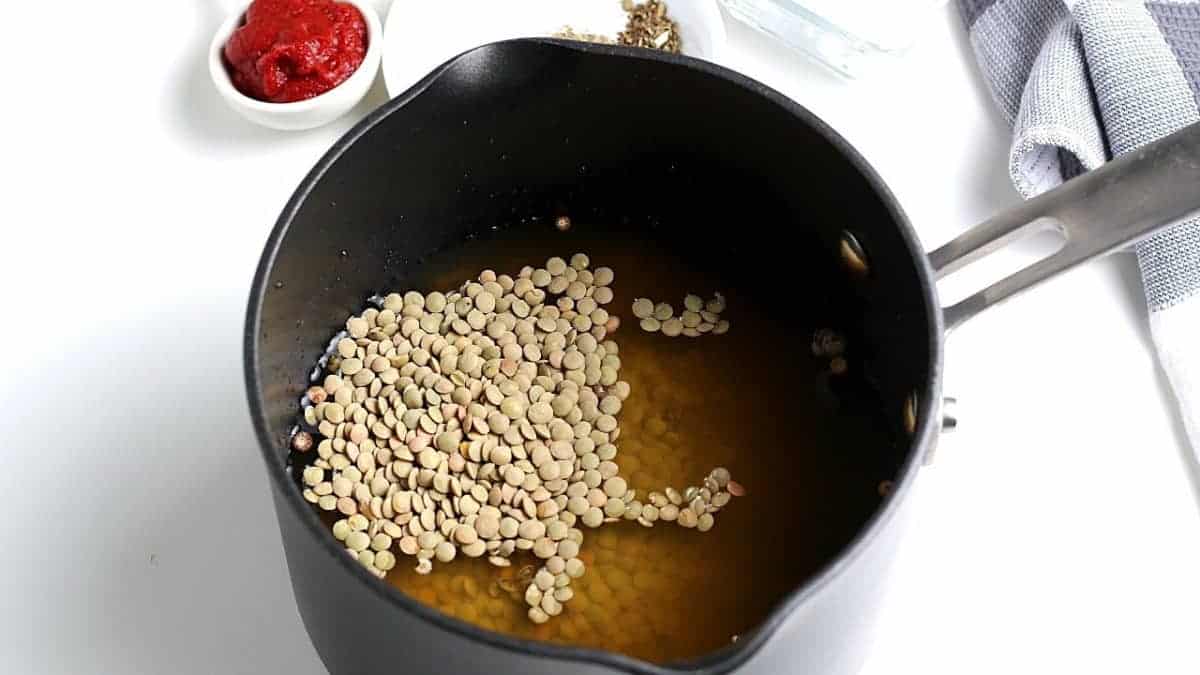 Drain and set aside.
In a skillet heat 1 tablespoon of the oil and add the chopped onion. Flip them every once in a while and get a nice golden color on many of the sides.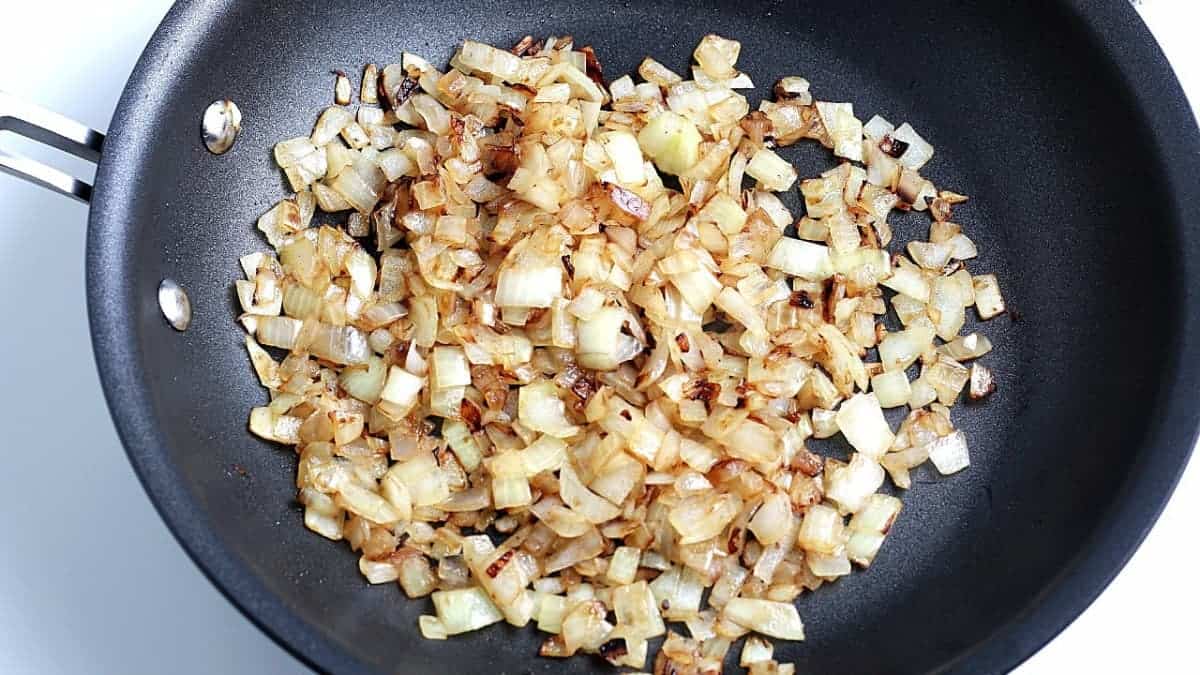 So that the onion doesn't get burned in the next step remove the onion and set aside.
In the same skillet add the rest of the oil and add the carrot and potato pieces. The potatoes can be cut into larger bite-sized pieces. It works well either way for this vegan hash.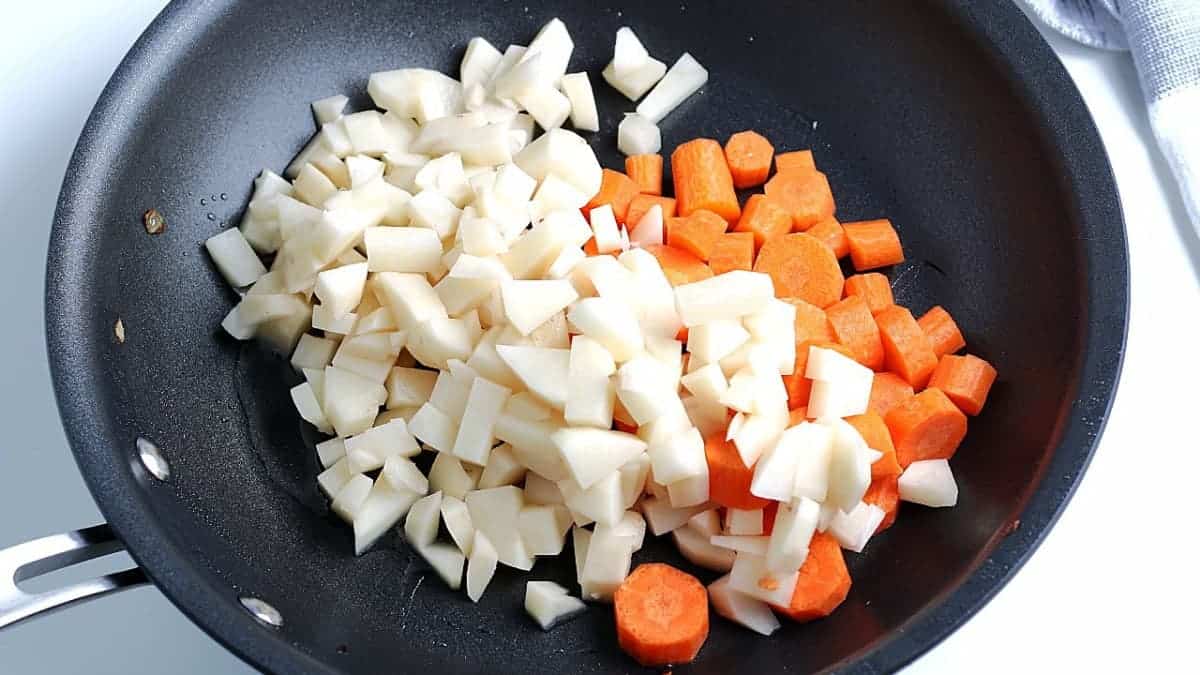 Cook on medium-high heat to brown on all sides. About 15 minutes. Get them crispy brown on some of the veggie sides.
Now add in the tomato paste and lightly stir into the mix without breaking up the potatoes.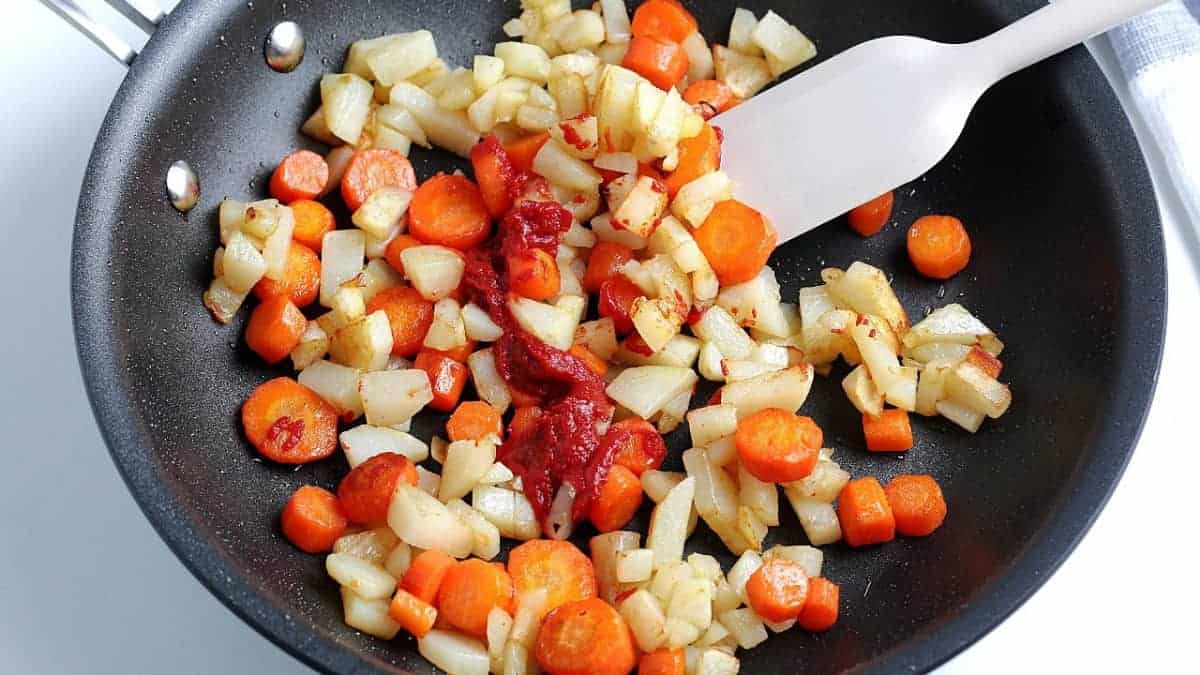 Add the diced tomatoes, sauteed onion, the 3 herbs, and cook on medium heat for 10 minutes.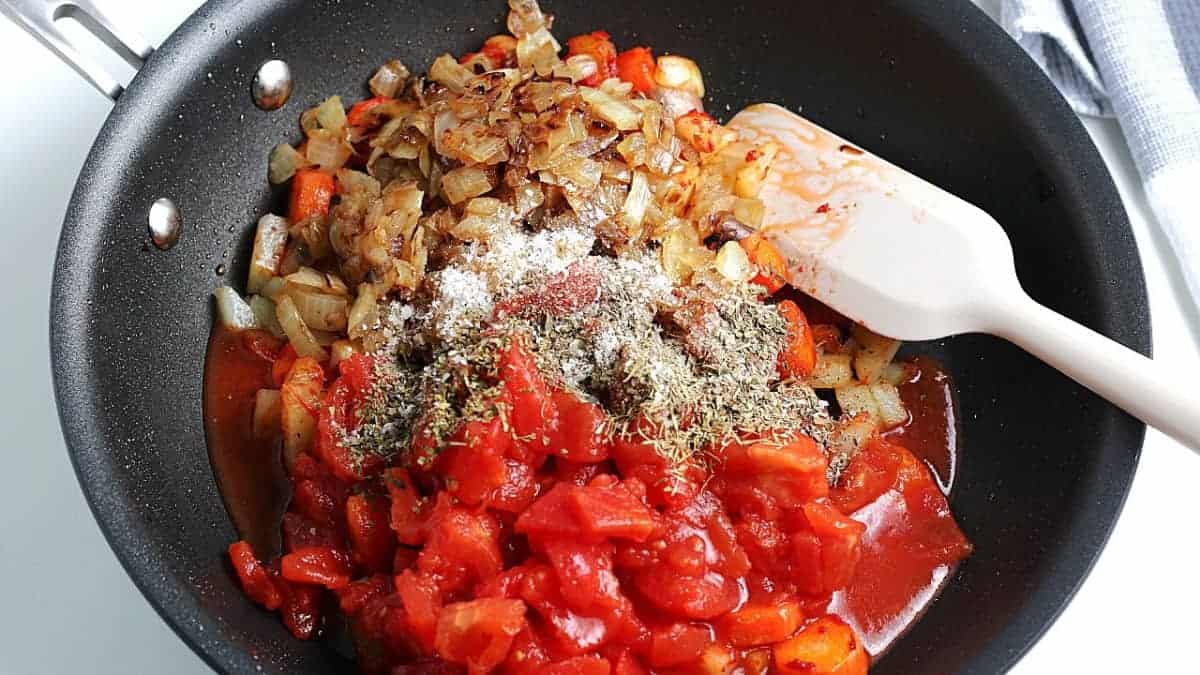 Now add the cooked lentils and heat through - about 5 to 10 minutes.
As you can see it really is easy.
FAQ's
What do you serve with skillet potatoes.
This can be a main dish on it's own but I would add a loaf of crusty bread and a leafy green salad.
Can this vegan hash be doubled?
Yes, with no problem. Just have a large enough skillet to hold everything. I actually have a 14" skillet for large meals. A deep 12" skillet would work though.
Can you freeze skillet potatoes with lentils and carrots?
You can but ... I don't really like this dish after it is frozen. It's the potatoes. I'm picky and sometimes you can freeze potatoes and sometimes you shouldn't. In this recipe they get too mushy for me after defrosting and reheating.
🥔 More stovetop potatoes
As an Amazon Associate, I earn from qualifying purchases. This post contains affiliate links. Read my disclosure policy here.
📋 Recipe
Skillet Potatoes with Lentils
Hearty and satisfying main dish comfort.
Ingredients
8

ounces

green lentils

- dried

16

ounces

vegetable broth

8

ounces

onion

- chopped

12

ounces

potato

- large russet

2

tablespoons

coconut oil

8

ounces

carrot

- cut into ½ inch chunks

15

ounces

diced tomatoes

1

tablespoon

tomato paste

½

teaspoon

dried oregano

½

teaspoon

dried basil

½

teaspoon

dried thyme

1

teaspoon

salt

¼

teaspoon

ground black pepper
Instructions
Cook the lentils:
Put the vegetable broth and 1 cup dried lentils in a medium saucepan. Bring to a boil.

Turn down the heat and cook for 20 minutes (check your package directions).

Drain the liquid off of the lentils. Set the lentils aside.
Instructions:
In a skillet, heat 1 tablespoon of the coconut oil to medium heat and saute the onion until it is translucent - about 10 minutes.

Remove the onion and set aside.

In the same skillet add the rest of the coconut oil and add the carrot. Saute the carrot for 5 minutes.

Add the potato along with the carrot.

Cook on medium high heat to brown on all sides. About 15 minutes.

Next comes the tomato paste - stir into the veggie mixture. Add the diced tomatoes, sauteed onion, the 3 herbs and cook on medium heat for 10 minutes.

Then put in the cooked lentils and heat through - about 5 to 10 minutes.
Nutrition
Serving:
12
Ounces
Calories:
384
kcal
Carbohydrates:
62
g
Protein:
19
g
Fat:
8
g
Saturated Fat:
6
g
Sodium:
1130
mg
Potassium:
1397
mg
Fiber:
23
g
Sugar:
10
g
Vitamin A:
9920
IU
Vitamin C:
30.5
mg
Calcium:
129
mg
Iron:
8.8
mg

Subscribe and New Recipes Will Come Straight to Your Inbox!