Cauliflower Tacos- Steamed cauliflower, chickpeas, and fresh tomatoes are combined with a splash of hot sauce for some heat to make the filling for these delicious tacos. Top each taco with baby spinach and homemade ranch dressing for a savory treat that will impress even the pickiest of eaters.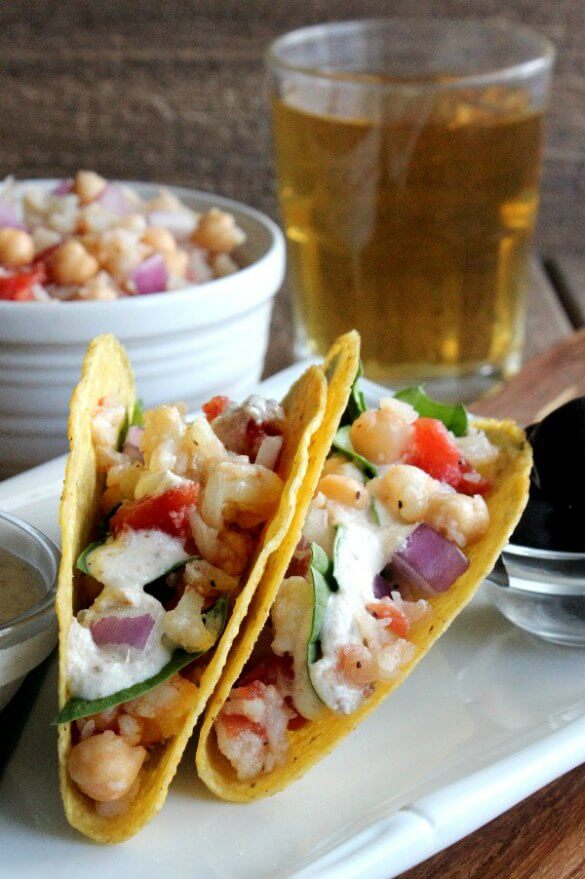 Taco Tuesday is a cherished tradition in many households. What could be better than a delicious, handheld meal that you can customize to your liking? Tacos are the perfect way to use up those leftovers from the previous night. But if you're tired of the same old ground beef tacos, why not try something new?
Cauliflower and chickpea tacos are a delicious and healthy alternative to traditional tacos. The cauliflower provides a hearty, meaty texture, while chickpeas add a boost of protein. Plus, they're both packed with nutrients like fiber and vitamins C and B6. So next time Taco Tuesday rolls around, think outside the box and give cauliflower and chickpea tacos a try. You may find that they're your new favorite way to enjoy this Mexican classic.
Why You'll Love This Vegan Cauliflower And Chickpea Taco Recipe
Mouthwatering- The combination of spices in this recipe creates a delicious flavor that will have you coming back for more.
Healthy- These tacos are packed with healthy ingredients like cauliflower, chickpeas, and tomatoes. And it's even more nutritious when you top it with baby spinach and homemade vegan-friendly ranch dressing.
Quick and Easy- This recipe is quick and easy to make, so it's perfect for busy weeknights.
A Real Crowdpleaser- These tacos are sure to please whether you're serving them to meat-eaters or vegans. So go ahead and invite all of your friends over for a taco party!
Customizable- Don't like spicy food? No problem. Just leave out the hot sauce. Prefer black beans over chickpeas? That works, too. These tacos are easily customized to fit your taste.
Equipment Needed To Make Cauliflower Tacos
Food Processor

Large Bowl

Vegetable Steamer or Microwave
Ingredients For Vegan Ranch Cauliflower Tacos
For The Dressing:
Cashews

Dairy-Free Milk

Apple Cider Vinegar

Maple Syrup

Onion Powder

Dried Chives

Dried Dill

Dried Parsley

Ground Black Pepper
For The Tacos:
Cauliflower

Chickpeas

Tomato

Hot Sauce

Salt

Ground Black Pepper

Vegan Corn Tortillas

Baby Spinach
How To Make Cauliflower Chickpea Tacos With Homemade Vegan Ranch Dressing
Making vegan cauliflower tacos at home is much easier than it sounds! Start by making the dressing. Add soaked cashews, maple syrup, liquid ingredients, herbs, and spices to a food processor and blend until smooth. You may need to add more milk to the mixture to achieve a more dressing-like consistency.
Once the dressing is made, store it in a jar with a lid in the refrigerator so the flavors can meld together.
To make the filling, steam cauliflower, let cool, break them up into very small pieces, and place them in a large bowl. Add chickpeas, tomatoes, hot sauce, salt, and pepper to the large bowl and mix well.
Soft taco shells should be fried in oil for a minute or two on each side, folded over to drain, and cool into a taco shape. If you are using hard tacos, you are ready to assemble.
Spoon the cauliflower chickpea mixture into each taco, add baby spinach, and drizzle with the homemade ranch dressing. Serve and enjoy!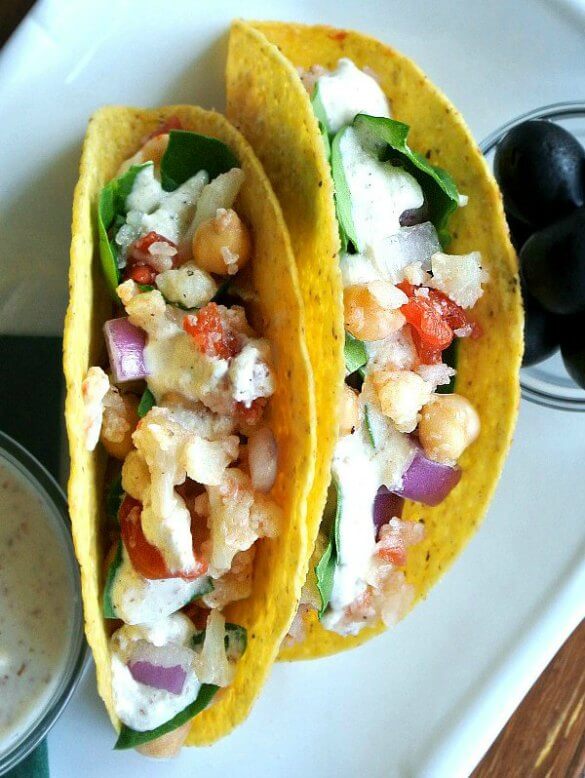 What to Serve/Pair With Vegan Cauliflower Tacos
These tacos are delicious on their own, but they would also be great with a side of rice and beans or roasted potatoes. For a lighter option, serve them with a simple salad.
If you're looking for a tasty beverage to pair with these tacos, I suggest serving them with an ice-cold beer or a glass of cold water with a slice of lime.
Popular Substitutions & Additions
There are so many ways to customize this recipe to make it your own. Here are a few ideas:
Add some heat- If you like your food with a bit of spice, add a diced jalapeno or red pepper flakes to the dressing.

Make it creamy-

Add 1-2 tablespoons of tahini or avocado for an extra creamy dressing.

Pack in the veggies-

Feel free to add more veggies to the tacos, such as shredded carrots, diced bell peppers, or chopped kale.

Change up the tortillas- Use your favorite type of tortilla or lettuce wraps.

Add protein-

Top your tacos with grilled tofu or tempeh. You could also add cooked quinoa or lentils for an extra protein boost.

Toppings-

Add guacamole, salsa, a dollop of dairy-free sour cream, or sprinkle with vegan shredded cheese.
How To Reheat & Store Homemade Chickpea Cauliflower Tacos
What Is The Best Way To Store Cauliflower Tacos?
These tacos are best enjoyed fresh, but if you have leftovers, the tacos, filling, and dressing should all be stored separately in airtight containers in the refrigerator.
How Long Will Vegan Cauliflower Chickpea Tacos Last In The Fridge?
The shells will keep for 2-3 days, the filling for 4 days, and the dressing for 2 weeks if stored separately in airtight containers.
Can I Freeze Cauliflower Tacos?
Yes, you may freeze the taco filling. On the other hand, the dressing will separate when thawed, so it's best to make a fresh batch when you're ready to eat the tacos. Taco shells do not freeze well. I also recommend making a fresh batch of shells.
How To Reheat Chickpea Cauliflower Tacos?
If you have stored the tacos in the fridge, reheat them in a dry skillet over medium heat until warmed. If the shells have become hard, you can wrap them in a damp paper towel and reheat them in the microwave for 30-60 seconds.
When reheating from frozen, thaw the taco filling in the fridge overnight and then reheat in a dry skillet over medium heat until warmed through.
Cauliflower Chickpea Taco FAQs
Do I have to fry the taco shells?
No, you don't have to fry the taco shells, but it does give them a nice flavor and crunch. If you're looking for a healthier option, you can bake the taco shells in a 350F degree oven for 5-7 minutes.
Is there something I use in place of hot sauce?
Yes. You can use salsa or diced tomatoes in place of the hot sauce.
Can I make these tacos ahead of time?
While these tacos are best enjoyed fresh, you can make the filling and dressing ahead. Store the components in airtight containers in the fridge and assemble them when you're ready to eat.
Do I need to use fresh cauliflower?
No, you can use frozen cauliflower for this recipe. Just steam it before adding it to the bowl with the other taco-filling ingredients.
What is the best type of dairy-free milk to use for the dressing?
I like to use unsweetened almond milk, but any type of dairy-free milk will work.
📋 Recipe
Ranch Cauliflower Tacos
Ranch Cauliflower Tacos are full of a great mix of veggies that have been cooked just right.
Ingredients
For the Ranch Dressing:
1

cup

cashews

- cashews, soaked for at least 4 hours or overnight, then drained

¾

cup

dairy free milk, plus more if needed

3

tablespoons

cider vinegar

1

tablespoon

maple syrup

2

teaspons

onion powder

½

teaspoon

dried chives

½

teaspoon

dried dill

½

teaspoon

dried parsley

¼

teaspoon

ground black pepper
For the Tacos:
1

head

cauliflower

- cut into florets, probably about 3 cups

15

ounces

chickpeas

- canned, chickpeas, drained and rinsed

¾

cup

tomato, diced

1

teaspoon

hot sauce

½

teaspoon

salt

¼

teaspoon

ground black pepper

10

tortillas

- vegan corn tortillas of your choice, hard or soft

2

ounces

baby spinach, rinsed well
Instructions
To Make the Ranch Dressing:
Put the soaked cashews

in a food processor. Add all the remaining 8 dressing

ingredients

Process until smooth. Add more milk, if

needed, to get the consistency of dressing.

The flavors will meld after resting in the refrigerator for

a couple of hours, but you can still use it immediately.

Pour into a container and store in the refrigerator. The ranch

dressing will keep in the refrigerator for about 2 weeks.
To Make the Tacos:
Steam the cauliflower florets for

15 minutes.

Let cool and break up into very small pieces. Place in a large bowl.

Add the chickpeas, tomato, hot sauce, salt, and pepper.

Mix well.

If you have soft tacos, fry them in hot oil for a minute or

two on each side. Fold over to drain and cool in a taco

shape. If you are using hard tacos, you are ready to go and to go oil free.
To Assemble:
Spoon the filling into each taco, add baby s

pinach, and drizzle with ranch dressing. Serve.
Nutrition
Serving:
1
Taco
Calories:
159
kcal
Carbohydrates:
27
g
Protein:
7
g
Fat:
4
g
Saturated Fat:
1
g
Sodium:
220
mg
Potassium:
462
mg
Fiber:
5
g
Sugar:
4
g
Vitamin A:
870
IU
Vitamin C:
34.1
mg
Calcium:
90
mg
Iron:
2.3
mg