Ranch Cauliflower Tacos are full of a great mix of veggies that have been cooked just right. The tangy coolness of homemade ranch dressing will make you want this taco recipe every single Taco Tuesday.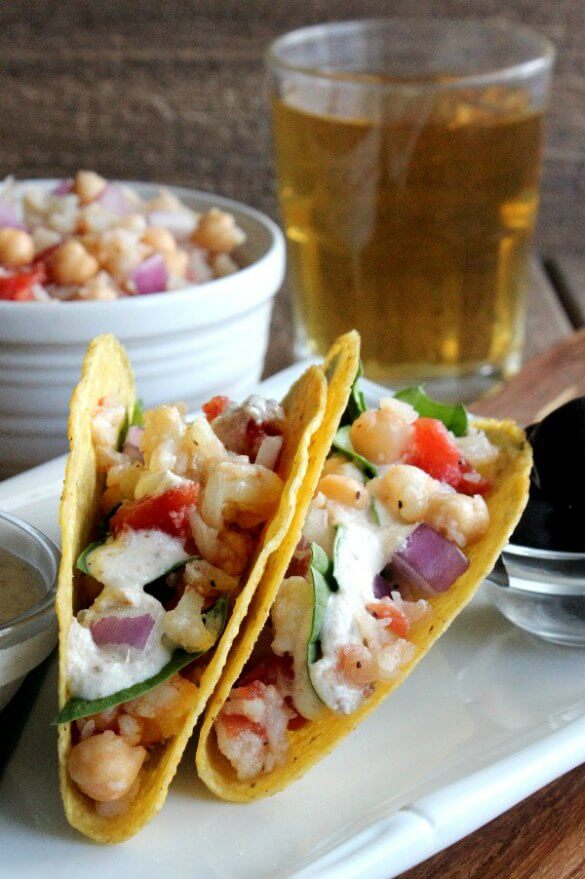 Tacos are so popular they have actually been associated with a day of the week. In fact, they are so delicious
I would love to think up clever sayings for tacos for every day. Something like Spicy Taco Sunday or Winning Taco Wednesday.
When you take your first bite of these vegan cauliflower tacos you'll be tasting all kinds of flavors accompanied with the nice tang of ranch dressing.
Can you just imagine?
I could name one of the days Tangy Taco Thursday. Then I could make sure that this recipe made it on our menu every week.
I'm sure you've all heard of street tacos and street corn. Have you wondered what a street taco really is? Well, me me me! I know! Ha!
What's a Street Taco?
The taco shell is a small corn tortilla quickly fried on each side and then filled as a taco before the shell gets to hard to fold. It's not a crispy shell - just firmer.
It's usually sold from vendors on the street and are to be a snack not a meal.
The filling is spiced with many flavorings such as chili, onion and sometimes cilantro.
There will be a variety of red and green salsas to choose from.
No cheese, Nope, no cheese. Or lettuce for that matter. Or tomatoes. They are simple snacks.
So as you can see none of my tacos can ever be considered street tacos but they are tacos none the less. Check out the list below.
Vegan cauliflower tacos are a perfect snack or meal with ranch topping being an added bonus. Filling and delicious!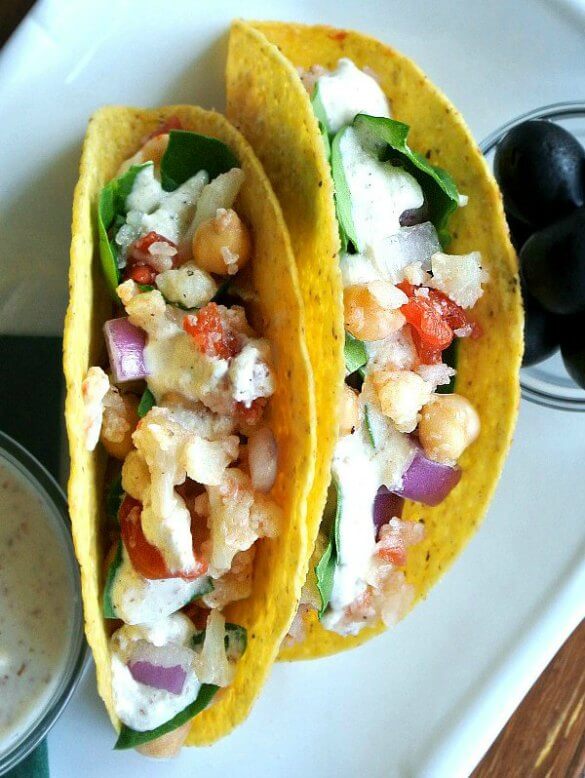 What Are Some More Unusual Taco Recipes?
Mexican style food shows up in our house every week. Maybe even twice a week. It almost always consists of tortillas such as with tostadas or enchiladas.
Either flour or corn tortillas are used and I mix and match with the recipe any way that I like. If we're eating a soft taco then it's flour tortillas. What can I say? I am a gringo.
There are many great side dishes too. Side dishes that can be served with tacos or other non-traditional Mexican style food.
What are Some Side Dishes for Mexican style Food?
Ranch Cauliflower Tacos
Ranch Cauliflower Tacos are full of a great mix of veggies that have been cooked just right.
Ingredients
For the Ranch Dressing:
1

cup

cashews

- cashews, soaked for at least 4 hours or overnight, then drained

¾

cup

dairy free milk, plus more if needed

3

tablespoons

cider vinegar

1

tablespoon

maple syrup

2

teaspons

onion powder

½

teaspoon

dried chives

½

teaspoon

dried dill

½

teaspoon

dried parsley

¼

teaspoon

ground black pepper
For the Tacos:
1

head

cauliflower

- cut into florets, probably about 3 cups

15

ounces

chickpeas

- canned, chickpeas, drained and rinsed

¾

cup

tomato, diced

1

teaspoon

hot sauce

½

teaspoon

salt

¼

teaspoon

ground black pepper

10

tortillas

- vegan corn tortillas of your choice, hard or soft

2

ounces

baby spinach, rinsed well
Instructions
To Make the Ranch Dressing:
Put the soaked cashews

in a food processor. Add all the remaining 8 dressing

ingredients

Process until smooth. Add more milk, if

needed, to get the consistency of dressing.

The flavors will meld after resting in the refrigerator for

a couple of hours, but you can still use it immediately.

Pour into a container and store in the refrigerator. The ranch

dressing will keep in the refrigerator for about 2 weeks.
To Make the Tacos:
Steam the cauliflower florets for

15 minutes.

Let cool and break up into very small pieces. Place in a large bowl.

Add the chickpeas, tomato, hot sauce, salt, and pepper.

Mix well.

If you have soft tacos, fry them in hot oil for a minute or

two on each side. Fold over to drain and cool in a taco

shape. If you are using hard tacos, you are ready to go and to go oil free.
To Assemble:
Spoon the filling into each taco, add baby s

pinach, and drizzle with ranch dressing. Serve.
Nutrition
Serving:
1
Taco
Calories:
159
kcal
Carbohydrates:
27
g
Protein:
7
g
Fat:
4
g
Saturated Fat:
1
g
Sodium:
220
mg
Potassium:
462
mg
Fiber:
5
g
Sugar:
4
g
Vitamin A:
870
IU
Vitamin C:
34.1
mg
Calcium:
90
mg
Iron:
2.3
mg
How Do I Store These Ranch Cauliflower Tacos?
Storing in the refrigerator:
The filling will keep in the refrigerator for up to 3 days.
Freezing:
Freeze the filling only in freezer-safe containers with hard sides and a tight lid. Will keep for up to 6 months. To serve after freezing, defrost in the refrigerator overnight.
Reheating:
Microwave on high power for 15 seconds just to take the chill off. Serve as described.
I forgot to tell you about Green Chili Cornbread! They are such a great addition to a Southwest spread! Click on the pic if you'd like to check them out.