Slow Cooker Chipotle Tacos recipe is easy and has an unusual list of ingredients. You would never guess. Put them all in a crock pot and when done – Mmmm.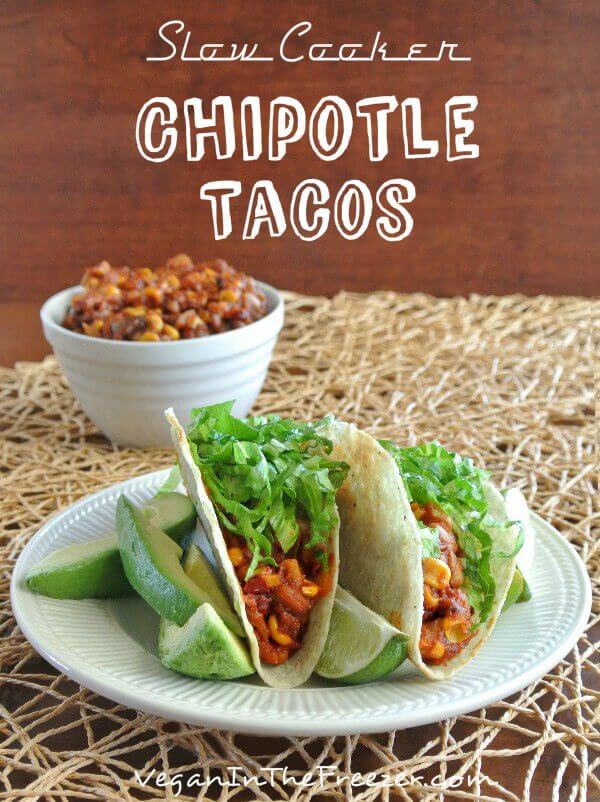 Mexican food is my favorite and to me it consists of any concoction encased in soft or crispy tortillas.  Slow Cooker Chipotle Tacos filling can be put in either kind of tortilla so that is doubly wonderful for me.  I've also rolled the filling in soft tacos along with dairy free cheese – like a burrito.  It's just good stuff.
The recipe is easy and has an unusual list of ingredients. You would never guess.  I don't want to give it away.  Try not to jump down to the ingredients list.  It just makes it more fun that way.  If you do take a peek,  read slowly so you can be surprised – more than once.
It is easy to double or triple the ingredients too.  So take it to a potluck or serve to a huge crowd.  Let everyone spoon up their own filling and add the toppings that they want.  Lettuce is always good on tacos.  I do like a little lime squeezed on mine but that is just another quirk that I have.  Lime is good with so many things.  In fact, here is a recipe that would go really well with these tacos – Michelada, the Mexican Bloody Mary.  See the limes?
Crock Pot recipes can be so easy and Slow Cooker Chipotle Tacos is one of the simplest.  All you have to do is ground up all of the ingredients, put them in the crock pot, turn it on and … that is it.  After the cooking time has ended all you need to do is spoon it down the middle of a taco shell and eat it up.
Connect with Vegan in the Freezer
Facebook | Pinterest | Instagram | Bloglovin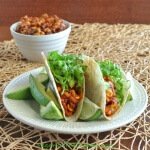 Slow Cooker Chipotle Tacos
Total Time
4
hours
20
minutes
Ingredients
2

cans

15 ounce each, Pinto Beans, drained

1

cup

corn kernals, canned, frozen or fresh

1

chipotle pepper

from a can of chipotle pepper in adobo sauce, chopped (there must be different heats with the brands for these peppers because the first time I made this I used the whole can and it was delicious - other cans were so hot one was plenty - please check the heat before adding to your recipe and decide on what you like)

1

can

6 ounces, tomato paste

3/4

cup

Chili Sauce

1

tablespoon

Unsweetened Cocoa Powder

1

teaspoon

Ground Cumin

1/2

teaspoon

Ground Cinnamon

1/2

teaspoon

salt
Instructions
Well, here we go. I am all about 'easy' cooking.

Put everything in the crockpot.

Cook on low 3 to 4 hours or on high 1-1/2 to 2 hours.

Spread quite a bit on your favorite taco shells, hard or soft.

Top with lettuce (I used sliced romaine).

You can also add fresh tomatoes.

I am a sucker for avocado and lime.
Recipe Notes
IF FREEZING:
Let cool to room temperature and then pack in rigid sided containers as defined in my article How to Prepare Food for the Freezer

TO PREPARE AFTER FREEZING:

Remove from the freezer and put in the refrigerator a few (4 to 6) hours before serving.
Put the filling in a saucepan to heat through and serve.