Homemade Taco Seasoning with no additives or preservatives! All you need are 2 tbsps. to match one of those store bought packets. It is a better mix too!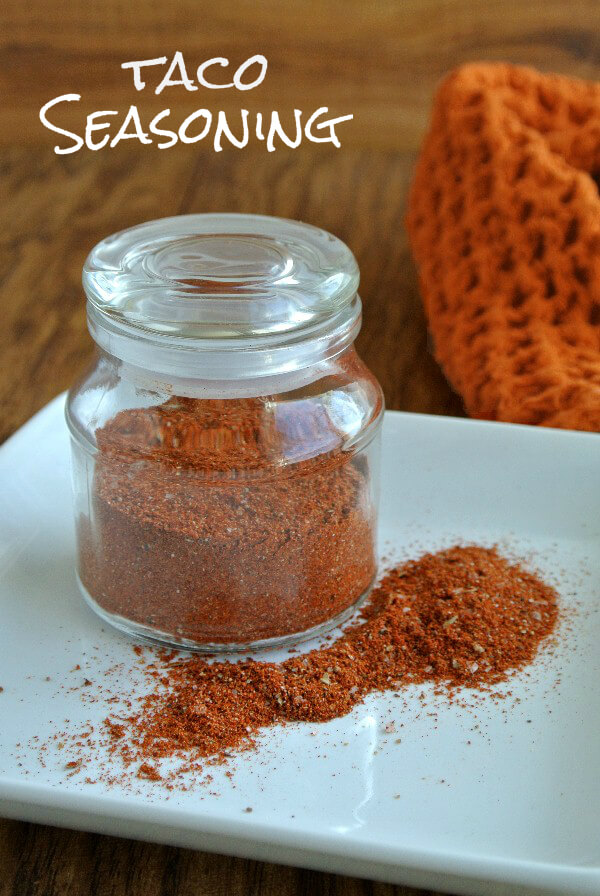 ,
You will think that one of the ingredients is very unusual, and it is, but what a fantastic addition.   I made a larger amount because I make a lot of Mexican style food and I thought it would be great to just have this on hand at all times. Just wait until tomorrow! I am posting Slow Cooker Black Bean Burritos using this wonderful spice mixture.
You already have most of the ingredients for the taco seasoning, if not all, and you probably have a small bottle that you saved from a past condiment.  I took advantage of the blog and went shopping for pretty little jars. This is going to be one of many spice mixes that will be on the blog in the future.   So let's get going!
Homemade Taco Seasoning
Ingredients
1

Tablespoon

plus 1 teaspoon chili powder

1/4

teaspoon

garlic powder

1/4

teaspoon

onion powder

1/2

teaspoon

paprika

1/2

teaspoon

ground black pepper

1/2

teaspoon

cocoa powder

1/2

teaspoon

ground coriander

1

teaspoon

sea salt or Himalayan salt

1

teaspoon

dried oregano, ground or ground Mexican oregano

1-1/2

teaspoon

ground cumin
Instructions
I doubled all of the above ingredients for myself and for the picture above. You can mix the above recipe and then decide for yourself if you would like to double it.

I have a spice mill so I ground up the dried oregano for the mix. You can also just crush it more with your fingers. It will still work great in the mixture.

Mix all of the ingredients and store in a jar with a tight lid.

Ground and dried spices last two to three years so there is no problem in keeping them on your shelf.
Recipe Notes
Two tablespoons equals one packet of store bought taco seasoning.