Homemade Taco Seasoning! All you need are 2 tablespoons to match one of those store-bought packets. It's a better mix too!
You will think that one of the ingredients is very unusual, and it is, but what a fantastic addition. I'm not going to 'reveal' the special addition yet but it is actually 'a natural'.
I tripled this taco seasoning recipe when I made it because I make a lot of Mexican style food and I thought it would be great to just have this on hand at all times. It is great in taco salads too!
You won't believe the recipes that I end up adding it too. Taco seasoning in my tofu scramble instead of cumin? Yes! Taco seasoning in my Chipotle Scones? Always!
Just wait until tomorrow! Well, yesterday has come and gone but I posted Slow Cooker Black Bean Burritos using this wonderful spice mixture. One of my most popular recipes on the blog.
Look how easy they are to grab on the go too!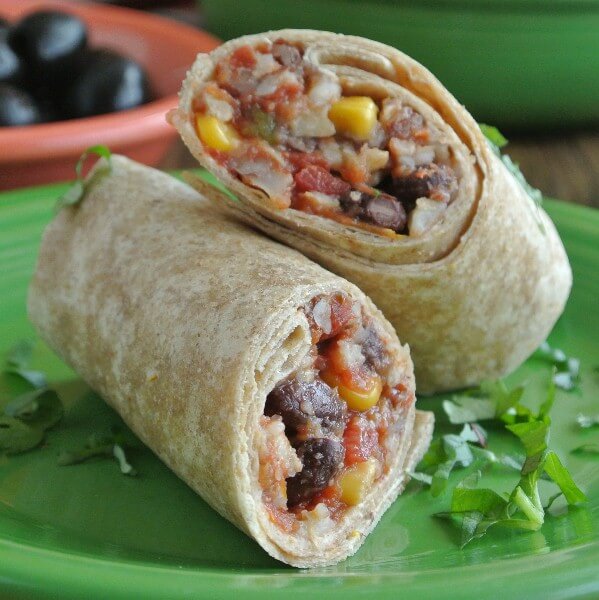 You already have most of the ingredients for this taco seasoning recipe, if not all, and you probably have a small bottle that you saved from a past condiment too.
I save all of mine. I'm kind of jar crazy … and glass crazy.
Everything is on display in my house. If it's little and rolls around or colorful or sparkly then it's in a glass container. Lid or not but if there are lids then they are usually glass too.
Spices make an especially pretty display so you don't need to hide them in a cupboard. I also have a display rack on the wall that holds my herbs and spices just right. Love having the extra space in my pantry.
For this recipe, I wanted to actually use specific spice jars and certain sizes so I took advantage of the blog and went shopping for pretty little containers.
This is going to be one of many spice mixes that will be on the blog in the future. Each ingredient is the perfect amount for a great blend. So let's get going!
This post contains affiliate links. Read my disclosure policy here.
What Can I Use Taco Seasoning For?
It's not only for tacos! Here are a couple more ideas.
Mix it in your burrito stuffing for some great taste. Vegan Rice and Bean Burrito's are perfect for this idea.
You can always add more than a recipe calls for to get extra spice. Chipotle Scones could handle maybe another 1/2 teaspoon.
Want Some More Homemade Seasoning Mix Ideas?
Take a quick peek at the Homemade Chili Seasoning Mix. It's pretty too but with its own unique ingredients.
Here is a picture of the taco seasoning ingredients. Waiting to be blended together. So many pretty colors and such good taste.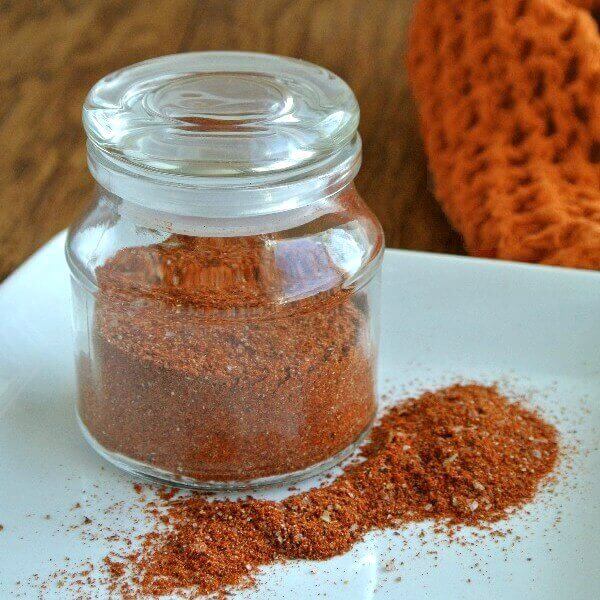 Print
Homemade Taco Seasoning
Homemade Taco Seasoning is only 2 tbsps. to match one of those store-bought packets.
Ingredients
2

Tablespoon

chili powder

plus 1 teaspoon

1/2

teaspoon

garlic powder

1/2

teaspoon

onion powder

1

teaspoon

paprika

1

teaspoon

ground black pepper

1

teaspoon

cocoa powder

1

teaspoon

ground coriander

2

teaspoon

sea salt

2

teaspoon

oregano

ground or ground Mexican oregano

3

teaspoon

cumin

ground
Instructions
I have a spice mill so I ground up the dried oregano for the mix. You can also just crush it more with your fingers. It will still work great in the mixture.

Mix all of the ingredients and store in a jar with a tight lid.

Ground and dried spices last two to three years so there is no problem in keeping them on your shelf.
Nutrition
Nutrition Facts
Homemade Taco Seasoning
Amount Per Serving (2 tablespoons)
Calories 16
% Daily Value*
Sodium 821mg34%
Potassium 85mg2%
Carbohydrates 3g1%
Vitamin A 980IU20%
Calcium 29mg3%
Iron 1.5mg8%
* Percent Daily Values are based on a 2000 calorie diet.
Two tablespoons equal one packet of store bought taco seasoning.
Now see? You didn't even have to go out and spend any extra money. You already had everything in your cupboard for this taco seasoning recipe.
That really makes me feel accomplished when things get organized and pretty all at the same time.
The fact that the 'pretty' improves the food isn't a bad thing either.