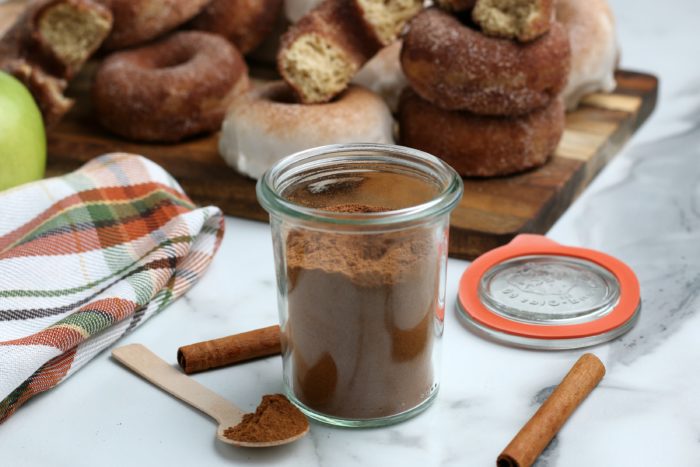 Are you hunting for a spice blend that will add extra flavor to your desserts and beverages? Look no further. You've arrived at the correct web page! This apple spice blend, which is prepared from only four ingredients, will transform your everyday sweet delicacies into something very exceptional!
This apple pie spice combination is not only delicious in apple pies, but it's also a fantastic addition to bread, pastries, and beverages of all kinds. It's quite simple to create, and all of the ingredients are common household items. If you try my apple pie spice combination, I am confident that it will become a staple in your pantry.
Why You'll Love This Homemade Apple Pie Spice
There are so many things to love about my apple pie spice recipe. Here are the reasons why you'll love this as well:
Budget Friendly: Buying an apple pie blend can be expensive. Making your own homemade apple pie spice blend will help you save money
Easy-to-Make: The recipe is straightforward. The recipe calls for only four ingredients and only two steps, which makes it extremely simple to prepare.
Flexible Spice: This homemade apple pie spice is a fantastic add-in to your food. You may use it in cookies, cupcakes, or other baked products, but you can also use it as a sprinkle to your apple crisps/slices, coffee latte, breakfast oatmeal, and a variety of desserts. If you enjoy a spice blend that goes well with almost every food and drink, you'll want to keep this apple pie spice on hand!
Equipment Needed To Make Apple Pie Spice Blend
It's simple to make this fall spice blend. You will only require a few tools, all of which are likely to be found in your kitchen.
Measuring cups
Measuring spoon
Small mixing bowl
Funnel
Airtight container (Mason jars or spice jars)
Ingredients Needed To Make Your Own Apple Pie Spice
¼ cup ground cinnamon
2 tsp ground nutmeg
1 tsp allspice
1 tsp ground ginger
How To Make Apple Pie Spice From Scratch
To make this apple pie spice blend, all you need to do is measure out the ingredients and mix them together until well incorporated. That's it!
How To Use Apple Pie Spice Blend
In addition to apple pie or peach cobbler, this apple pie spice blend is an excellent add-in or sprinkles in any dessert, snack, or breakfast that calls for a little warmth and depth of flavor.
Baked Goods
Cookies
Cupcakes
Cakes
Cinnamon Bread
Crisps
Breakfast
Breakfast Oatmeal or Overnight oats
Pancakes
Toasts
Waffles
Drinks (Sprinkles)
Smoothies
Fruit Shakes
Coffee (Latte)
Frappes
Hot Chocolate Drink
Warm Apple Cider
Snacks
Apple Chips
Apple Slices
Bread Sticks
Popular Substitutions & Additions
Apple Pie Spice blend can be made with different spices. Here are some spice combinations for every occasion and preference.
Economical Version (Three Ingredients only!)
¼ cup ground cinnamon
2 teaspoons ground nutmeg
1 teaspoon ground cardamom
Warmer Flavorful Version
¼ cup ground cinnamon
2 tsp ground nutmeg
1 tsp allspice
1 tsp ground ginger
1 ½ teaspoons ground cardamom
No Ginger Flavor Version (For people who dislikes ginger)
¼ cup ground cinnamon
2 tsp ground nutmeg
1 tsp allspice
1 ½ teaspoons ground cardamom
For a more Festive Version
4 tablespoons ground cinnamon
1 tablespoon ground all spice
2 teaspoons ground nutmeg
1 ½ teaspoons ground ginger
½ teaspoon ground cardamom
¼ teaspoon ground cloves
How To Store Apple Pie Spice
In a cold, dark place, store the apple pie spice in an airtight container. The airtight container will keep moisture out of your spice blend, keeping it fresh. It will not spoil, although ground spices lose their flavor over time. I recommend using up the spice blend as soon as possible. Do not keep for long periods of time.
Homemade Apple Pie Spice FAQ
Should I refrigerate the spice?
You don't need to refrigerate the apple pie spice blend. Store it in a dry, cool place away from direct sunlight.
When does the spice blend lose its potency?
As a general rule, the spice blend should be replaced every year or two. However, for more flavorful food and beverages, I recommend replacing the spice blend every twelve months. That is why I do not recommend making large batches of apple pie spice blend unless you intend to give it as gifts.
What is the difference between apple pie spice in pumpkin pie spice?
There isn't much difference between these two autumn spices. Pumpkin pie spice is typically created using cinnamon, nutmeg, ginger, allspice, or ground cloves. Cinnamon, nutmeg, allspice, and cardamom are common ingredients in apple pie spice. They have the same ingredients. However, we do not add cardamom in making a pumpkin spice blend.
Can I make large batches of this apple pie spice?
Yes, you can. Purchase spices in bulk and prepare a large batch.
How to give apple pie spice as gifts?
Fill some adorable glass jars with your apple pie spice blend and wrap a festive ribbon around each jar for a quick Christmas, housewarming present, or hostess gift.
Other Apple Centric Recipes You'll Love
Don't Forget To Come Back And Let Me Know How Your Homemade Apple Pie Spice Turned Out!
📋 Recipe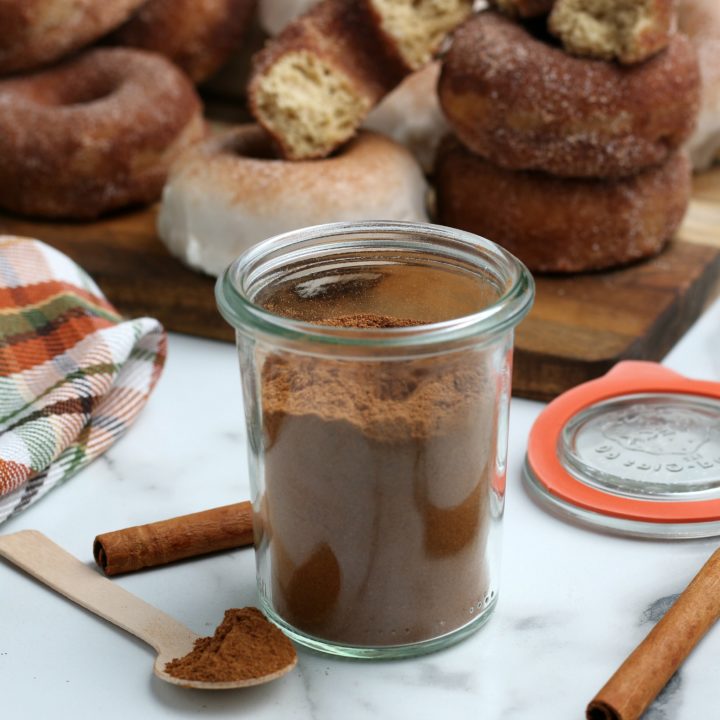 Homemade Apple Pie Spice Blend
This homemade apple pie spice is perfect for fall! With only four ingredients and a few measuring spoons, you're ready to season!
Ingredients
¼

cup

ground cinnamon

2

tsp

ground nutmeg

1

tsp

allspice

1

tsp

ground ginger
Instructions
In a small bowl, measure out all ingredients.

Mix together until well blended.

Store in an airtight containter.
Nutrition
Calories:
36
kcal
Carbohydrates:
11
g
Protein:
1
g
Fat:
1
g
Saturated Fat:
1
g
Polyunsaturated Fat:
1
g
Monounsaturated Fat:
1
g
Sodium:
2
mg
Potassium:
63
mg
Fiber:
7
g
Sugar:
1
g
Vitamin A:
38
IU
Vitamin C:
1
mg
Calcium:
123
mg
Iron:
1
mg