Garam Masala Seasoning- Ground coriander, ginger, cardamom, and turmeric are just a few of the spices combined to make this garam masala seasoning. It's a simple yet flavorful mixture of spices that will take even the most basic dishes to a new mouthwatering level! Garam masala spice blend is typically a very fragrant and aromatic seasoning and has a complex flavor with warm, earthy, and slightly sweet notes.
What Is Garam Masala?
Masala spice mix will go a long ways in adding flavors to your dishes. Its roots are in Northern India and Southern Asia, and it has a very intense and spicy flavor. There are variations of the mixture, and this is a simple one that I came up with that does not require you to roast and grind seeds. You probably already have most of the ground spices in your cupboard, if not all of them. Just measure out, mix, and keep in a jar with a tight-fitting lid. You will find yourself using this seasoning mixture over and over again.
I dream of having this nice little area in my kitchen where all my herbs and spices are alphabetically ordered. All of my spices would be in pretty little glass jars in a gorgeous corner of my kitchen so that I could see the colors of the mixtures, and of course, it would be spotless!
Spices and herbs are essential components of recipes. Even though some ingredients call for measurements of only ¼ or ½ teaspoon, you shouldn't leave them out. Minor flavor nuances are significant to the overall quality of a dish. When all of the ingredients are combined, your meal will taste wonderful. One of the recipes I have on the blog that does use garam masala is Hearty Chickpea and Red Lentils. You just might want to give that recipe a try too.
Why You'll Love This Garam Masala Recipe
Flavorful- This spice blend is so good and will add a lot of depth to your recipes.
Better Than Store Bought- You will be surprised at how much better this garam masala spice blend tastes than the store-bought versions.
Simple Ingredients- You probably already have most of the spices to make this garam masala recipe in your pantry.
Easy To Make- This garam masala recipe is easy to make with just a few simple steps.
Budget-Friendly- Making your spice blends at home is a great way to save money. Make a big batch and keep it on hand to use in a variety of recipes.
Equipment Needed To Make Garam Masala
Small Mixing Bowl
Spoon For Stirring
Jar With Tight Fitting Lid
Measuring Spoons
Ingredients For Garam Masala Seasoning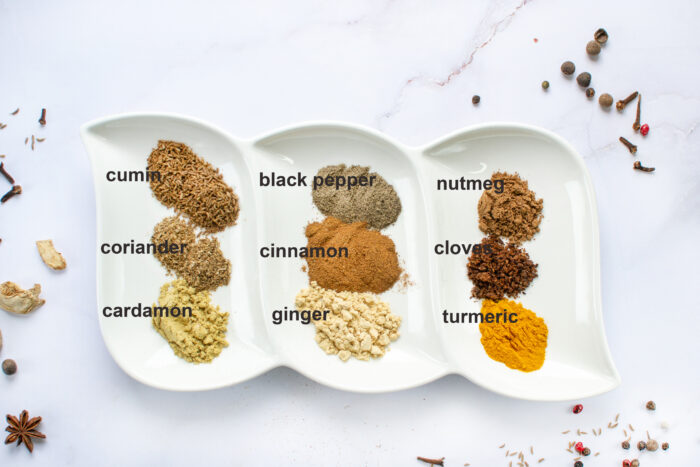 Ground Cumin
Ground Coriander
Ground Cardamon
Ground Black Pepper
Ground Cinnamon
Ground Ginger
Ground Nutmeg
Ground Cloves
Ground Turmeric
How To Make Garam Masala At Home
Making garam masala at home is incredibly simple. Measure out all ingredients into a small mixing bowl and stir well to combine. Store your own garam masala in a jar with a tight-fitting lid and enjoy as desired. It's as simple as that!
What to Serve/Pair With Masala Spice Mix
Garam masala is a flavorful seasoning that you can use in a variety of ways. Some popular uses include:
Add it to eggs for a tasty twist on breakfast
Sprinkle over cooked vegetables
Add to soups and stews
Use as a rub for tofu or tempeh
Mix into sauces and dressings
Add to curries and other Indian-inspired dishes
Pair it with rice or vegan-friendly naan bread
Popular Substitutions & Additions
There are a few ways you can change up this recipe to suit your needs. Here are some popular substitutions and additions:
Add more or less of any individual spice to adjust the flavor to your liking.
Replace ground black pepper with freshly cracked black pepper for a more intense flavor.
Add a pinch of red pepper flakes for a bit of heat.
Try other ground spices such as fennel, aniseed, or cayenne pepper.
Add fresh herbs such as cilantro or mint for a bright flavor.
How To Reheat & Store Vegan Homemade Garam Masala
What Is The Best Way To Store Garam Masala?
The best way to store it is in a jar with a tight-fitting lid or airtight container in a cool, dark place. This will help the spices retain their flavor and prevent them from going stale.
How Long Will Garam Masala Last In The Fridge?
When stored properly, garam masala will last in the fridge for up to 6 months.
Can I Freeze Garam Masala?
Yes, you can freeze garam masala for up to 1 year. Store in a freezer-safe container or bag and thaw in the fridge when ready to use.
How To Reheat Garam Masala?
Garam masala can be reheated in several ways. You can gently heat it in a pan over low heat or in the microwave, but the best way to reheat it is by adding it to whatever dish you're preparing.
Homemade Garam Masala Seasoning FAQs
Is Garam Masala Vegan?
Yes, garam masala is vegan. This spice blend is made with a combination of ground spices and contains no animal products.
How Do You Pronounce Garam Masala?
The word garam masala is pronounced "gah-rahm mah-sah-lah."
What Is The Difference Between Garam Masala And Curry Powder?
Garam masala and curry powder are two very different seasonings. Garam masala is a blend of ground spices typically used in Indian cuisine, while curry powder is a blend of ground spices popular in British and south Asian cuisine. Curry powder often contains turmeric, cumin, coriander, ginger, and pepper, while garam masala typically contains cardamom, cloves, cinnamon, cumin, and coriander.
Is Garam Masala Hot?
Garam masala is not hot, but it has a bit of heat from the black pepper and other spices used in the blend. You can always add a pinch of red pepper flakes or other ground chili peppers if you want more heat.
How Much Garam Masala Should I Use?
The amount of garam masala you should use depends on your taste. Start with a small amount and add more as desired. You can always add more, but you can't take it away once it's added, so start small and add more as needed.
📋 Recipe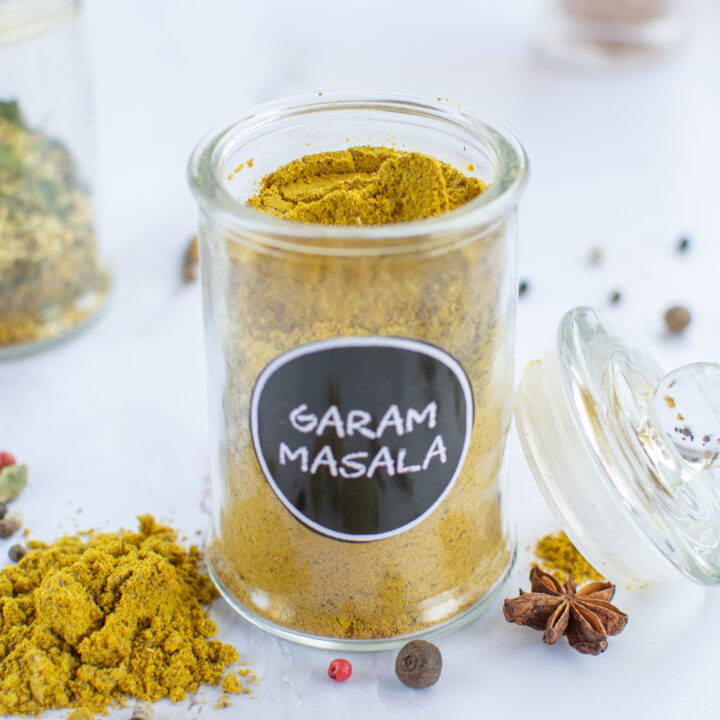 Garam Masala Blend
A blend of ground spices with a complex and exciting flavor profile containing warm, earthy, and sweet notes will take even the most basic dish to a new level!
Ingredients
1

tablespoon

ground cumin

1 ½

teaspoon

ground coriander

1 ½

teaspoon

ground cardamon

1 ½

teaspoon

ground black pepper

1

teaspoon

ground cinnamon

½

teaspoon

ground ginger

½

teaspoon

ground nutmeg

½

teaspoon

ground cloves

½

teaspoon

ground turmeric
Instructions
Measure all of the ingredients into a small bowl and mix.

Store in a jar with a tight fitting lid.
Nutrition
Serving:
1
teaspoon
Calories:
4
kcal
Sodium:
1
mg
Potassium:
12
mg
Vitamin A:
5
IU
Vitamin C:
0.1
mg
Calcium:
8
mg
Iron:
0.5
mg