Buckeye Candy is a classic with sweetened peanut butter and chocolate being the winning combination. An easy buckeye recipe that is also a no bake vegan recipe.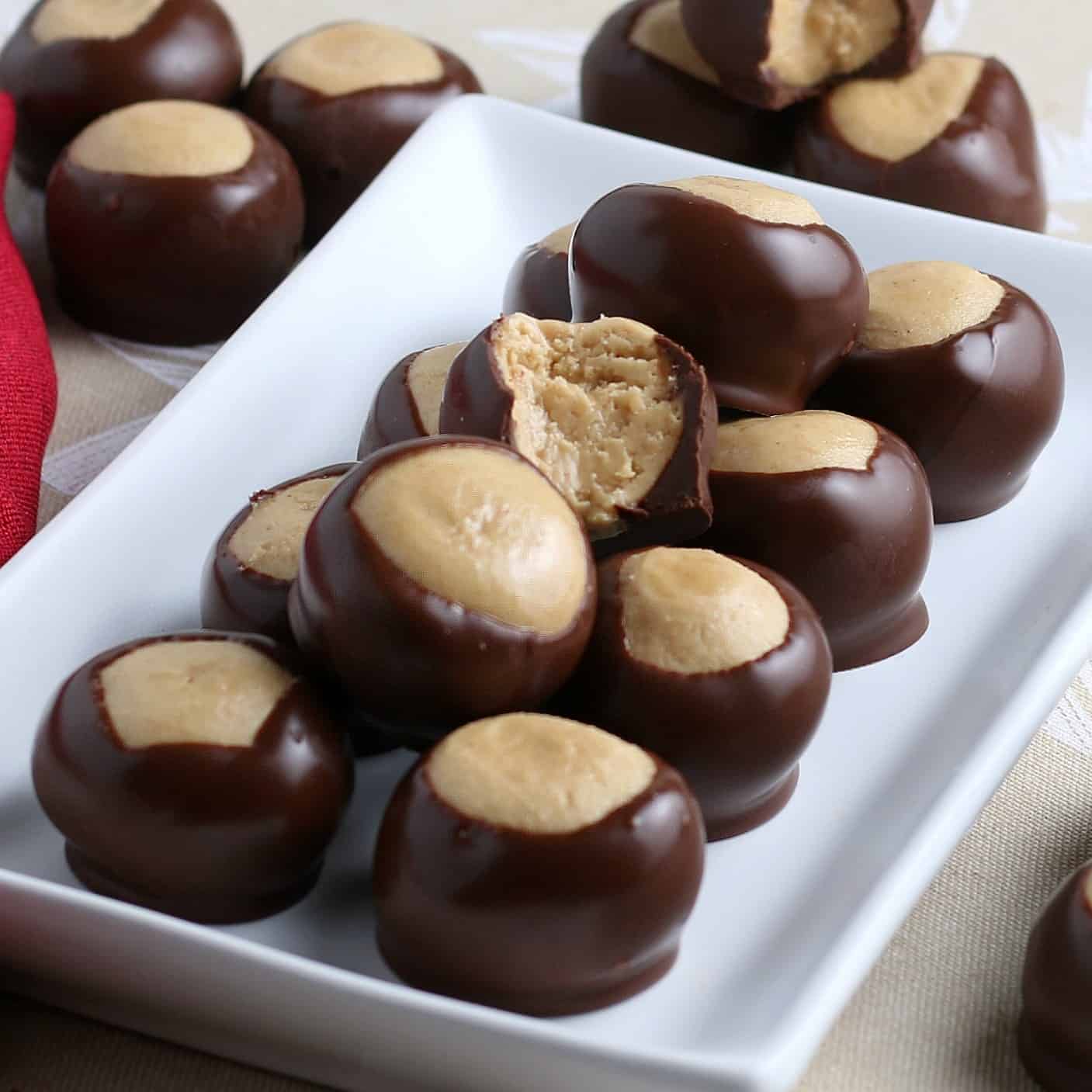 Let's dive right in!
What is a Buckeye?
It can be the state tree for Ohio or it can be a fantastic candy. You know I'm all about recipes and this Buckeye candy recipe is an easy, no-bake dessert!
It has a rich creamy peanut butter center and then it is partially dipped into melted chocolate. It's easy to create from start to finish.
Just like other famous recipes such as Libby's Pumpkin Pie or Jet Puffed Marshmallow Creme Fantasy Fudge the original recipes came from the product label. An easy Buckeye recipe was on a Jif Peanut Putter label as far back as I can remember.
The recipe but it has been around since the 1960's. and it is still going strong.
The only thing you have to do to make this pb and chocolate treat vegan is to use dairy free butter and check the label so that there is no milk in the chocolate.
They are very popular on Valentine's Day and Christmas.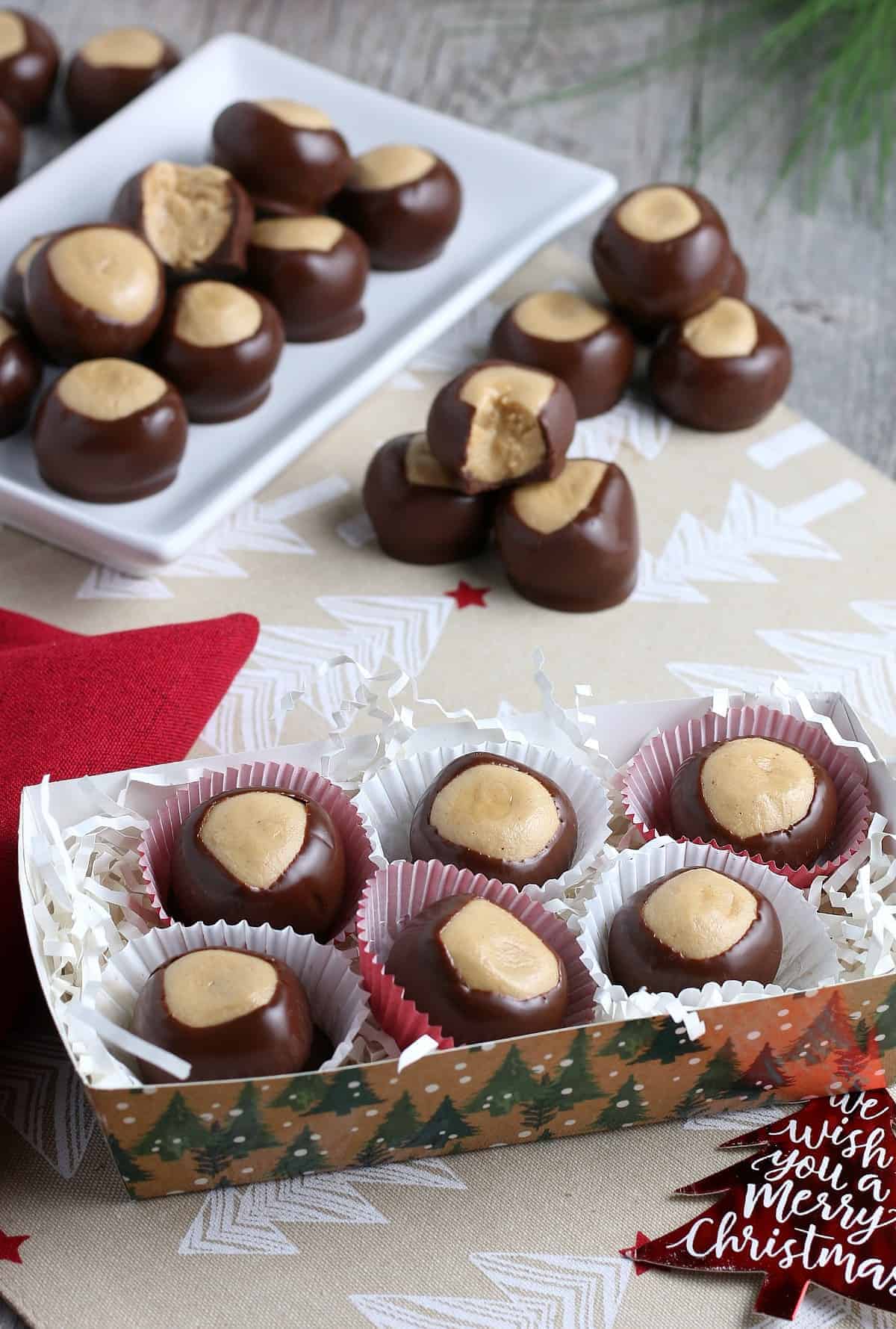 Ingredients
Creamy peanut butter is the main flavor for this sweet treat.
Dairy free butter makes the peanut butter even creamier.
Vanilla extract adds a wonderful flavor to treats.
Powdered sugar make the peanut butter sweet and delicious.
Semi-sweet chocolate chips make the chocolate icing
Vegan vegetable shortening or solid coconut oil thins the chocolate for dunking and then helps it harden after cooling.
As for making this vegan Buckeye Candy Recipe all you have to do is combine the peanut butter, butter, powdered sugar and vanilla. Roll into balls and chill. Dip in chocolate and enjoy!
Here are more detailed steps along with photographs:
How to make vegan buckeye candy
Line baking sheets with parchment paper. This makes clean up very easy.
In a large bowl, beat peanut butter, dairy-free butter, and vanilla until creamy.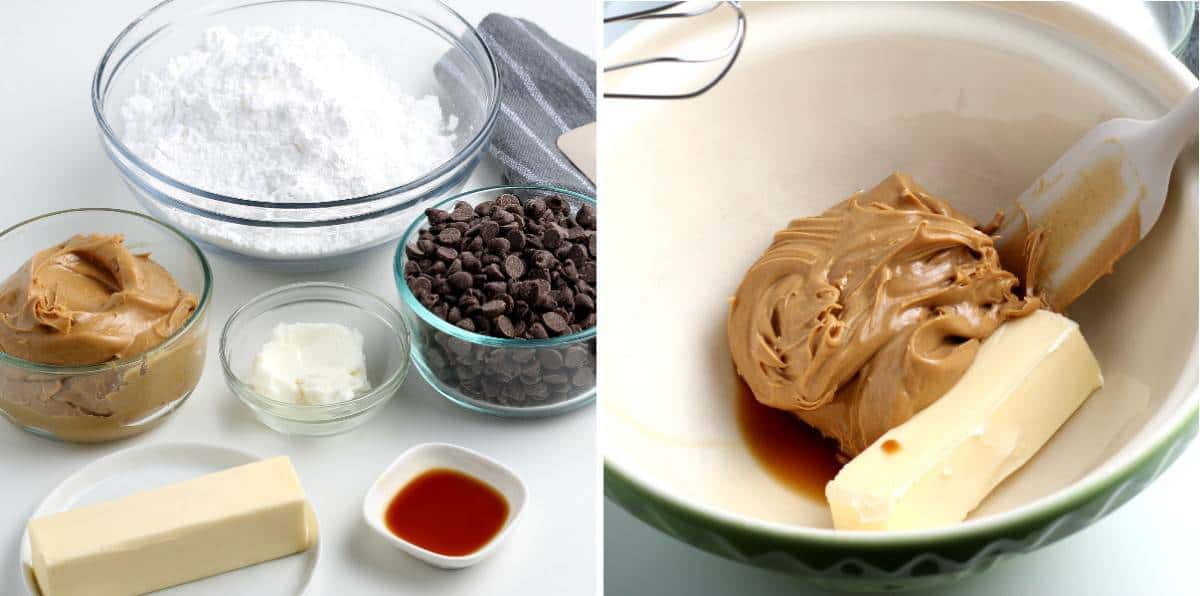 Gradually add powdered sugar until well combined. Doing it gradually actually makes the candy creamier.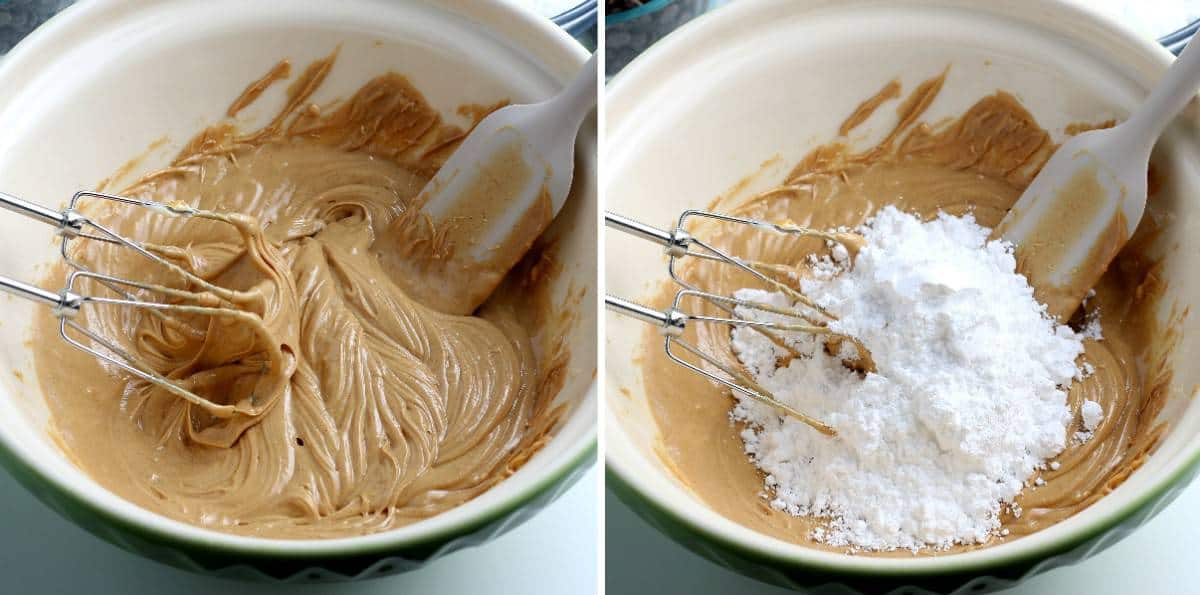 after the dough is formed shape into 1 inch balls and place on a prepared baking sheet.
Freeze for 1 hour. When they are firmer it helps when dipping into chocolate.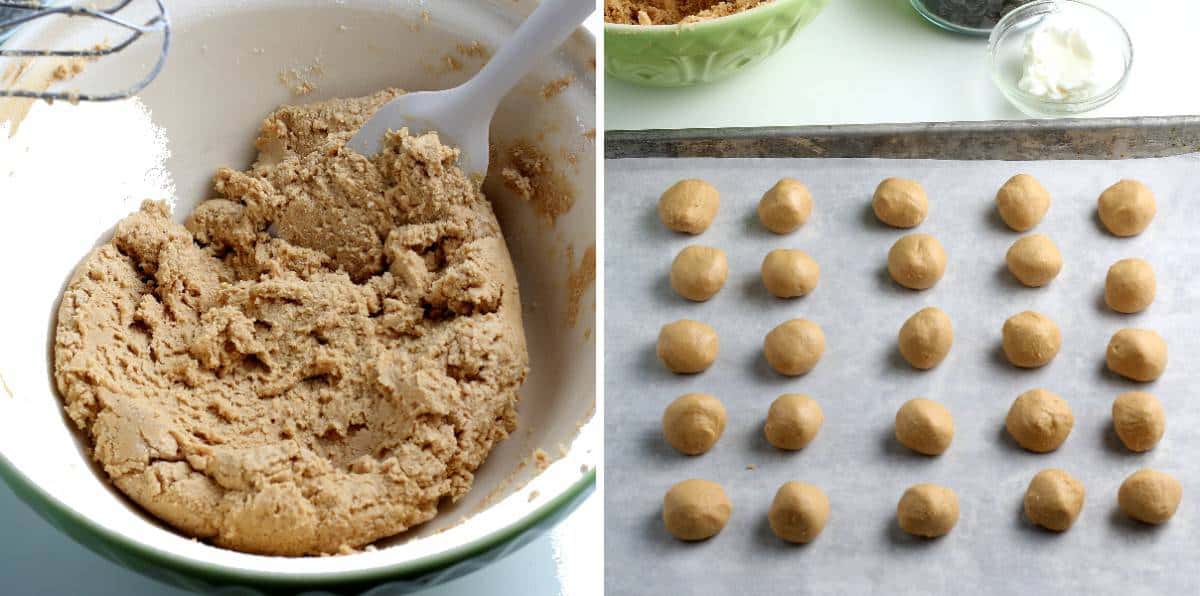 Now for the chocolate. In a microwave safe bowl, add chocolate chips and vegan shortening (I use Spectrum) or solid coconut oil.
Heat for 1 minute, stir and continue heating at 10-15 seconds increments, stirring after each heating. Stop just before all of the chocolate is melted because it will continue to melt itself from the heat.
Stir until completely melted.
Remove 3-4 balls at a time from the freezer, leaving the others in the freezer until ready to dip.
Using a toothpick, dip balls into melted chocolate, covering about ¾ of the ball. Shake off excess and place on prepared baking sheet.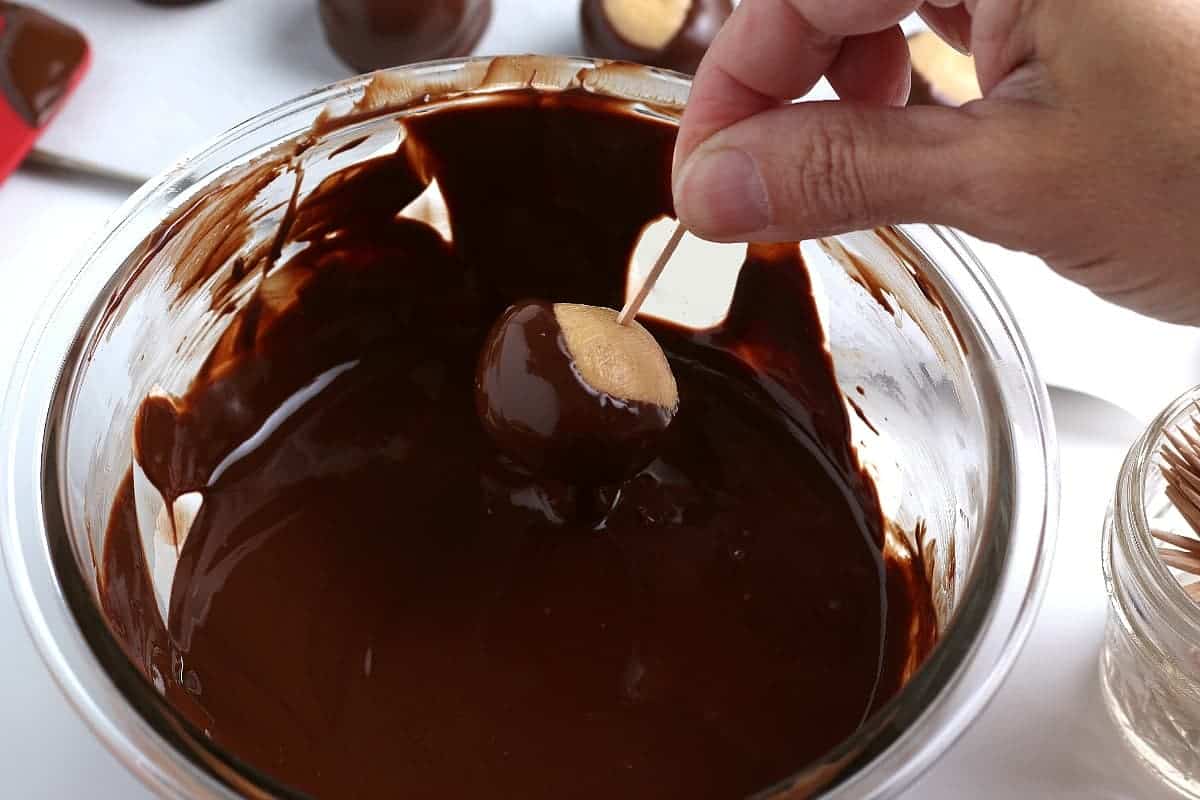 Twist the toothpick out of the ball. With your fingertip or knife tip, smooth over the hole from the toothpick
Store in an airtight container at room temperature for 2 days or in the refrigerator for up to 2 weeks. Or freeze for up to 3 months.
Pro tips:
If you store this vegan buckeye candy in the refrigerator just keep it covered.
Mix in the powdered sugar very well so that the consistency is even.
You can reduce the dairy-free butter by a tablespoon if you'd like a firmer ball.
Some kinds of peanut butter are oilier than others so you really need to mix the dough with these measurements. It's easy to add extra powdered sugar if it is too sticky (oily).
Dust your hands with powdered sugar when rolling the dough into balls. Then you'll be sure not to get sticky hands.
If you'd like to dress them up with color for Valentine's day then you can change out the chocolate for vegan white chocolate and sprinkle with a few red sprinkles.
Or you can keep them chocolate and add red for Valentine's Day or red and green for Christmas or blue for Chanakah and on and on.
If you'd like to freeze these balls it is no problem. They can be taken one at a time right out of the freezer and enjoyed.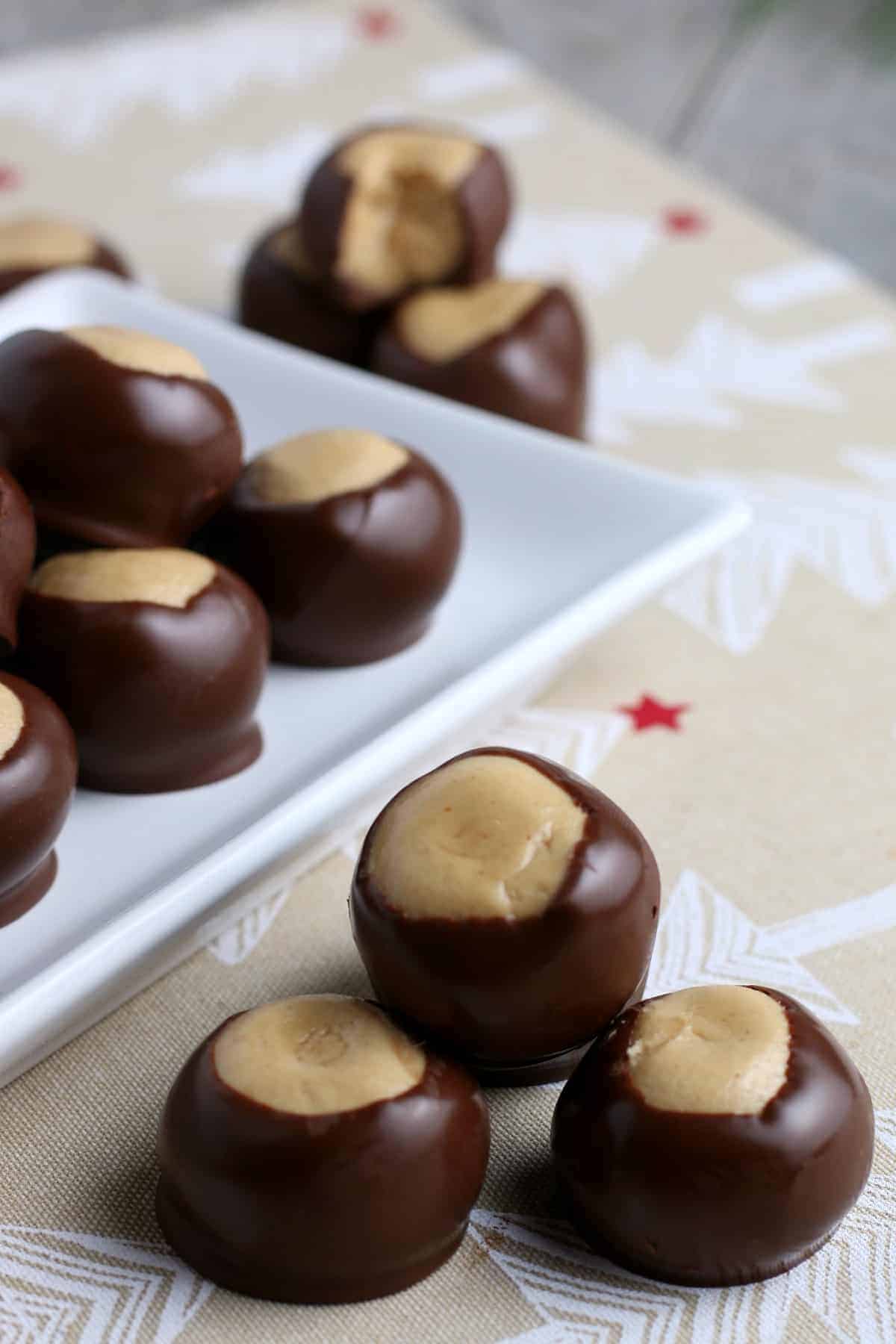 FAQ's
What is the best peanut butter to use?
To keep them tasty and classic use a creamy salted peanut butter. If you want to use a natural peanut butter you want to mix the pb really well. Like, scoop it all into a bowl and mix it.
Can crunchy peanut butter be used in this buckeye candy recipe?
Yes! That is just a variation and it is so very good.
Why are they called buckeyes?
This candy mimics the nut from the buckeye tree that is the state tree of Ohio. The Buckeyes are the name of their football team too.
Can I use coconut oil for the chocolate?
Yes, that is no problem but you have to use the solid white kind not the liquid one. The chocolate needs to reharden after it cools.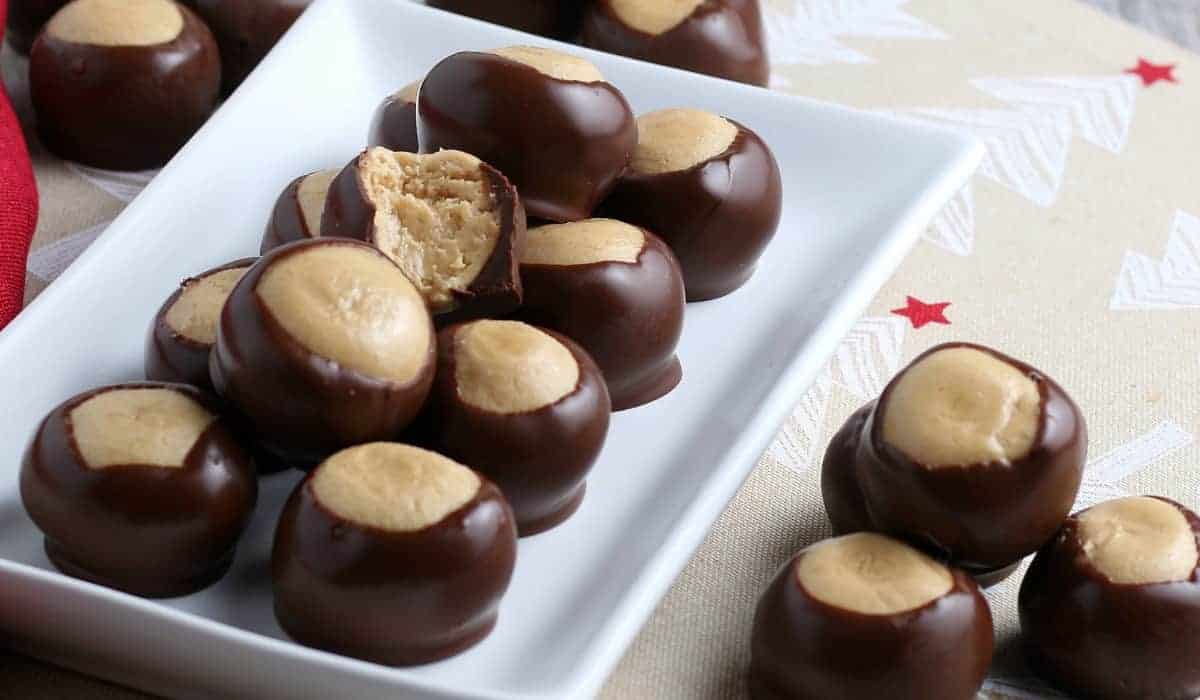 What chocolate is best for homemade candy
They will all work but of course, we want to choose vegan chocolate to start with.
If you're a dark chocolate lover then by all means use that. It is naturally vegan and melts very quickly and smoothly.
Melting wafers work and there are a few vegan varieties in both white chocolate and regular chocolate.
More peanut butter desserts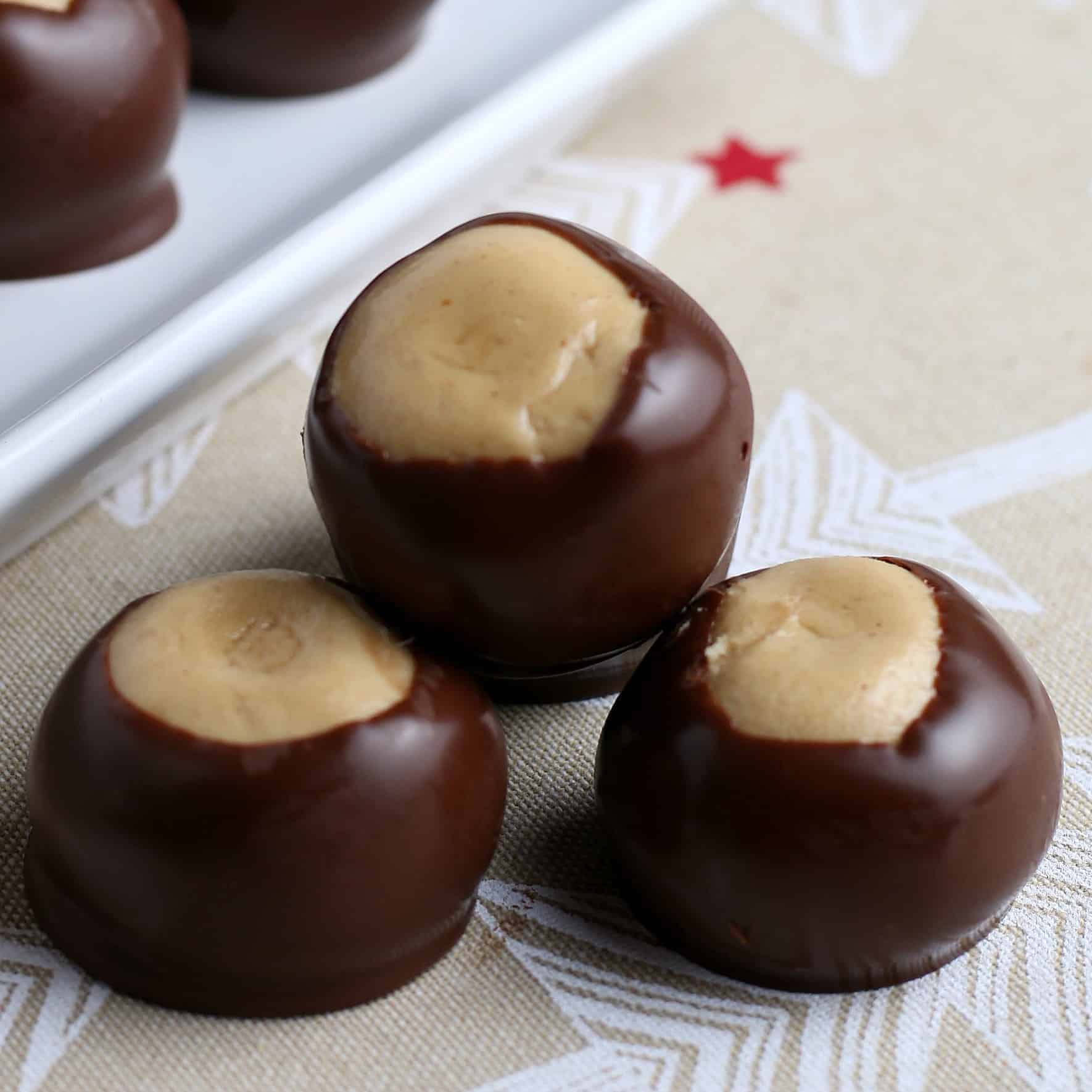 📋 Recipe
Vegan Buckeye Candy Recipe
Buckeye Candy is a classic with sweetened peanut butter and chocolate being the winning combination.
Ingredients
1 ½

cup

Creamy peanut butter

½

cup

Dairy-free butter

- softened

1

teaspoon

Vanilla extract

3 ½

cups

Organic powdered sugar

12

ounces

Vegan semi-sweet chocolate chips

2

tablespoons

Vegan vegetable shortening

- or solid coconut oil
Instructions
Line baking sheets with parchment paper

In a large bowl, beat peanut butter, butter and vanilla extract until creamy.

Gradually add powdered sugar until well combined

Shape into 1 inch balls and place on prepared baking sheet. Freeze for 1 hour.

In a microwave-safe bowl, add chocolate chips and shortening. Heat for 1 minute, stir and continue heating for 10-15 seconds at a time, stirring after each heating and stop just before all chocolate is melted. Stir until completely melted.

Remove 3-4 balls at a time from the freezer, leaving the others in the freezer until ready to dip

Using a toothpick, dip balls into melted chocolate, covering about ¾ of the ball. Shake off excess and place on a prepared baking sheet, With your fingertip or knife tip, smooth over the hole from the toothpick.

Store in an airtight container at room temperature for 2 days or in the refrigerator for up to 2 weeks. Or freeze for up to 3 months
Nutrition
Serving:
1
Candy
Calories:
122
kcal
Carbohydrates:
14
g
Protein:
2
g
Fat:
9
g
Saturated Fat:
3
g
Sodium:
52
mg
Potassium:
93
mg
Fiber:
1
g
Sugar:
12
g
Vitamin A:
4
IU
Calcium:
8
mg
Iron:
1
mg