This Healthy Chickpeas and Red Lentils Recipe is simple to throw together for a very satisfying dinner. Lots of texture and spices make it a perfect main dish or side dish.
Isn't it nice when you have a group of recipes that are your favorites, cook up quickly, and are healthy to boot?
I have quite a slew of them but this Healthy Chickpeas and Red Lentils Recipe is a standard 'go-to' for me. It's probably one of the most basic, yet it's filling and unique in taste.
After a full day of 'life,' it is really nice to have something so easy to prepare.
The lentils are the star of this vegan dish. And they are beautifully complemented by nutritionally rich and healthy chickpeas, a.k.a garbanzo beans.
Sweet vegetables like onions, carrots, and tomatoes are also added and then spiced with curry and Garam Masala.
Not only is it healthy and vegan but this recipe is also gluten-free and oil-free. You can't beat it.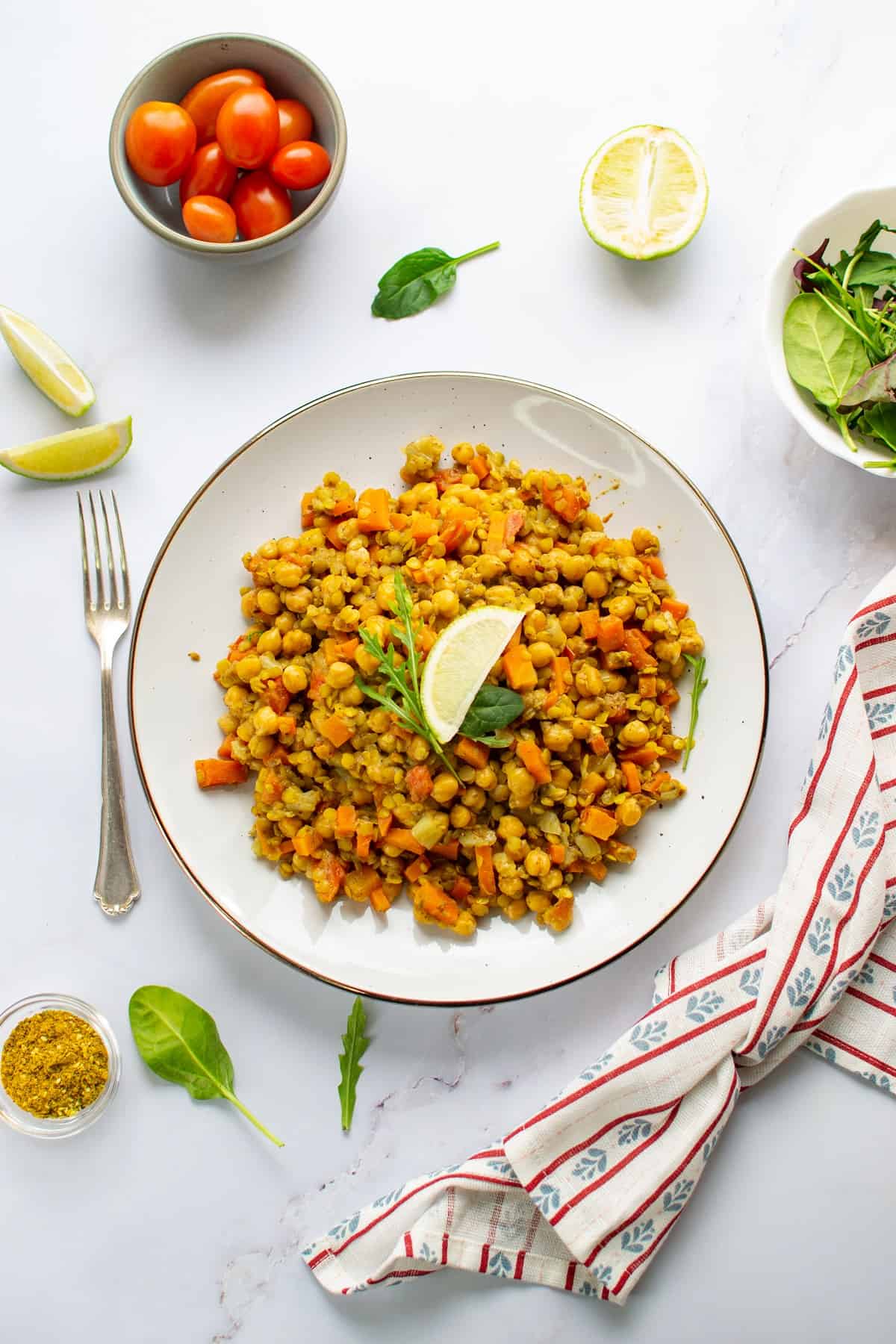 I added a link here and in the recipe's instructions for the homemade Garam Marsala spice mixture. It is not only super easy to make, but it will also save you lots of money.
You probably have the majority of the spices in your cupboard already so you'll be able to take advantage of them. Besides, you can use it to add rich, intense flavors to many other weeknight dinners.
Vegan Protein Rich Food
Lentils and chickpeas are legumes that are very rich in proteins, fiber, and pack a mighty dose of vitamins and minerals too.
One serving of this dish (about 1 ½ cups) is a whopping 32 grams of protein. That's almost all of the protein a woman needs in a day.
The slightly sweet red lentils become incredibly soft when cooked and contrast with the more nutty chickpeas that have a firmer texture. What's not to love?
This isn't in the recipe but you may be wondering what the sprinkle is on top of the dish and in the little bowl next to the plate.
It's hemp hearts. I'm hooked on them and they happen to be very high in protein too.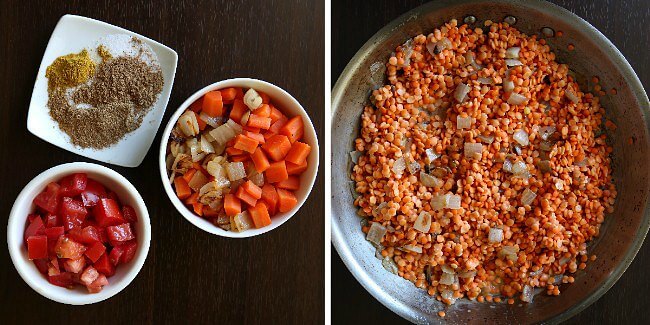 Ingredients
1 ½ cups carrots - about 2 large carrots, chopped very small
½ cup onion diced
1 ½ cups red lentils, dried
1 cup dairy-free milk
2 cups vegetable broth
1 cup water
2 Roma tomatoes, diced
15 ounces chickpeas, drained, also called garbanzo beans
2 teaspoons Garam Masala seasoning
½ teaspoon curry powder
1 teaspoon salt



Vegetables and Legumes
Of course, this vegan chickpea recipe wouldn't be complete without a larger variety of veggies.
The sweet, translucent onions, add incredible flavor to the base of this dish, especially when further cooked with the beans.
Crunchy carrots are everyone's favorite. They add beautiful color, sweet flavors, and a nice contrasting texture to each bite.
The Roma tomatoes help create that creamy texture, especially when paired with dairy-free milk.
I love how these simple vegetables can make this dinner dish quite special.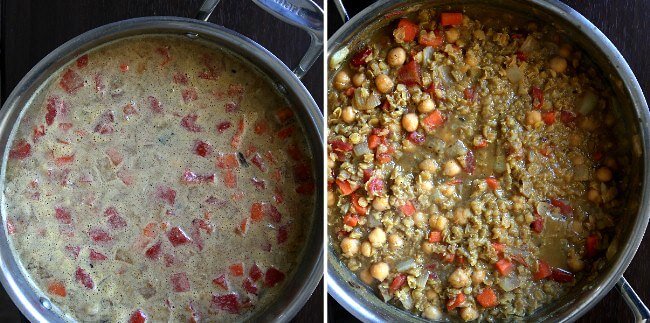 How Do You Make Vegetable Broth?
I'm going to cover this briefly but it is made from vegetable scraps. That means your real scraps. Things like carrot peelings, onion skins and herb stems.
You can add scraps to a freezer bag and freeze and just keep adding to it until you're ready to make your broth.
I'm unsure if anyone ever mentions this, but balance is a bit important. I added way too much celery scraps compared to everything else once and I didn't like it.
I found a nice article at Oh, My Veggies on making homemade broth so you might want to check it out sometime. Don't forget to come back!
The Spices
Garam Masala is a nice mixture of Northern Indian and South Asian spices when combined adds tons of flavor and a beautiful spicy kick.
Pair that with some extra curry powder, and you have a beautifully flavored perfect dinner made with simple ingredients.
Here's a photo of the mix that I've made and the Garam Masala seasoning recipe is also on the blog. Add it to your life and cooking repertoire.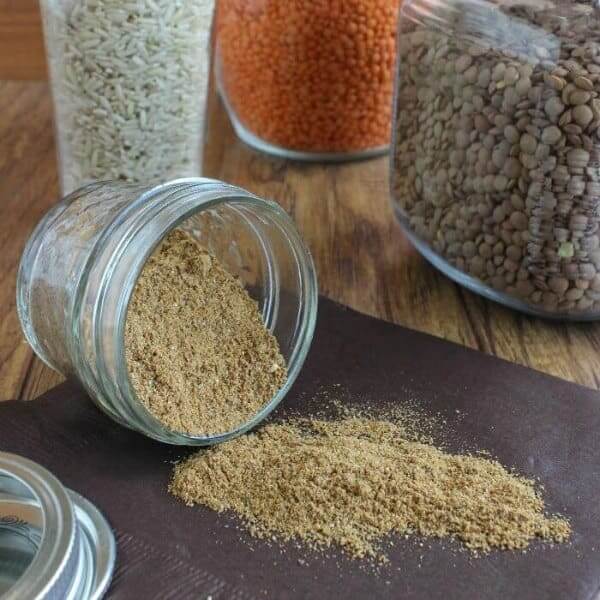 One thing that has been added to my life lately is yoga. I still try to do regular exercises but most of the time I tell myself that just running around like I do is enough.
It really isn't. Especially for strengthening your core and muscles.
Healthy living, yoga and wellness is my new mantra so I bend and hold, stretch and hold, balance and hold. I had no idea you could work up such a sweat from holding a pose. I love it!
I would like to know how you break a sweat these days and don't forget to make this nutritious dinner or side dish. You are going to love it too!
📋 Recipe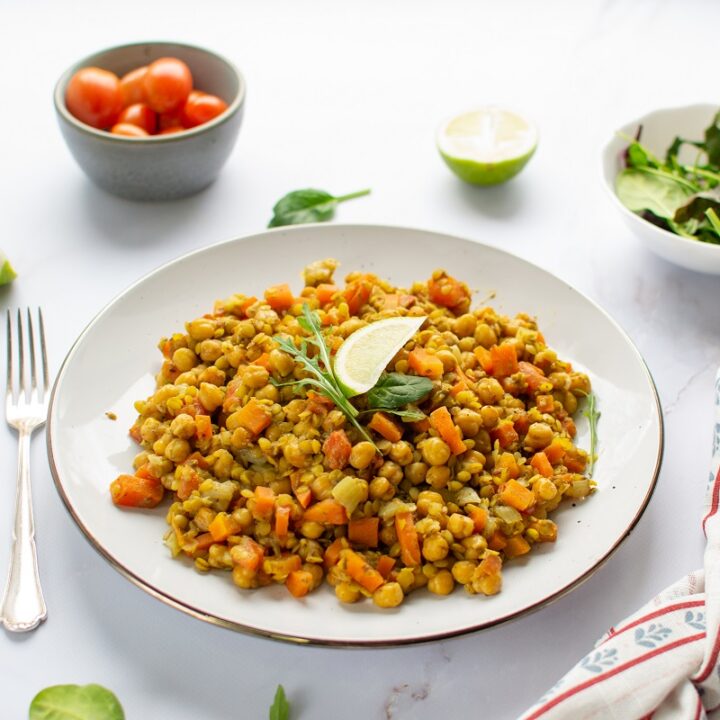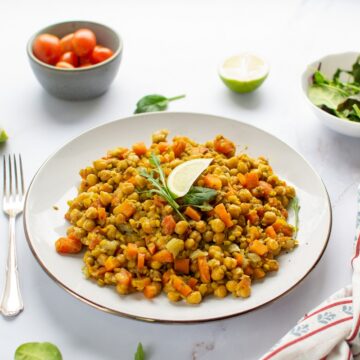 Hearty Chickpeas and Red Lentils Recipe
Hearty Chickpeas and Red Lentils Recipe is simple to throw together and easier to eat.
Ingredients
1 ½

cups

carrots - about 2 large carrots, chopped very small

½

cup

onion

diced

1 ½

cups

red lentils, dried

1

cup

dairy-free milk

2

cups

vegetable broth

1

cup

water

2

Roma tomatoes, diced

15

ounces

chickpeas, drained, also called garbanzo beans

2

teaspoons

Garam Masala seasoning

½

teaspoon

curry powder

1

teaspoon

salt
Instructions
Partially boil the carrots then drain and set aside. Only about 5 minutes.


While the carrots are cooking add a couple of tablespoons of water to a large skillet and heat to medium. Add the onion and sauté until translucent. About 10 minutes.


Add the red lentils, dairy-free milk, vegetable broth, water, tomatoes, partially cooked carrots, garbanzo beans, garam masala ( This is a homemade recipe that is so easy to make and it will help you save money too), curry powder and salt. Stir well.


Bring to a quick boil and then turn down and simmer on medium heat for 20 minutes.


Every once in a while, stir to keep the beans and lentils from sticking.


At the end of 20 minutes check to see if the lentils are done. If not, cook a very few more minutes.


Taste and check for more salt or a dash of pepper but I don't think you will need any.
Nutrition
Serving:
1
Serving
Calories:
470
kcal
Carbohydrates:
79
g
Protein:
32
g
Fat:
5
g
Saturated Fat:
1
g
Sodium:
667
mg
Potassium:
1312
mg
Fiber:
31
g
Sugar:
11
g
Vitamin A:
8330
IU
Vitamin C:
13
mg
Calcium:
118
mg
Iron:
8.7
mg