Homemade Italian seasoning adds so much flavor to sauces and casseroles. You probably have all of the ingredients in your cupboard already so check it out. It only takes a little measuring and you are done.
I use a lot of Italian seasoning and I bet you do too. The recipes that you can make are countless and if you can make a Homemade Italian Seasoning then you are also on your way to saving money.
You see all of the herbs and spices that are used in this recipe and Italian cuisines are probably already in your cupboard and just waiting to be used more often.
There's an Italian seasoning packet on the shelves in the grocery store. I think you know the section I mean. But do you know that those packets only hold about 2 tablespoons of the herb mix and the price is way-way out there?
Don't be intimidated by making your own herb and seasoning mixes because it is really easy. You can keep the mixes in old jars that you've already collected or buy one of the many glass jar sets that are out there.
Italian Seasoning Uses
This recipe goes really well in red sauces and countless casseroles. It also goes really well sprinkled in with sautéd vegetables. You can easily cut this recipe in half or if you're like me - go for it!
A little bit goes a long way and it really does make a difference. You know when someone says that a recipe needs a little something? Well, that little something is usually a little seasoning.
A pinch of seasoning and maybe a little salt might be all you need.
What seasonings are in Homemade Italian Seasoning?
oregano, dried
dried basil
dried rosemary
thyme, dried
dried marjoram
garlic powder
ground sage
Herb and spice mixes are so pretty. Not only do they complement your recipes but they make a wonderful gift too.
Everyone gets a smile on their face when they're handed a pretty small jar of a great mix. You can even attach a favorite recipe to go along with the seasonings.
What Are Some
Homemade
Spice Mixes for Gifts and Home
Homemade Ranch Dressing Mix
Taco Seasoning is always a favorite.
Fajita Mix is becoming my fast and favorite seasoning mix.
Garam Masala is indispensable for many East Indian dishes
Homemade Cajun Seasoning
Homemade Curry Powder
Pumpkin Spice Mix is a must-have in the autumn. Those little white jars were from World Market.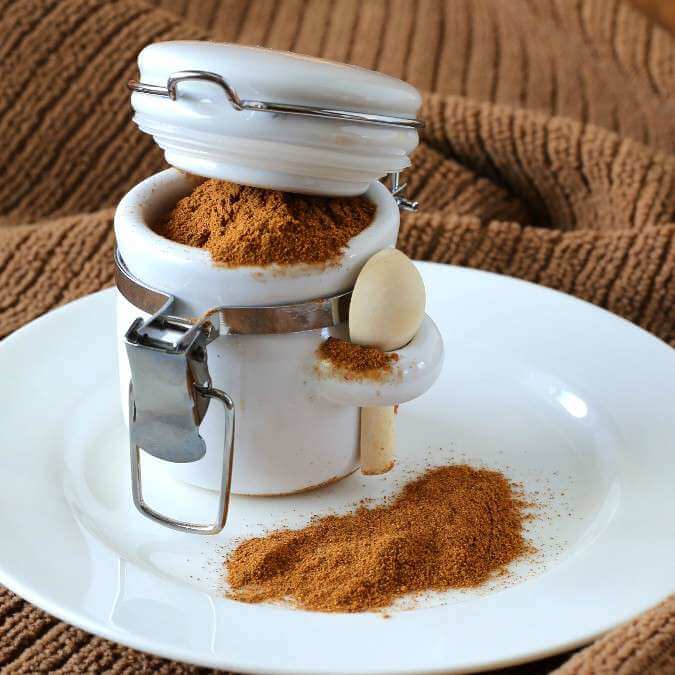 I didn't realize I had so many mixes on the blog. It looks like there are some I need to add too.
So don't procrastinate and do yourself a favor. This recipe really only takes 15 minutes, at the most. It's just measuring.
This post contains affiliate links. Read my disclosure policy here.
What Do You Think?
If you take a photo of your pretty mix I would love to see it. Follow me over on Instagram and tag me on your photo @vegan_in_the_freezer.
And if you'd like to leave a star rating along with a comment, it would really be appreciated.
Homemade Italian Seasoning
Italian seasoning adds so much to a sauce or casserole. You probably have all of the ingredients in your cupboard already so check it out.
Ingredients
2

tablespoons

dried oregano

2

tablespoons

dried basil

2

tablespoons

dried rosemary

2

tablespoons

dried thyme

2

tablespoons

dried marjoram

1 ½

teaspoons

garlic powder,

not tablespoons

1 ½

teaspoons

ground sage,

not tablespoons
Instructions
Mix all of the ingredients together. That is it.
Notes
Keep in an airtight container in a cool dark place for up to a year.
Do not freeze. Some of the herbs and spices may change their flavor.
Nutrition
Serving:
1
Tablespoon
Calories:
9
kcal
Carbohydrates:
2
g
Sodium:
1
mg
Potassium:
50
mg
Fiber:
1
g
Vitamin A:
90
IU
Vitamin C:
0.7
mg
Calcium:
56
mg
Iron:
2.3
mg