Homemade Chili Seasoning Mix is so easy.  Two tablespoons equals one of those packets you buy at the store.  Use it in chilies, tacos, casseroles, bean patty mixes and more!
To tell you the truth I can't remember when there weren't those little packets 'for seasoning everything you can think of' in the grocery store.  I do know there didn't use to be so many of them though.
It seems that the packet section in the grocery store gets bigger and bigger every year.  For sure, I think the first was that little box that holds two packets for onion soup mix.
People didn't buy it for onion soup.  They bought it for onion dip.  That was a prerequisite for every single party back then – for everyone.  It is still packaged the same today.
Somewhere out there, in geniusland, a wise person thought about making an assorted variety of packets for multiple dishes.  The first one was probably for chili and probably by Lawry's.
They make a lot of money off of those little packets.  A couple of other mixes that I have on the blog are Homemade Taco Seasoning and Homemade Garam Masala Seasoning.  It saves so much money to mix your own and they're pretty too.
I want to do a type of ranch dressing mix next.  Something that can stay vegan and still have the tang of ranch.
Now you can save some more of your money by making your own Homemade Chili Seasoning Mix.  It takes no time at all and you can make enough to last a year.
 You might want to make more than you think you need because it works with so many kinds of recipes.  I love to use it in my bean patties.  Go ahead and use it in chilies, tacos, casseroles and more!
Connect with Vegan in the Freezer
Facebook | Pinterest | Instagram | Bloglovin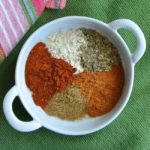 Homemade Chili Seasoning Mix
Homemade Chili Seasoning. Two tablespoons equals one of those packets you buy at the store
Instructions
Place all of the ingredients in a bowl and mix well.
Recipe Notes
No need to freeze because the chili seasoning will keep for about a year.
Just pack in an airtight container and keep out of the bright light.
2 tablespoons equals on of those packets you buy at the store.
Nutrition Facts
Homemade Chili Seasoning Mix
Amount Per Serving (1 tablespoons)
Calories 21
% Daily Value*
Sodium 48mg 2%
Potassium 117mg 3%
Total Carbohydrates 3g 1%
* Percent Daily Values are based on a 2000 calorie diet.