How to Make Pumpkin Pie Spice is done in minutes with ingredients you probably already have. A homemade mixed spice recipe that you can add to Pumpkin Spice Latte's, Spiced Popcorn, Sweet Spiced Nuts and so much more!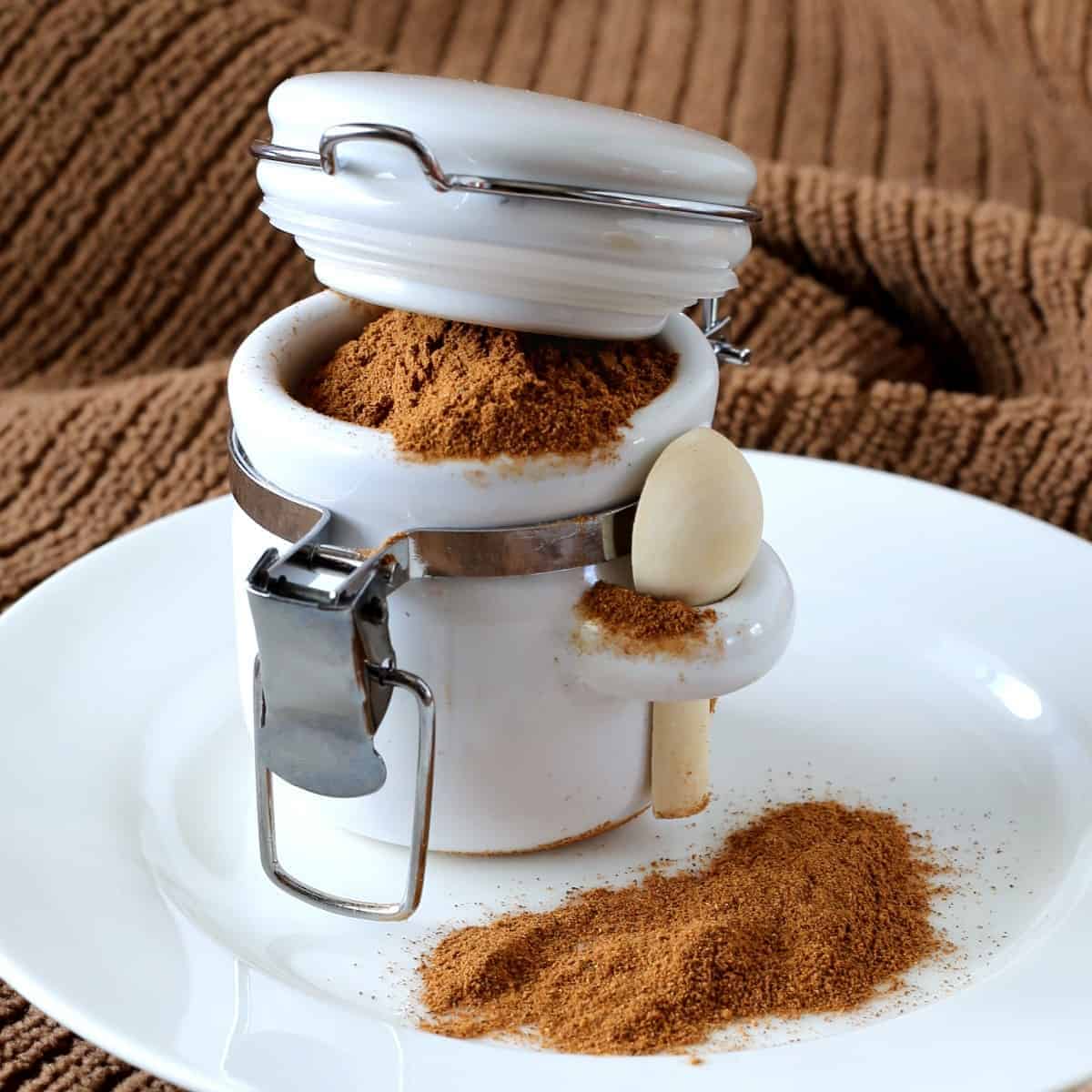 It seems like Pumpkin Pie Spice is used by the pounds in our house every year.
Between all the Pumpkin Pancakes, Spiced Pumpkin Energy Bars, Pumpkin Pie Protein Shakes, and Pumpkin Muffins there are lots of tablespoons being dispersed all over the place.
Making your own pumpkin pie spice blend is an easy foolproof way to save money too. Another bonus is that you probably already have all of the ingredients in your cupboard already.
You might even have little empty jars. I find some of mine at Cost Plus/World Market (that was just an aside). There are really a cool variety of cute little jars over there.
Mixing your own spice blends is satisfying and definitely easy. You might as well prep your home now for all the baking that is going to be going on over the next few months.
Quick table of contents
Jump to:
They make a lot of money in the grocery stores off of those little jars full of spice blends. You can really make many of them yourself.
A couple of other mixes that I have on the blog are Homemade Taco Seasoning and Homemade Garam Masala Seasoning.
Not only is it more economical to make your own homemade pumpkin pie seasoning mix but the little filled jars are pretty too.
Go ahead and make this pumpkin pie spice mix first and get going on your baking and lattes. Go for it and make enough for the whole season!
💭 FAQ's
Is pumpkin pie spice gluten free?
Yes - every single spice. Just ask McCormick. I did 🙂
How long can you store this mix?
This is the most asked question. You can keep it fresh for longer than you think. 2-3 years actually and then it begins to lose its potency.
Is pumpkin pie spice healthy?
You can't beat it! So many of these spices are good for inflammation, your brain by improving memory and having better cognitive processing,
What does pumpkin pie spice taste like?
I hate to say it's spicy when talking about spices. But the spices that are combined in this mix are strong earthy flavors that also have a little heat. They blend really well with sweeter contrasts.
👩🏻‍🍳 How to make pumpkin pie spice
Get out your measuring spoons.
If you're going to grate your own fresh nutmeg then also take out your microplane or nutmeg grater.
Take out all of your spice jars for ground cinnamon, ground ginger, ground allspice and ground cloves, nutmeg (whole or ground).
Measure each ingredient into a small bowl. Mix thoroughly.
Store in jars with tight lids in a cool dark place.
I go a little heavier in the ginger department than most recipes I see. That's because it kicks up the flavor a notch and it is just plain good!
Don't forget you can double the recipe and give away as gifts.
🥧 How can pumpkin spice be used
Don't miss out on those delicious Pumpkin Muffins that I mentioned above.
Pumpkin Spice Cinnamon Cake can be cut into the largest pieces that you like.
And don't forget god old vegan pumpkin pie!
Roasted sweet vegetables such as sweet potatoes and carrots would be delicious with a sprinkling of the seasoning mix.
If you don't have mashed pumpkin for your waffles or pancakes a little bit of this mix will go a long way in the batter.
Did I mention popcorn? Whoa! Mix some with sugar and sprinkle on warm dairy free buttered popcorn.
📋 Recipe
Homemade Pumpkin Pie Spice Recipe
Homemade Pumpkin Pie Spice can be made in minutes with ingredients you probably already have.
Ingredients
4

tablespoons

ground cinnamon

1

tablespoon

ground ginger

2

teaspoons

nutmeg

2

teaspoons

ground allspice

1 ½

teaspoons

ground cloves
Instructions
Measure all of the ingredients in a small bowl.

Mix well and store in an airtight container.
Nutrition
Serving:
1
Ounce
Calories:
36
kcal
Carbohydrates:
9
g
Sodium:
3
mg
Potassium:
77
mg
Fiber:
5
g
Vitamin A:
25
IU
Vitamin C:
0.7
mg
Calcium:
90
mg
Iron:
1.2
mg