Kale White Bean Soup serves up a complete meal with this one recipe. An easy and delicious recipe that you need to make asap. Great on any night of the week.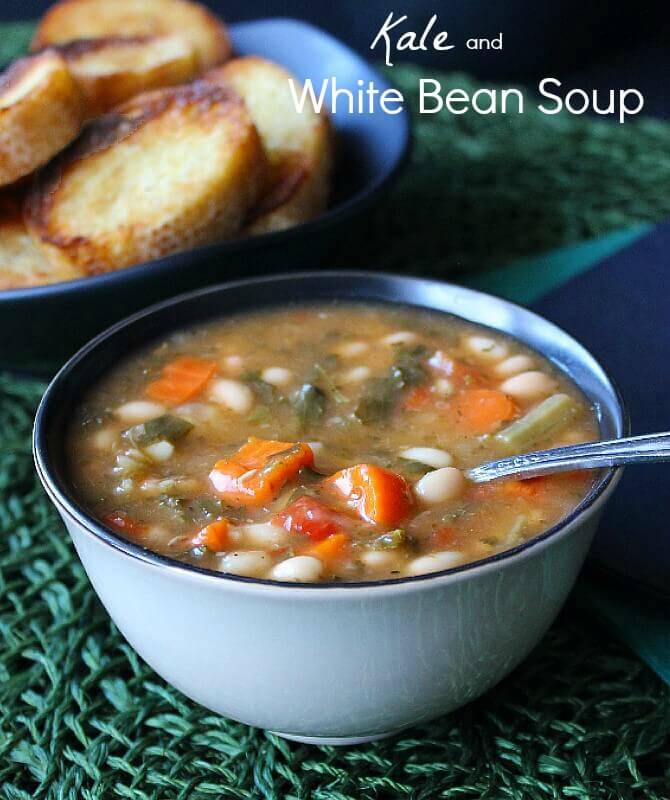 Thank goodness for beans! Have you ever met anyone who doesn't like beans? Even kids?
Well, my nieces have to have refried beans, in the can, that say vegetarian not natural. I mean they can really tell!
But ... small particulars aside. Beans are wonderful! They are lifesavers - especially when picky eaters are involved.
I was a bit nervous when I made this soup. It has all the classic flavors of a good soup but there is a questionable ingredient to many. Kale.
Not that it isn't any good because, believe me, it is delicious but so many people don't want to try new things. So, with trepidation I put the new, beautiful, eye opening, soup on the table.
Of course, the question 'What's this?' was asked. 'A flavorful hearty soup' was my answer. You can't fool me!
So ladles of soup filled the bowls and people started eating. Whew! They loved it. Compliments started immediately and crusty bread disappeared along with it.
Yeah! A new bean soup with more nutrition and fiber. Kale White Bean Soup 🙂
How Do You Remove the Stems From Kale?
The tough ribs need to be removed. A super simple way to do this is to fold your kale in half right down then stem.
Take a sharp knife and slice just to the side of the stem.
Start at the top and come on down to the bottom of the leafy part and cut that stem away. Beautiful! No holes anywhere and no tears.
Some people tear the leaves off the stem but it takes longer and it looks messy. You'll probably have holes in the leaves.
So I prefer the single cut per leaf and done.
We eat a lot of soup during the fall and winter. A few of our favorites are:
📋 Recipe
Kale White Bean Soup
Kale White Bean Soup serves up a complete meal with this one recipe.
Ingredients
16

ounces

navy beans

dried

1

tablespoon

coconut oil

½

cup

onions

coarsely chopped

1

clove

garlic

finely chopped

1

red bell pepper

diced

4

tomatoes

plum/Roma, chopped

2

cups

carrots

sliced into chunks

5

cups

vegetable broth

6

cups

water, divided 4 cups and 2 cups

1

teaspoon

Italian Seasoning

my homemade recipe is linked below in Instructions

2

teaspoons

sea salt

½

teaspoon

black pepper

1

lb

kale

stems and center ribs discarded and leaves coarsely chopped
Instructions
Place beans in a large stockpot and cover with water by about 3". Let it sit overnight to let the beans expand.

If you want to do the quick method for preparing the beans t(instead of soaking overnight) then cover beans with water by 2 inches in a stockpot. Cover with a lid and bring to a boil. Remove from heat and let stand, uncovered, 1 hour. Drain beans.

Put the oil in the same stock pan and heat over medium heat.

Add the onions and saute for about 15 minutes until soft and translucent.

Add garlic and cook, stirring, 1 minute.

Add beans, red bell pepper, tomatoes, carrots, broth, 4 cups water,

Italian seasoning

, salt, and pepper.

Cover and bring to a boil. Uncover and turn down to a simmer.

Cook until beans are tender, about 60 to 90 minutes.

Stir in kale and remaining 2 cups water and simmer, uncovered until kale is tender. About 12 to 15 minutes.
Notes
IF FREEZING:
You can freeze this soup but it has to be done before you add the kale. In other words, it would be a kale-less white bean soup the first time around and after you defrosted and heated that is when the kale would go in.
Let cool to room temperature. Package in rigid sided containers.
TO PREPARE AFTER FREEZING:
Remove from the freezer and put in the refrigerator overnight because it is a pretty solid mass and will take longer to defrost.
THE NIGHT OF SERVING:
Put all in a large saucepan and heat through. You can add more broth if you think it is too thick. Add the fresh kale (if you like) and cook for about 15 minutes. Ready to serve.
Nutrition
Serving:
2
cups
Calories:
218
kcal
Carbohydrates:
39
g
Protein:
10
g
Fat:
3
g
Saturated Fat:
2
g
Sodium:
1622
mg
Potassium:
1057
mg
Fiber:
10
g
Sugar:
7
g
Vitamin A:
16400
IU
Vitamin C:
131.6
mg
Calcium:
196
mg
Iron:
3.5
mg