Black Bean Dip is a favorite and when it's made Mexican style with mild green chilies and a secret ingredient it's over-the-top good!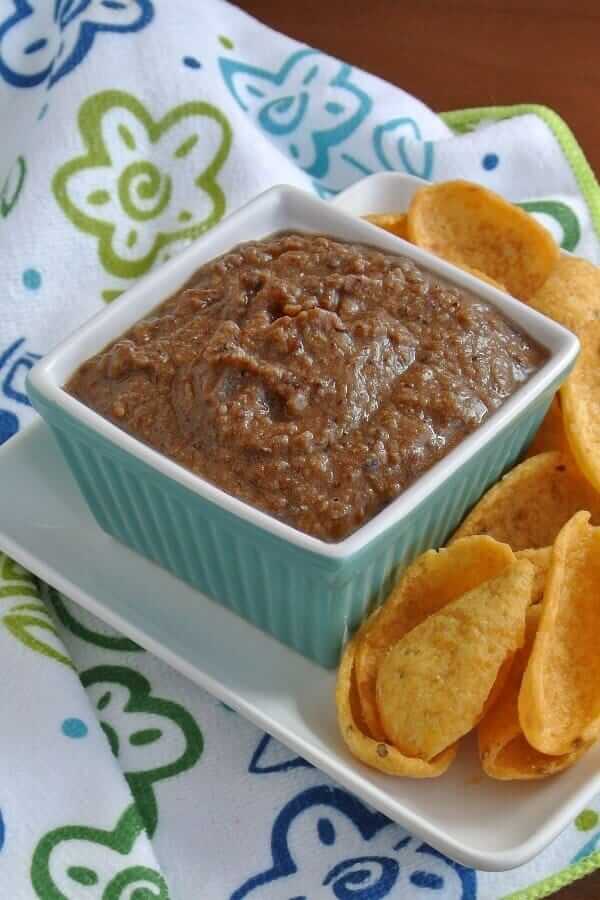 I wanted a dip that was a bit different this football season so I used some of the classic ingredients of Mexico's mole sauce and added it all to black beans.
You don't taste the chocolate at all so don't be afraid. It just adds to the flavor and gives a richness to the dip.
Black beans and mild chilies are the stars and a little bit of everything else makes for a great dip that disappears quickly.
It's an easy recipe where the final step is to blend everything together to make a creamy dip.  You can use a blender or a smaller sized food processor.
To me, the mix of flavors is just right. I especially like the big scoop Fritos with it but you can use any of your favorites to make this a special day.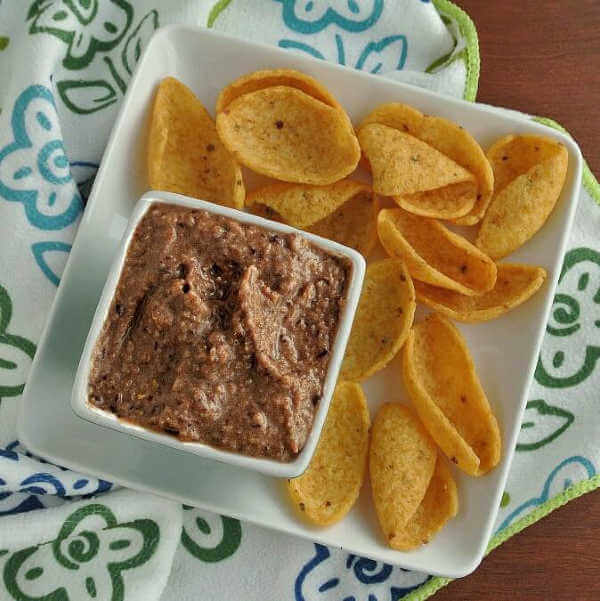 Although corn chips are perfect for dunking many fresh vegetables would be excellent too.  Bell pepper slices and jicama spears would be so delicious and they'd also add to the Mexican style flavors.
What To Serve With Black Bean Dip Mexican Style
As mentioned above bell peppers would be great, both red and green.
Cauliflower florets.
Not only corn chips but tortilla chips would also go well.
Carrots, for sure.
Don't forget the celery.
Have you ever had jicama?  Now's your chance.
Most ingredients are pictured below and I wanted to show the nice variety of flavors, not pictured are the chilies and salt.
Have you ever heard of Mole Sauce in Mexican cuisine?  Well, that's how I came up with this recipes.
There are more spices for the sauce and they change it up for different dishes but there are always chilies and a tad of chocolate.
As for pronouncing Mole it is kind of hard to explain.  The accent is on the first half Mo and the second half is like eh. So Móleh is as close as I can get.
One thing I can explain very clearly though is that it sure tastes great.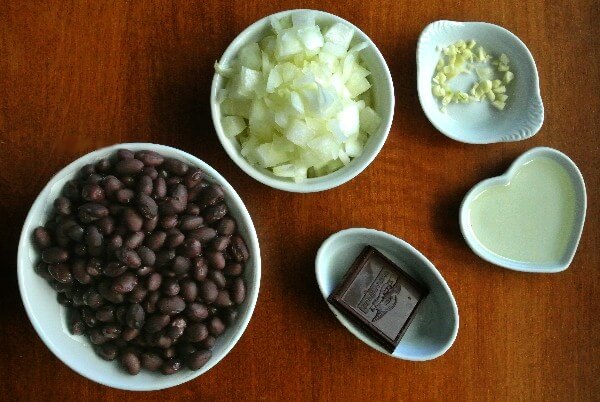 Other Black Bean Dip Recipes You May Like:
As you can see they are all different but still have unique and delicious flavors.
Black Beans are Protein Packed
Unbelievably, a cup of black beans is 15g of protein.  I repeat, 15 grams.
Not only that, beans have lots of fiber.
There are Omega 3 and Omega 6 fatty acids.
NO cholesterol or sugar.
11 minerals including around 30% of your daily minimum requirements of magnesium.
7 vitamins and even more.  Black Beans are good!
This post contains affiliate links. Read my disclosure policy here.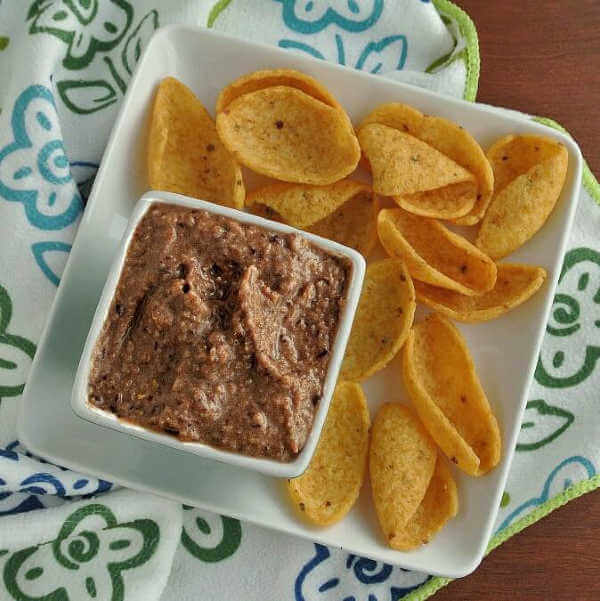 Print
Black Bean Dip Recipe
Black Bean Dip is a favorite and when it is made Mexican style with mild green chilies and a secret ingredient then you have a dip that is over-the-top good!
Ingredients
1

tablespoon

coconut oil

1/2

cup

white onion, chopped

2

cloves

garlic, finely chopped

1/2

ounce

semi sweet chocolate

20

ounces

organic black beans, canned, drained and rinsed

4

ounces

mild green chilies, 1 small can

1/2

teaspoon

salt
Instructions
Heat the oil in a skillet.

Saute the onions for about 7 minutes until they become translucent.

Add the garlic and cook 1 more minute.

Add the chocolate and cook until the chocolate is melted. Take off the heat.

Add the mixture from the skillet to a blender along with the rest of the ingredients.

Turn on and blend until you get a smooth dip.

Serve with your favorite dippers.
Notes
Makes 3 Cups
IF FREEZING:
Let cool to room temperature.
Package in rigid sided containers as defined in my article Preparing Food for the Freezer.
TO PREPARE AFTER FREEZING:
Remove from the freezer and put in the refrigerator for 6 to 8 hours.
Heat in the microwave and serve with chips and veggies of your choice.
Nutrition
Nutrition Facts
Black Bean Dip Recipe
Amount Per Serving (1 Serving)
Calories 165
Calories from Fat 18
% Daily Value*
Fat 2g3%
Sodium 194mg8%
Potassium 376mg11%
Carbohydrates 26g9%
Protein 9g18%
Vitamin C 2.6mg3%
Calcium 30mg3%
Iron 2.2mg12%
* Percent Daily Values are based on a 2000 calorie diet.