Are you looking for a delicious, dairy-free snack that's bursting with flavor and will surely be a hit at your next gathering? Then vegan jalapeno poppers are sure to tantalize the taste buds of foodies and families alike! Ideal as an appetizer or even as part of a light meal, these crunchy vegan stuffed jalapenos offer just the right amount of heat along with rich, creamy goodness, thanks to the vegan cream cheese mixture. Even better, vegan jalapeno poppers are surprisingly simple to make using only easy-to-find ingredients from your pantry. So read on for our recipe on how to whip up some mouthwatering vegan jalapeno poppers in under 30 minutes!
Why You'll Love This Vegan Jalapeno Popper Recipe
Great For Parties- Jalapeno poppers are the perfect appetizer for your next party. Everyone will love these vegan jalapeno poppers with their combination of spice, creamy filling, and crispy topping.
Simple To Make- Vegan stuffed jalapenos are super easy to make, so even if you're a beginner cook, you can still impress your guests.
30-Minute Recipe- This easy vegan recipe requires minimal ingredients and comes together in no time. You can have these delicious vegan jalapeno poppers on the table in just 30 minutes.
Easily Doubled- If you're expecting a larger crowd, this vegan jalapeno poppers recipe can easily be doubled or tripled to accommodate more guests.
What Are Jalapeno Poppers?
Jalapeno poppers are the perfect finger food made with jalapeno peppers, usually stuffed with a cream cheese mixture and spices. They can be baked, deep fried, or even grilled - making them the ultimate party food! This vegan version takes all your favorite flavors of traditional jalapeno poppers and makes them vegan-friendly. We start with jalapeno peppers cut in half lengthwise, stuff them with a tasty blend of plant-based cream cheese, spices, and crushed tortilla chips, and then bake them to golden brown perfection! The result is a savory and tasty snack that's sure to be a hit at any gathering.
Equipment Needed
Baking Sheet or Baking Dish
Parchment Paper
Cutting Board
Sharp Knife
Spoon
Small Bowl
Piping Bag (Optional)
Ingredients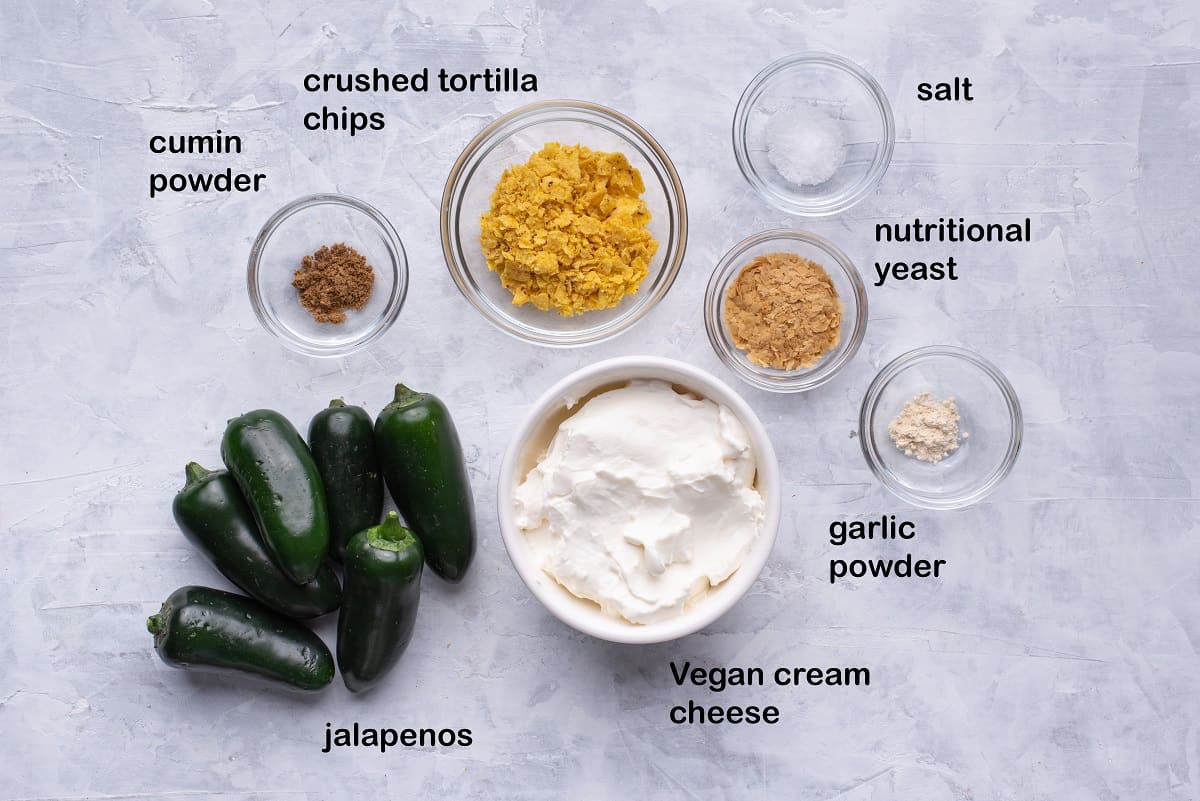 Jalapeno Peppers- Gives the vegan jalapeno poppers their signature spicy kick and serves as the base of this delicious appetizer.
Vegan Cream Cheese- Provides a creamy and savory filling.
Nutritional Yeast- For more vegan cheese flavor.
Garlic Powder- Added to the cream cheese to enhance the flavor.
Cumin Powder- To give the cream cheese filling even more depth of flavor.
Salt- Balances out the jalapenos' spiciness and the cheese's creaminess.
Vegan Tortilla Chips- Creates a satisfying crunchy texture.
How To Make Easy Vegan Jalapeno Poppers
Line a baking sheet or baking dish with parchment paper and preheat your oven to 400F. Using a cutting board and sharp paring knife, cut the jalapeno peppers in half lengthwise and remove the seeds and the membrane. Always wear gloves or thoroughly wash your hands after handling the jalapeno peppers because they can be pretty spicy.
Mix the vegan cream cheese, nutritional yeast, garlic powder, cumin powder, and salt in a small bowl. Stir until everything is blended together.
Fill a piping bag with the prepared vegan cream cheese, then fill each of the halved peppers with the cheese mixture. Top each stuffed pepper with crushed tortilla chips and bake in the preheated oven for 15-20 minutes or until the chips are golden brown.
Serve your vegan jalapeno poppers as desired, and enjoy!
How To Serve Vegan Jalapeno Poppers
These vegan jalapeno poppers are a great appetizer for any occasion, and they are the perfect game-day food. They also taste delicious when paired with other vegan recipes such as tacos and burritos. Serve vegan jalapeno poppers with your favorite salsa or dipping sauce as part of an entrée or even as a snack. For an extra-special treat, top your jalapeno poppers with vegan sour cream, vegan cilantro lime sauce, or even diced avocados. Whatever way you choose to serve them, these vegan jalapeno poppers will be sure to please!
Popular Substitutions & Additions
If you don't have any vegan cream cheese, you can use silken tofu, mashed avocado, or creamed cashews instead.
You could add diced onions and bell peppers to the vegan cream cheese filling for extra flavor.
To make your vegan jalapeno poppers even crispier, coat each jalapeno in a light layer of oil or vegan butter before baking.
If you want to add some heat to your poppers, you can mix in hot sauce or diced jalapenos into the vegan cream cheese filling.
Wrap each jalapeno popper with vegan bacon before baking.
For a more sweet and tangy flavor, mix in some vegan BBQ sauce or pineapple salsa.
Add shredded vegan cheddar cheese to the cream cheese mixture for an even more cheesy filling.
Crumble vegan bacon on top of the jalapeno poppers.
Use bread crumbs in place of crushed tortilla chips as a crispy topping for your vegan jalapeno poppers.
Sprinkle vegan cheese on top of the jalapeno poppers for an extra cheesy flavor.
Add other seasonings to the cream cheese mixture, like pepper, onion powder, or smoked paprika.
Combine cream cheese and your favorite buffalo sauce to make an even spicer jalapeno popper.
Can You Freeze These Easy Vegan Jalapeno Poppers?
Yes, you can freeze jalapeno poppers! To do so, let your vegan jalapeno poppers cool completely before transferring them to a freezer-safe container. When ready to serve, simply thaw the jalapeno poppers in the refrigerator overnight and reheat them in the oven or air fryer. These vegan jalapeno poppers can also be stored in an airtight container in the fridge for up to 5 days.
Easy Vegan Jalapeno Poppers FAQs
Can you make jalapeno poppers without vegan cream cheese?
Yes! You can substitute equal amounts of mashed avocado or silken tofu in place of the vegan cream cheese. Additionally, you can make a creamy cashew filling by soaking raw unsalted cashews in water overnight, draining, and blending the cashews in a blender with your own version of seasonings until a creamy filling is made.
How spicy are jalapeno poppers?
The spiciness of jalapeno poppers can vary depending on the type of jalapenos used and how much heat you add to the cream cheese filling. To make your poppers less spicy, remove all of the seeds and membrane from the peppers before stuffing them with the vegan cheese mixture.
How do you make vegan jalapeno poppers crispy?
To get that perfect crunchy texture, coat each jalapeno with a light layer of oil or vegan butter before baking. You can also use more crushed chips on top to give your poppers extra crunch!
What is the best way to deseed jalapeno peppers?
The best way to deseed a jalapeno pepper is to use a sharp paring knife. Slice the pepper in half lengthwise and then carefully remove the seeds and membrane using the tip of your knife or a spoon. Remember to wear gloves or make sure to wash your hands thoroughly after handling jalapeno peppers because they can be pretty spicy!
Can I make air fryer vegan jalapeno poppers instead of cooking them in the oven?
Yes, this is a great recipe to air fry! To do so, simply preheat your air fryer to 400°F evenly place the vegan jalapeno poppers in the air fryer basket and cook them for 12-15 minutes or until they are golden brown and crispy.
📋 Recipe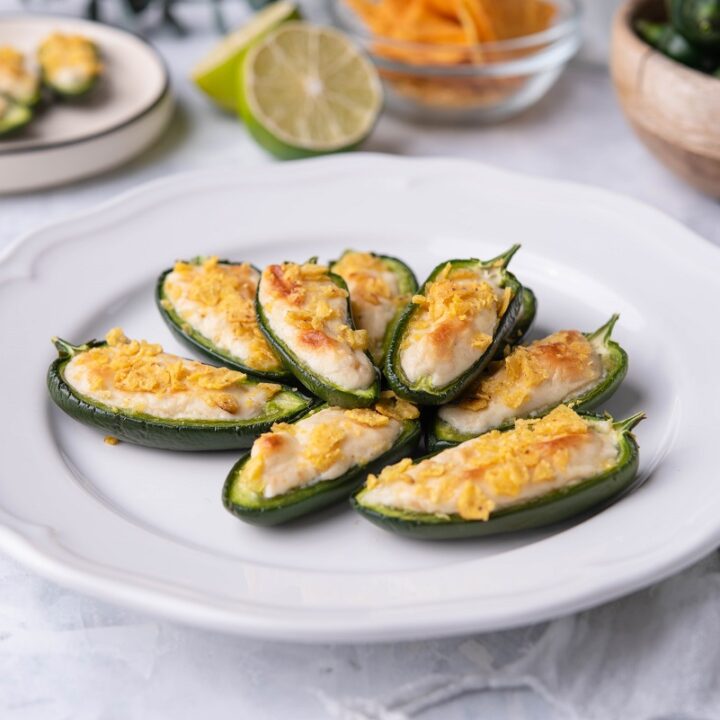 Easy Vegan Jalapeno Poppers
Get ready for a delectable adventure with this sensational appetizer. Poppers are a surefire hit with their vibrant flavor, crunchy texture, and creamy center.
Ingredients
6

jalapenos

6

oz.

Vegan cream cheese

like Trader Joe's Vegan Cream Cheese or Tofutti

1 ½

tbsp

nutritional yeast

½

tsp

garlic powder

½

tsp

cumin powder

½

tsp

salt

2-3

tbsp

crushed tortilla chips

Vegan
Instructions
Preheat oven to 400F and line a baking sheet or baking dish with parchment paper.

Cut the jalapenos in half and remove the seeds and membrane. Ensure you wash your hands thoroughly after this or use gloves for safety as the jalapenos are spicy.

In a bowl, combine cream Vegan cream cheese, nutritional yeast, garlic powder, cumin powder, and salt.

Spoon the mixture into a piping bag, pipe it into the halved and cleaned jalapenos, or just stuff it with a spoon.

Sprinkle crushed tortilla chips over the jalapenos.

Bake the jalapenos for 15-20 minutes or until the Vegan cheese is slightly changed its color.
Nutrition
Calories:
95
kcal
Carbohydrates:
5
g
Protein:
3
g
Fat:
8
g
Saturated Fat:
3
g
Polyunsaturated Fat:
0.02
g
Monounsaturated Fat:
0.03
g
Sodium:
304
mg
Potassium:
78
mg
Fiber:
3
g
Sugar:
1
g
Vitamin A:
153
IU
Vitamin C:
17
mg
Calcium:
22
mg
Iron:
1
mg