While regular cream cheese is a product made from dairy milk that has been curdled and blended smooth, dairy free cream cheese products aim to meet these same tangy and creamy characteristics--without the use of dairy products of course.
Not surprisingly, this can be a difficult feat to achieve so we took an in depth look at as many of the most widely available brands and varieties of vegan cream cheese that we could get our hands on in order to nail down the top dog in each of 4 unique categories!
Whether you seek a non dairy cream cheese that will evoke memories of those bagel + cream cheese lunches of your youth, you're looking to spice up your routine with a fun new flavor or two, or you want something that will blend in seamlessly to all of your favorite dessert recipes, there is a vegan cream cheese out there to make your dreams come true!
What is Vegan Cream Cheese?
The amazing thing about the world of vegan cream cheese is that there are so many different takes on the same product. Each manufacturer may make their dairy free base using different ingredients such as coconut oil, sunflower seeds, palm fruit oil, or soy protein to name just a few. There are also a few organic versions of vegan cream cheeses which are made from ingredients like organic butter beans, organic coconut cream, organic oats, and organic cashews.
Whether organic or traditional, vegan cream cheeses are typically acidified by non dairy lactic acid or lemon juice and stabilized by natural gums like xanthan gum or guar gum. Sometimes, the vegan cream cheese blends are then flavored by other ingredients to create crave-able options like garden veggie, everything bagel seasoned, or "smoked salmon" style.
Vegan cream cheese varieties can be used in all of the same ways as traditional, whether you spread it on a bagel, whip up into a dip, or use it for various baking applications and desserts--hellooo cream cheese frosting!
Vegan Cream Cheese Brands We Tested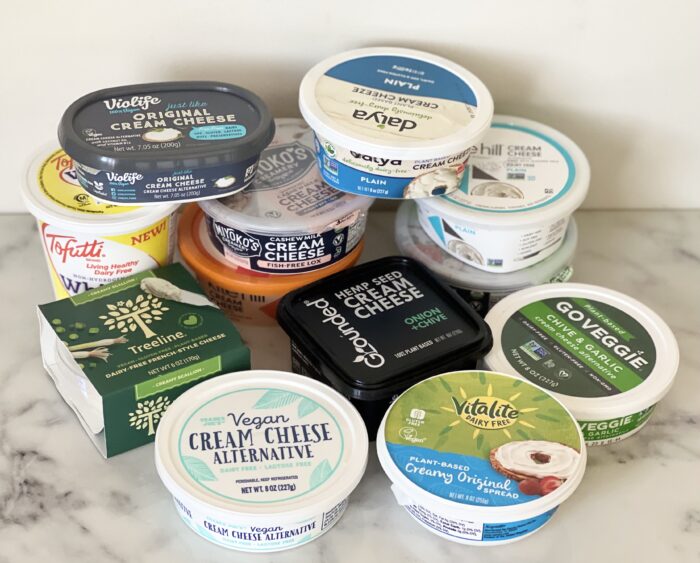 After visiting a variety of major grocery stores and specialty food markets, we were able to gather the following dozen unique varieties of vegan cream cheese:
Daiya Plant Based Cream Cheeze
GoVeggie Chive & Garlic Cream Cheese Alternative
Grounded Hemp Seed Cream Cheese-Onion + Chive
Kite Hill Plain Cream Cheese Alternative
Kite Hill Pumpkin Pie Cream Cheese Alternative
Miyoko's Creamery Organic Cashew Milk Cream Cheese-Fish-Free Lox
Miyoko's Creamery Organic Cashew Milk Cream Cheese-Savory Scallion
Tofutti Whipped "Better Than" Cream Cheese
Trader Joe's Vegan Cream Cheese Alternative
Treeline Dairy Free French Style Cheese-Creamy Scallion
Violife "Just Like" Original Cream Cheese
Vitalite Dairy Free Plant Based Creamy Original Spread
Tasting and Reviewing Methodology
Since the vegan cream cheese options vary widely in terms of ingredients use and overall flavor profile, we categorized our options into these 4 main groups in order to select the taste test winner from each: Best Plain Vegan Cream Cheese, Best Flavored Vegan Cream Cheese, Most Spreadable Vegan Cream Cheese, and Best Specialty Vegan Cream Cheese.
While determining the each vegan cream cheese's ranking as it pertained to each category, we kept the following criteria in mind:
Taste & Texture: the flavor of each vegan cream cheese as compared to traditional versions of the product, as well as the overall consistency and spreadability.
Appearance: including the general color and uniformity of each product as well as how appetizing it may appear under different circumstances, whether used as a spread or as a recipe ingredient.
Nutrition Content: specifically protein content, overall fat content (including saturated fat!), calorie content, and any quantity of vitamins/minerals/other nutrients provided.
Unique Characteristics: from additional flavors or unusual ingredients to special preparation methods.
Value: standardized as a price per ounce measure.
Production & Availability: where each product hails from as well as where it is sold and how likely it is to be available to most shoppers.
Packaging: factors such as quantity & quality of information included on product labeling and overall convenience of packaging.
Best Plain Vegan Cream Cheese: Violife "Just Like" Original Cream Cheese
It might seem surprising, but if you ask us, crafting a quality plain vegan cream cheese is the toughest task of them all. The lack of strong flavors or additional ingredients means there's simply nowhere to hide any funky flavors that might be inherent to the plant based ingredients which serve as the base of the cream cheese itself.
About Violife "Just Like" Original Cream Cheese
Despite this difficulty, we found one vegan cream cheese which worthily rivaled the flavor and texture of real cream cheese. Violife's "Just Like" Original Cream Cheese is no false advertising, our tasters truly thought it was "just like", or at least as close as possible to, traditional cream cheese. It offers a pleasant, mild flavor as opposed to other "plain" vegan cream cheeses, many of which tasted strongly of their components like tofu, cashews, or coconut.
Even more mind-blowing is that they were able to achieve such likeness without the use of a ton of complex chemicals and additives! With the exception of glucono-delta-lactone (a product of glucose fermentation which is used as an acidifier) all of the ingredients on the label are recognizable and easy to understand: water, potato starch, coconut oil, salt, flavor, olive extract, and added vitamin B12.
In addition, it's also nut and soy free as well as non-GMO verified. Oh, and remember that vitamin B12 we mentioned? The addition of this ingredient delivers about 30% your recommended daily intake per serving!
On the downside, the fact that this product is largely composed of coconut oil means that it tends to have a firmer texture, especially when chilled. Not only is it a bit tough to spread, but it also has just a bit of a cloying mouthfeel.
Also, we're not sure what was up with the lid on our particular container of Violife "Just Like" Original Cream Cheese, but it simply would not stay put! Thankfully there is a foil seal underneath, keeping your vegan cream cheese safe even if the lid pops off in the dairy case of your supermarket or in transit, but once it's open and hanging around your refrigerator, the fact that it won't stay closed is a major nuisance.
Pros:
Has that classic plain cream cheese flavor, as opposed to being overwhelmed by the flavors of its individual ingredients.
Does not contain a ton of chemicals or complicated ingredients!
Free from soy and tree nut ingredients.
Non-GMO verified.
Added vitamin B12 gives a nutritious boost to this vegan cream cheese, providing 30% your daily value per each and every serving!
Cons:
High proportion of coconut oil gives this product a firmer texture and thicker mouthfeel, so get ready to do some stirring before you go spreading!
The plastic lid pops off repeatedly--not a deal breaker, but still pretty annoying especially if you plan to toss this cream cheese container in a lunch bag or otherwise take it on the go.
Best Flavored Vegan Cream Cheese: Grounded Hemp Seed Cream Cheese-Onion + Chive
When it came time to evaluate the differently flavored vegan cream cheese options, the sky seemed to be the limit! Among the classic plain flavors we found savory choices with garden vegetables as well as plenty of allium-centric options. There were also several sweet flavors to choose from like strawberry and a few seasonally inspired choices!
About Grounded Hemp Seed Cream Cheese-Onion + Chive
Out of such a wide range, it's tough to say what is the best flavored option out there but we feel pretty good about our winner here. Grounded is a relatively new company, certainly new to us, but as we started digging into them a bit--and their tasty cream cheese!--it was easy to develop a ton of good vibes for them.
We found their Onion + Chive Hemp Seed Cream Cheese to be super savory in the best way, with plenty of onion flavor as well as pleasantly detectable bits of chives sprinkled throughout. Along with a supremely rich texture, this product also has decent spreading action and is savory enough to set out with crackers for your next vegan cheese platter or appetizer spread. Or, try using it in our Dairy Free Mashed Potato Casserole for an extra jazzy flavor boost!
The side of the modern looking black square tub informs us that Grounded is a woman-owned business which uses sustainable ingredients that are local to their region of California, including "imperfect" veggies which might otherwise be discarded as food waste! Their cream cheeses are nut free, soy free, non-GMO verified, and keto-friendly to boot.
In addition to all of this sustainability and environmentalism, the cream cheese itself has an insanely impressive nutritional profile. Not only does it provide 2 times the calcium content of regular dairy-based cream cheese and 2 full grams of protein per serving, but it also has a load of vitamin and mineral content.
Each serving of Grounded Onion + Chive Hemp Seed Cream Cheese fuels you with 20% your DV (daily value) of manganese, 10% DV of copper, 10% DV of magnesium, 6% DV of zinc, 8% DV of phosphorus, and 6% DV of thiamin, as well as smaller quantities of iron, potassium, riboflavin, niacin, vitamin B6, and folate. Mornings when you have this cream cheese for breakfast you can probably go ahead and skip that multivitamin, we say!
Unfortunately with all of this nutritional power comes a decent dose of some less than desirable stuff as well. Due to the high proportion of fat-laden ingredients like coconut oil and hemp seed, this vegan cream cheese packs 110 calories into each and every serving, which was by far the highest out of all the brands and varieties we tested.
We also noticed a slightly bitter flavor in this cream cheese which is certainly inherent to the hemp seeds that form the foundation of this cream cheese, but still it may not be to the taste of some folks. And, as a new and somewhat specialty product, it seems that this one is only available in select markets so far, so you may need to do a bit of digging to get your hands on this one or to go ahead and order online.
Pros:
Delicious savory flavor with lots of chive and onion bits!
Rich, creamy texture is good for spreading and dipping.
From a woman owned business that uses local, sustainable ingredients such as "imperfect veggies".
Nut free, soy free, non-GMO verified, and keto-friendly.
Contains 2x the calcium of traditional cream cheese and 2 grams of protein per serving!
Delivers a ton of vitamins and minerals such as manganese, copper, potassium, and iron.
Cons:
The highest in calories, delivering 110 of them per each and every serving.
Has a subtly bitter flavor due to the hemp ingredients--not bad, just different and may not be suited to the tastes of some vegan cream cheese fans.
Not the most widely available product as it tends to be stocked in smaller, specialty markets and online retailers at this time.
Most Spreadable Vegan Cream Cheese: Daiya Plant Based Cream Cheeze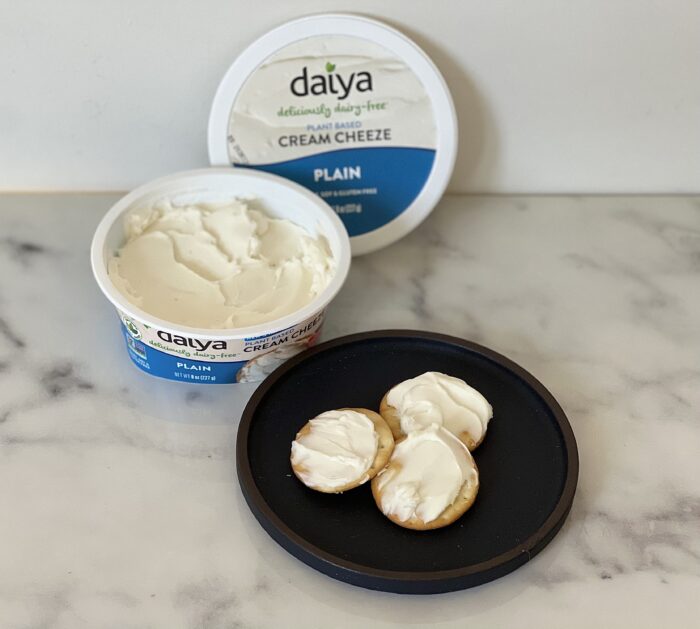 Seeing as slathering a bagel in cream cheese is one of the most popular uses for this product, it only makes sense that spreadability is one of the most important characteristics to consider when it comes to evaluating your dairy free cream cheese options! As vegan cream cheese base ingredients run the gamut from coconut oil and tree nuts to tofu and other vegetable proteins, their textures can often be thick and firm as opposed to creamy and dreamy.
About Daiya Plant Based Cream Cheeze
Despite the general textural difficulties suffered by many vegan cream cheeses, we did find one variety which struck us right where it counts: consistency! This tub of Daiya Plant Based Cream Cheeze proudly claims to be "extra spreadable", and we were happy to discover that they weren't lying. The folks at this well-known dairy-free product maker somehow struck gold with just the right blend of coconut oil, coconut cream, tapioca starch, and pea protein--producing an excellently rich, smooth texture which is perfect for spreading.
It definitely helps if you give the whole container a big stir before using, after which you'll be able to easily spread to your heart's content with nothing more than a butter knife. We were also impressed by the fluffy texture this vegan cream cheese took on with just a bit of stirring. This leads us to believe that this product would fare equally nicely in baking applications such as our Vegan Cream Cheese Danishes, and would be the perfect ingredient to help you to achieve that perfectly whipped cream cheese frosting you've been dreaming about.
We love that this product is non-GMO verified and certified plant based, so you can feel confident that the folks making this vegan cream cheese are as dedicated and stringent about their commitment to plant based foods as you are! Daiya Plant Based Cream Cheeze is both soy and gluten free, and one other small--but important--detail: there are helpful recycling instructions printed on the packaging! Love that.
While the texture of this particular vegan cream cheese is indeed ideal for spreading and whipping, it doesn't exactly strike us as ideal in the taste department. We found the mouthfeel of this stuff to be a bit gummy, as if they went just a bit too heavy handed with the xanthan and guar gums. Also while this product definitely has that "cheesy" taste, it's not exactly on-the-nose cream cheese flavor that you might be looking for your vegan cream cheese product to hit.
Pros:
Easily the creamiest and most spreadable of all the vegan cream cheeses we tested!
Would be your best bet for baking with or making dessert items such as vegan cream cheese frosting (such as the one that tops our very own Vegan Carrot Cake!)
Non-GMO verified.
Certified plant based.
Free from soy and gluten.
Packaging provides detailed recycling instructions!
Cons:
Has a stickier mouthfeel as compared to some of the other vegan cream cheese brands and varieties.
Does not exactly hit that "classic cream cheese" flavor nail on the head.
Best Specialty Vegan Cream Cheese: Kite Hill Pumpkin Pie Cream Cheese Alternative
From breakfast cereals or sandwich cookies to coffee grounds and frozen desserts, it seems that every product line strives to participate in seasonal crazes by offering unique versions of their products during different times of the year. Whether the occasion is a certain holiday or a major sporting event, these special products are often highly unique and sought after, due to their "get 'em while you can!" nature.
About Kite Hill Pumpkin Pie Cream Cheese Alternative
Lucky for us, the timing of our cream cheese taste testing occurred at just the right point for autumnal-inspired everything. As a result, we were able to score this limited edition pumpkin pie flavored cream cheese, courtesy of the folks at Kite Hill. While you may not be looking for pumpkin flavor each and every time you slap together a breakfast bagel, this option certainly is delicious and crave-worthy for certain occasions.
Upon opening our container of Kite Hill Pumpkin Pie Cream Cheese Alternative we were immediately taken by its pale orange coloring and wonderfully speckled appearance, hinting at all of the cinnamon-y goodness that was about to be had. Boy, did it not disappoint! The flavor of this vegan cream cheese is decidedly dessert-like, with plenty of noticeable sweet pumpkin flavor and warming spices. While we definitely don't recommend pairing this one with your cucumber and red onion slices, we do think it would be ideal when schmeared on a cinnamon raisin bagel or as a flavorful base for your next vegan cheesecake.
It is non-GMO verified and contains 0 grams of saturated fat--the only vegan cream cheese we found to be free of that stuff, we might add. We love how super simple the ingredients panel is, consisting mainly of almond milk, real pumpkin, sugar, mushroom extract (which helps to preserve freshness), natural gums, and vegan cultures.
As with other Kite Hill products, the inclusion of these probiotic cultures imparts a welcome tangy bite as well as gives your microbiome a dose of support. It is soy free, gluten free, and kosher as well as is free from artificial flavors and preservatives.
Out of all of the vegan cream cheese varieties we tested, however, this one was by far the runniest, with a consistency more like that of a yogurt or sour cream as opposed to cream cheese. However, with such a high proportion of fresh pumpkin in the mix, a comparably high water content is bound to happen!
Another important note is that this product would not be suitable for those with tree nut allergies as its primary ingredient is almond milk, and unfortunately this was also the most expensive vegan cream cheese we evaluated with a price tag of $1.12 per ounce. And of course, it goes without saying that if you happen to love this product as much as we do, it's a bit of a bummer that it's only available for a fleeting time frame!
Pros:
Has a super delicious pumpkin flavor with complimentary spices and just the right amount of sweetness!
In addition to using as a spread, would do well as a festively flavored ingredient in desserts and baked goods.
Non-GMO verified.
Contains 0 grams of saturated fats!
Has a very simple & easy to understand list of ingredients.
Includes life and active probiotic cultures!
Free from soy, gluten, artificial flavors, and artificial preservatives.
Cons:
Has a loose consistency that is unlike traditional dairy based cream cheese as well as the other vegan cream cheese products we tested.
Contains tree nut products--not allergy friendly!
Most expensive vegan cream cheese we tested.
"Limited edition" means this one is not always available at all times and in all places.
Final Thoughts on the Best Vegan Cream Cheese
As you can see, when it comes to vegan cream cheese, your options are by no means limited! Whether you require something plain and creamy or are looking for an exciting flavor combination or textural interest, there is a vegan cream cheese brand to suit your needs.
Now that you have your new favorite vegan cream cheese, what will you cook? A few of our favorite vegan cream cheese based recipes are Sun-Dried Tomato Pesto Tortilla Rollups, and Slow Cooker Creamy Chili Dip.