Mexican Spicy Cauliflower is a fantastic casserole. There are many spices and accent vegetables that blend just right. Easy to make and a healthy vegan Mexican cauliflower side dish.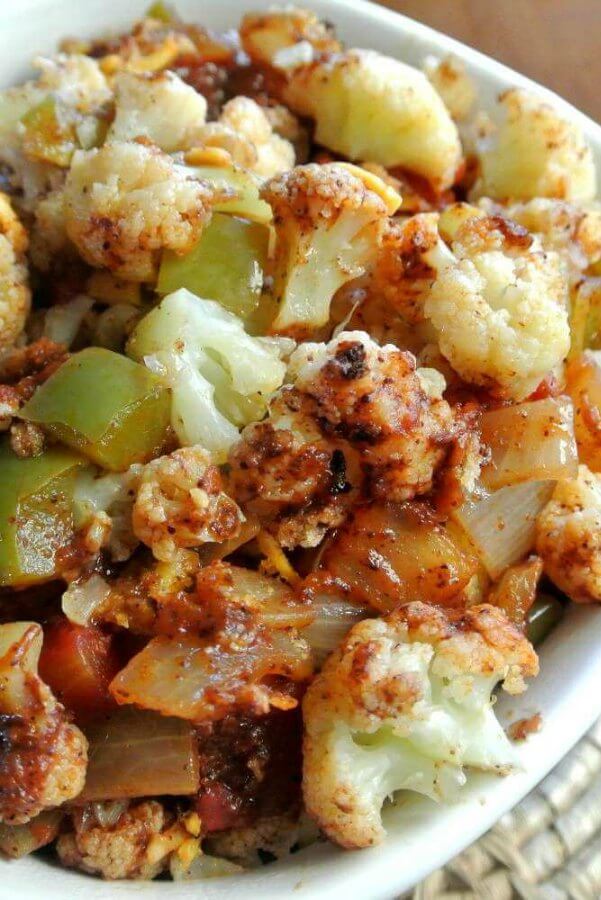 Just looking at this photo makes me want to go to the kitchen and make this cauliflower casserole again.
It's also a great side dish to many other recipes that are not Hispanic in nature.
Just imagine it alongside a Spicy Green Lentil Burger. The perfect foil. Or how about next to the very Best Lentil Meatloaf or this Empanada recipe? Pretty darn good.
Let me sneak in a photo of the empanadas. I really think you'll love those.
Now for the vegan Mexican cauliflower dish
, all the vegetables help make your dinner a complete meal which is a nice bonus because it's perfect for lunch on a cold or hot day.
A Fun Spice Combination
I remember when I was trying out the spice combination. Oh, man! It was a bit strong in the cloves department. So way less of that and a little more of this.
You may think cinnamon isn't in the world of cooking in the Hispanic world but it is. Think Mexican hot chocolate.
ground cloves
chili powder
ground cinnamon
salt and pepper
The fresh breadcrumbs work well too because they also help soak up the flavors and give more texture.
If you've never had anything like this before you have got to try it. I have looked on the internet trying to find anything similar and I think it is truly unique.
So different and so good. Now my stomach's growling.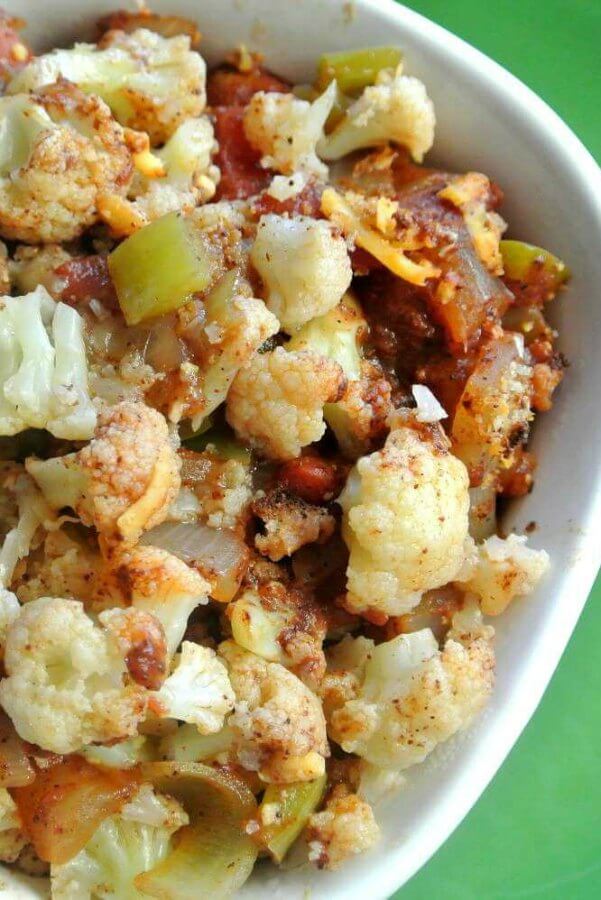 My husband is a 'spiceless' man. A 'condimentless' man too! So he gets what I call cauliflower rice when I serve this. I dress it up with lots of dairy-free butter and some good ol' salt and pepper.
That's the way he likes his cauliflower casserole and now everybody is happy.
Cauliflower Rice is going to be a recipe that I put on some day. As I said, it has lots of dairy-free butter and I'll add some things so that we'll all want a bowlful. Not spicy but flavorful.
I'll link to that recipe as soon as I get it on my blog.
So let's get back to this spice filled Mexican Cauliflower recipe because it deserves our attention. It's easy to make it and then dive in with a fork and enjoy every bite.
Helpful Tools for Making Mexican Cauliflower Casserole
I'm a little cauliflower crazy and it kind of come to me later in life. More like when I started cooking for myself and experimenting with recipes.
It seems there isn't anything you can't do with cauliflower. For instance, these Ranch Cauliflower Tacos are filled with lots of wonderful flavors and one of the stars is cauliflower.
Let me show you what it looks like. Right here below and indeed it's some good stuff.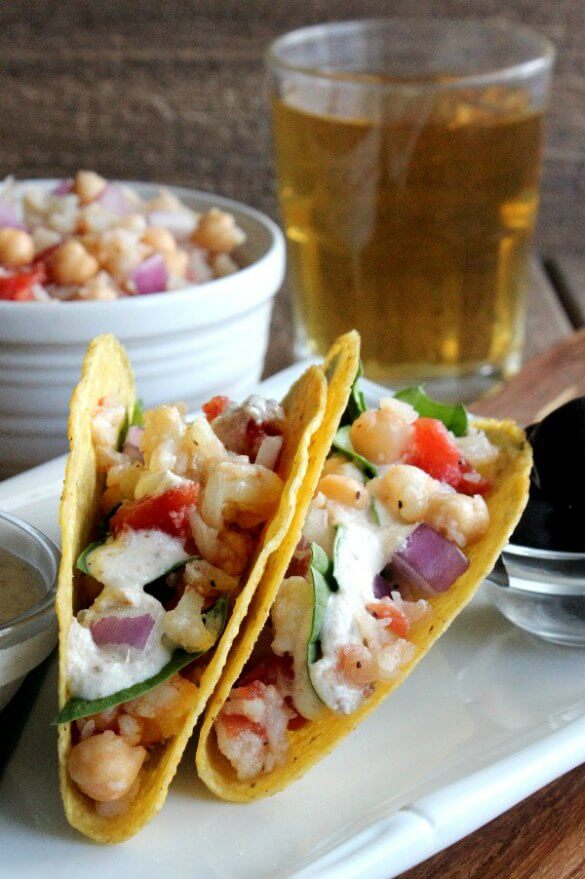 It looks pretty tempting, heh? Well, I need to reel myself in or I'll be showing you cauliflower recipes all day. Okay, I'm focusing. Check out the video for this casserole. It's short and sweet.
Then not too far down below here is the recipe. It's a spice bonanza.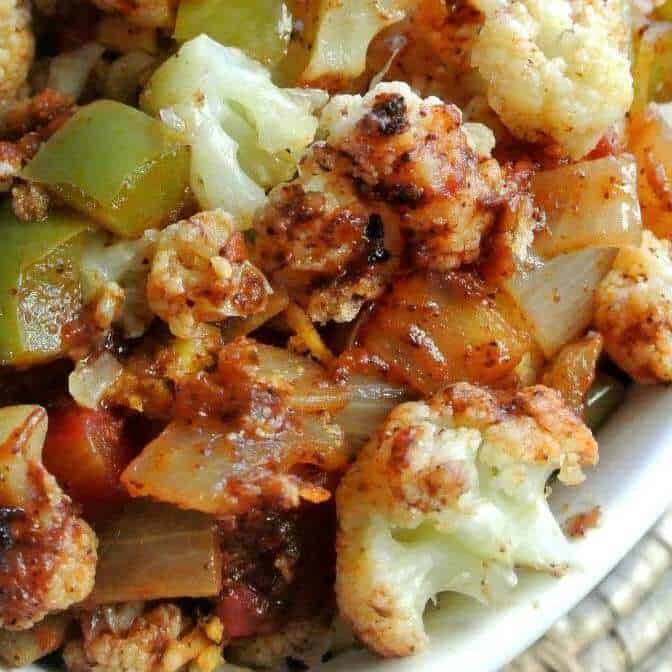 Print
Mexican Cauliflower
Mexican Style Cauliflower Casserole has many spices and accent vegetables that blend just right.
Ingredients
1

cauliflower

head, separated into bite-size florets

2

tablespoons

coconut oil

1

onion

yellow, diced

1

green bell pepper

small, diced

15

ounces

tomatoes

canned diced with juice

1/8

teaspoon

ground cloves

1

tablespoon

chili powder

1/2

teaspoon

ground cinnamon

1/2

teaspoon

salt

1/4

teaspoon

black pepper

1/4

cup

breadcrumbs

fresh

1/4

cup

dairy-free cheddar cheese

grated
Instructions
Lightly oil a 9" x 10" casserole dish or close to it.

Steam the cauliflower florets for 15 minutes. They will be done when easily pierced with a fork.

Heat oil in a large skillet.

Saute the onion and bell pepper for about 10 to 15 minutes or until the onion looks translucent.

Stir in the tomatoes and cook 5 minutes. Add the spices and cook 3 more minutes.

Put the cauliflower in the prepared casserole.

Pour the mixture from the skillet on top of the cauliflower.

Combine the breadcrumbs and dairy free cheese and sprinkle over the casserole.

Bake at 350° for 15 minutes.

Put under broiler for 1 minute to brown up the top. Watch very closely.
Nutrition
Nutrition Facts
Mexican Cauliflower
Amount Per Serving (14 ounces)
Calories 106
Calories from Fat 54
% Daily Value*
Fat 6g9%
Sodium 305mg13%
Potassium 317mg9%
Carbohydrates 11g4%
Protein 2g4%
Vitamin A 1060IU21%
Vitamin C 35.6mg43%
Calcium 37mg4%
Iron 0.9mg5%
* Percent Daily Values are based on a 2000 calorie diet.
Can

You Freeze Mexican Cauliflower?
A big fat yes to that!
IF FREEZING:
Let cool to room temperature. Package in rigid sided containers.
TO PREPARE AFTER FREEZING:
Remove from the freezer and put in the refrigerator 6 to 8 hours before baking. To bake – cover with foil and put in a 350°oven for 35 minutes. Take off the foil for the last 10 minutes of baking. Ready to serve.