This Spanish Rice Recipe is prepared in one pot and uses canned green chilies as just one of the ingredients to add a lot of easy flavors. This homemade vegan side dish is devoured at the table.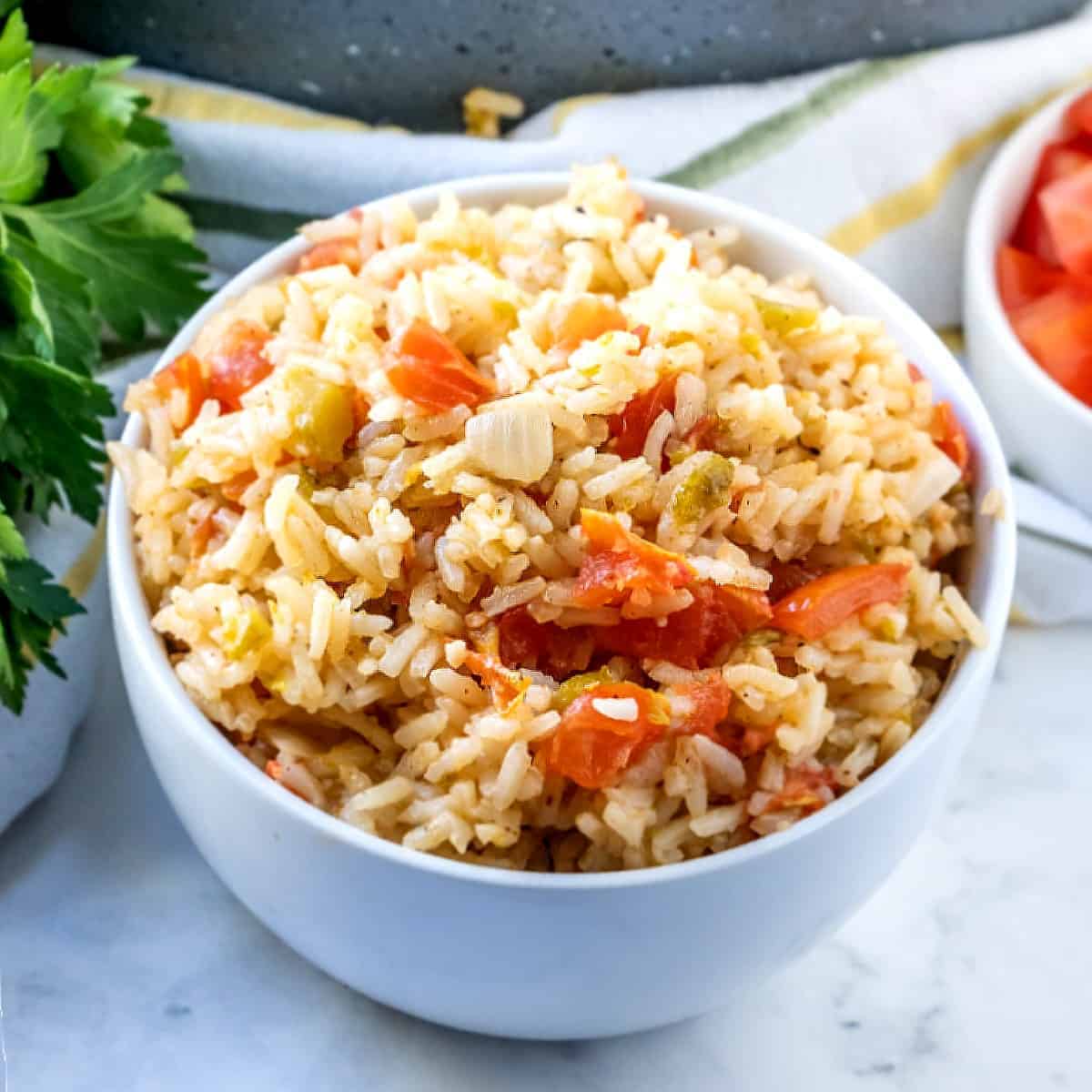 Rice is versatile and it never ceases to amaze me at how many combinations of ingredients you can add to make a whole new recipe.
I am throwing my hands up in the air in awe. Another one - right here.
This Easy Spanish Rice recipe came about because I got asked to bring a rice dish to a potluck. Of course, I didn't want to bring something that everyone has had before.
That is challenging when it also has to be something that everyone would eat. It's so nice when your dish is all gone by the end of the party.
It also had to be simple so I could repeat the ingredients in case someone asked how it was made. There are only ten ingredients counting the salt and pepper so you can't beat that.
Jump to:
I used white rice because that seems to please the majority of people in large groups. White rice also lets more of the flavors come through too.
Brown rice would probably need more spices and liquid with a longer cooking time. In fact, I have another Spanish Rice Recipe with Beans that uses brown rice. It is very popular in our house.
🥘 Ingredients
Dairy free butter is the starter for sautéing the fresh vegetable.
White onion is more tender than yellow onion and stands out well in taste.
White rice is traditional and cooks perfectly in the skillet with all of the other ingredients.
Garlic has a pungent flavor but when used sparingly it is delicious.
Tomatoes are fresh and juicy and add flavor along with texture.
Vegetable broth adds flavor and the necessary liquid.
Chili powder is the king of spices for adding heat and flavors.
Mild green chilis add some great flavor and color - you can also roast green chilis and chop them yourself.
Salt and pepper are perfect seasonings with 'salty' and spicy tastes and they go together so well.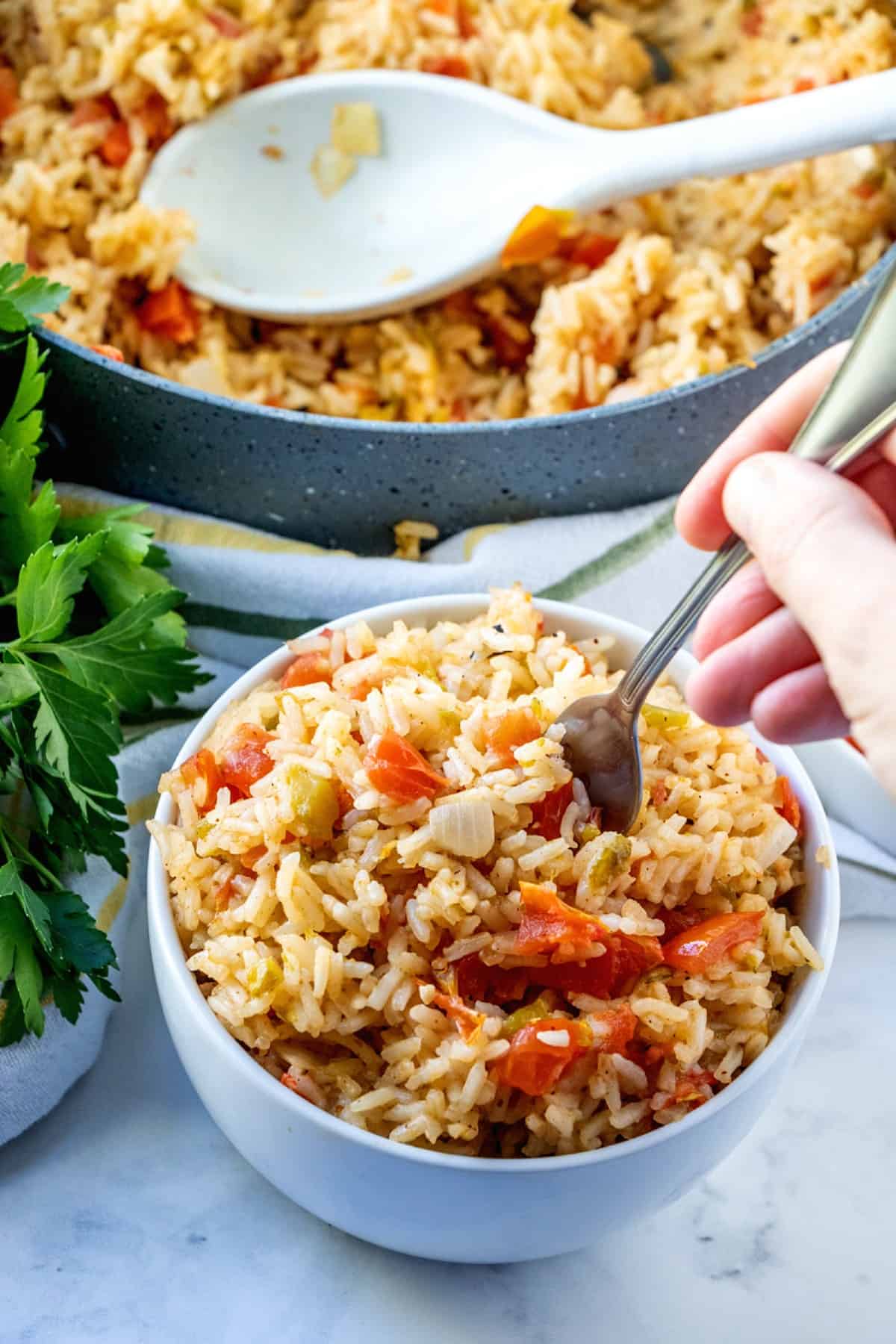 Spicy and moist nothing extra is needed to make this Spanish rice recipe perfect. You probably have everything in your cupboard and refrigerator right now. Very basic in ingredients but long in flavor.
It keeps really well in the fridge too so you could make it a day ahead and heat in a skillet with a little extra vegetable broth right before packing up for the party.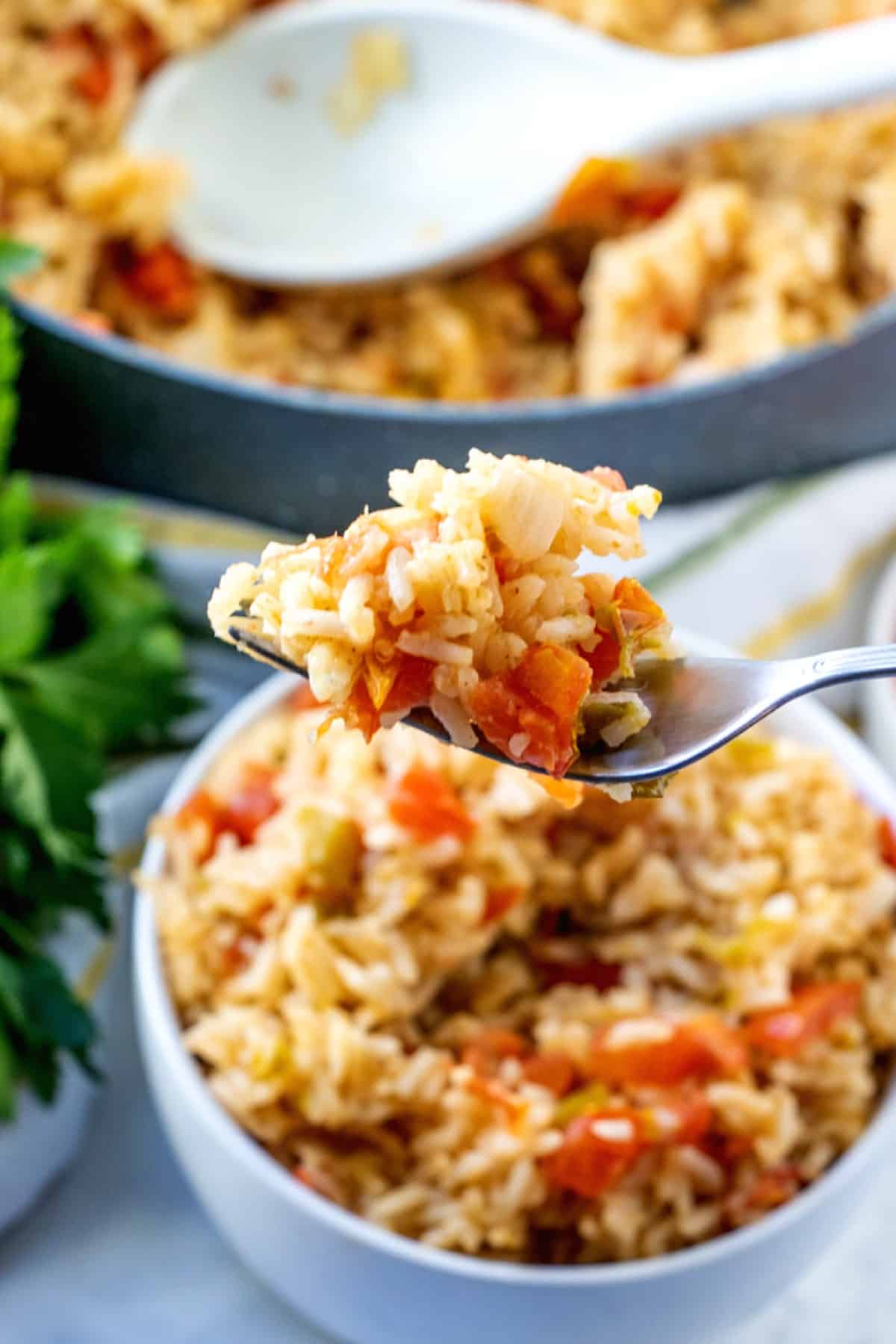 💭 Canned green chilies
Canned green chilies are inexpensive and a convenient way to add flavor to food.
They're good in innumerable types of food such as dips, biscuits, sauces, bean burgers, and on and on. In our case, here, it's Spanish rice.
The chilies have been washed, roasted, peeled, and canned. You can do this at home too. Either can them or use in recipes within a few days.
Anaheim chili peppers are often the chili of choice.
🔪 Instructions
Take out a large skillet and heat the oil over medium-high heat.
When it reaches the sizzling point place in the diced onion and sauté for about 5 minutes.
Now stir in the uncooked rice and cook another 5 minutes. Some of the rice will turn golden brown. Don't burn the rice so turn it down to medium if you need to.
Add the garlic and cook for another minute and then add the tomatoes and then cook for 2 more minutes.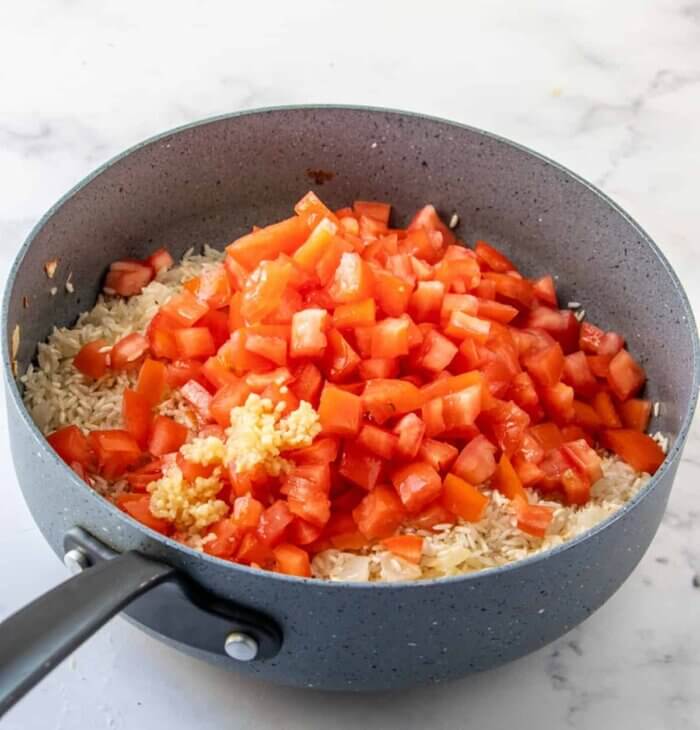 Next comes the broth, chili powder, and canned green chilies.
Bring to a boil, turn down the heat to a simmer and cover. If you don't have a lid some smaller lids will fit inside and still allow the food to cook. You can also use foil to crimp down around the edges.
Cook 25 to 30 minutes. Test the tenderness of the rice at 25 minutes. It should also still be moist.
Season with salt and pepper.
📖 Additional spice possibilities
To me, it's really hard to follow a recipe without making some small change or addition. In fact, I think everybody does that. It's part of the fun of cooking.
I thought I'd make it easier for you in case you'd like to throw in a little bit of the spices you have in your cupboard. Now, keep in mind not to add too much. You want to enhance the natural flavor not obscure it.
Turmeric is so good for you that ¼ of a teaspoon is always welcome.
A ½ teaspoon cumin would also add a mild kick.
You can switch out the garlic cloves for 1 teaspoon garlic powder.
A pinch of the herb oregano would be good.
A little bit of garlic salt would be good too.
Now I have a new side dish to please my family. I go for the whole recipe and freeze any extras for a future lunch.
🍚 More tasty rice recipes
📋 Recipe
Spanish Rice Recipe with canned green chilies
Easy Green Chili Rice is prepared like a flavorful soup and ends up as a fantastic side dish.
Ingredients
2

tablespoons

dairy free butter

¾

cup

white onion, chopped

2

cups

white rice, uncooked

2

cloves

garlic, finely chopped

3

cups

large tomatoes, chopped

2

cups

vegetable broth

1

teaspoon

chili powder

6

ounces

mild green chilis

- comes in a small can - you can also roast green chilis and chop yourself also

1

teaspoon

salt

¼

teaspoon

ground black pepper
Instructions
Heat the oil in a large skillet over medium high heat.

Add the onion and saute for about 5 minutes.

Add the uncooked rice and saute another 5 minutes.

Add the garlic and tomatoes and cook 2 more minutes. Add the broth, chili powder and chilies.

Bring to a boil, cover and turn down heat to high simmer. You can use foil if you don't have a lid.

Cook 25 to 30 minutes. Test the tenderness of rice at 25 minutes and see if the liquid is almost cooked away and still moist.

Season with salt and pepper.
Notes
IF FREEZING:
Please follow any of the directions defined in my article Preparing Food for the Freezer
TO PREPARE AFTER FREEZING:
Put in the fridge the day before serving. Heat in a microwave on high, stirring about every 2 minutes until heated through.
Nutrition
Serving:
1
Serving
Calories:
294
kcal
Carbohydrates:
56
g
Protein:
7
g
Fat:
4
g
Saturated Fat:
1
g
Sodium:
567
mg
Potassium:
382
mg
Fiber:
2
g
Sugar:
3
g
Vitamin A:
935
IU
Vitamin C:
21.7
mg
Calcium:
44
mg
Iron:
1.3
mg