Curry rice is an easy side dish that's both delicious and nutritious. The sauteed veggies, rice, peas, and curry powder blend perfectly to create a dish that will please the whole family!
Why You'll Love This Curry Rice Recipe
Flavorful- Curry rice is a tasty and aromatic dish loved by many for its carefully blended spices and exotic taste.
30-Minute Recipe- Enjoy curry rice in just 30 minutes from start to finish!
Filling- This dish contains a good balance of carbohydrates, vegetables, and proteins, which makes it filling and satisfying. Plus, the addition of spices makes it even more delicious!
What Is Curry?
Curry is a delectable and aromatic dish that traces its roots to South Asia. It typically consists of a harmonious blend of spices, vegetables, and proteins cooked to perfection in a savory sauce or gravy. This dish is incredibly versatile and can vary in flavor and ingredients depending on the region and specific recipe. Whether you prefer it mild or spicy, vegetarian or meat-based, there is a curry recipe out there that will tantalize your taste buds.
Equipment
Sharp Knife
Cutting Board
Large Pan With Lid
Stirring Spoon
Vegetable Grater
Rice Cooker or Instant Pot (Optional)
Measuring Cups and Spoons
Ingredients
Olive Oil- Used to sautee the onion and garlic.
Onion- Adds a bit of crunch and flavor.
Garlic Cloves- Enhances the flavors of the curry rice.
Salt- Balances out all of the ingredients.
Cayenne Pepper- Gives the rice a spicy flavor.
Paprika- Adds a hint of heat.
Ground Ginger- Enhances the taste of the curry powder.
Curry Powder- Essential to create the unique curry flavor.
Frozen Peas- Gives the curry rice more texture and a hint of sweetness.
Carrots- Adds flavor, nutrition, and a pop of color.
Long-Grain Rice- The base of the dish.
Vegetable Stock- Used to cook the rice and infuse it with flavor. You can also use vegetable broth.
How To Make Curry Rice
To make this recipe, start peeling and finely chopping an onion and garlic. Heat some olive oil in a large pan over medium heat. Add the chopped onion, garlic, salt, cayenne pepper, paprika, ginger, and curry powder. Mix everything well and cook for 3-4 minutes. In the meantime, grate some carrots and add them to the pan along with some frozen peas.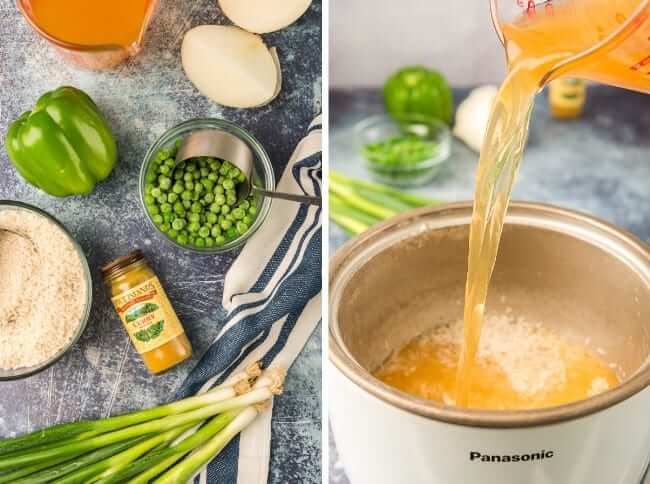 Mix everything well and cook for another 2-3 minutes while stirring constantly. Then, add some rice and pour in some stock. Mix everything well again and cover the pan. Cook for 15 minutes over medium-low heat.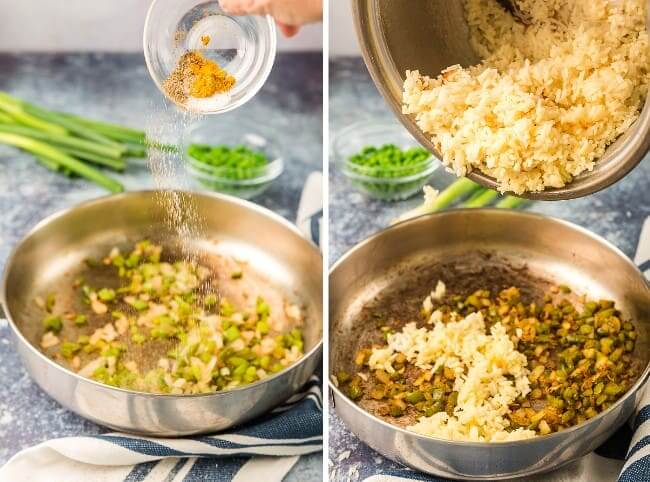 Once done, transfer the dish to serving plates and optionally top with lime juice, lemon juice, finely chopped cashews, or fresh cilantro. Garnish with some lime wedges, and enjoy!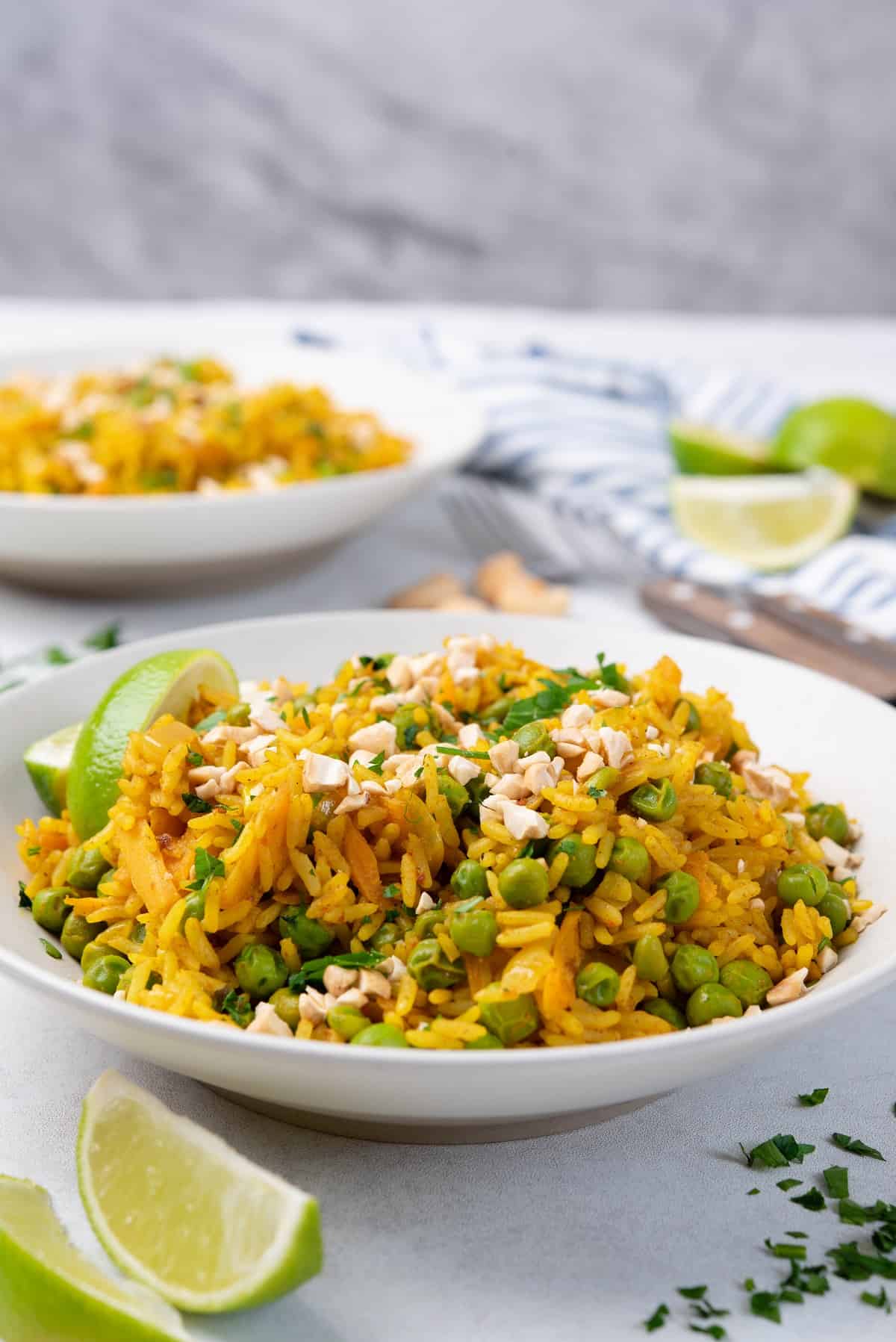 Popular Substitutions And Additions
You can pre-steam some red potatoes or sweet potatoes, then add the chopped pieces to the dish before it's final heating.
Any faux meat, such as plant-based chicken, meatless protein, or homemade seitan, would be excellent. Cut plant-based protein into smaller pieces before adding to the dish, making a great main meal.
Add a splash of coconut milk or any dairy-free milk at the end and heat through for a creamier dish.
Use your favorite long-grain cooked rice. Brown rice, basmati rice, jasmine rice, or long-grain white rice are excellent options.
Substitute coconut oil in place of olive oil.
Can I Freeze Vegan Rice?
Yes, you can freeze curry rice! Allow the dish to cool completely before transferring it to an airtight container or freezer bag. Label the container with the date and freeze for up to 3 months. To reheat, thaw the dish in the fridge overnight and then warm it up in a pan on the stove or the microwave.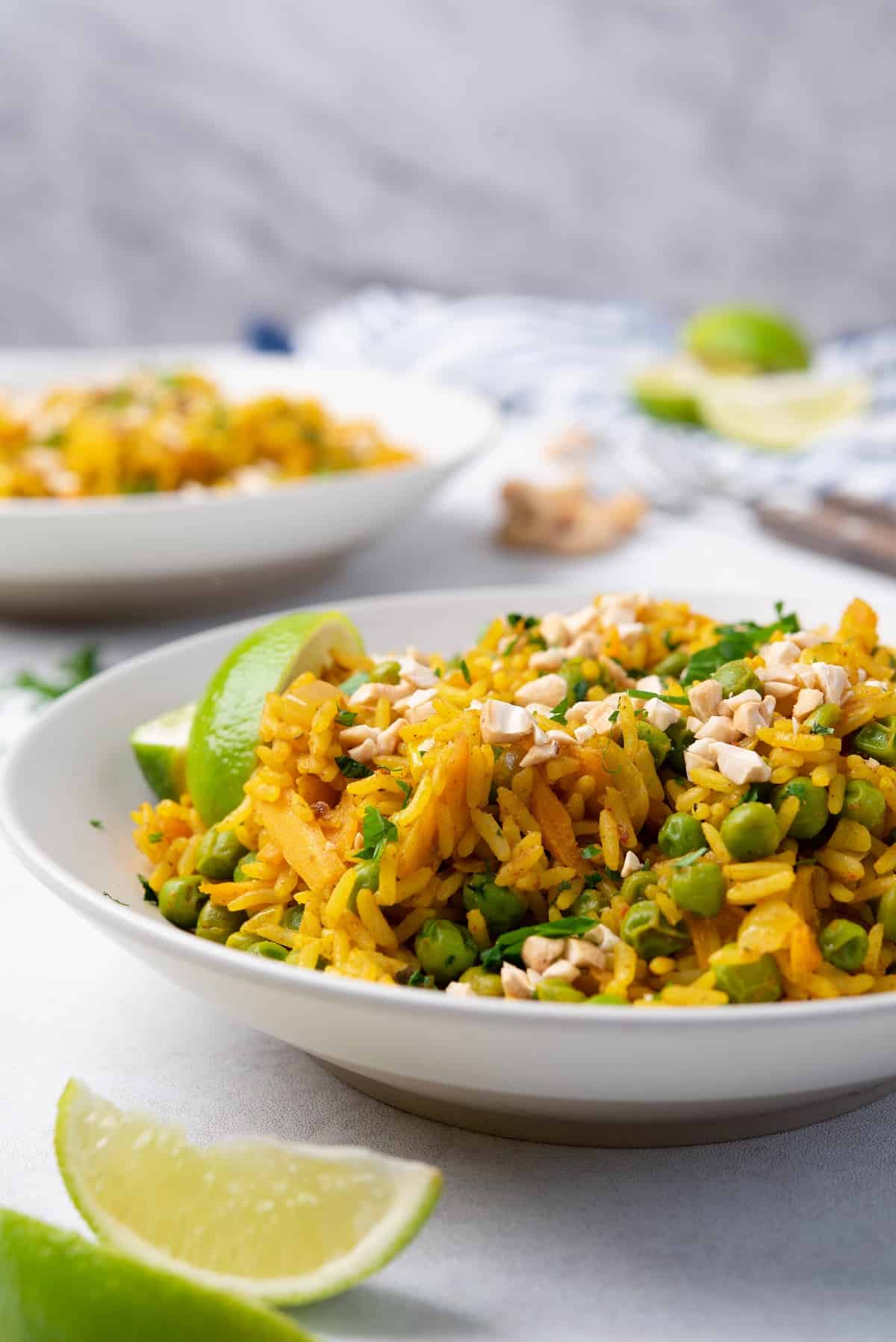 Easy Curry Rice FAQs
How should I store leftover rice?
Leftover cooked rice should be stored in an airtight container in the refrigerator for up to 4 days.
Can I add other vegetables to this curry rice recipe?
Absolutely! You can customize your vegan rice recipe by adding your favorite vegetables, such as corn, bok choy, any color bell pepper, mushrooms, or green beans. Just chop them into bite-sized pieces and add them to the dish during cooking.
Is curry rice spicy?
The level of spiciness in curry rice can vary depending on the amount of cayenne pepper used and the spice level in the curry powder. If you find the spiciness too much for your taste, try reducing the cayenne pepper or adding a splash of dairy-free milk or soy sauce to balance it. Remember to taste and adjust the seasoning as needed to achieve your desired level of spiciness.
What is a good homemade curry powder recipe?
My favorite curry powder recipe is cumin, coriander, turmeric, ginger, mustard seeds, and black pepper. I usually use 2 tablespoons of cumin, 2 tablespoons of coriander, 1 tablespoon of turmeric, 1 tablespoon of ginger, 1 teaspoon of mustard seeds, and 1 teaspoon of pepper. Still, you can add extra spices to your liking. Mix all the spices in a bowl or jar, and you'll have a fragrant and flavorful curry powder that you can use in various dishes.
More Easy Rice Side Dishes
📋 Recipe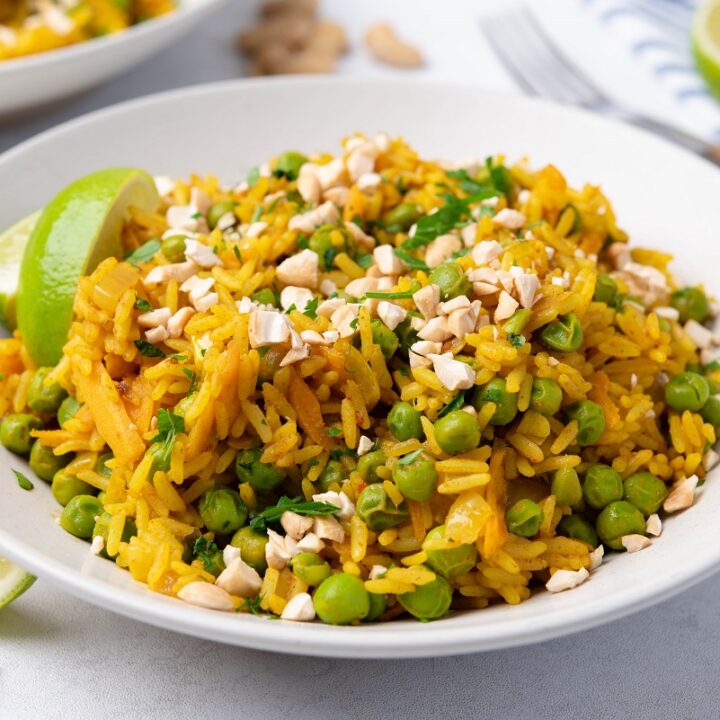 Easy Vegan Curry Rice
A flavorful and healthy dish the whole family will enjoy! The combination of sautéed veggies, rice, peas, and curry powder creates an easy and delicious meal.
Ingredients
1

tbsp

olive oil

1

onion

2

garlic cloves

¾

tsp

salt

¾

tsp

cayenne pepper

¼

tsp

paprika

½

tsp

ground ginger

2

tsp

curry powder

1 ½

cup

frozen peas

2

carrots

1

cup

long-grain rice

2

cups

vegetable stock
Instructions
Peel and finely chop the onion and garlic. Heat the olive oil in a large pan over medium heat.

Add the chopped onion, garlic, salt, cayenne pepper, paprika, ginger, and curry powder.

Mix all well and cook for 3-4 minutes.

Grate the carrots. Add the peas and carrots to the pan and mix well.

Continue to cook for another 2-3 minutes, stirring constantly.

Add the rice and pour in the stock.

Mix well again and cover. Cook for 15 minutes over medium-low heat.

When done, transfer to serving plates.

Optionally, top with finely chopped cashews or cilantro and garnish with lime wedges. Enjoy!