These 24 Vegan Chocolate Truffles Recipes are incredible. They are all easy and cover the gamut from fruity, fudgy, creamy, nutty, boozy high protein and healthy.

Chocolate Truffles are the epitome of decadence. They are big and fat and sweet and can serve up any flavor that you desire.
Another good thing is that everybody loves them and they are a very thoughtful and loving gift for that special one or ones in your life.
There are truffle recipes all over the internet but I rounded up some of the best vegan truffles out there. Also, a variety that will be very hard to choose from.
Let's get this love fest started and all I can say is have a great time pouring over the photos and reading the recipes. Truffles only take minutes to make!
These sweet Chocolate and Peanut Butter Truffles are an excellent and easy treat for any day! Anna from Anna Banana says they're made natural ingredients and no refined sugars! There's even a pretty beetroot powder dusting.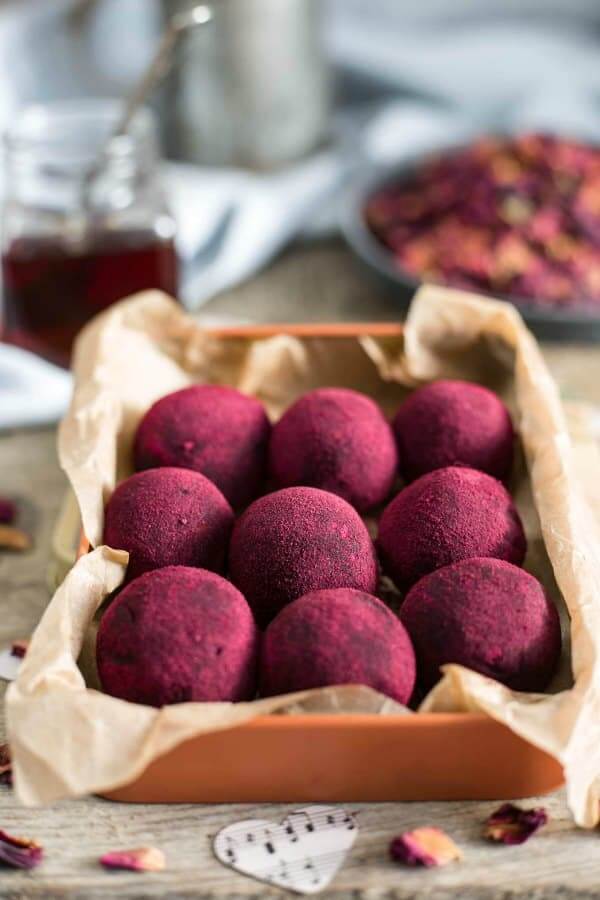 These gluten-free Cherry Chocolate Walnut Truffles are made from whole food ingredients! Enough sweetness to satisfy and are healthy to the max but they taste indulgent! Jenn from Veggie Inspired has done us a solid.
Kahlua Truffles are easy decadence. There are a few unusual ingredients that are mixed together and turned into a chocolaty delight. Created by me right here!
4. Raw Caramel Fudge Truffles
This raw caramel fudge truffle recipe from Amanda at My Goodness Kitchen swaps out the junk found in most commercial chocolate bars for sticky, sweet dates, cashew butter and millet crisps.
These Raspberry Bounty Balls are a quick and easy sweet treat featuring a creamy coconut and tangy raspberry filling encased in a dark chocolate shell. Gifted to us by Melissa at the Stingy Vegan.
Chocolate Macadamia Truffles Recipe is sweetened with Monkfruit! Kari of Beautiful Ingredient loves to use fruit as sweeteners. She uses this method here to make a wonderfully soft and creative sweet.
Six ingredient No-Bake Paleo Chocolate Chip Cookie Dough Truffles. Basically little bites of heaven. So quick and easy too! From Ashley at Fit Mitten Kitchen.
Rhian makes the most delicious food and sweets too. These Vegan Strawberry Chocolate Truffles from Rhian's Recipes are so easy to make and perfectly indulgent on a special day!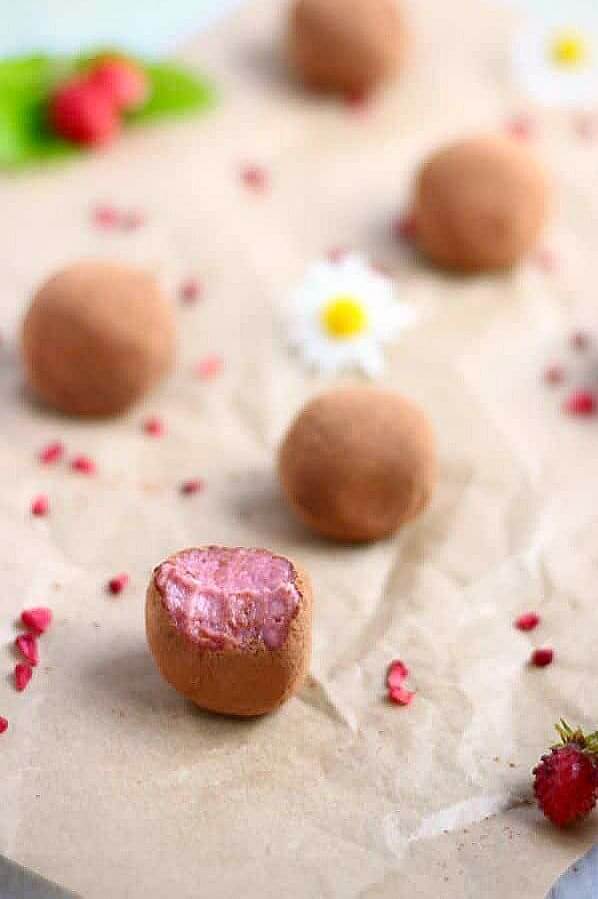 For something easy and beautiful how about Cashew Butter Chocolate Truffles. Creamy and crunchy at the same time with wonderful chocolate sweetness. Right here on this blog!
Everyone needs a batch of these vegan Pumpkin Spice Dark Chocolate Truffles from Anjali over at Vegetarian Gastronomy. They melt in your mouth, and make the perfect after dinner dessert.
Amy from Fragrant Vanilla says these Vegan Vanilla Bean Sugar Cookie Dough Truffles taste just like a combination of sugar cookies with their frosting and is so good with the dark chocolate!
Peanut Butter Chocolate Chip Cookie Dough Truffles are a simple two-bite dessert to love that can be stored in the fridge or freezer. Lovingly by Lori at My Quiet Kitchen.
Healthy and adorable Chocolate Protein Bites have a little bit of glamour! Nicole from Alergyious helps us make the perfect Valentines Day (or any day) snack.

14. Vegan Chocolate-Almond Date Truffles
Your sweetie will swoon over these Vegan Chocolate-Almond Date Truffles this Valentine's Day. Dianne over at Dianne's Vegan Kitchen made them super easy to make, and they're healthy, too!
Peanut Butter Fudge Truffles are creamy and decadent on their own but why not cover them in chocolate and take these confections over the top. From Vegan in the Freezer and they are So good!
These homemade Vegan Chocolate Hazelnut Truffles from Eva at the Curious Chickpea are filled with a creamy hazelnut ganache and finished a variety of ways. You can even hide a toasted hazelnut in the center of the ganache!
Rich and chewy chocolate brownie filled truffles from Kristina get a bright tart topping of raspberry dust! spabettie brings perfect Raspberry Dusted Chocolate Fudge Truffles.
These vegan white chocolate truffles are delicious, festive, and perfect. Shannon of Yup .. It's Vegan! created then with little or no refined sugar, depending on if you make the dark chocolate shell.
These raw Vegan Truffles are made with dates, almonds, sunflower seeds, walnuts, cocoa powder, peanut butter, and vanilla, then rolled in melted dark chocolate. From Verna over at The Cheeky Chickpea.
Valentine's Day Chocolate Truffles are made of a combination of dates and cocoa powder. Cassidy of Euphoric Vegan explains how to divide the mixture into 3 to create 3 flavors of truffles that taste and look absolutely stunning.
When life gets busy, like Anthea's at the blog Rainbow Nourishments, you make your favorite dessert into bite-sized snacks! Snickers Bliss Balls are easy to make and have the perfect balance of sweetness and saltiness.
Vegan Pumpkin Pie Truffles come from Richa at Vegan Richa and they are made with only 7 Ingredients. There's no oil and no refined sugar. These fudgy bites are perfect for yourself and loved ones.
Gwen from Delightful Adventures created melt-in-your-mouth, easy to make, four-ingredient vegan Dark Chocolate Mint Truffles. Perfect year-round because everybody loves mint.
Mint Chocolate Truffle Larabar Bites come from A Virtual Vegan and can be made in minutes. They're full of plant-based ingredients and taste like chewy mint chocolate brownies. Thanks Mel!