For something easy and beautiful how about Cashew Butter Chocolate Truffles. Creamy and crunchy at the same time with wonderful chocolate sweetness.
Would you like something special for your loved ones?  Or, heck, for yourself?  The answer is here with these Cashew Butter Chocolate Truffles.  Very easy to make.
That seems to be becoming my mantra.  Easy, easy, easy, ommmmm.
If you would like to make it even more special – you can make your own Homemade Cashew Butter with another easy, easy, easy, ommmmm recipe. Really so delicious too.
Cashew Butter Chocolate Truffles Will Amaze You
To keep it vegan you will need to get a rice krispie type cereal that is at Whole Foods, Sprouts and all the other Natural Foods grocery stores.
Follow these simple directions for Cashew Butter Chocolate Truffles and feel like an accomplished star.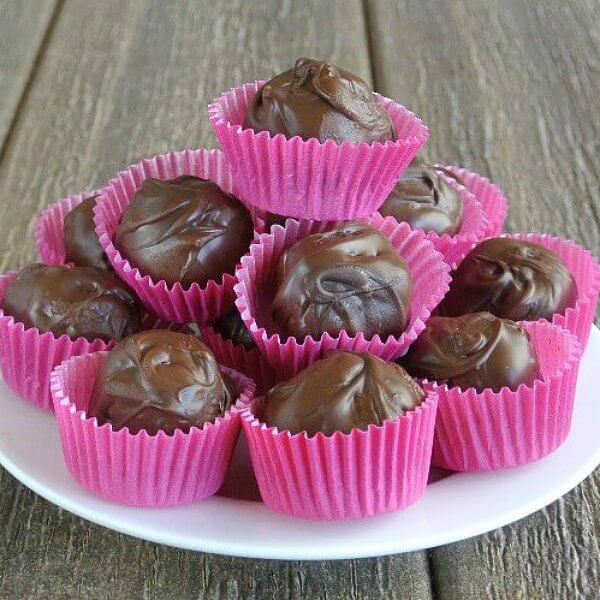 Connect with Vegan in the Freezer
Facebook | Pinterest | Instagram | Bloglovin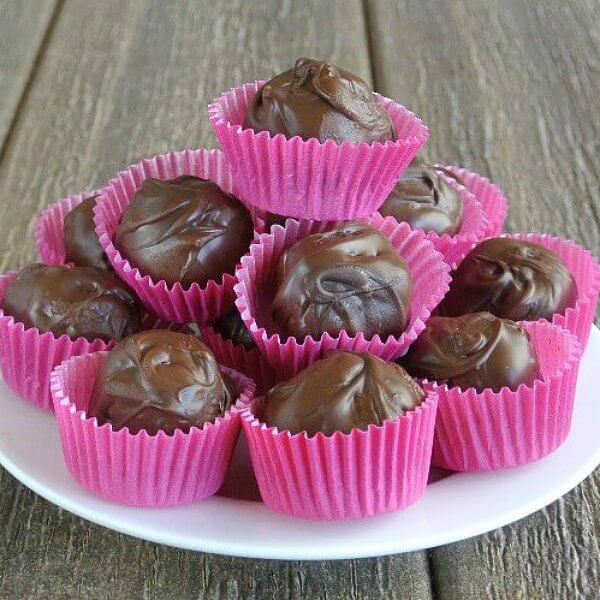 Cashew Butter Chocolate Balls
Cashew Butter Chocolate Truffles are creamy and crunchy at the same time with wonderful chocolate sweetness.
Prep Time
1
hour
30
minutes
Total Time
1
hour
32
minutes
Instructions
If your would like to make your own cashew butter, click here =

Cashew Butter

Mix the cashew butter, confectioners sugar and the vegan butter together.

Fold in the 'rice krispies'

Put in the fridge for 1 hour so that it is easier to make balls out of the mixture.

Scoop out 1" balls. I am still a large advocate of the candy/cookie scoop. It just makes it a quicker job. A teaspoon will work fine. After you finish scooping they are easy to round up with some swirls in the palms of your hands.

Put the fudge balls back into the bowl and freeze 15 minutes.

Take out a baking sheet and lay a piece of waxed paper in the bottom.

On this place a cooling rack.

Melt the chocolate in the microwave at half power. Stir after a minute and continue checking every minute until it is all melted.

Now take the balls out of the freezer and roll each ball in the chocolate.

Lift them out of the chocolate with two forks, letting extra chocolate drip back into the bowl.

I even swipe a little bit of chocolate off the bottoms on the edge of the bowl.

Lay the chocolate covered balls on the rack to dry.

This time I practiced swirling the top of each ball with a toothpick to make them prettier.

When completely cool and the chocolate has hardened remove by placing your finger under each one and pop it up off of the rack.
Recipe Notes
1 Hour 30 minutes includes chilling time.  Store in a tightly covered dish or tin.
They will keep in the fridge about 2 weeks or in the freezer for about 2 months.
You may freeze them according to any of the directions in my article  How to Prepare Food for the Freezer.
Nutrition Facts
Cashew Butter Chocolate Balls
Amount Per Serving (1 Truffle)
Calories 143
Calories from Fat 81
% Daily Value*
Total Fat 9g 14%
Cholesterol 1mg 0%
Sodium 41mg 2%
Potassium 58mg 2%
Total Carbohydrates 13g 4%
Protein 2g 4%
* Percent Daily Values are based on a 2000 calorie diet.