Peanut Butter Fudge Truffles are creamy and decadent on their own but why not cover them in chocolate and take these confections over the top.  So good!
Peanut Butter Fudge Truffles brings to mind Sweets for my Sweet.  Nice words backed by nice feelings.
I havn't had any sweets for a month.  Just taking a breather from the last holiday but I am feeling like it is okay to indulge again.
You can serve these in a bowl or make them special by putting each truffle in it's own candy cup.  Place on a pretty plate or platter and you're golden.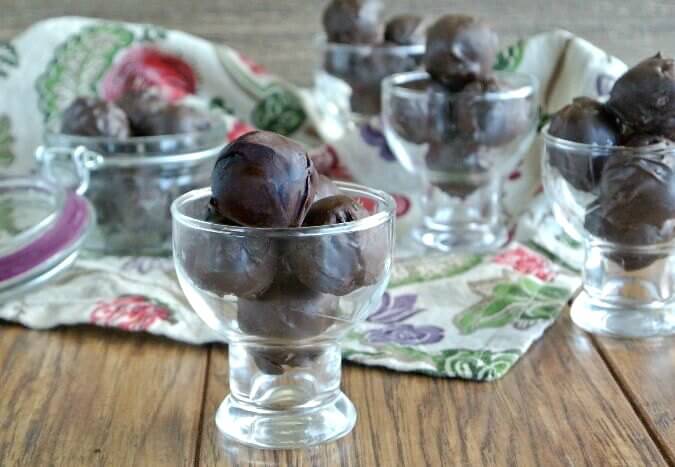 Connect with Vegan in the Freezer
Facebook | Pinterest | Instagram | Bloglovin
Peanut Butter Fudge Truffles
Peanut Butter Fudge Truffles are creamy and decadent on their own but why not cover them in chocolate
Instructions
A candy thermometer makes this recipe fool proof.

In a medium saucepan add the soy milk, vegan butter and sugar.

Bring to a boil.

Carefully clip on the candy thermometer.

Cook at medium high temperature to 236 degrees. That is the soft ball stage.

Remove from heat and carefully remove the candy thermometer.

Put in all the marshmallows and stir . The heat will melt them.

After all are melted stir in the peanut butter and the vanilla.

Pour the fudge mixture into a medium sized bowl and put in the refrigerator for about 45 minutes. This will allow the fudge to harden a bit so that you can scoop it out.

You can use a spoon to scoop out little balls but one of those small Cookie Scoops makes it really easy.

Continue to scoop all of the fudge into balls. Roll them between the palms of your hands to make them in the roundest balls that you can.

Put the fudge balls back into the bowl and freeze 15 minutes.

Take out a baking sheet and lay a piece of waxed paper in the bottom.

On this place a cooling rack.

Melt the chocolate and coconut oil in the microwave at half power. Stir after a minute and continue checking every minute until it is all melted.

Now take the fudge out of the freezer and roll each ball in the chocolate.

Lift them out of the chocolate with two forks, letting extra chocolate drip back into the bowl.

Lay the chocolate covered balls on the rack to dry.

When completely cool and the chocolate has hardened remove by placing your finger under each one and pop it up off of the rack.

Store in a tightly covered dish or tin. They will keep in the fridge about 2 weeks or in the freezer for about 2 months.
Nutrition Facts
Peanut Butter Fudge Truffles
Amount Per Serving (2 Truffles)
Calories 119
Calories from Fat 54
% Daily Value*
Total Fat 6g 9%
Sodium 36mg 2%
Potassium 67mg 2%
Total Carbohydrates 14g 5%
Protein 1g 2%
* Percent Daily Values are based on a 2000 calorie diet.
No Bake Protein Peanut Butter Balls