Chocolate Peppermint Bark is made with deep rich chocolate that has hints of a minty flavor and little bits of peppermint candy cane. So easy to make.
Chocolate Peppermint Bark is made with deep rich chocolate that has hints of a minty flavor along with little bits of peppermint candy cane.  To top that off it is extremely easy to make.  Candy Canes only come out at Christmas. They come in a multitude of colors and flavors but the traditional red and white peppermint candy cane is dear (and delicious) to all of us.  Not only on the Christmas tree or as a candy but in our special treats too.
A close second is the green and white spearmint but the taste that ties it all together is mint. Wouldn't the green and white theme go great too?  And, lastly, what goes best with mint? Chocolate!
We all want to have lots of treats over the holidays and it is a tradition to have many of them homemade.   They should taste delicious but why not make them easy too.  How simple can a no-bake three ingredient recipe be?  This simple!  It would make a nice gift too.  After they have cooled just pack in a cellophane bag and tie with a beautiful ribbon.  Nice hostess gift too.
This is a treat that is not only a special indulgence but it is pretty too.  You can place it in a bowl for your guests to pick at all day long.  Well, the chocolate bark probably won't last that long so maybe they should be put out after lunch.  Just imagine a pretty bowl filled with this lovely bark alongside smaller bowls of assorted nuts and cookies.  What a perfect treat table.
I'm glad that chocolate bark has become popular throughout the year but Christmas has candy canes and that makes me very happy.
Connect with Vegan in the Freezer
Facebook | Pinterest | Instagram | Bloglovin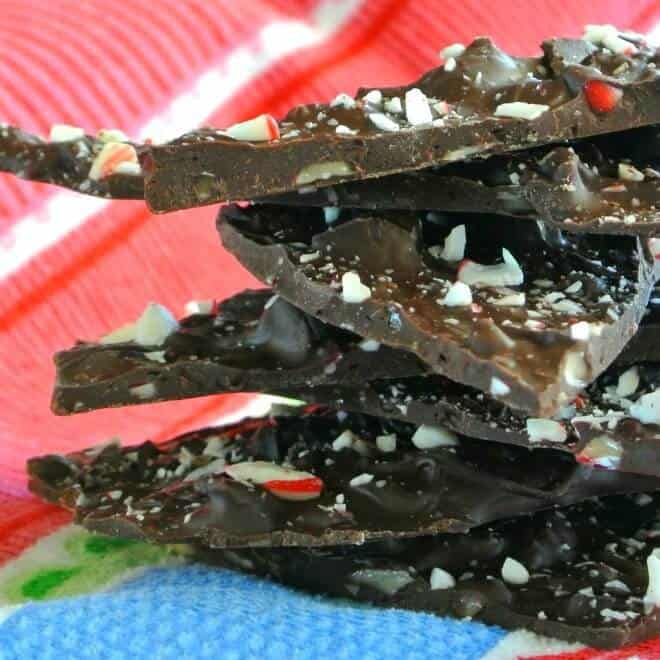 Chocolate Peppermint Bark
A great hostess gift too!
Ingredients
2

pounds

solid chocolate of your choice. Some people love deep dark high percent chocolate but I have found that the typical semi-sweet chcolate is liked by all ages.

1 1/4

cups

crushed Candy Canes, reserve 1/4 cup for sprinkling on the top *See note below for preparation

1

teaspoon

Peppermint Extract
Instructions
That is it - just three ingredients that give a lot of pleasure.

Melt the chocolate in your Double Boiler.

Make sure you do not get one drop of water in the chocolate or it may seize up.

* Candy Cane prep - Since you can pulverize the candy cane into powder real quick - do this by hand not in the food processor. The way I learned to do this is to put the candy canes in a plastic bag and hammer (lightly) all over to get small chunks. You will still get some really tiny pieces but that is fine.

Stir in 1 cup of crushed candy canes.

Stir in the peppermint (or mint) extract.

Turn out onto a large baking sheet.

Spread it as evenly as you can all over the baking sheet.

Sprinkle the remaining 1/4 crushed candy canes all over the top.

Put in the refrigerator for about 1 hour so that it can harden.

Take it out of the refrigerator and break into pieces.
Recipe Notes
Store in an airtight container and keep in the refrigerator. If your house is cool enough during the winter you don't need to keep it in the fridge.