Copycat Chocolate Mounds Candy is based on the Mounds Bar. Four ingredients are all it takes to make the candy bar classic. Not exactly a copy-cat in looks but definitely in taste. Easy and perfect!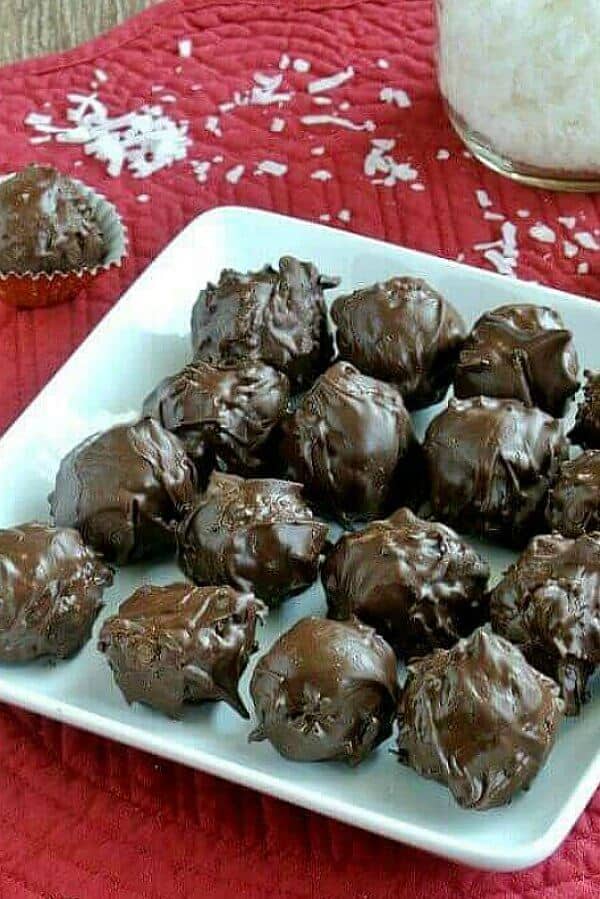 Chocolate Mounds Candy is inspired by the one and only original Mounds Bar. So simple and you don't have to cook to any specified temperature either. How easy is that!
We are loving them so much and I'm afraid they won't make it to the freezer. I'd better make more and get them in the freezer before these are all gone.
The old smoke and mirrors trick. That should work.
How Do I Coat Copycat Chocolate Mounds Candy with Chocolate?
The easiest way I've found is to use two forks.
I don't use any oil in my chocolate to make it thinner because it still works great without it.
So I melt the chocolate in a bowl and place one ball in it at a time.
Start to roll it around with a fork until it's coated.
Take another fork and lift, from underneath. This will also give you a chance to wipe, one swipe, across the bowl rim so that you can remove the extra chocolate from the bottom of the ball.
Place on a clean cooling rack and remove the forks.
You can see in the photos that there are a few spikes and swirls in the chocolate. That comes from manipulating the chocolate candy with forks. Pretty!
When I was young one of my favorite favorite candy bars at the movie theater was the Mounds Bar.
While waiting for the movie to start I read the wrapper - a lot. No cell phones back then.
So at an early age, I knew that Peter Paul Company was the manufacturer. I even knew they were in Connecticut. I mean I'm about eight years old!
You know what else they made? Almond Joy! Yep, read that wrapper too. I also have that copycat recipe. Just wait until you see what I did to Copycat Almond Joy Candy Bars.
Wait, it's me that can't wait. I need to show you. 🙂
I don't know if I was an odd kid or not but I read the credits at the end of shows. At home too. Oh, yeah. Casper cartoons were produced by Harveytoons. I knew you'd want to know that.
Oh! You know what else is odd?
We use to go to the Lido theater in Newport Beach. Maybe one reason I kept my head down reading the wrapper is that they have a mural over all the walls and it was painted as if you were under the sea.
You know what was in that mural? Sharks! I would imagine the walls could come to life and the water and sharks would come crashing down on us. I loved that theater.
So, back to reality. While I was rolling up these sweet little balls I started wondering if Peter Paul was still the producer of Mounds bars and what their story is nowadays.
As soon as I could I checked out Wikipedia. To make a long story very short they started in 1929 and Hershey's bought them in 1978. Boy! I bet they made lots of moolah!
What Do You Think?
If you take a photo of your deliciously perfect mounds candy I would love to see it. Follow me over on Instagram and tag me on your photo @vegan_in_the_freezer.
📋 Recipe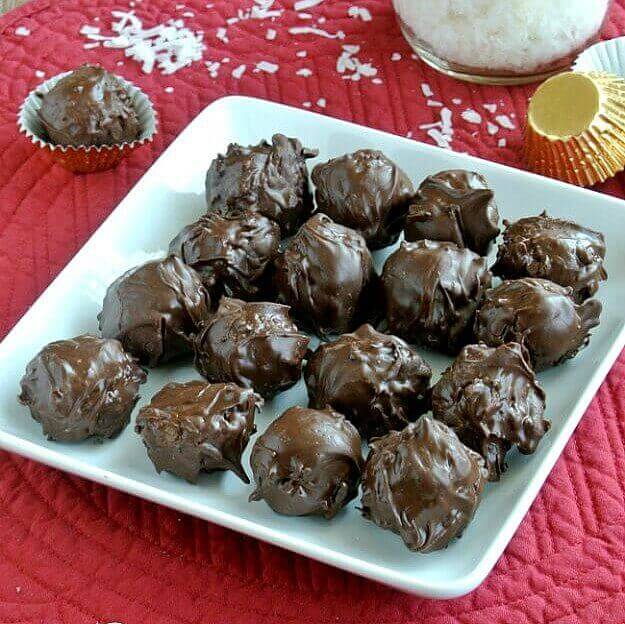 Copycat Chocolate Mounds Candy
Chocolate Mounds Candy is based on the Mounds Bar. Four ingredients is all it takes to make the candy bar classic.
Ingredients
½

cup

dairy-free butter

melted

2

cups

powdered sugar

organic

3

cups

shredded coconut

unsweetened

16

ounces

semi-sweet chocolate chips
Instructions
Place a piece of wax paper in a cookie sheet (baking sheet). Set aside.

Melt the dairy free butter in the microwave. It only takes seconds.

Mix the melted butter, powdered sugar and shredded coconut in a Large Mixing Bowl.

Roll into about 36 balls.

Place back into the large bowl and refrigerate for about an hour. Until firm for rolling in chocolate.

Melt the chocolate. You can use a microwave or over a hot water bath.

Roll each ball in the chocolate, quickly, and lift with two forks. Place on the waxed paper that is on the cookie sheet.

Fill up the pan. You may need more than one. Try not to let them touch.

Place in the refrigerator when all done so that the chocolate can harden.
Nutrition
Serving:
2
Candies
Calories:
160
kcal
Carbohydrates:
16
g
Fat:
10
g
Saturated Fat:
5
g
Sodium:
42
mg
Potassium:
96
mg
Fiber:
1
g
Sugar:
14
g
Vitamin A:
5
IU
Vitamin C:
0.1
mg
Calcium:
9
mg
Iron:
0.9
mg
Keep them in a container in the refrigerator and place out to serve to company.