Spicy Tortilla Rollups are layers of flavor starting with a spicy pesto base and ending with fresh baby spinach. Roll up tight, slice and pop in your mouth.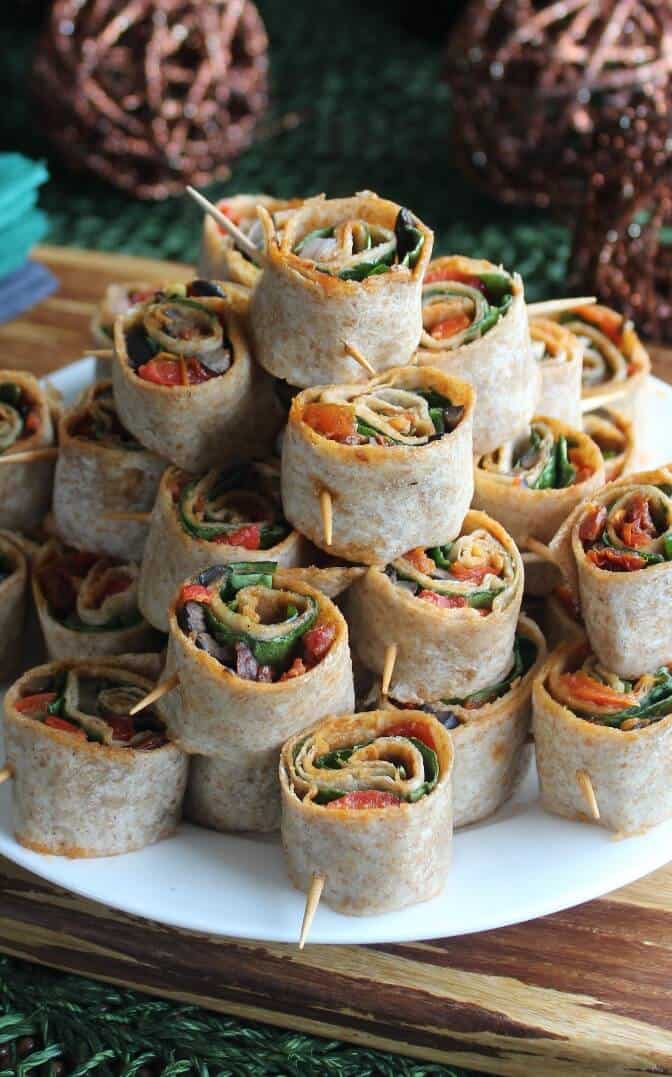 We often have big holiday parties with a mix of family and friends. They all know each other from years past so it is always lots of fun!
One of the things I have learned as a host is to prepare as much as I can in advance and make it simple.
I'd really like to share a recipe I made using one of Tabasco's sauces. It's not the splash here and splash there of a very hot hot seasoning but an actual sauce that is used in recipes as a flavoring.
Don't get me wrong. You can put it all over any taco to your heart's content but for this party, I would like to take advantage of its smoky pepper sauce flavor and treat the guests to something special.
We'll all be in the party mood in no time. Also, my rollups are all gone so I need to go shopping again. That's okay though.
Spicy Tortilla Rollups only take a few minutes to prepare.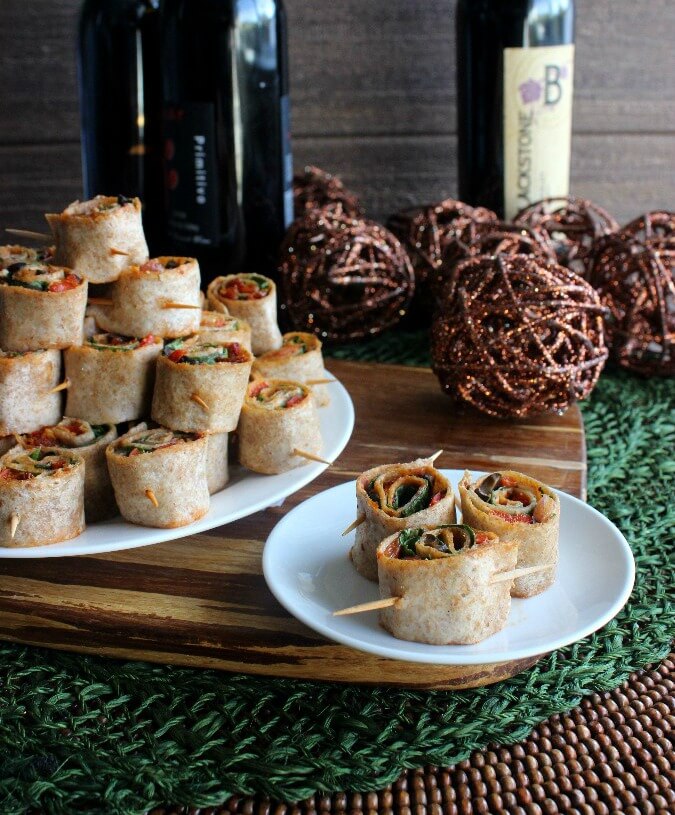 I would love to tell you a little story. Years ago, I was very lucky and I got to visit Tabasco's McIlhenny Co. on Avery Island in Louisiana.
I will never forget it - meaning it was so cool.
You drive onto the island passing huge oaks with Spanish moss dripping from the limbs. The 'factory' was a beautiful big old sprawling brick building.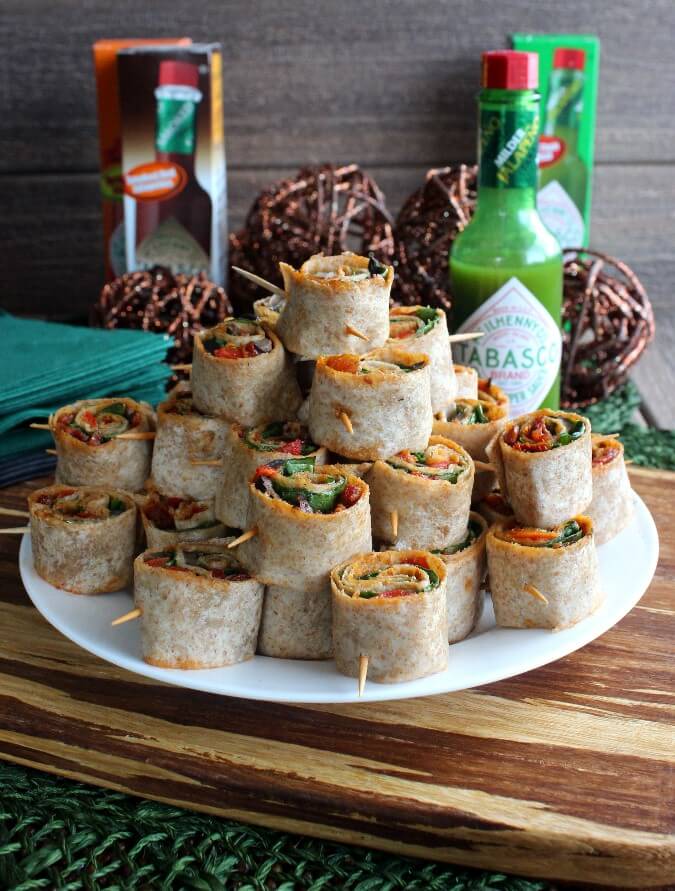 A tour guy took us inside and there were lots of vats and I remember two levels. We had to wear masks like those painters masks because of the pepper fumes. I loved it!
Needless to say, he took us through this area very quickly and then we got to the bottling area. All these little bottles lined up and being filled by ingenious machinery.
Capped and labeled and ready to enjoy. I still have my little 2" bottle souvenir. Unopened, of course. Right in the front corner of my pantry.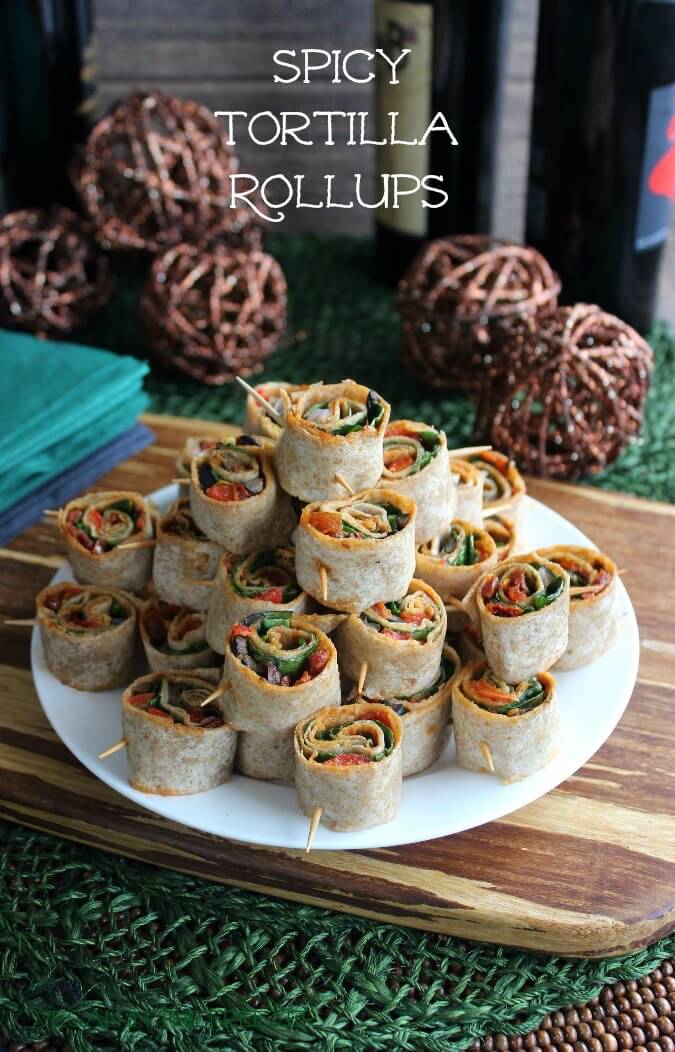 This post contains affiliate links. Read my disclosure policy here.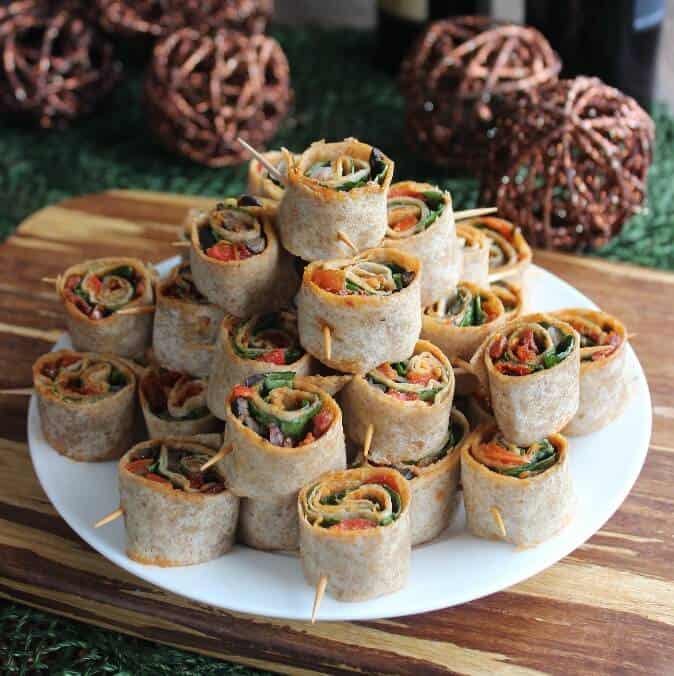 Print
Spicy Tortilla Rollups
Spicy Tortilla Rollups are layers of flavor starting with a spicy pesto base and ending with fresh baby spinach.
Ingredients
10

whole wheat tortillas

1/4

cup

sun dried tomato pesto

2

tablespoons

Tabasco Green Jalapeno Sauce

8

ounces

roasted red bell peppers

you can buy them in a jar

1/4

cup

onion

finely diced red onion

15

ounces

black olives

- about 15 ounce can, large pitted black olives, sliced

10

ounces

baby spinach

toothpicks
Instructions
To a small bowl add the pesto and Tabasco Jalapeno Sauce. Mix well and set aside.

Lay all of your tortillas out on the counter.

This makes everything go very quickly and you can see that you are dividing all of your ingredients evenly.

Spread the sun dried tomato pesto (link for homemade pesto) mixture all over each tortilla in a thin even layer. It is only about 2 teaspoons each tortilla.

When you go to lay the layers keep in mind that you just want a bite of this and that in each bite that you take.

Lay strips of the roasted red bell peppers all in one direction. About 5 strips, widely spaced all over each tortilla.

Sprinkle about 5 black olives, sliced, on each tortilla.

Lightly sprinkle the finely diced red onion over each tortilla.

Lay about 5 to 7 baby spinach leaves on each tortilla. These actually touch and sometimes overlay each other. Don't go all the way to the top edge with the spinach. Leave at least an inch so that when you roll up the tortilla the spinach stays inside the tortilla and does not stick out.

Roll up each tortilla as tight as you can going the direction where the red bell peppers are laying widthwise as you roll.

Lay on a cutting board.

Stick a toothpick in the exact center of the tortilla to keep it closed. Not too close to the edge so that the tortilla does not tear. Grab quit a bit of the tortilla with the toothpick. See my photos for a visual.

Now, you are looking down at the tortilla with a toothpick grasping the center. About every 1 1/2? or so, to the left and right, stick another toothpick to help keep the tortilla closed.

Next, with a very sharp knife slice through the tortilla in the center space between each toothpick. You will get 6 appetizer rounds out of each tortilla. The ends are to go in a baggie and eaten as a snack – later.
Nutrition
Nutrition Facts
Spicy Tortilla Rollups
Amount Per Serving (3 Rollups)
Calories 36
Calories from Fat 9
% Daily Value*
Fat 1g2%
Sodium 234mg10%
Potassium 36mg1%
Carbohydrates 4g1%
Vitamin A 495IU10%
Vitamin C 3.5mg4%
Calcium 25mg3%
Iron 0.4mg2%
* Percent Daily Values are based on a 2000 calorie diet.
TO MAKE AHEAD:
Lay the cut rollups in a hard-sided container. Cover with its lid or with saran wrap. You want to keep the air out so they don't dry up. Refrigerate until the party.
They will keep in the fridge 3 to 4 days.
Here's one more picture but of another delicious and very popular roll-up. Pesto Tortilla Rollups!