Pesto Tortilla Rollups are to die for. The pestos are very different so their flavors really stand out. Using the beans as a base melds it all together.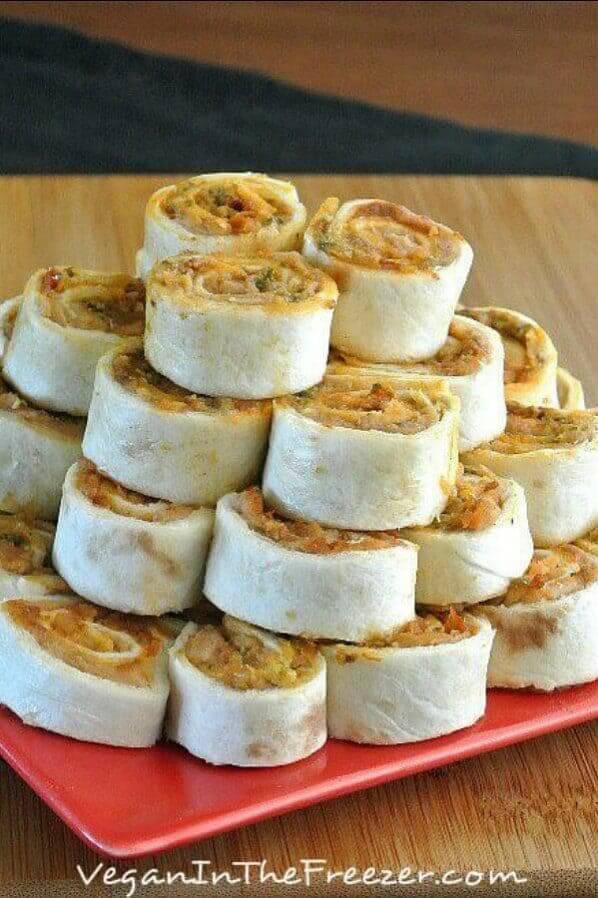 Pesto Tortilla Rollups came to my mind when I was brainstorming with myself. I was trying to think of a rollup that I had never had before and with items that I loved. Oh, I thought – a pesto! Maybe two pestos?
All I could do was try it. Gee, aren't I smart? It was so good and the pestos are very different so their flavors really stood out.
Using the beans as a base was also a good combo and it held the rolls together. Don't be tempted to add more ingredients because these are perfect.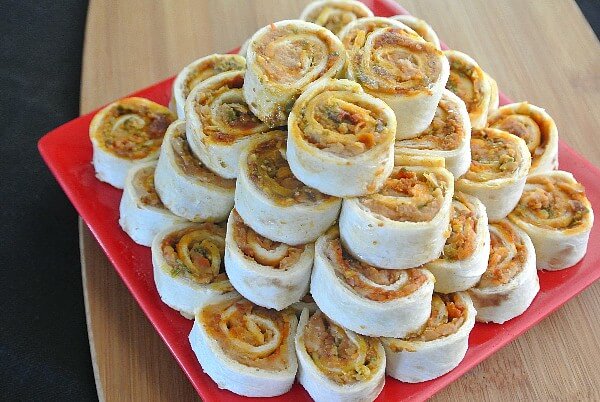 It sounds like I am really bragging over this recipe and I apologize. It's not like me but I gotta tell you that it isn't too often that a recipe comes up that is easy to make with a few ingredients and the oven doesn't even have to be turned on.
Very pretty on the plate too. Every rollup has disappeared whenever I've had them out so I figure that's a thumbs up too.
And … I could eat them all up myself as a meal. Yes, I love appetizers. Bet you do too!
I have two more rollups (aka pinwheels) on the blog and I'm trying to decide which one you might like the most. Oh, no! I can't decide.
Ohhh, let's go with Spicy Tortilla Rollups. They've got quite a few veggies added inside and are super good.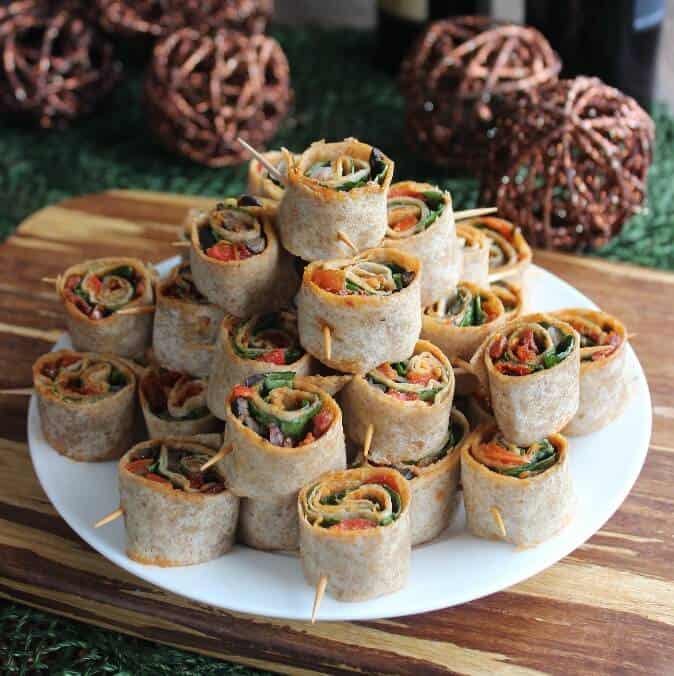 Pretty yummy looking, heh?
You know what else I love. When the guys (and girls) come over and watch sports on the big t.v. It is big! You can't get the t.v.'s big enough for me and I don't even watch sports.
Okay, I watch the Olympics. Back to when the guys come over – these roll-ups are very quick to throw together and they are an easy food to pop in your mouth along with chips and salsa.
I'd love to give you some little hints and shopping tools to help make these rollups but they are so easy that I can't come up with anything.
You need a spoon to scoop and you can spread with the back of the spoon.  You'll need a knife to slice the rolls.  Oh, yeah and a cutting board on which you'll do your slicing.
See what I mean?  They are simple and tasty and everybody likes them.  What's not to like?
Here's a picture of what the tortillas look like before you start to roll them up. The filling isn't spread quite to the edges so that it doesn't squeeze out when you're rolling.
Also, not too thick of layers either for the same reason.  Roll firmly but not so tightly you squeeze everything out the sides.
They turn out so delicious!  A real winner.
This post contains affiliate links. Read my disclosure policy here.
Print
Pesto Tortilla Rollups
Pesto Tortilla Rollups are to die for. The pestos are very different so their flavors really stand out.
Ingredients
10

Tortillas

- that are about 6-8" across - you can use less tortillas if you buy the larger size. They are just for stuffing and rolling anyway.

15

ounces

pinto beans

- can, drained, or homemade refried beans that equal about 10 ounces (you can also use giant white beans cannellini)

2

tablespoons

salsa

- any of your favorite

2

ounces

Basil Pesto

- small jar or homemade that equals about 2 ounces

2

ounces

Sun Dried Tomato Pesto - see link to homemade sun dried tomato pesto below in the Instructions
Instructions
Process the whole beans in a Food Processor or mash really well with a fork.

Put the processed beans in a small mixing bowl and mix in the salsa.

Now for assembly.

Spread a small amount of the bean mixture on the tortilla.

See the photo below.

Go almost to the edge and not real thick.

Spread a little bit of sun dried tomato pesto and also the basil pesto on the tortillas that already have the bean mixture.

Now roll up the tortillas firmly but not tight. You don't want to squish out the ingredients.

Cut the roll with about 1" slices.

The end slices are what you call throw always but don't throw them away. Eat them!
Notes
Lay on a plate in a pretty stack and serve. They keep in the fridge for about 4 days so you can make them ahead for a party.
Nutrition
Nutrition Facts
Pesto Tortilla Rollups
Amount Per Serving (1 Rollup)
Calories 30
% Daily Value*
Sodium 55mg2%
Potassium 40mg1%
Carbohydrates 4g1%
Protein 1g2%
Vitamin A 30IU1%
Vitamin C 0.1mg0%
Calcium 11mg1%
Iron 0.3mg2%
* Percent Daily Values are based on a 2000 calorie diet.