Few meals embody the flavors of summer quite like a delicious pesto dish. Whether served as an appetizer, mixed into a pasta salad, spread on sandwiches, or tossed with steaming hot fettuccine noodles, this dairy-free sun-dried tomato pesto sauce is the perfect way to bring some Italian flair to your kitchen table! It has simple ingredients and is quick to whip up with no cooking required! So grab your food processor or blender, and let's get started making some magical vegan sun-dried tomato pesto!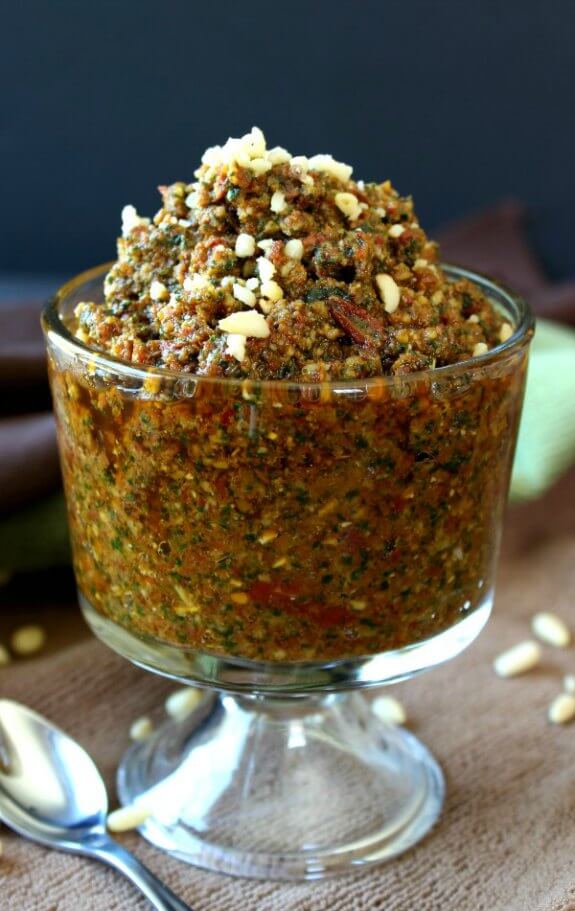 Why You'll Love This Sun-Dried Tomato Pesto Recipe
Packed With Flavor- Just a few simple ingredients are transformed into something truly special. Fresh spinach, garlic, pine nuts, and sun-dried tomatoes provide the perfect balance of deliciousness.
Aromatic- The smell of this tomato pesto is sure to make your kitchen smell like an Italian paradise!
Easy- You don't need a lot of skill or prep time to make this tasty pesto! Just combine all the ingredients in a food processor or blender, and it's ready to go.
Versatile- Serve it as an appetizer dip, toss it into your favorite pasta dish, or simply spread some onto warm toasted bread. You'll absolutely love the endless possible uses for this pesto!
What Is traditional Sun Dried Tomato Pesto?
Traditional sun-dried tomato pesto, or red pesto, is a classic Italian sauce made by blending spinach, sun-dried tomatoes, extra virgin olive oil, garlic, and parmesan cheese. This vegan version replaces the parmesan with nutritional yeast for a super delicious and vegan-friendly alternative.
Equipment Needed
Food Processor or Blender
Measuring Cups and Spoons
Ingredients
Baby Spinach- The base of the pesto. It adds a fresh and earthy flavor.
Sun-Dried Tomatoes- Adding sweetness and bold zest to pesto sauce.
Pine Nuts- For a bit of toasty nuttiness.
Garlic- For a bit of sharpness and aromatic warmth.
Nutritional Yeast- Replacing parmesan cheese with a vegan alternative that adds cheesy flavor without the dairy.
Sea Salt- Enhances the taste of the sundried tomatoes and all the other ingredients.
Oil/Olive Oil- Used to help the ingredients blend together and create a creamy texture.
How To Make Vegan Sun-Dried Tomato Pesto
Get your food processor ready and toss in the spinach. Then, add the sundried tomatoes - but make sure to save that flavorful oil! Follow it up with pine nuts, nutritional yeast, garlic, and salt. Lastly, pour on the saved sundried tomato oil plus more olive oil if needed. Blend everything together until smooth or your desired consistency is reached. You'll be amazed at how delicious this mixture is! Now comes the best part: dive in and enjoy all of the amazing ways you can use this delicious pesto sauce.
How To Use Sun-Dried Tomato Pesto Sauce
There are so many different ways to use this vegan sun-dried tomato pesto! Here are some of our favorite ideas:
Spread it on pizza or flatbread with some fresh basil leaves.

Stir in soups or stew.
Mix it into a cold pasta salad.
Use it as a spread for sandwiches.
Toss with your favorite type of noodles or gluten-free pasta with some toasted bread.

Serve as a dip with veggies or crackers.
Popular Substitutions & Additions
If you want to customize your vegan sun-dried tomato pesto, here are some possible substitutes and add-ins:
Substitute pine nuts for walnuts, almonds, or sunflower seeds.
Add a tablespoon of fresh oregano or garlic for an herby flavor boost.
Swap nutritional yeast with vegan parmesan cheese.
Add a few tablespoons of vegan cream cheese for a creamier texture.
Season to your taste with ground black pepper, more salt, or lemon juice.
Purchasing dry sundried tomatoes allows you to select from a wide variety of oils, including regular olive oil and extra virgin olive oil, avocado oil, or any neutral-flavored one. Don't forget to rehydrate the sun-dried tomatoes in boiling water for at least 10 minutes before use!
Use extra olive oil if you prefer a runnier pesto.
Top your pesto with chopped pine nuts, parsley, or fresh basil leaves for an extra burst of flavor!
Now that you know how to make this delicious vegan sun-dried tomato pesto, why not give it a try and see what amazing creations you can come up with?
Can You Freeze Sun-Dried Tomato Pesto?
Yes, you can freeze sun-dried tomato pesto! Let the pesto cool completely before transferring it into ice cube trays, an air-tight container, or a plastic bag. Place it in the freezer until ready to use. To thaw, place the frozen pesto in the fridge overnight. Once thawed, give it a good stir and enjoy!
To store in the fridge, place the pesto in an airtight container or jar, and it will last for up to a week.
Vegan Sun-Dried Tomato Pesto FAQs
What is the best type of oil to use in this sun-dried tomato pesto recipe?
It's best to save the oil from the sun-dried tomatoes and use that. If there isn't ¼ cup leftover, you can add any neutral-flavored oil, such as extra virgin olive oil or avocado oil.
Can I make this pesto without a food processor?
Yes, if you don't have a blender or food processor, you can combine all the ingredients with a spoon or fork. For the best flavor, however, we recommend using a food processor for this recipe.
Are there any other variations of sun-dried tomato pesto?
Yes! You can add different herbs and spices to customize the flavor. Some popular pesto recipe additions are lemon juice, fresh basil, oregano, rosemary, and red pepper flakes.
Can I use fresh tomatoes instead of sun-dried tomatoes?
Fresh tomatoes can be used, but the flavor won't be quite as intense. You'll also need to reduce the amount of olive oil in the recipe since fresh tomatoes are juicier than sun-dried tomatoes.
📋 Recipe
Vegan Sun Dried Tomato Pesto
Serve as an appetizer, mix into pasta salad, or toss with noodles, vegan sun-dried tomato pesto is the perfect way to bring some Italian flair to your table!
Ingredients
1

cup

spinach

baby spinach, packed

½

cup

sun dried tomatoes

packed in oil, drained but save that precious oil

¼

cup

pine nuts

3

cloves

garlic

2

tablespoons

nutritional yeast

½

teaspoon

garlic powder

⅛

teaspoon

sea salt

¼

cup

oil

, use the oil from the sun dried tomatoes
Instructions
Place spinach in food processor.

Add the remaining ingredients.

Process until well blended.

That's it! Enjoy in so many ways!
Nutrition
Serving:
1
Ounce
Calories:
78
kcal
Carbohydrates:
3
g
Protein:
1
g
Fat:
6
g
Sodium:
37
mg
Potassium:
215
mg
Fiber:
1
g
Sugar:
1
g
Vitamin A:
275
IU
Vitamin C:
2.7
mg
Calcium:
9
mg
Iron:
0.7
mg