In the wide world of food and food products, it's fair to say that sauces are one of the least straightforward. Sometimes they are named after the food they are most often used for--think duck sauce and steak sauce, neither of which actually contain any duck or steak ingredients--and other times they are named for what is actually in the sauce itself.
So when it comes to oyster sauce, which camp are we in? Unfortunately, for us vegans and plant-based eaters, the title itself clues you in to an ingredient which is indeed packed into that mysterious bottle: oysters.
Don't be dismayed though! There are thankfully plenty of umami rich options which can easily replace oyster sauce in a recipe or as a condiment. And don't you know, we've compiled them all here in one handy guide. Buckle up, it's our top 9 vegan substitutes for oyster sauce!
What is Oyster Sauce?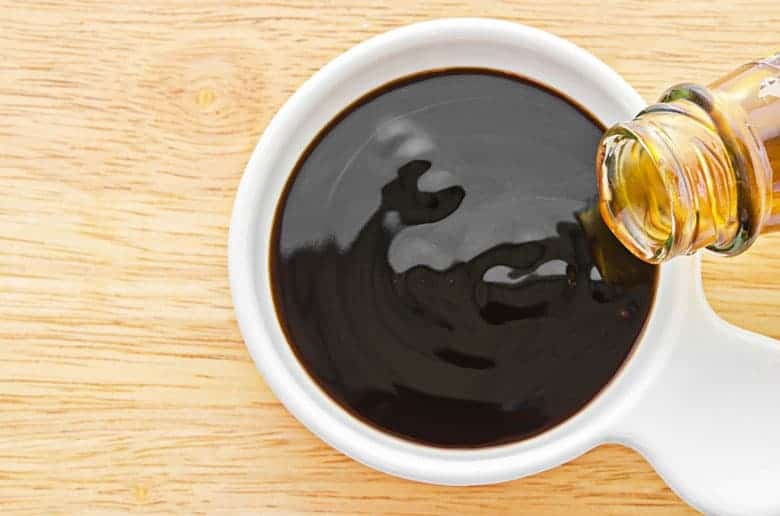 Oyster sauce is a rich sauce with syrupy consistency, often used as a condiment as well as an ingredient in recipes. Though it originated in China, oyster sauce is now used in a number of Asian cuisines including Thai, Vietnamese, and Cantonese cooking. The rich, deep brown sauce is perhaps most well-known for its use in Asian dishes like stir fries, noodle dishes, and soups.
While oyster sauce doesn't taste like oysters per se, oyster extract is the key ingredient along with sugar, salt, caramel coloring, and sometimes wheat flour and/or cornstarch for thickening. The ingredients in homemade oyster sauce can vary as some versions may contain additional spices and seasonings, or potentially even a mixture of other sauces as well.
What Does Oyster Sauce Taste Like?
The concentrated oyster extract in this sauce is responsible for bringing a savory, briny, slightly funky taste to the table. To balance out all of that salty flavor, there is also plenty of sweetness from the natural caramelization as well as a bit of tang. This sauce is strong, meaning even just a few drops would add flavor to a dish in a big way.
Top 9 Vegan Oyster Sauce Substitutes
The powerful flavor of regular oyster sauce means that when seeking a replacement for your vegan and vegetarian dishes, you want to aim for something that is at least in the same ballpark of punchiness. If you don't have time to make your own vegan oyster sauce, the following 9 options will fill the role perfectly.
Hoisin Sauce
Soy Sauce
Hoisin Sauce + Soy Sauce
Mushroom Sauce
Sweet Soy Sauce
Black Bean Sauce
Teriyaki Sauce
Tamari Sauce
Store-Bought Vegan Sauces
As always, when using any store bought sauces and blends, check the label carefully as individual producers can always opt to add animal ingredients, even to a product which is typically vegan.
1. Hoisin Sauce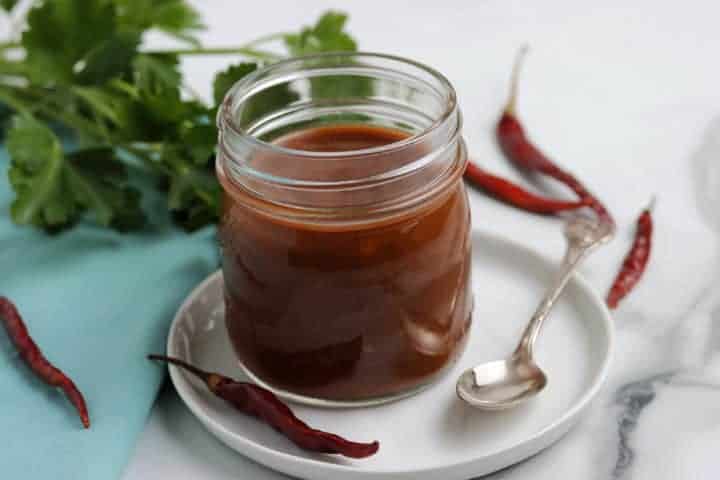 Despite the fact that it translates to "seafood sauce" in Chinese, hoisin sauce does not actually contain any seafood and is therefore 100% vegan! This sauce has a rich, dark brown color and thick texture which is very reminiscent of actual oyster sauce. However, instead of being made with oysters, hoisin sauce consists of fermented soybeans, vinegar, and sugar and may include any number of spices and seasonings such as: dried hot chilies, five spice powder, ginger, and garlic.
The thick and viscous texture of most hoisin sauces make for one of the best vegan oyster sauce substitutes especially when used as a stir fry glaze, as a marinade, or as a dipping sauce. Due to the fact that it is more heavily seasoned, hoisin sauce is definitely punchier than oyster sauce so be sure to give it a taste before adding it in. You can use your favorite store bought hoisin sauce, or make your own Vegan Hoisin Sauce using our recipe!
How to Substitute:
Usually, you can use hoisin sauce in place of oyster sauce at a 1:1 ratio. If your hoisin is especially pungent then you may want to use a bit less.
2. Soy Sauce
Soy sauce is another great option for a vegan and vegetarian oyster sauce substitute as it is also made from fermented soybeans, giving it that wonderfully umami-rich flavor. In traditional soy sauce brewing, a culture is added to cooked soybeans before they are mixed with a salt brine and then allowed to ferment. Oftentimes, roasted wheat or other grain is included to add flavor and depth--rendering most soy sauces not gluten free.
Though soy sauce tastes far saltier and has a much more fluid consistency than syrupy oyster sauce, it still makes a great substitute option for the way it adds umami to dishes as well as a dark, rich coloring. If you like, you can whisk in a small sprinkle of cornstarch to give the soy sauce a slightly thicker texture more in line with that of oyster sauce. You can also absolutely use liquid aminos here--which many folks may have on hand as a gluten free soy sauce--as the taste and appearance is just about the same.
How to Substitute:
Use a 2:1 ratio--for every amount of oyster sauce your recipe calls for, use just half the amount of soy sauce. The strong and salty flavor could easily overwhelm a dish!
3. Hoisin Sauce + Soy Sauce
If you happen to have both hoisin sauce and soy sauce, your best bet would actually be to combine the two as the ingredients complement each other quite nicely. Hoisin sauce + soy sauce create a near-perfect balance of salty, sweet, umami, and tangy flavors, producing a result which is most comparable to that of oyster sauce.
Simply combine equal parts hoisin and soy sauce and whisk gently until the two are fully incorporated. You can use regular soy sauce, low sodium soy sauce, or liquid aminos here--whatever you have in stock will do the trick! The resultant mixture can be used in place of oyster sauce in almost any situation whether as a condiment or as an ingredient in a recipe.
How to Substitute:
Use a 1:1 ratio, replacing the oyster sauce in your recipe with an equal amount of the prepared hoisin sauce + soy sauce mixture.
4. Mushroom Sauce
This product goes by many different names: mushroom sauce, mushroom soy sauce, shiitake soy sauce, mushroom oyster sauce, or mushroom stir fry sauce to name a few. No matter the particular name of each though, they all contain just about the same product inside: a special type of dark soy sauce that has been infused with mushroom flavoring or mushroom extract. Any of several mushroom varieties may be used to impart this flavor including dried shiitake mushrooms, dried porcini and, funnily enough, the oyster mushroom!
The addition of mushroom flavor to soy sauce means this ingredient is even more savory than regular soy sauce--but not as salty!--making it one of the best vegan substitutes for oyster sauce. You may have trouble finding this one in your everyday grocery store but try some specialty stores or Asian grocery stores if needed.
How to Substitute:
You can use a 1:1 ratio with this one, replacing the oyster sauce in your recipe with an equal amount of mushroom sauce.
5. Sweet Soy Sauce (Kecap Manis)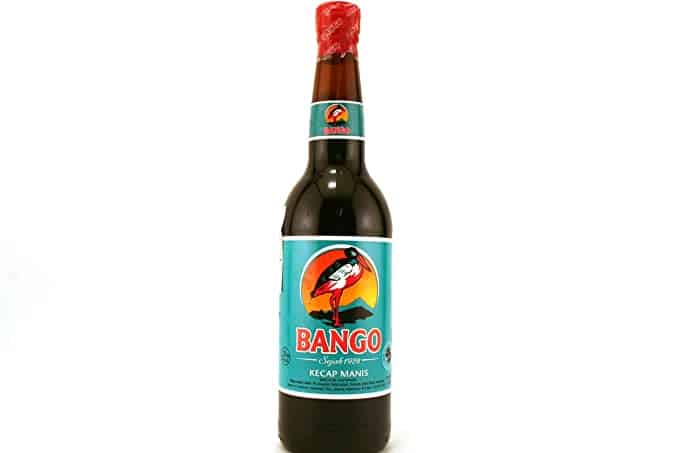 Sweet soy sauce is an extremely popular condiment in Indonesia where it is known as kecap manis or ketjap manis. It consists of regular soy sauce which is further reduced before being mixed with additional sugar. The result is a thicker version of soy sauce with a darker coloring and glossy texture, like a syrup.
The flavor itself is a combination of salty and ferment-y as well as sweet and caramelly--so you can see why this Indonesian sweet soy sauce makes a great vegan replacement for oyster sauce! You may have a little trouble finding this ingredient at your local grocery store and may need to visit a specialty market, Asian grocery store, or online retailer to get your hands on some. Keep in mind that kecap manis is strong and intense and likely to be much sweeter than your average oyster sauce, so you do not want to use it as an equal substitute here.
How to Substitute:
Use a 2:1 ratio, replacing the quantity of oyster sauce your recipe calls for with just half the amount of sweet soy sauce.
6. Black Bean Sauce
You might see the name of this sauce and immediately think it's made from black turtle beans (also known as frijoles negros), but actually, it refers to black soybeans, which are a less common variety of soybean when compared with other types such as the yellow soybean or the red soybean. Black bean sauce may also be called black bean paste, and typically contains fermented black soybeans, vinegar, and sugar as well as a varied mixture of aromatics such as garlic, dried chilies, and citrus ingredients.
Seeing as fermented soybeans are the basis for soy sauces, you can bet that black bean sauce has a similar overall flavor profile and will therefore make an excellent vegan substitute for oyster sauce as well. Black bean sauce has a strong, funky flavor and a thick, viscous texture which is very similar to that of oyster sauce. Due to its intensity, we recommend using this one in cooked applications such as stir fry dishes as marinades as opposed to using it straight up as a dipping sauce or condiment.
How to Substitute:
Use a 1:1 ratio, replacing oyster sauce with an equal amount of black bean sauce or black bean paste in stir fries, marinades, or noodle dishes.
7. Teriyaki Sauce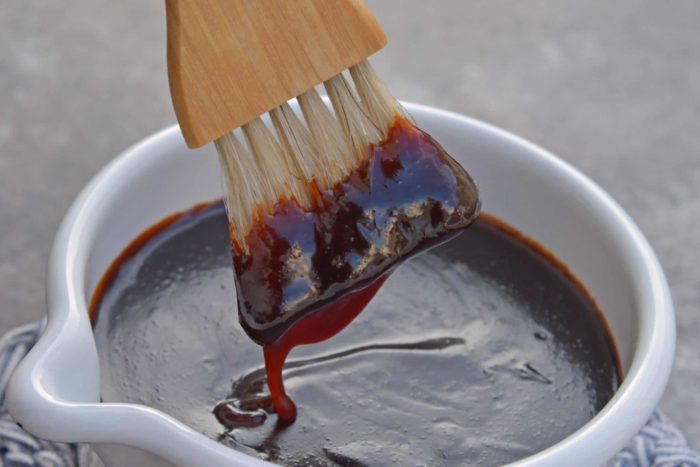 Teriyaki may just be one of the most well-known sauces and flavors around--it seems people just can't get enough of the sweet & tangy stuff! Simply put, teriyaki sauce is an enhanced soy sauce which may be mixed with any combination of the following ingredients: sake, rice wine, minced garlic, dried or fresh ginger, spicy chilies, and/or citrus juices. The sauce itself is generally quite thick and glossy, therefore it is often used as a glaze for proteins and vegetables which are to be grilled. In fact, the word "yaki" is actually Japanese for grill!
The flavor and texture characteristics of teriyaki sauce make it a great choice to replace oyster sauce in a recipe. However, teriyaki is much sweeter and less savory than oyster sauce, so you may want to cut back on any other sweet components your recipe calls for. Teriyaki is so popular that grocery stores typically stock several different varieties so you are free to pick your favorite vegan option, or you might even have a bottle lurking on your refrigerator's condiment shelf from your last barbecue night.
How to Substitute:
Due to the variation between different teriyaki sauces, start off slowly when using it as a vegan oyster sauce substitute. We recommend a 3:2 ratio at first--meaning for every tablespoon of oyster sauce your recipe calls for you can use 2 teaspoons of teriyaki--and then add more as needed.
8. Tamari Sauce
Tamari is often considered to be a type of soy sauce, however, it is made by a different process than regular soy sauce and therefore has some important distinguishing features. While soy sauce is intentionally made by fermenting soybeans and seasoning the resultant mixture, tamari is a byproduct of the miso paste making process. This means that tamari is naturally gluten free as no wheat flour or other grains are used when making miso paste!
This difference in production causes tamari to have a thicker texture and more mellow (but still plenty savory!) flavor as opposed to soy sauce which is thinner in consistency with a sharp and very salty taste. Bottom line: tamari is a great option for a vegan and vegetarian oyster sauce substitute as it provides all of the rich flavor and color on a slightly less intense scale. Just as with using soy sauce as a substitute option, you may opt to sprinkle and whisk a bit of cornstarch into your tamari in order to increase the viscosity a bit to make it even more similar to oyster sauce.
How to Substitute:
The comparatively mellow flavor of tamari sauce means you can use a 1:1 ratio when swapping it in for oyster sauce!
9. Store-Bought Vegan Sauces
Fish sauce and Worcestershire sauce actually make great substitutes for oyster sauce, but the traditional versions of these sauces both contain fish ingredients (yes, Worcestershire sauce often contains anchovies!) and are therefore decidedly not vegan. Luckily, there are many products out there which are sold for the express purpose of replacing these types of ingredients. You can find vegan Worcestershire sauces, vegan fish sauces, and even a few vegan oyster sauces.
As you might expect, these products contain a wide range of ingredients and seasonings, so it's up to you and your taste buds to determine which is the perfect substitute for oyster sauce in your recipes. Generally speaking though, any of these store bought vegan sauces are great in stir fries, noodle dishes, marinades, or as part of a dipping sauce. The key is to start slowly and be mindful of the sodium level and flavor intensity as you season your recipe.
How to Substitute:
Start with a 2:1 ratio, replacing the amount of oyster sauce your recipe calls for with just half the amount of one of these prepared vegan sauce options, then taste and slowly increase the amount as needed.
Need Some Recipe Inspiration?
Here are some recipes for a few of our favorite Asian inspired dishes!
Many of these recipes call for at least one of our vegan oyster sauce substitutes, making them a perfect way to use up any leftovers or experiment with using them in other ways.
Summarizing the 9 Best Vegan Substitutes for Oyster Sauce
Next time you are faced with a recipe that calls for oyster sauce, you have 9 great vegan substitute options to choose from! Hoisin sauce and soy sauce are the best options, as are black bean sauce and teriyaki sauce. Be sure to also consider any sub-varieties of soy sauce such as Indonesian sweet soy sauce, tamari sauce, mushroom soy sauce, or any of the plentiful store-bought vegan sauces!
The main things to consider when making these substitutions is overall flavor profile and texture, as you want to reach for something which has notes of sweet, savory, and tangy tastes as well as a thick and viscous texture when possible.