Vietnamese Summer Rolls are a healthy, delicious, and colorful lunch or dinner! Loaded with lots of veggies to serve alongside the perfect peanut dipping sauce.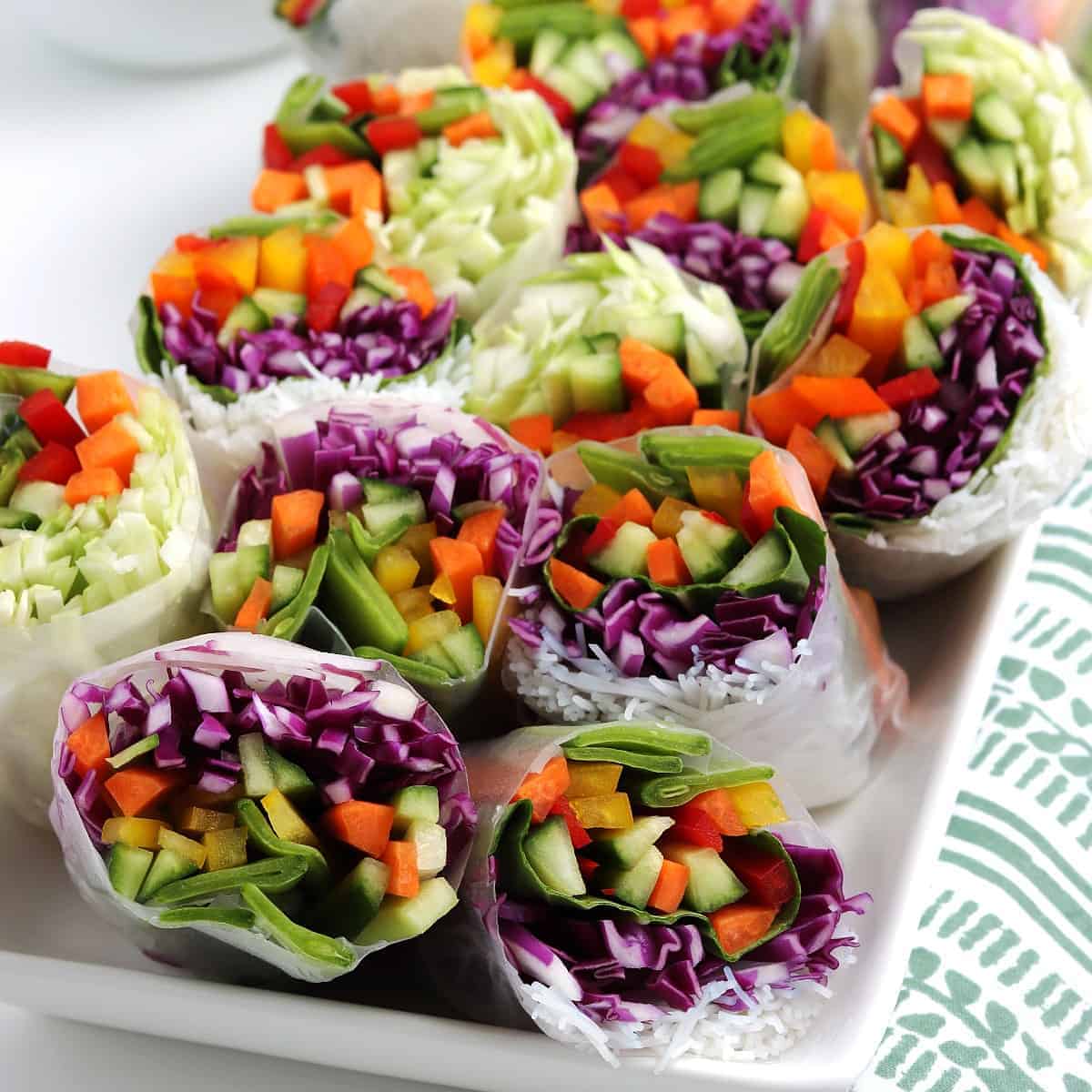 My favorite part about summer rolls is that they are super adaptable and customizable! I include some of my favorite veggies, but you can use your favorites or whatever you have on hand.
I love using a mixture of veggies to get a variety of textures.
What is a Vietnamese summer roll
Vietnamese summer rolls are thinly sliced fresh vegetables wrapped in a rice paper wrapper. They also have rice vermicelli noodles included and those also don't need to be 'cooked'.
This makes an ideal delicious and fresh meal to dip into the traditional peanut dipping sauce.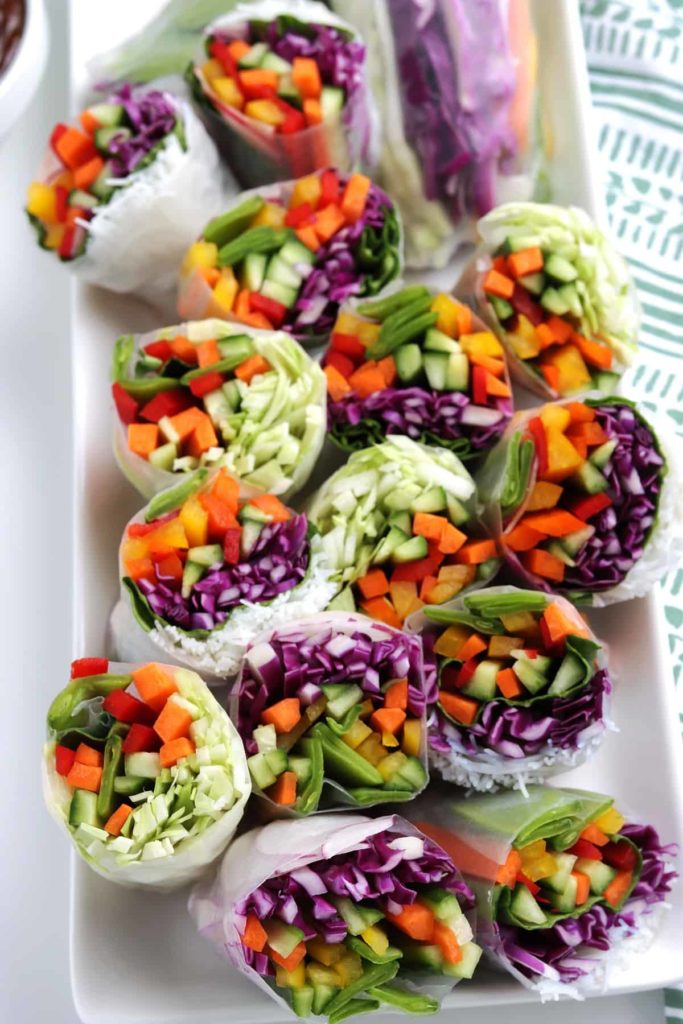 Load up the rice paper with fresh veggies and roll tight! The peanut dipping sauce recipe uses mainly pantry staples that you might already have on hand!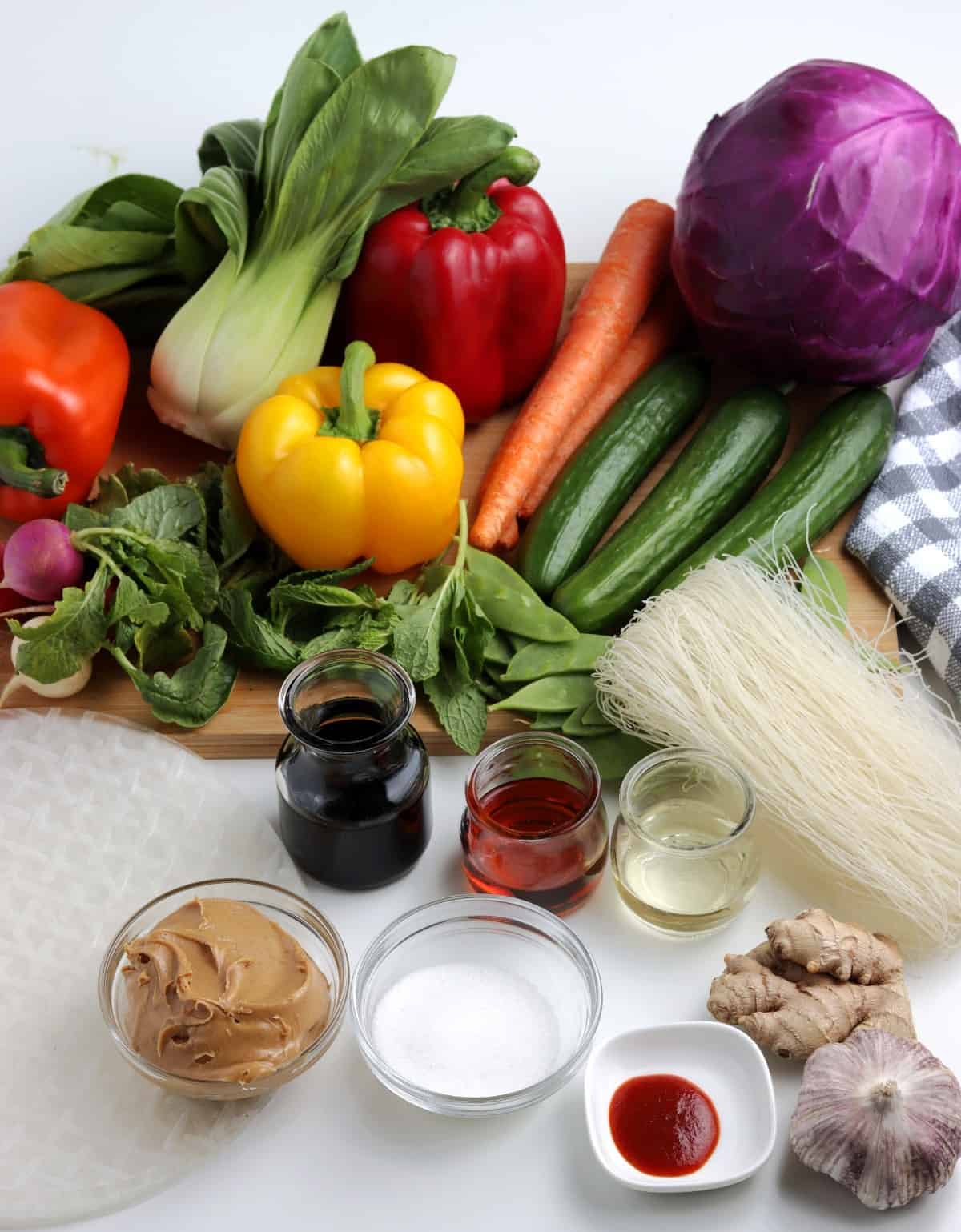 Ingredients
Rice Wrappers
Rice Noodles or Vermicelli Rice Noodles (traditional)
Baby Bok Choy
Carrots - I prefer to use regular carrots vs baby carrots as they're easier to cut into thin sticks.
Cucumbers
Red and Green Cabbage
Bell Peppers - use your favorite color.
Radishes
Pea Pods
Mint Leaves
Peanut Dipping Sauce - Creamy Peanut Butter, Rice Vinegar, Tamari or soy sauce, Sriracha or Chili Paste, Sugar (or maple syrup), Toasted Sesame Oil, Garlic, Ginger. Check out the recipe card!
I promise that making homemade Vietnamese summer rolls is easy! No cooking involved and I include all the instructions you need to perfectly roll them. See the steps below:
How to make fresh summer rolls
Make the Peanut Sauce - Add the peanut sauce ingredients to a blender or small food processor and blend until it is smooth and creamy. You can use a rubber spatula to scrape the sauce out into a bowl and set aside.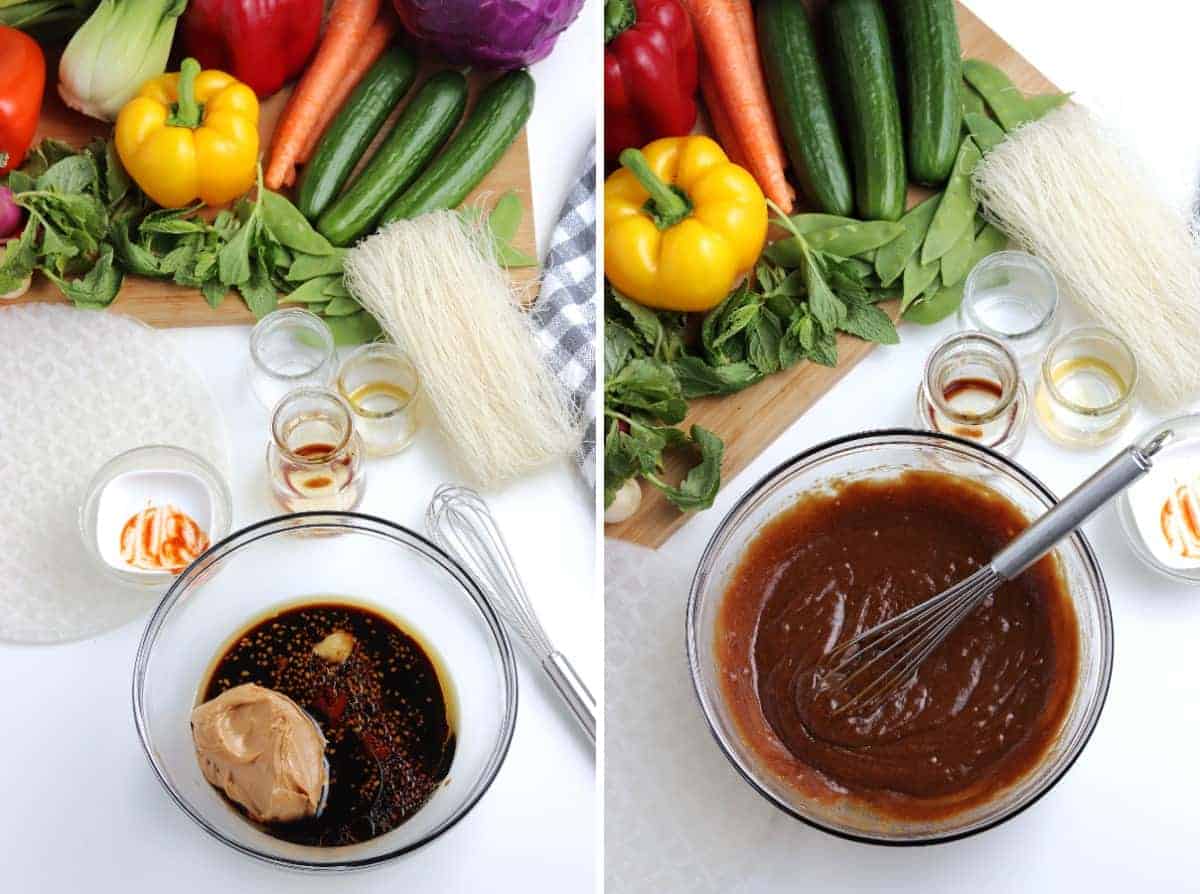 Prep the Ingredients - Cut the veggies into thin sticks, shred the cabbage, and thinly slice the radishes. Dunk the rice noodles in a bowl of hot water - according to the package directions.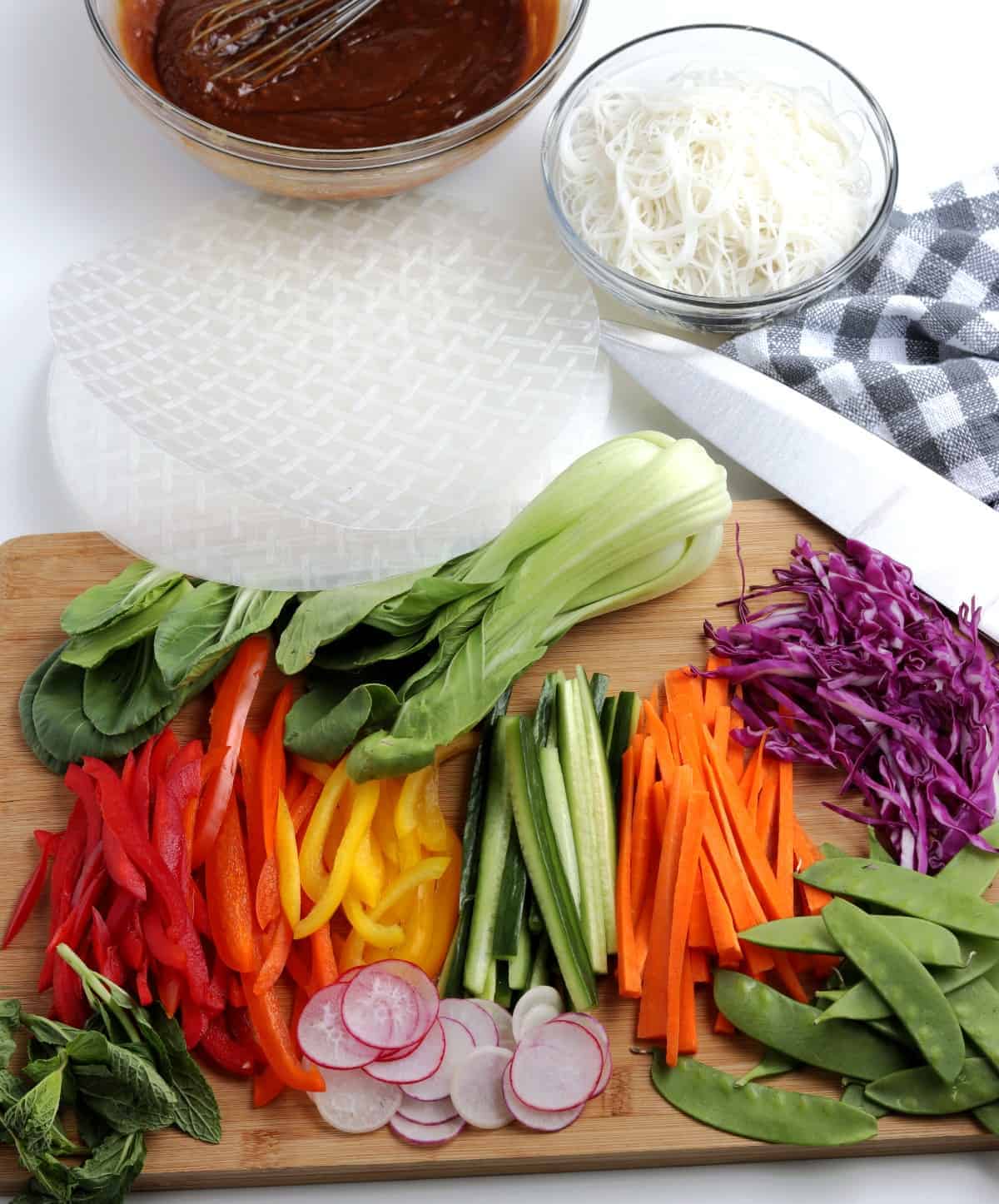 Soak Rice Wrapper - Add warm water to a pie plate or other large, shallow bowl. Dip a rice wrapper in the water for about 10 seconds to soften. Hold down the edges to fully submerge to keep the edges from curling up.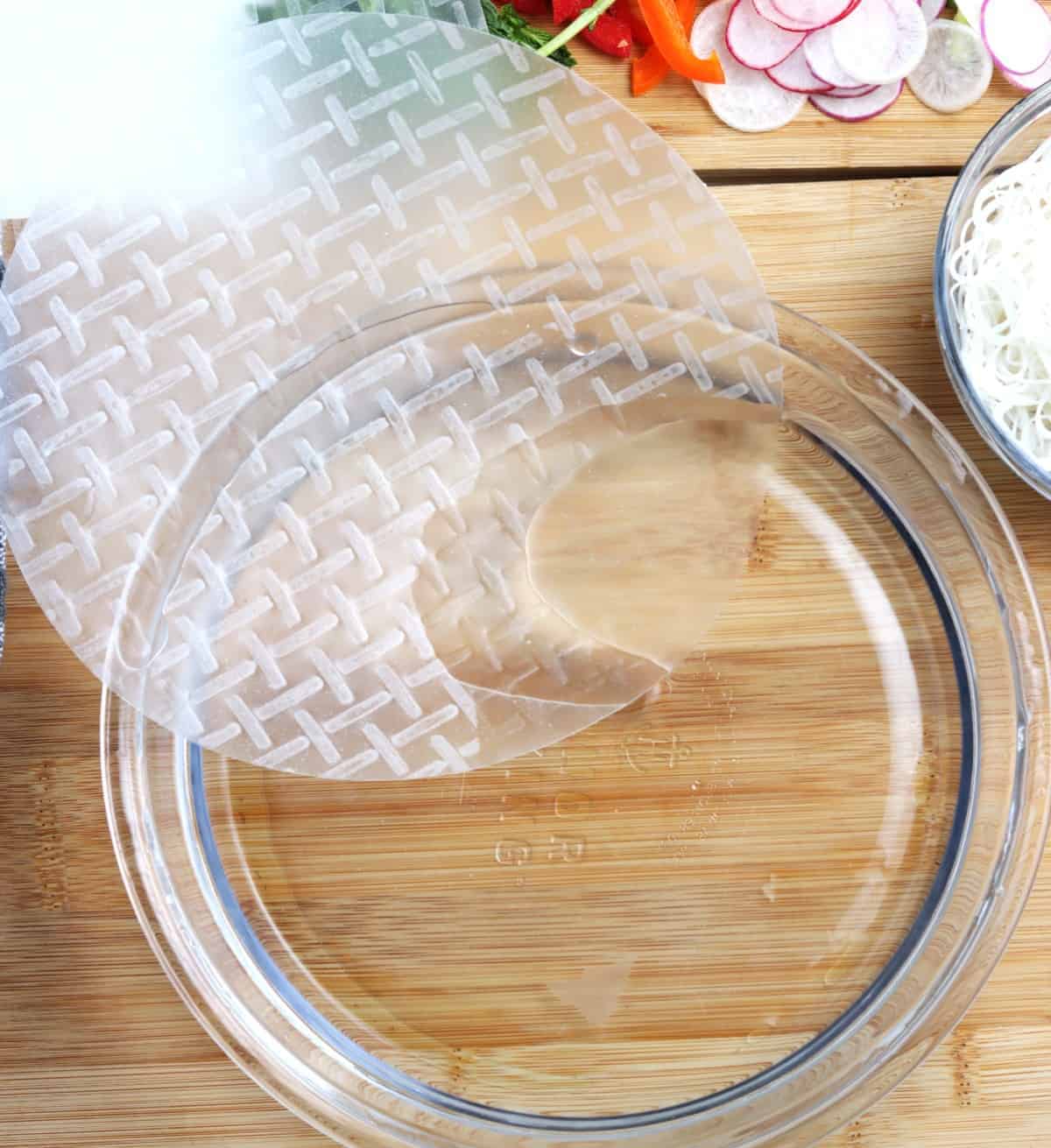 Assemble Rolls - Remove the softened rice paper from the water and pat dry on a towel. Add some rice noodles and veggies to the lower half of the wrapper. To roll, pull the wrapper over the vegetables, fold in the sides, and roll tightly. Repeat with the remaining ingredients.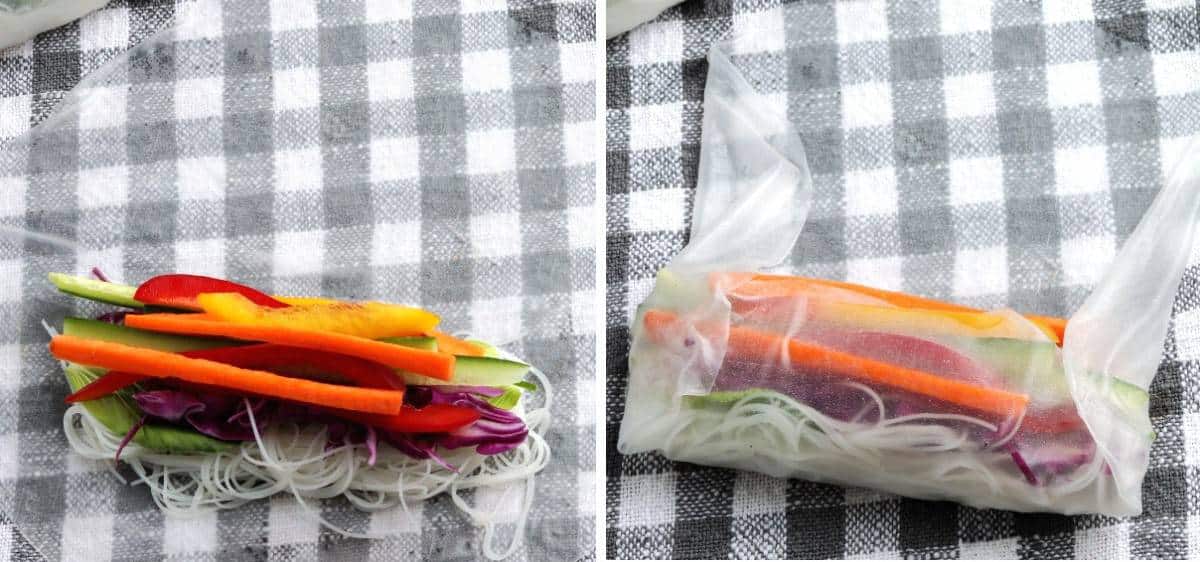 Serve with the peanut dipping sauce.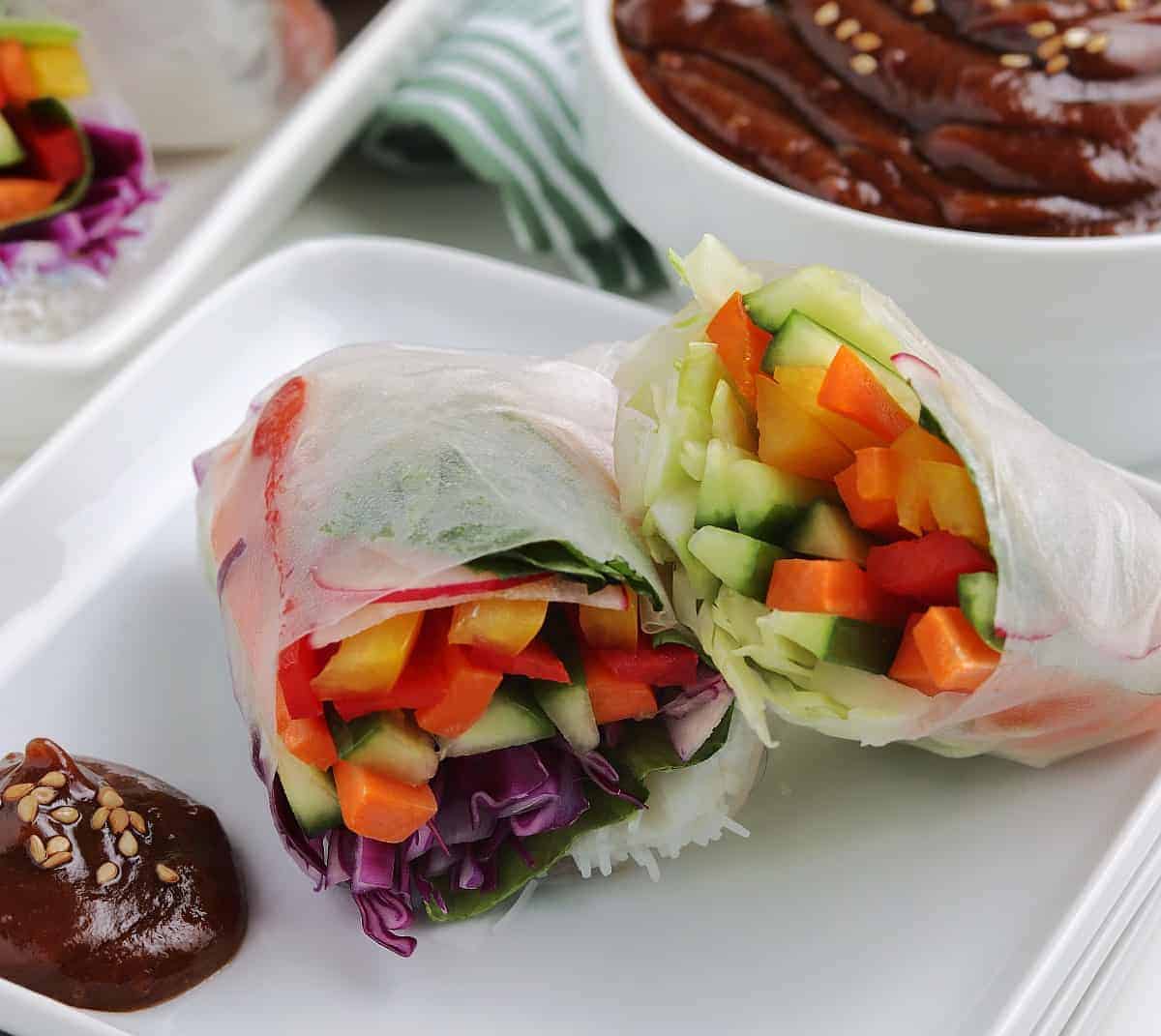 They are so fun to customize! Here are some of my other favorite ingredients to swap-in.
What are some substitutes
Mango - finely diced mango adds a sweet flavor and juicy texture.
Cooked Brown Rice - instead of the rice noodles, you can swap in cooked rice.
Bamboo Shoots - to add a little crunch and tasty texture.
What is the difference between spring rolls and summer rolls
Summer rolls are served cold and wrapped in a rice wrapper. Occasionally, they are also referred to as 'fresh spring rolls'.
Spring rolls can be served in a rice wrapper also but traditionally they are wrapped in a dough made of flour and then fried and served warm.
Both are popular Asian appetizers, but summer rolls are healthier and lighter for summer. Serve either of the varieties with peanut dipping sauce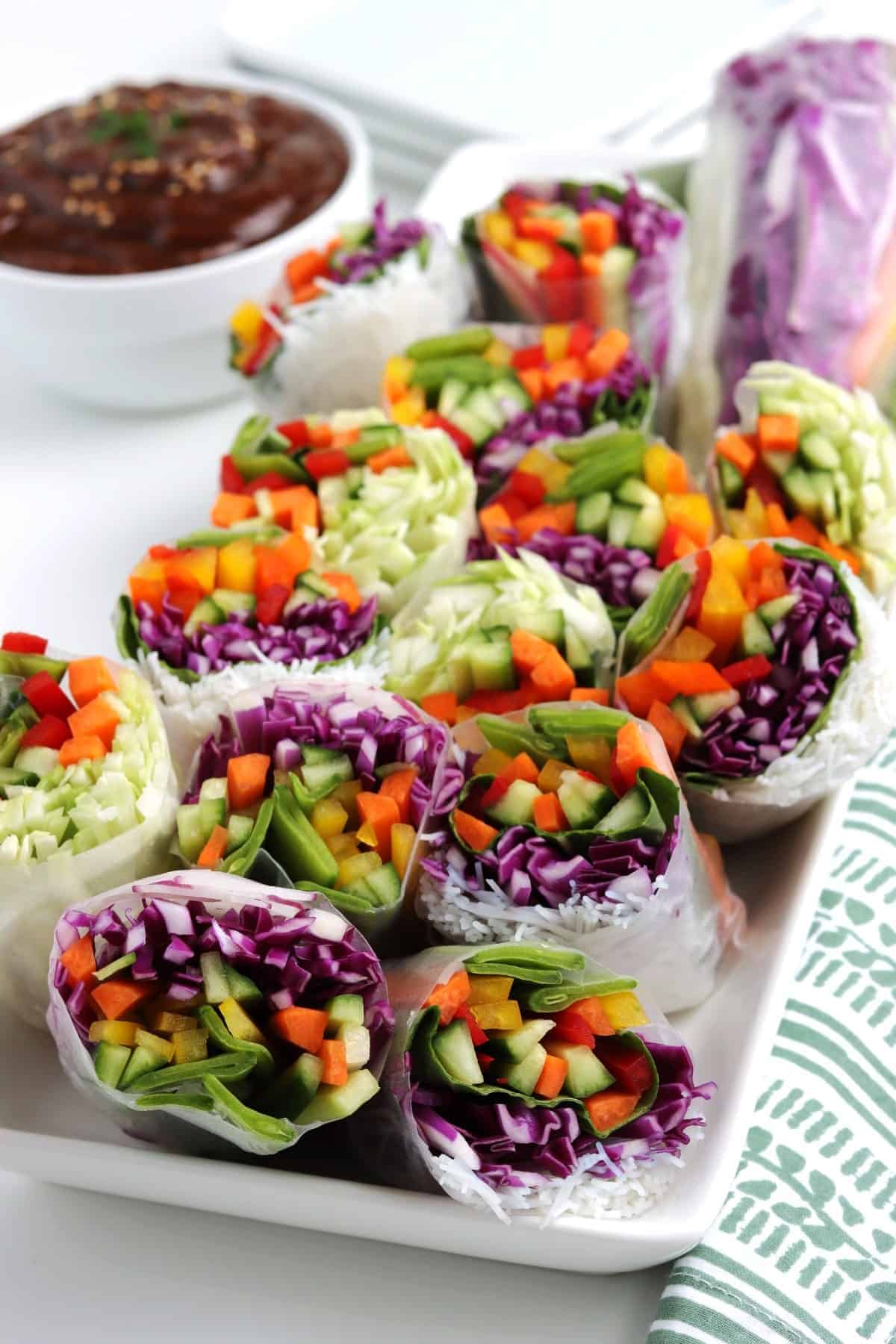 FAQ's
Can these rolls be prepped in advance?
To prepare summer rolls, you can slice and shred up your veggies in advance. You can also mix the peanut sauce up to a few days in advance.

Store the veggies and peanut dipping sauce in the fridge until ready to assemble.
Can you freeze summer rolls?
Due to the rice wrappers and fresh ingredients, they cannot be frozen. They are best eaten soon after assembly.
How to store
Enjoy these summer rolls immediately and store the leftovers for up to 2 days.
Store them in the fridge, but you'll want to wrap each roll individually in plastic wrap to keep them from drying out.
Store the peanut dipping sauce in the fridge in an airtight container. It will keep fresh for up to 5 days. It may thicken in the fridge so you can give it a quick stir after it comes up to room temperature to smooth it out.
More fresh summer lunches
Hot summer days call for fresh and easy meals. Check out some of my other favorite lunches to enjoy all summer long.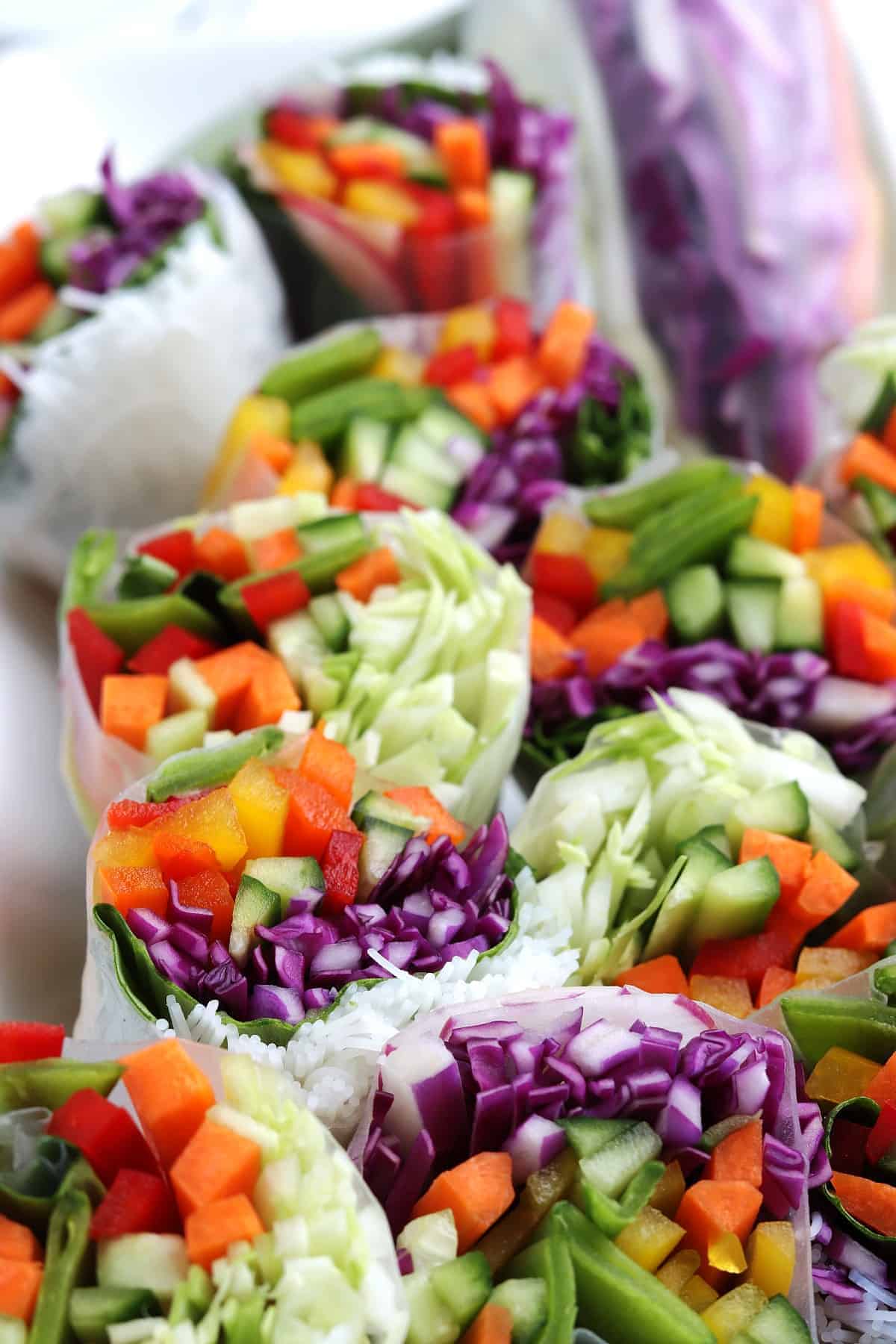 📋 Recipe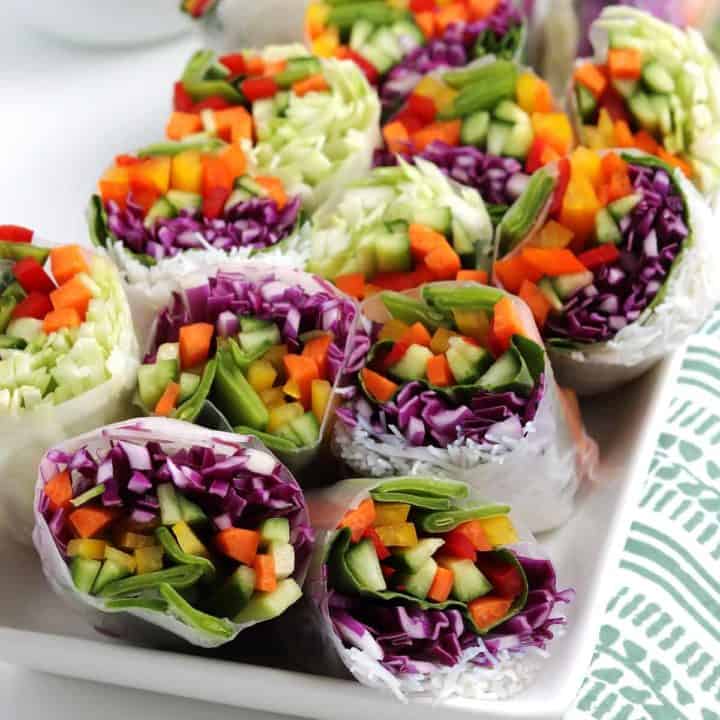 Vietnamese Summer Rolls
Vietnamese Summer Rolls are a healthy, delicious, and colorful summer lunch or dinner!
Ingredients
Making the Rolls
6

Rice wrappers

1

cup

Rice noodles or vermicelli rice noodles

1 cup

cup

Baby bok choy

1

cup

Carrots

- thinly sliced

1

cup

Cucumbers

- thinly sliced

1

cup

Red cabbage

- thinly sliced

1

cup

Bell peppers, any color

- thinly sliced

½

cup

Radishes

- thinly sliced

½

cup

Pea pods

⅓

cup

Mint leaves
Making the peanut sauce
½

cup

creamy peanut butter

2

tablespoons

rice vinegar

⅓

cup

tamari

½

teaspoon

sriracha or chili paste

- more if you like it spicy

2

tablespoons

organic granulated sugar

- or maple syrup

2

tablespoons

toasted sesame oil

1

clove

clove garlic

½

teaspoon

grated fresh ginger
Instructions
Peanut Sauce
Blend all ingredients in a small food processor or blender until smooth and creamy.

Set aside while you making the summer rolls.
Making the summer rolls
Cut vegetables in thin sticks, shred cabbage and slice radishes.

Add rice noodles to bowl of hot water, according to package directions.

Fill pie plate with warm water. Dip rice wrapper in warm water for 10-15 seconds, making sure to hold down edges so they don't curl up.

Remove wrapper and place on towel, gently pat slightly dry.

Add noodles and any vegetables you like to lower half of wrapper.

Begin rolling by pulling wrapper over vegetables, fold in sides and roll tightly.

Serve immediately with peanut sauce.

Store leftovers in refrigerator.
Notes
The calories and nutritional facts also come from the peanut sauce so you can adjust easily for yourself.
Nutrition
Calories:
328
kcal
Carbohydrates:
45
g
Protein:
8
g
Fat:
12
g
Saturated Fat:
1
g
Polyunsaturated Fat:
2
g
Monounsaturated Fat:
2
g
Sodium:
800
mg
Potassium:
320
mg
Fiber:
5
g
Sugar:
5
g
Vitamin A:
5444
IU
Vitamin C:
51
mg
Calcium:
103
mg
Iron:
3
mg