This 5 Bean Salad recipe is a classic and it's so easy to mix together. It's quick to make and no cooking is involved. A perfect summertime cold bean salad and is great for potlucks too!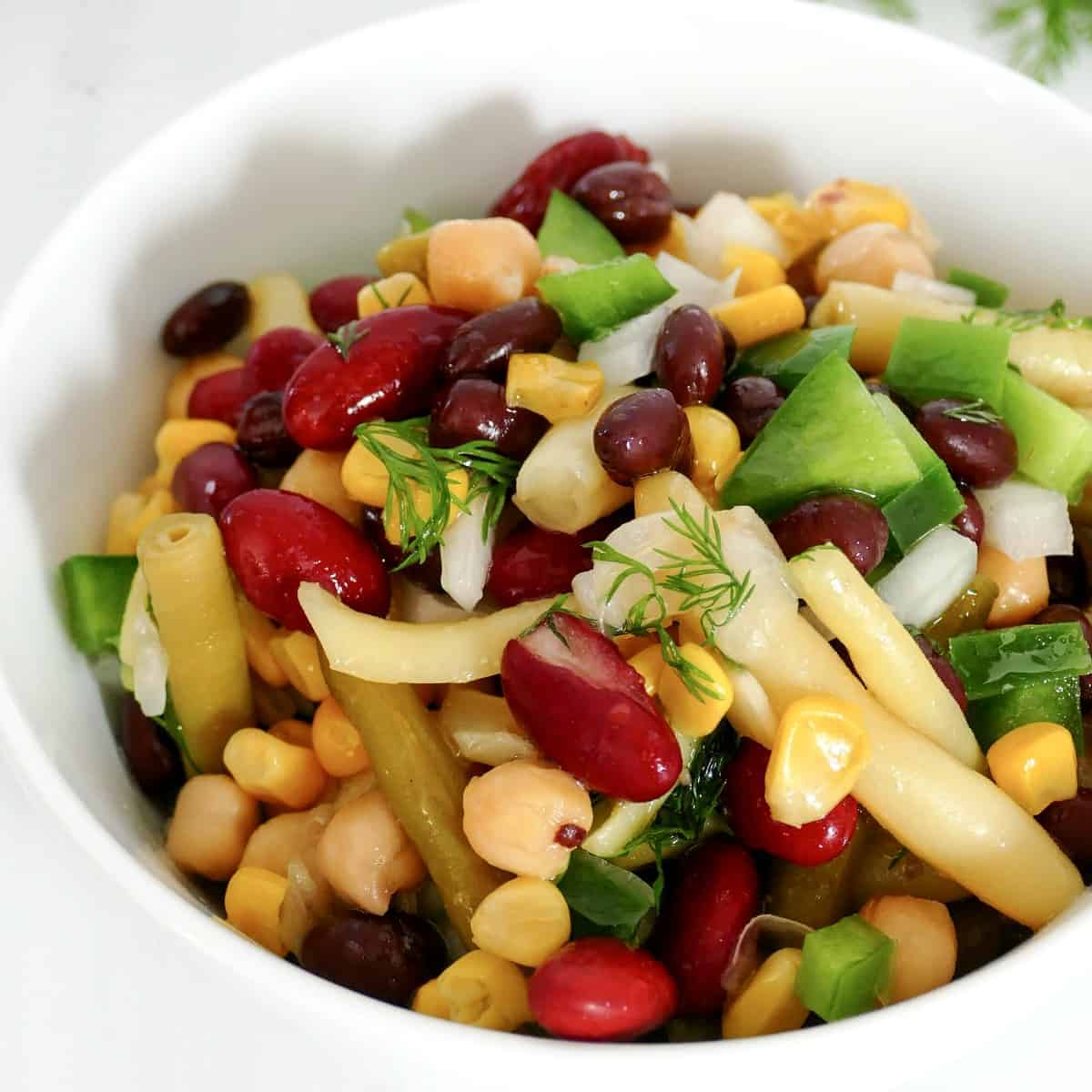 This bean salad recipe uses 5 different beans: green beans, black beans, garbanzo beans, dark red kidney beans, and yellow wax beans.
Canned beans are used which makes this recipe even simpler to make! And a classic. Make a batch of this cold bean salad in advance to bring to your next potluck.
Jump to: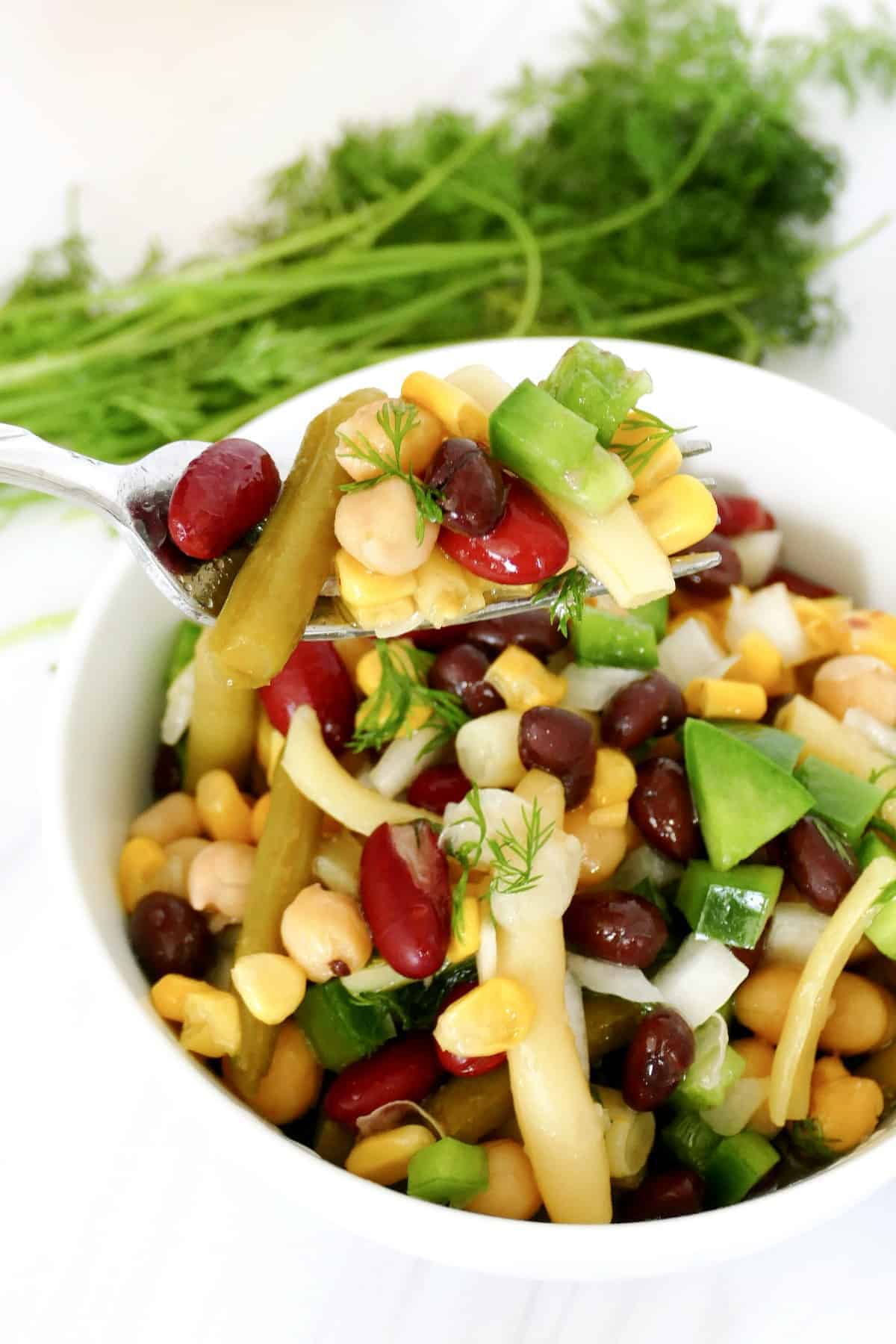 One of my favorite things about this 5 bean salad recipe is that it's mainly pantry staple ingredients with only a couple of fresh produce items. See the simple ingredients needed below:
Ingredients
Green Beans, canned
Black Beans, canned
Garbanzo Beans - canned and also called chickpeas
Dark Red Kidney Beans, canned
Yellow Wax Beans, canned
Whole Kernel Corn, canned
Bell Pepper - you can use your favorite color.
Onion - White or yellow onion works
White Vinegar
Vegetable Oil - you can substitute another neutral flavored oil, like canola oil.
Granulated Sugar
Fresh Dill - fresh herbs add much better flavor than dried.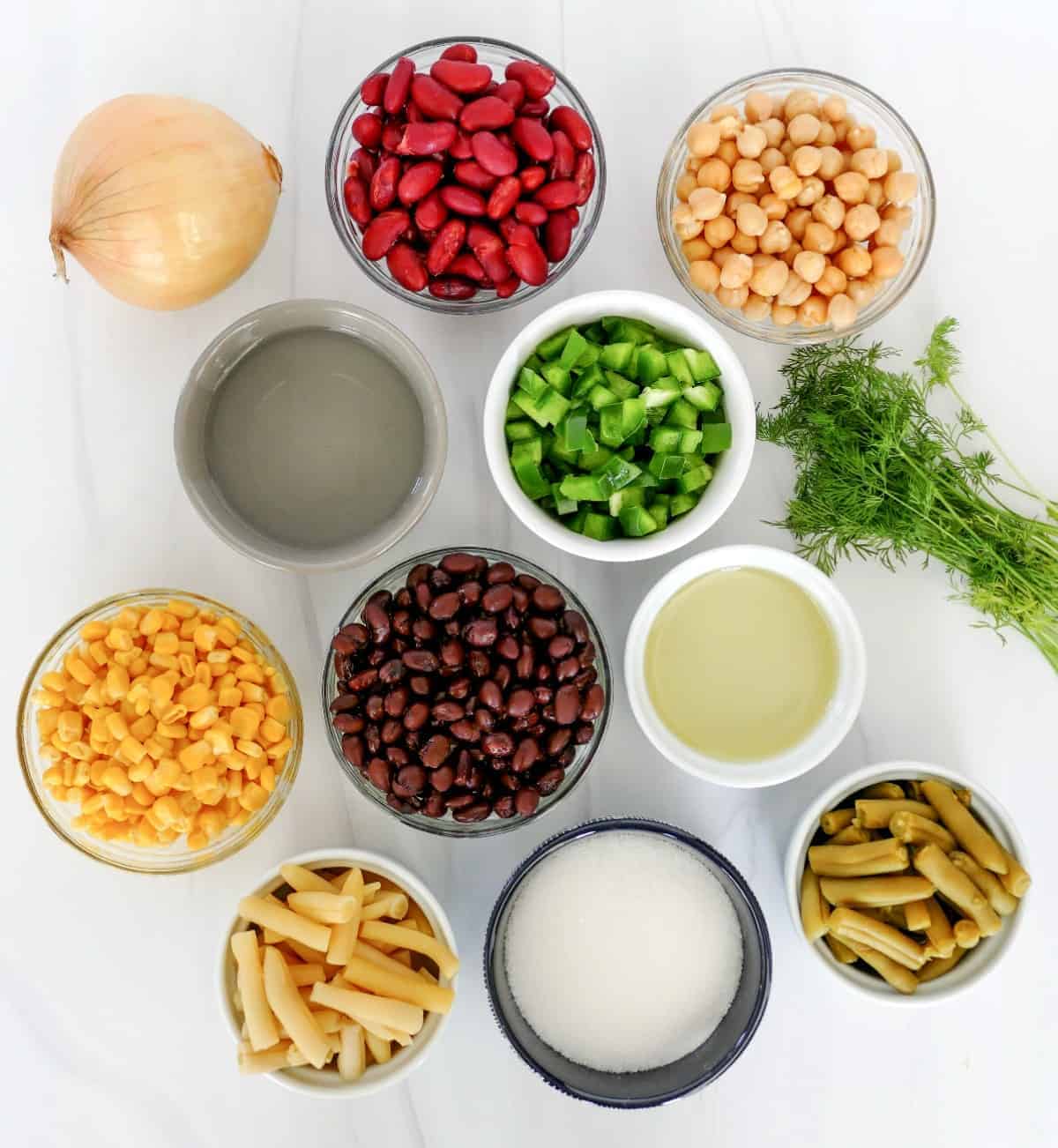 It's so simple to make this vegan bean salad. No cooking is involved! Just mix up the ingredients and in just minutes your hearty salad is done.
Instructions
Chop the onion and bell pepper - You can use green, yellow or red bell pepper or a mix of any of these.
A white onion is a good contrasting flavor and color for this salad.
Combine Veggies and Beans - Drain and rinse the cans of beans and corn kernels. Toss together with the diced bell pepper and onion in a large bowl.
Add Dressing - In a medium bowl, use a whisk to mix together the vinegar, oil, sugar, and chopped dill. Pour the dressing over the veggie/bean mixture and gently toss to combine.
Chill and Serve - Cover and chill in the fridge for at least two hours before serving. This chill time lets all the flavors meld and combine. Chilling overnight is great too.
Is this 5 bean salad healthy
Although this bean salad has sugar and oil, there are lots of health benefits from the beans and veggies.
Beans are a great source of both protein and fiber. They also help with heart health!
All beans are a very important part of a vegan diet as they contain good amounts of both protein and iron. They are also low in saturated fat and low in sodium (as long as you rinse the canned beans!).
The sodium count will be lower than what shows in the nutrition calculation below. The plugin can't calculate rinsed canned beans.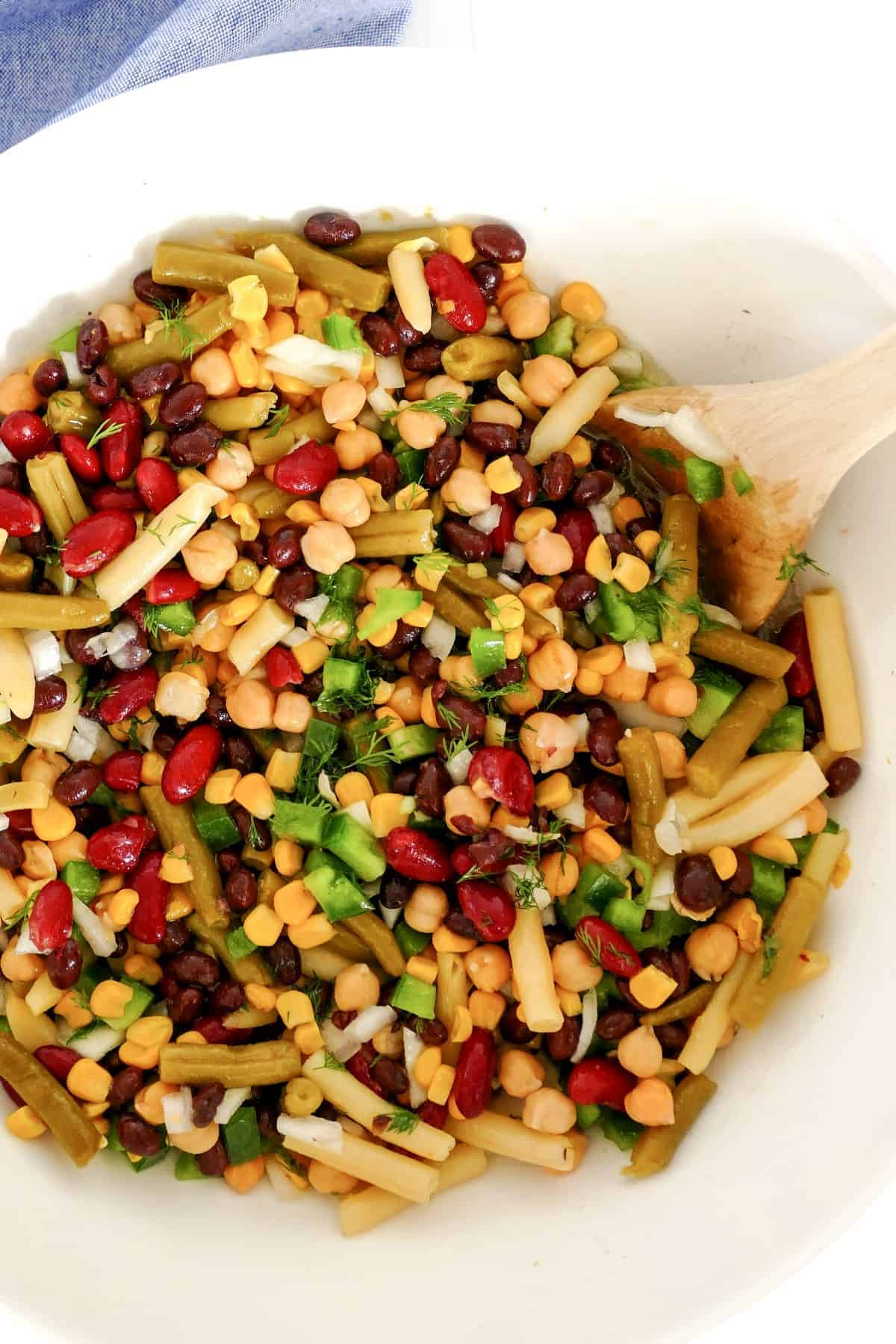 This is a very easy recipe to make, but here are some of my favorite tips and tricks for the best results.
Tips and tricks
Don't skip the chill time - letting the salad sit for a couple of hours is so important to let the flavors combine. It tastes so much better once it's had time to sit and marinate.
Try different vinegars - Regular white vinegar is the classic choice for this bean salad recipe. Tarragon vinegar is also white and absolutely delicious. You can also try using apple cider vinegar or even red wine vinegar for a different flavor combination.
You can adjust the sugar - I typically use the full amount of sugar that is called for, but if you prefer less sweet recipes you can start with less sugar then taste and adjust.
Rinse the beans - Rinsing the beans is important to not only have better texture, but rinsing also reduces the excess sodium.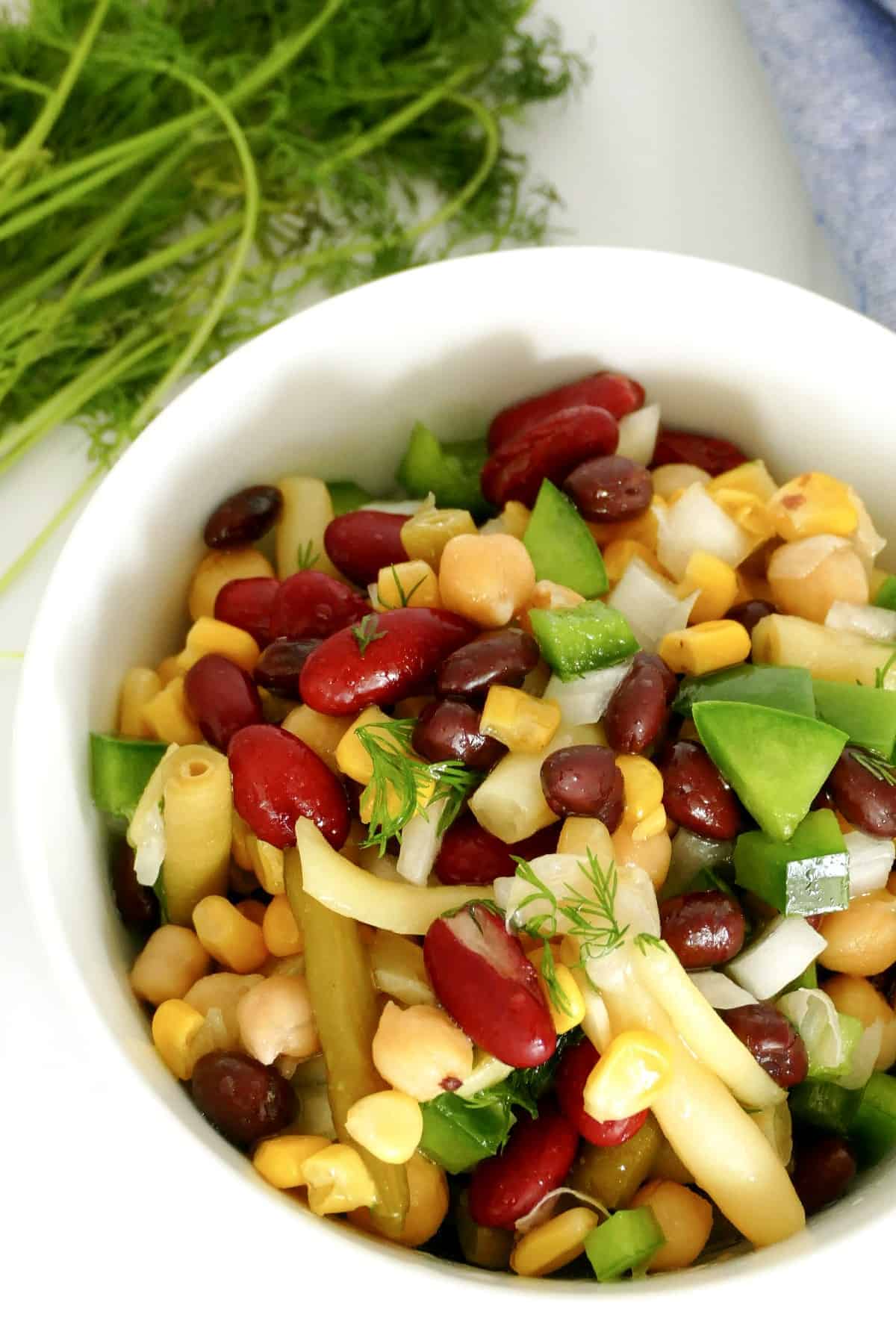 FAQ's
Can you freeze bean salad?
No, you cannot freeze the bean salad. The beans and veggies will have a very different texture after freezing and thawing. It's best to make this salad fresh.
Can you leave out the corn?
Yes, you can leave out the corn. You can add another can of beans, add another pepper, or just omit the corn entirely without swapping another ingredient.
Can you switch any of the beans?
Yes, you can switch any of the beans. Just add another can of a different bean. This salad is very flexible and customizable!
How long does the bean salad keep?
Leftover bean salad can be stored in an airtight container or bowl covered with plastic wrap in the fridge. The salad will keep for up to 3 days.
I love how versatile this cold bean salad is and how it pairs well with so many dishes.
It's a perfect side dish for grilling or eating outside, but it's great year round.
Bring to potlucks or parties too not only because it's delicious but because it does so well when made ahead of time.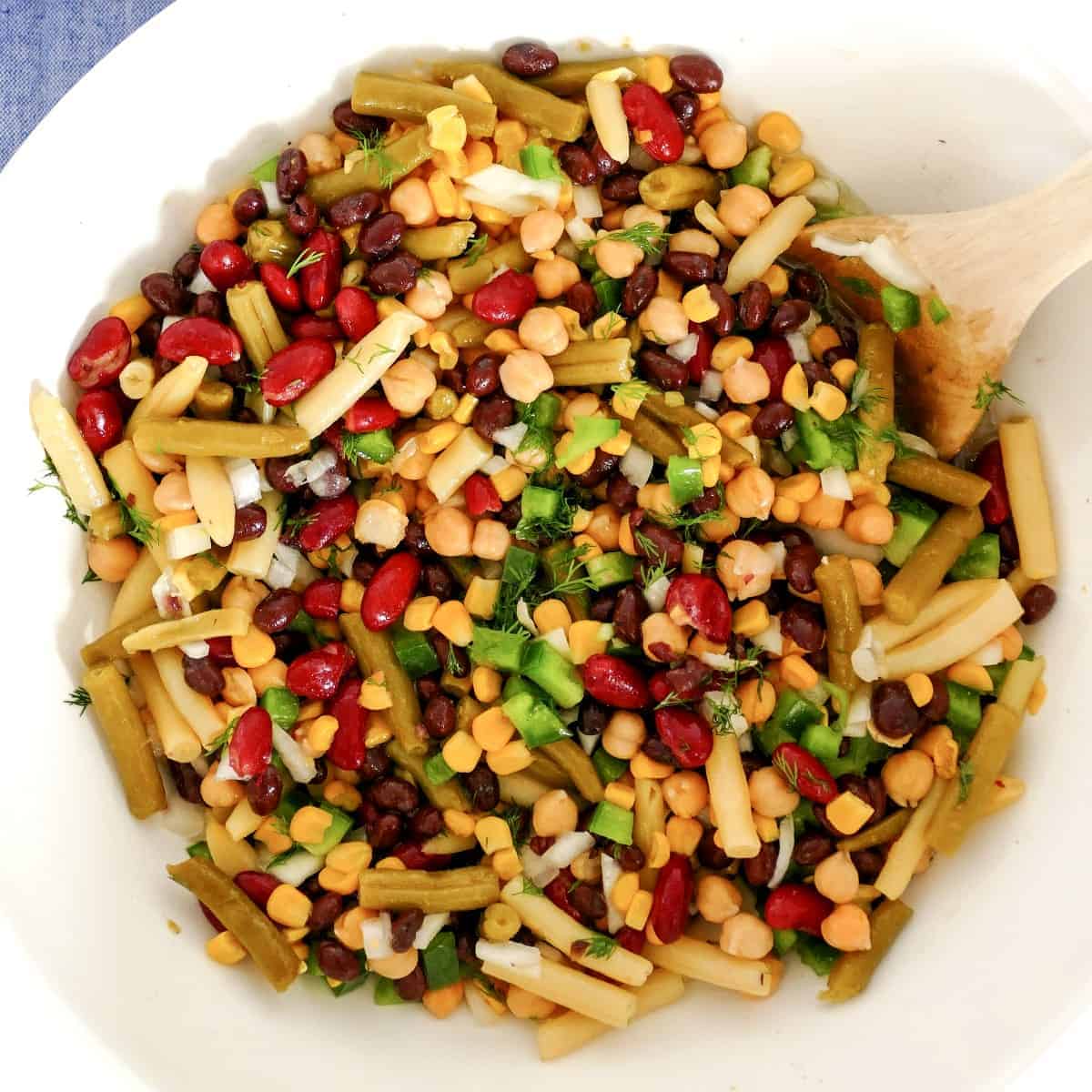 Here are some of my favorite recipes to serve this salad.
What to serve with bean salad
Pulled Jackfruit BBQ Sandwiches - Shredded jackfruit makes the best vegan swap for pulled pork. These flavorful sandwiches are loaded up with a slightly spicy bbq sauce that is too good.
Baked Falafel Sandwich - Baked falafel is much healthier than traditional fried falafel. These falafel sandwiches are ready to be loaded up with all the best toppings.
Vegan Sausage Hoagie Sandwich - A super easy recipe that uses the slow cooker which is even better for hot summer days when you don't want to use the stove or oven.
📋 Recipe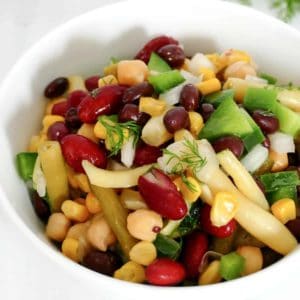 5 Bean Salad Recipe
This 5 Bean Salad recipe is a classic and it's so easy to mix together.
Ingredients
14

ounces

canned green beans

15

ounces

canned black beans

15

ounces

canned garbanzo beans

- chickpeas

15

ounces

canned dark red kidney beans

14

ounces

canned yellow wax beans

15

ounces

canned, whole kernel corn

1

cup

bell pepper

- one bell pepper, diced

1

cup

white onion

- one white onion, diced

1

cup

white vinegar

¾

cup

extra virgin olive oil

⅔

cup

organic granulated sugar

3

tablespoons

fresh dill

- chopped
Instructions
Drain and rinse the cans of beans and corn.

Combine the beans, corn, bell pepper and onion in a large bowl.

In a separate bowl, whisk together the vinegar, oil, sugar and dill.

Pour the sauce over the veggie mixture and mix gently to combine.

Cover and refrigerate at least 2 hours before serving to allow flavors to combine.

Store leftovers in an airtight container for up to 3 days in the refrigerator.
Notes
The measurements on the cans of vegetables may be a little different. Probably not more than a half of an ounce. That is fine and will work with this recipe.
Nutrition
Serving:
1
Serving
Calories:
329
kcal
Carbohydrates:
41
g
Protein:
9
g
Fat:
15
g
Saturated Fat:
2
g
Sodium:
452
mg
Potassium:
515
mg
Fiber:
9
g
Sugar:
13
g
Vitamin A:
411
IU
Vitamin C:
32
mg
Calcium:
43
mg
Iron:
6
mg