Asparagus Couscous Salad has an array of veggies and flavors that will have you thinking gourmet. It will liven up your day for lunch and is fancy enough as a side at any family and friends gathering.
This recipe was really fun to create. A little of this and a little of that, taste and continue. Everything came out perfect the first time around. I was on my own with this recipe though. Ed is usually great in helping me taste my recipes but he doesn't touch condiments. No mustard, ketchup or dressings which means no salads. He does fix cars and lay floors though.
Right now he is laying floors throughout our whole house. The seams are straight and it is gorgeous. I'm treating it like a new born baby and even laying towels around the dishwasher when I am doing dishes. That might last two weeks.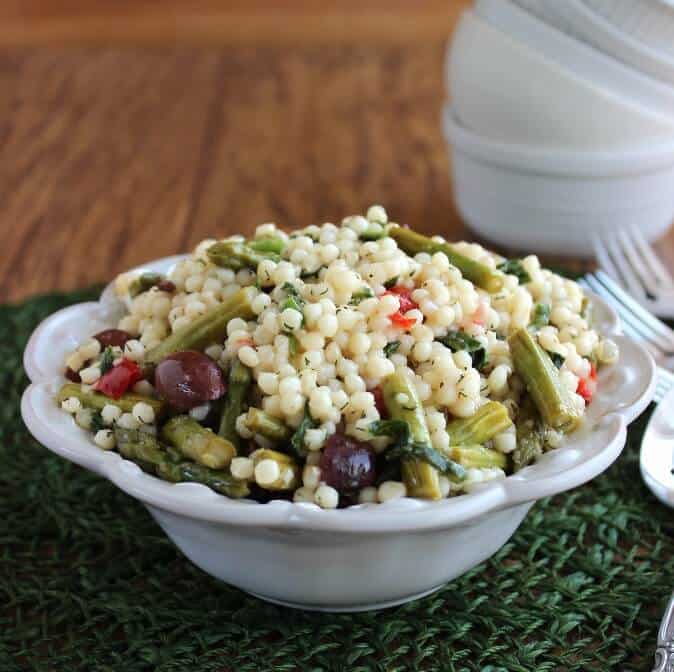 I love salads that are sans leafy greens for an occasional change. They are cool and refreshing which makes them a perfect foil on a dinner menu. Who can argue with Asparagus Couscous Salad which has lots of nutrients and is also low in calories.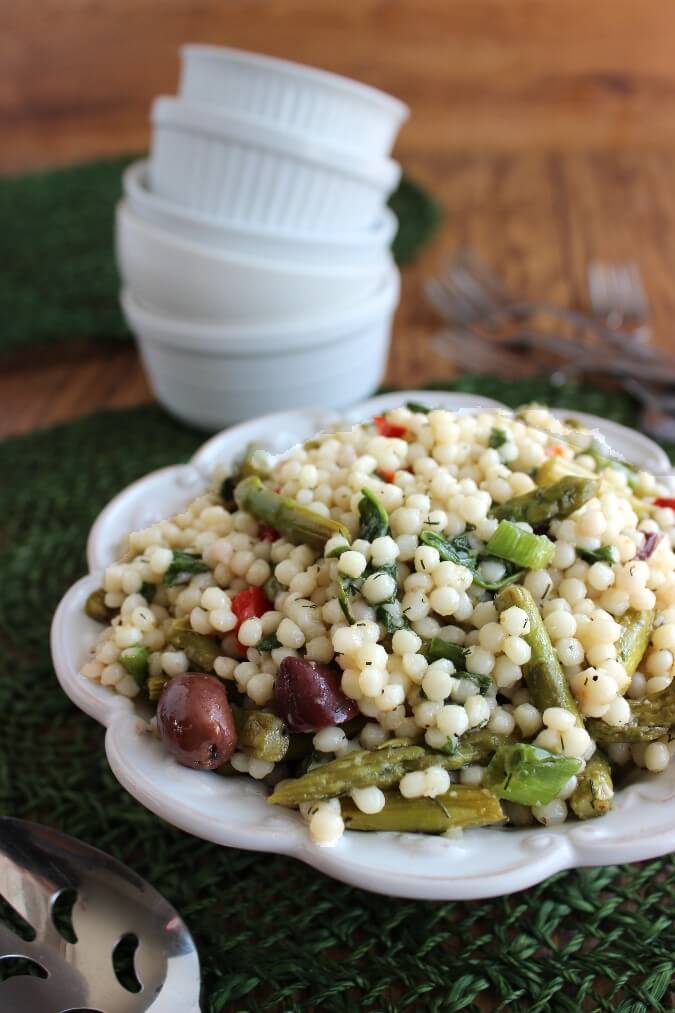 What Do You Think?
If you take a photo of your healthy and beautiful salad I would love to see it. Follow me over on Instagram and tag me on your photo @vegan_in_the_freezer.
Your opinion means a lot to me and if you'd like to leave a comment and possibly a star rating I'd love to hear your thoughts.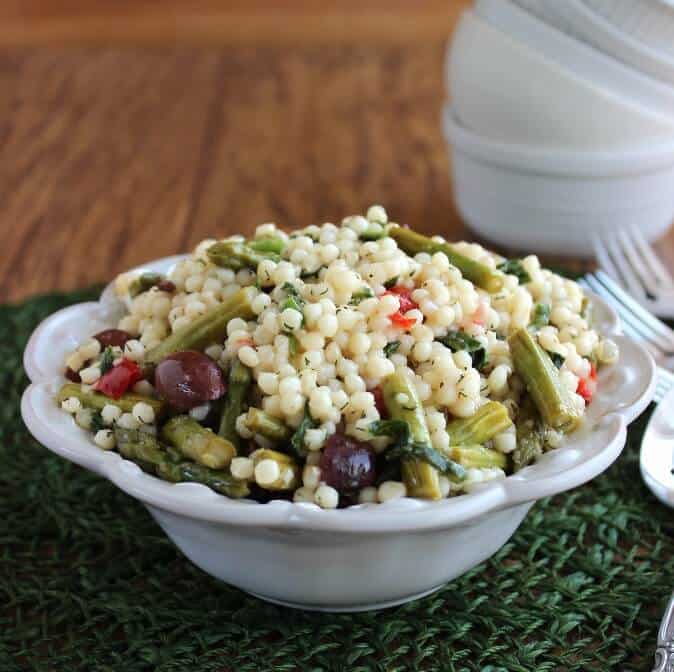 Print
Asparagus Couscous Salad
Asparagus Couscous Salad has an array of veggies and flavors that will have you thinking gourmet.
Ingredients
2

cups

vegetable broth

10

ounces

couscous, 1 Package, Lebanese is a larger couscous

8

ounces

asparagus spears - one bundle or 1 tall jar of young asparagus

1/2

cup

kalamata olives

1

cup

baby spinach, torn

3

scallions, thinly sliced

1/2

teaspoon

garlic powder

1/2

teaspoon

dill weed

1/2

teaspoon

sea salt

dash

ground black pepper

4

tablespoons

lemon juice, fresh squeezed

4

tablespoons

extra virgin olive oil
Instructions
In a medium saucepan bring the vegetable broth to a boil.

Add the couscous and cook for about 10 minutes, Drain and set aside.

Three options for handling the asparagus are below:
Option 1, roasted :
Snap off the tough end of each spear. You can also cut about 1" off each end instead.

Lay out, in one layer, on a lightly oiled baking sheet. Sprinkle with olive oil and salt and pepper.

Roast at 450 degrees for about 10 minutes. Toss a couple of times during those 10 minutes.

Overcooked asparagus they will become tough so be careful.
Option 2, steamed:
If you would like to steam them then cut off the ends as described above.

Cut into 2" pieces. Put in a steaming basket and steam over boiling water for about 2 minutes.

Remove from heat, drain and run under cold water to stop cooking. Set aside.
Option 3, jarred:
If you are using jarred asparagus then drain and cut the spears in 2" pieces.

Place the couscous into a medium-size bowl.

Add all the rest of the ingredients and toss lightly.

Refrigerate for at least one hour for the flavors to meld.
Notes
You can refrigerate for up to 4 days.
Nutrition
Nutrition Facts
Asparagus Couscous Salad
Amount Per Serving (1 Cup)
Calories 274
Calories from Fat 81
% Daily Value*
Fat 9g14%
Sodium 852mg36%
Potassium 224mg6%
Carbohydrates 41g14%
Protein 7g14%
Vitamin A 1085IU22%
Vitamin C 13mg16%
Calcium 40mg4%
Iron 1.7mg9%
* Percent Daily Values are based on a 2000 calorie diet.