Mediterranean pearl couscous salad has an array of veggies along with Israeli couscous, including asparagus, olives, and more. A delicious lunch and this cold Mediterranean pearl couscous salad is a great side at any family and friends gathering.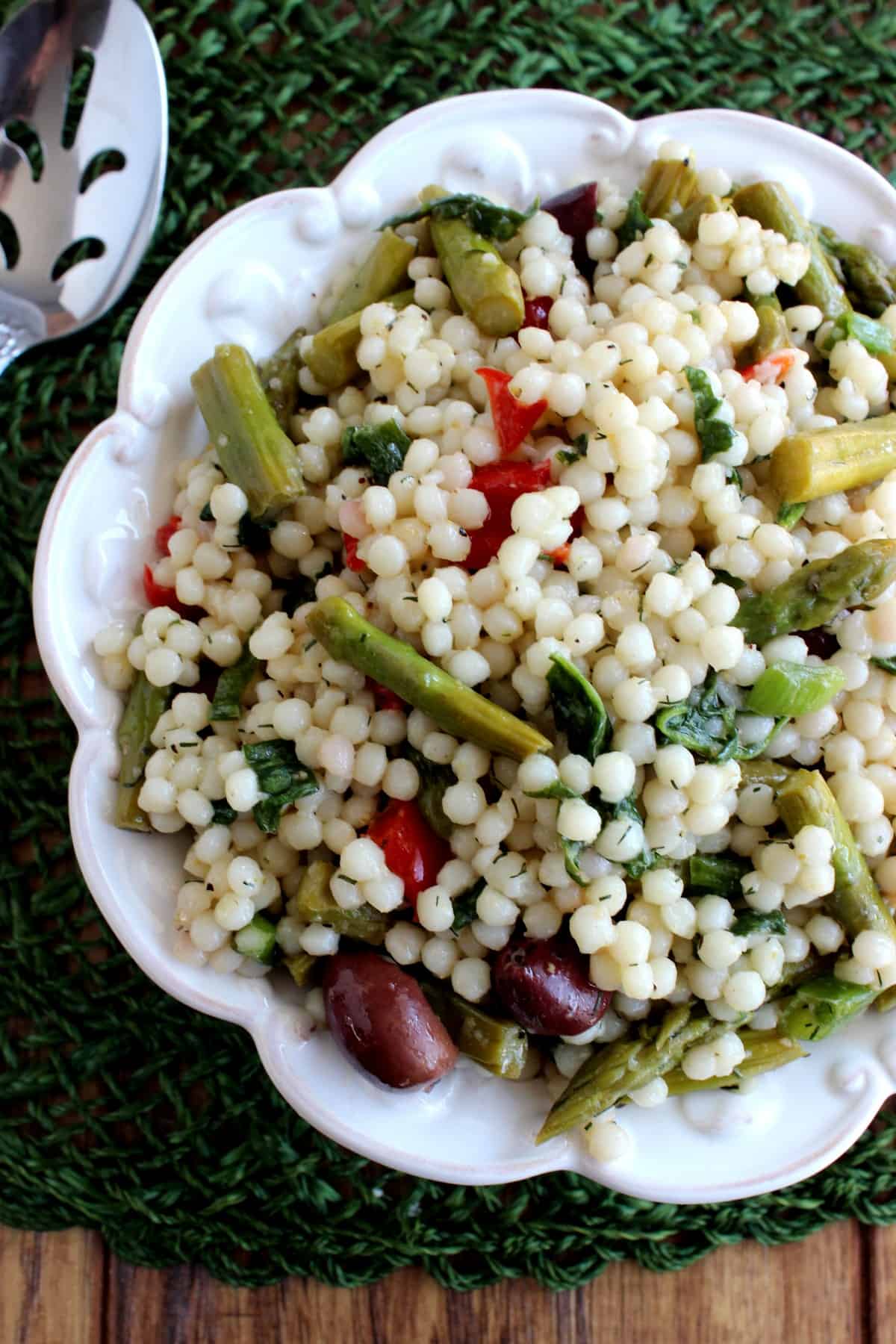 Why You'll Love This Mediterranean Pearl Couscous Salad Recipe
Customizable- This simple pearl couscous salad recipe is easily customizable with your favorite add-ins. Add in fresh herbs, grilled vegetables, diced cucumber, or olives.
Great Make-Ahead Dish- Perfect for meal planning. Prepare this Mediterranean couscous salad in advance and store it in an airtight container. The flavors will develop over time, making it even more delicious as the days go by!
30-Minute Recipe- This Mediterranean pearl couscous salad is ready in 30 minutes or less! It's a great way to make a delicious, healthy meal in no time.
Colorful- The bright colors of the veggies make this Israeli couscous salad visually appealing. Not to mention, it packs a healthy punch and is full of flavor.
This pearl couscous salad recipe was really fun to create. A little of this and a little of that, taste and continue.
Everything came out perfect the first time around. I was on my own with this cooked couscous salad, though.
Ed is usually great at helping me taste my recipes, but he doesn't touch condiments. No mustard, ketchup, or dressings which means no salads. He does fix cars and lay floors, though.
Right now, he is laying floors throughout our whole house. The seams are straight, and it is gorgeous.
I'm treating it like a newborn baby and even laying towels around the dishwasher when I am doing dishes. That might last two weeks.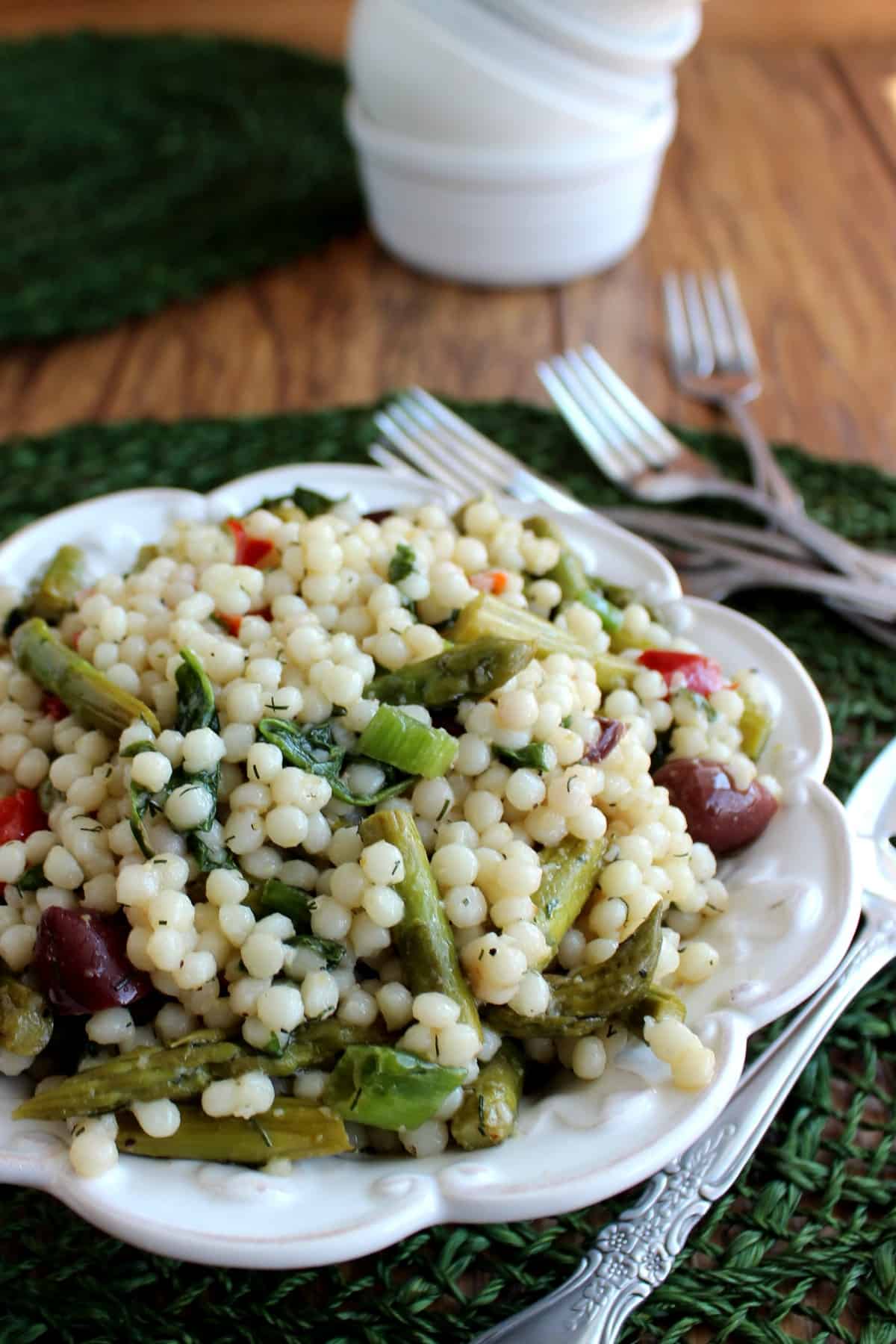 I love salads that are sans leafy greens for an occasional change. They are cool and refreshing, which makes them a perfect foil on a dinner menu.
In fact, it makes a great lunch on its own. Who can argue with pearl couscous salad, which has lots of nutrients and is also low in calories?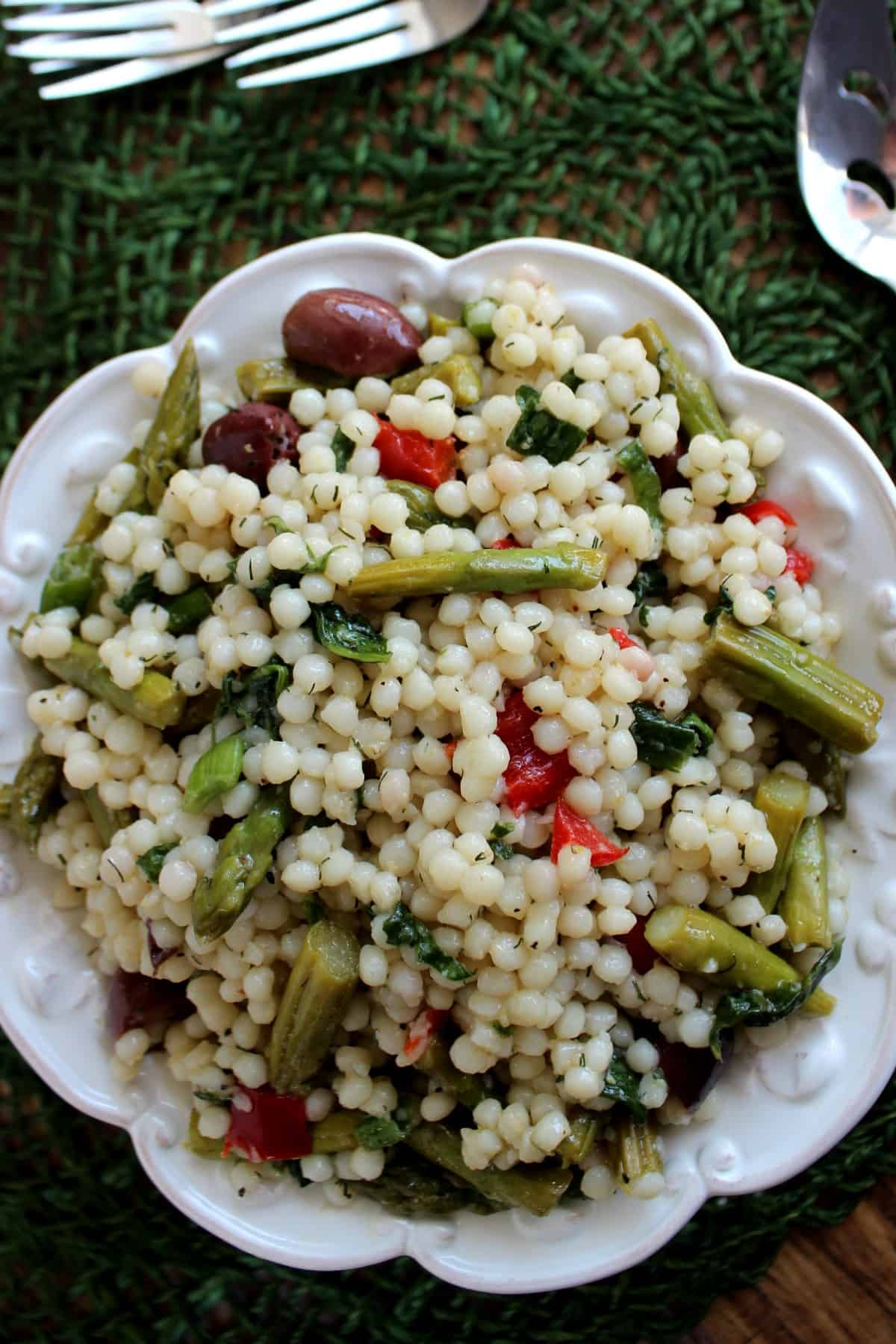 🥘 Ingredients
Vegetable Broth - Used to cook the pearl couscous and add a nice flavor.
Israeli Couscous - Also known as pearl couscous, makes up the main part of this high-protein and high-fiber couscous salad.
Asparagus Spears - A special vegetable that people don't eat often, and they have a wonderfully unique taste.
Kalamata Olives - Kalamata Olives are deep purple and have a sharp tangy flavor.
Roasted Red Bell Peppers - Gives a sweet contrast to the dressing and olives.
Baby Spinach - Is so good for you, and it adds nice color and a contrasting texture to the couscous salad.
Scallions - A great garnish for a Mediterranean couscous salad and taste so good.
Garlic Powder - This is a great seasoning but a bit sweeter than fresh garlic.
Dill Weed - A buttery herb that brings brightness to the fresh flavor.
Salt and Pepper - The perfect seasonings for everything.
Lemon Juice - A beautiful fresh juice that is perfect for mixing with olive oil for couscous salad dressing.
Extra Virgin Olive Oil - Olive oil makes the pearl couscous salad dressing just right!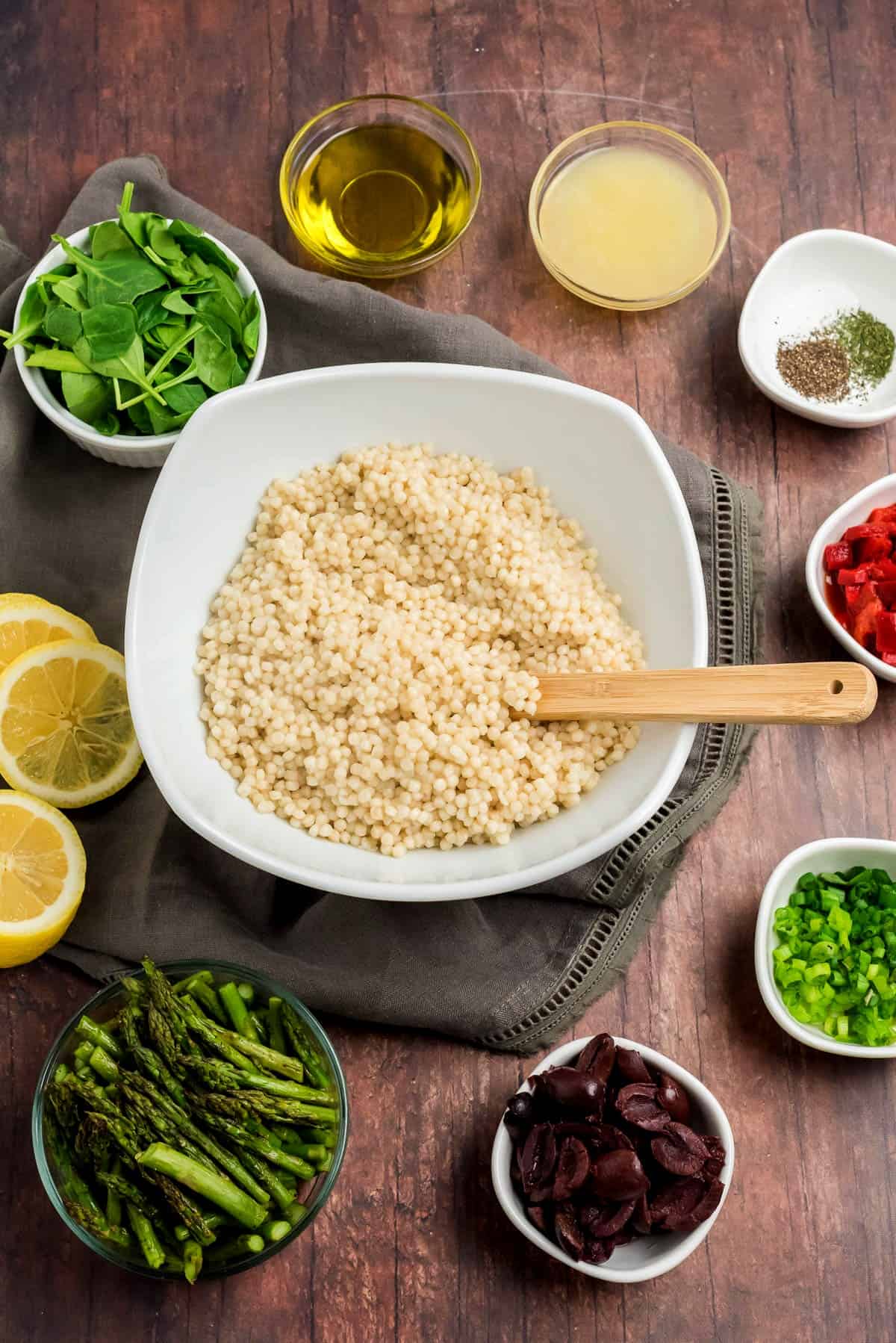 Popular Substitutions And Additions
Swap in other vegetables like mushrooms, artichoke hearts, cherry tomatoes, or roasted eggplant.
For extra protein, try adding chickpeas or tofu to your Israeli couscous salad.
If you don't have kalamata olives, you can use any type of olives you like – green olives, black olives, etc.
For an extra kick of flavor, add some vegan crumbled feta cheese.
Instead of cooked pearl couscous, use whatever type of couscous you have on hand.
If you want to make this salad a bit heartier, you can add some cooked quinoa or brown rice.
The dressing can be adjusted to your tastes – use more or less lemon juice or olive oil for your desired consistency.
Use lime juice in place of fresh lemon juice for an even more refreshing flavor.
For a richer flavor, try adding a tablespoon of tahini to the dressing.
You can also add some fresh herbs to your Mediterranean couscous salad, like basil, oregano, or fresh parsley.
💭 What is couscous
Couscous is not a grain, as many think. In fact, it can be a homemade product.
It's very much like pasta. Certain types of flour are worked with flour to make different size 'balls'.
There are several types, as explained below.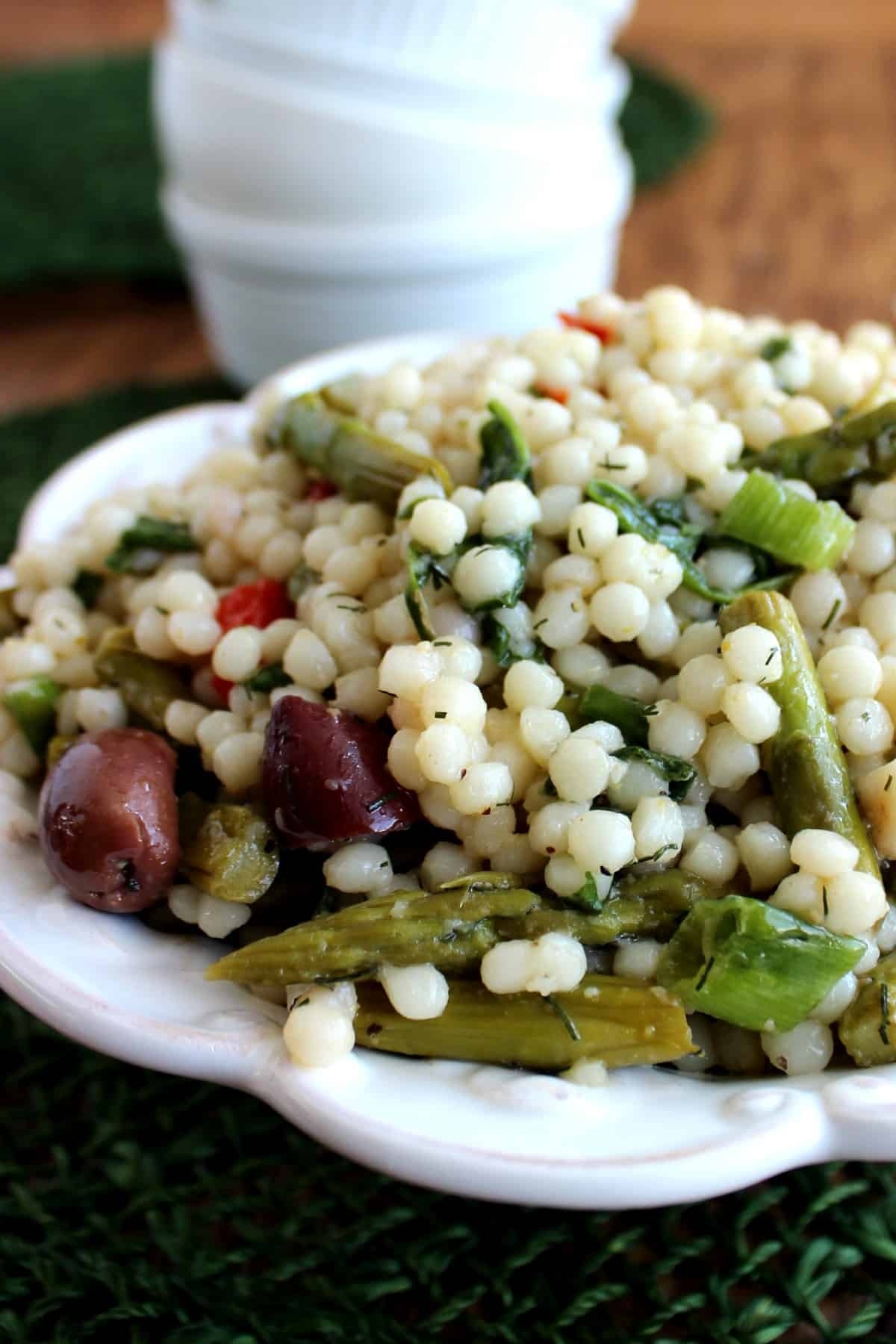 👩🏻‍🍳 How is couscous made
Couscous is a tiny pasta made of durum wheat (semolina) or barley.
Although it was traditionally hand-rolled (can you imagine?), these days it's made by machine. Whew!
If you're curious about how it is made at home, then coarsely-ground durum wheat (semolina) is moistened and tossed and rolled baked in forth in a bowl with your fingers and palms of your hands.
You just keep at it until it forms tiny, round balls. The size that you want.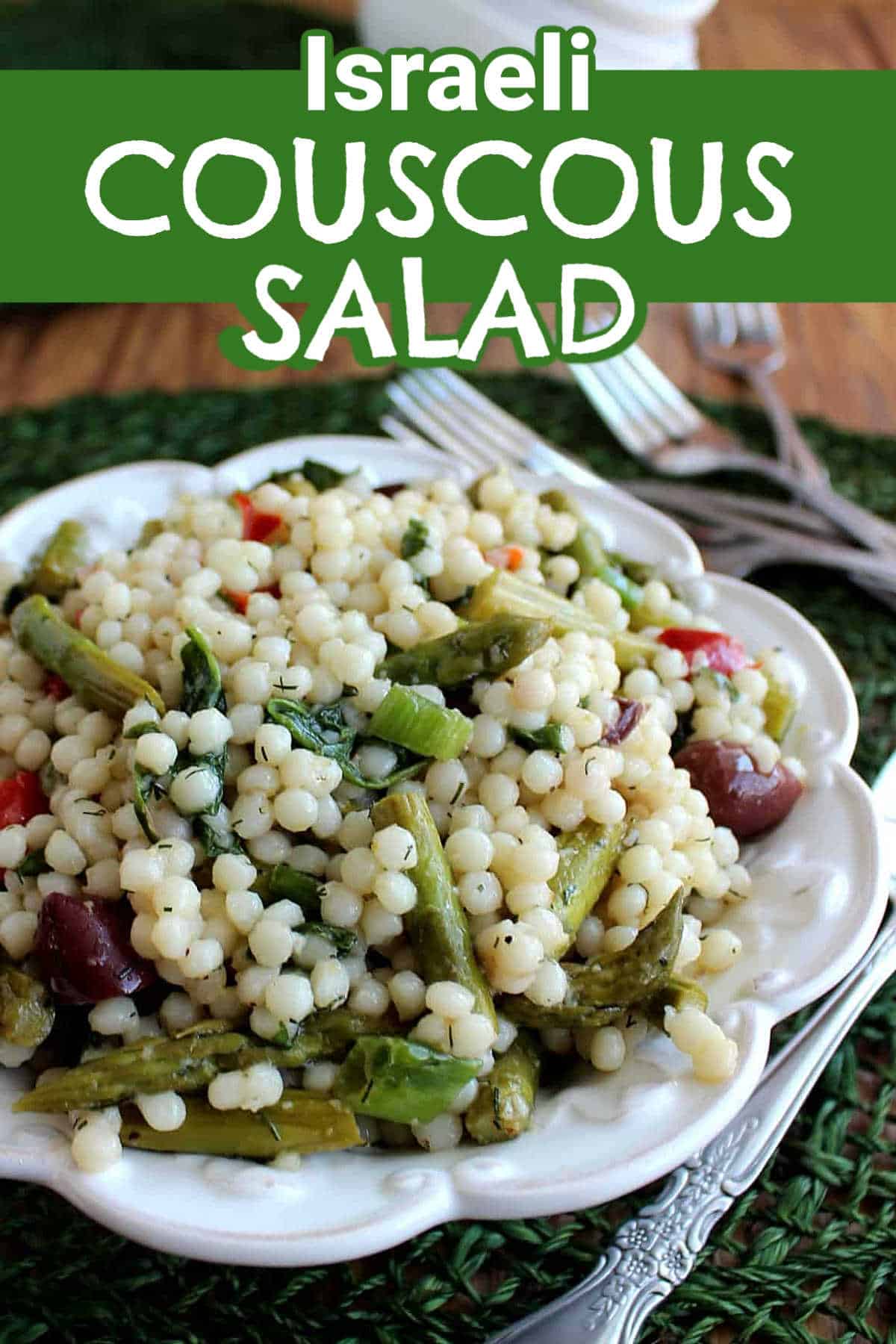 📖 Couscous types
The smallest is Moroccan couscous and is so small that it cooks in very few minutes.
Israeli couscous is the next size which is about the size of a peppercorn. It is also called pearl couscous.
The largest is Lebanese couscous which takes about 12 minutes to cook. The balls are about peas in size.
🥗 More pasta salads
You can't go wrong with an Italian-inspired dish with this recipe for Panzanella Pasta Salad.
📋 Recipe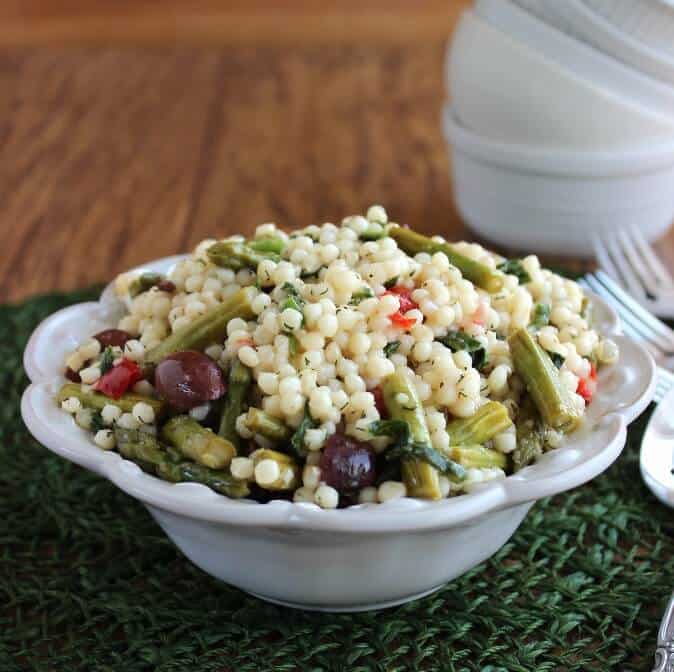 Mediterranean Pearl Couscous Salad
Israeli Pearl Couscous Salad has an array of veggies including asparagus and olives. The flavors will have you thinking gourmet.
Ingredients
2

cups

vegetable broth

10

ounces

couscous, 1 Package, Lebanese is a larger couscous

8

ounces

asparagus spears - one bundle or 1 tall jar of young asparagus

½

cup

kalamata olives

½

cup

roasted red bell peppers, chopped

1

cup

baby spinach, torn

3

scallions, thinly sliced

½

teaspoon

garlic powder

½

teaspoon

dill weed

½

teaspoon

sea salt

dash

ground black pepper

4

tablespoons

lemon juice, fresh squeezed

4

tablespoons

extra virgin olive oil
Instructions
In a medium saucepan bring the vegetable broth to a boil.

Add the couscous and cook for about 10 minutes, Drain and set aside.

Three options for handling the asparagus are below:
Option 1, roasted :
Snap off the tough end of each spear. You can also cut about 1" off each end instead.

Lay out, in one layer, on a lightly oiled baking sheet. Sprinkle with olive oil and salt and pepper.

Roast at 450 degrees for about 10 minutes. Toss a couple of times during those 10 minutes.

Overcooked asparagus they will become tough so be careful.
Option 2, steamed:
If you would like to steam them then cut off the ends as described above.

Cut into 2" pieces. Put in a steaming basket and steam over boiling water for about 2 minutes.

Remove from heat, drain and run under cold water to stop cooking. Set aside.
Option 3, jarred:
If you are using jarred asparagus then drain and cut the spears in 2" pieces.

Place the couscous into a medium-size bowl.
The remainder of the recipe:
Add all the rest of the ingredients and toss lightly.

Refrigerate for at least one hour for the flavors to meld.
Notes
You can refrigerate for up to 4 days.
You can also use Lebanese couscous for this recipe.
Nutrition
Serving:
1
Cup
Calories:
274
kcal
Carbohydrates:
41
g
Protein:
7
g
Fat:
9
g
Saturated Fat:
1
g
Sodium:
852
mg
Potassium:
224
mg
Fiber:
3
g
Sugar:
1
g
Vitamin A:
1085
IU
Vitamin C:
13
mg
Calcium:
40
mg
Iron:
1.7
mg