Vegan Apple Broccoli Salad has everyone's favorite vegetables and fruits.  You throw everything in a bowl then pour on the slightly sweet and tangy dressing.  Toss and eat!

Whether there is an Apple Hill or an Apple Valley around your home – get going!  You can pick your own or buy a bushel.  Well, okay. The grocery store and farmer's markets are full of apples too so it is all good.
I never met an apple I didn't like.  Especially fresh off  a tree.  We were lucky enough to live down the street from Apple Hill in Placerville, California.
If you know the area and Snows Rd. then you know what I mean by down the street.  Long, steep, narrow and windy but there we were.  Close to the very end.
Even though I had four apple trees in my yard I still bought a couple of bushels of two different varieties from my favorite farmer.  He lived at the top of the hill and had a much smaller farm than the ones that were mapped out for the visitors.  I canned like crazy back then.
This vegetable and fruit salad can be made with your favorite apple although Granny Smith is probably too tart. I used Gala but believe me there are so many great ones out there.
Of course, broccoli always seems to be around but it's true growing season is in the cooler weather.
Non-leafy salads make a great lunch and side dish.  I have quite a few on this blog.  That's how much I like them.  A couple of good filling salads that are a bit different are Fully Loaded Black Bean Salad and Asian Noodle and Kale Salad.
The Best Vegan Apple Broccoli Salad is a dream come true and it is right at your fingertips.
Hints to Help Make Apple Broccoli Salad
If you're short on time the biggest help of all to speed up the process is to buy broccoli slaw.  It will also taste great.
There is a tool that cuts onion perfectly.  It's called the Vidalia Chop Wizard.  I know you've seen it on TV.  It also makes it easy to cut bell peppers, tomatoes and anything you'd like cut into small or medium cubes.
You can chop the garlic fine or you can mince it.  This is a cool Garlic Press.
 I'm trying to think of how in the world this could be made any easier.  How about making extra dressing.  It doesn't make the salad faster but it does help to make your next salad delicious.
Let's Get Connected!
Facebook | Pinterest | Instagram | Bloglovin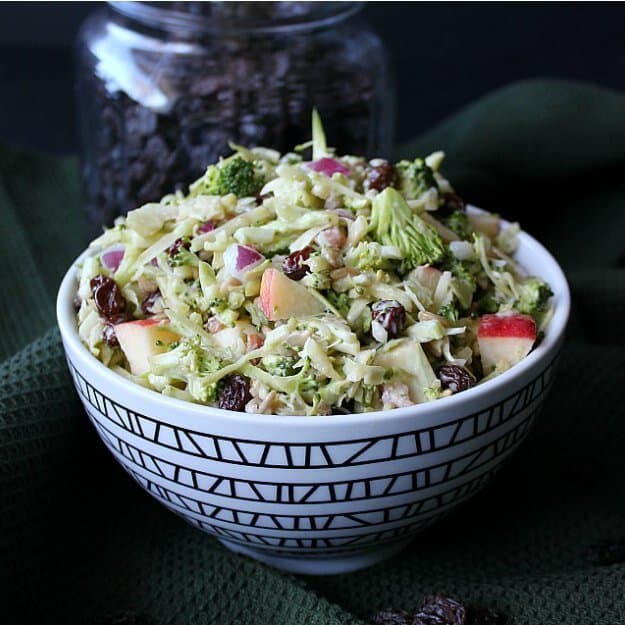 Vegan Apple Broccoli Salad
Vegan Apple Broccoli Salad has everyone's favorite vegetables and fruits with a slightly sweet and tangy dressing.
Ingredients
For the Salad:
4

cups

broccoli

cut up and shredded (about 2 medium heads)

3

apples

of your choice, diced right before you add them to the salad, I used Gala

1/4

cup

onion

red, diced

1/2

cup

raisins

1/2

cup

sunflower seeds

shelled
Instructions
To prepare the salad:
Wash broccoli under running water. Cut the florets from the stalks and set the stalks aside.

Cut the florets into very small pieces. See the photo for a visual. Place in a large bowl.

Cut the hard outer skin off of the stems to get down to the tender inside. Discard the outer peelings.

Cut the tender inside stems into matchsticks. Or if you have a mandolin that would work well too. If your food processor has an attachment that will cut the stems into long strips (not grated) then that would work also. Scissors work too. The idea is to have very small sticks of raw broccoli stems. They will hold their shape.

Add to the large bowl along with the florets. Add the apples, red onion, raisins and sunflower seeds.
To make the dressing:
In a medium bowl whisk together all of the dressing ingredients.

Add the dressing to the salad and toss. Chill until ready to serve.
Nutrition Facts
Vegan Apple Broccoli Salad
Amount Per Serving (1 cup)
Calories 343
Calories from Fat 216
% Daily Value*
Total Fat 24g 37%
Sodium 317mg 13%
Potassium 485mg 14%
Total Carbohydrates 31g 10%
Protein 4g 8%
* Percent Daily Values are based on a 2000 calorie diet.