Baked Falafel makes a fantastic sandwich and is healthier than the deep fried version. The flavors are all there and the falafels are great as an entree too.
One of the reasons I wanted to make a Baked Falafel Sandwich is because a healthier sandwich is always a good thing. And I don't know about you but sandwiches are my downfall.
Bread may be my first downfall but then when you dress them up with wonderful spreads and flavorful stuffings I am hooked.
Seriously, I would be perfectly happy with a sandwich every day. Baked falafel just seemed like a nice way to cut a few calories and some fat.
Don't get me wrong, I love the deep fried falafel balls that I have eaten in restaurants. In fact, I am also working on a copycat restaurant recipe right now. I just wanted to have fun and be creative in a healthier way.
You can eat the patties as a side also and not on a sandwich. Dunk a bite in a little almond mayonnaise or another of your favorite sauces and it would be great.
The flavors are all there. To get that crispy fried taste just a little oil is added to the cookie sheet for the flat surfaces to brown up on the patties.
That's one of the reasons these are patties and not balls. I wanted to get them browned and crispy on as much surface as I could. Flattened worked really well.
You could also line up a row of these small pattties in between two slices of this Best Homemade Vegan Bread Recipe for a lot of delicious flavors.
These only take about 15 minutes of your time to make and the rest is done in the oven. They are so simple and the reward is high on the charts so try to get these made soon so you can start enjoying them as quick as you can.
What are Some Meatless Sandwiches?
Besides Vegan Sloppy Joes I have quite a variety of popular sandwiches that come up on top in google search. As I mentioned above I'm kind of a sandwich freak.
I won't list them all but a few that are different from each other.
Loaded Chickpea Salad Sandwich has a couple of ingredient twists that really add the goodness of this lunch mix.
If you can take a few minutes to roast a few veggies then this Roasted Vegetable Sandwich will knock your sock off. Just make sure you take a bite over a plate. It's juicy good.
Vegan Banh Mi Sandwich takes advantage of a famous Vietnamese sandwich and uses marinated and baked tofu. There are directions to make everything homemade if you so choose.
How about a picture of the Loaded Chickpea Salad Sandwich?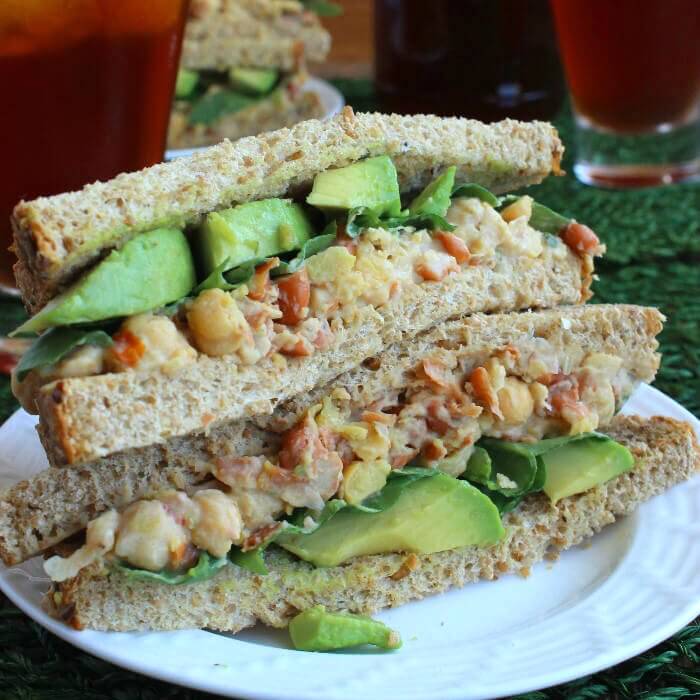 That one is perfect for a warm day outside. Nice cool bites in a lounge chair. Now for when you feel like a little cooking and warmth then the Baked Falafel Sandwich is for you!
This post contains affiliate links. Read my disclosure policy here.
Baked Falafel Sandwich Recipe
Baked Falafel makes a fantastic sandwich and is healthier than the deep fried version.
Ingredients
1

tablespoon

extra virgin olive oil

- for the baking sheet

15

ounce

garbanzo beans

can, drained

½

cup

onion

finely diced

3

cloves

garlic

finely choopped

1

teaspoon

lemon juice

1

teaspoon

cumin

1

teaspoon

coriander

¼

teaspoon

cayenne pepper

2

tablespoons

flour

1

teaspoon

baking powder

1

teaspoon

salt

½

teaspoon

pepper

16

rolls

- small rolls of your choice
Instructions
Preheat the oven to 400°

Lightly grease a cookie sheet for browning the patties.

Place the beans into a large bowl and mash with a potato masher.

I put my onions into a food processor and pulse two to four times because I like smaller pieces of onion in my patties.

To the large bowl add onion, garlic, lemon juice, cumin, coriander, cayenne pepper, flour, baking powder, salt and pepper.

Mix well.

Form into patties and space out on a cookie sheet. I like to form them as flat as I can on each side so that the patty surface touches the pan as much as possible - for the browning.

Bake about 10 to 15 minutes on each side. 20 to 30 minutes total. Depending on how brown you like your patties.

Serve on small rolls or in mini pita pockets with your favorite condiments. I used my

almond mayonnaise

recipe. Lettuce is perfect on these sandwiches too. Dill pickles on the side are classic.
Nutrition
Serving:
1
Sandwich
Calories:
63
kcal
Carbohydrates:
9
g
Protein:
2
g
Fat:
1
g
Sodium:
153
mg
Potassium:
114
mg
Fiber:
2
g
Sugar:
1
g
Vitamin A:
20
IU
Vitamin C:
1
mg
Calcium:
29
mg
Iron:
1
mg
TO FREEZE:
This time around I did not have time to pre-freeze my patties before placing them in a freezer bag or container.
Instead, I placed one patty on a large piece of saran wrap and folded it over, once, then I placed another on top and folded again and so on (see the photo above).
After you are done wrapping the patties - place them in a freezer bag.
ALTERNATELY:
After they have cooled you may freeze them in any of the methods shown in my article Preparing Food for the Freezer.
They defrost quickly so it really doesn't take any planning. The microwave will also zap them in 30 to 60 seconds.