Mediterranean Chickpea Salad is an easy recipe with lots of color and texture. The fresh veggies combination gives delicious satisfaction for either lunch or a side dish. Its lemon dressing recipe completes this vegan chickpea salad.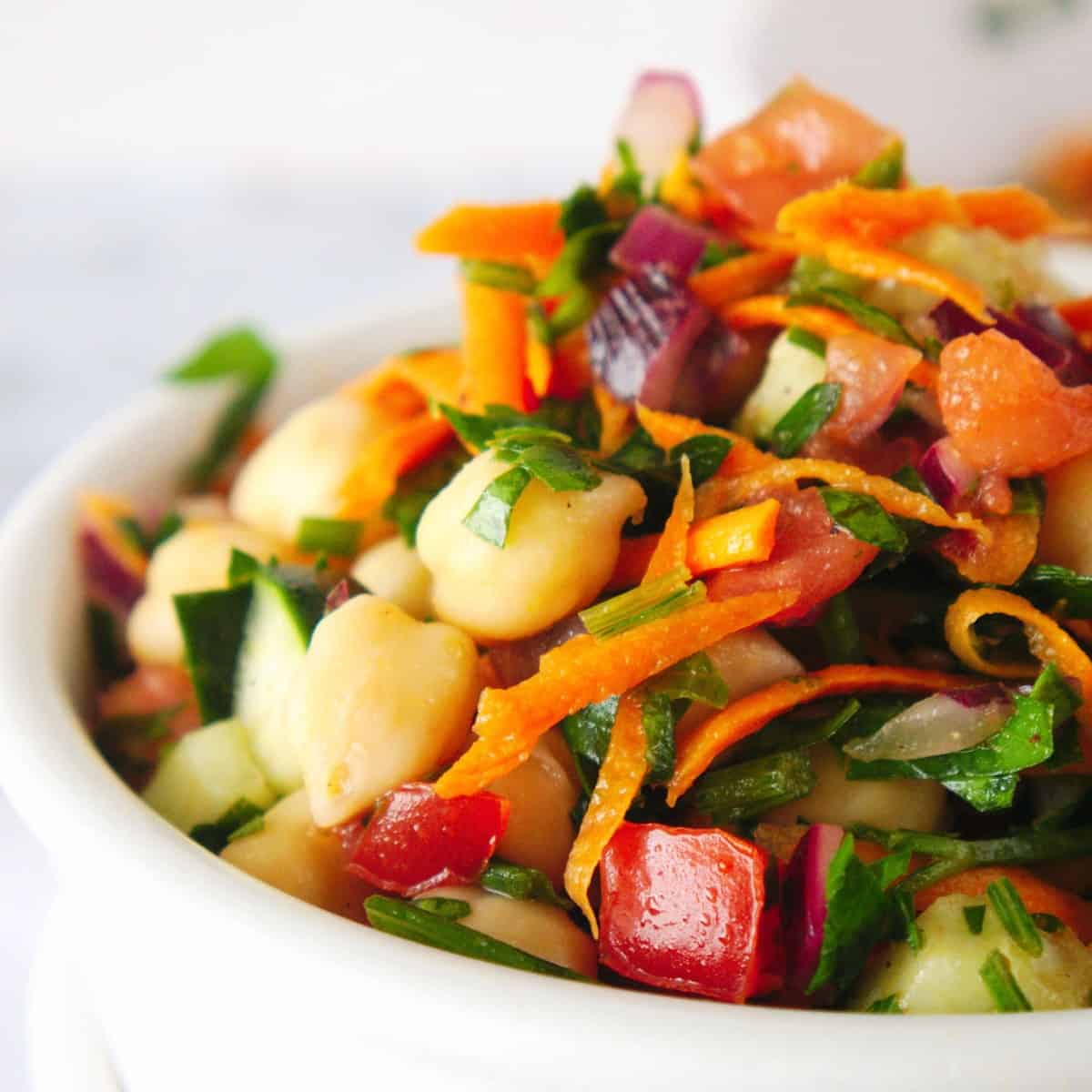 This salad is so quick that you'll be enjoying it before you know it. The hunger pangs will be gone and you'll be getting plenty of chewing satisfaction.
This vegan chickpea salad is so pretty too that it is one of those impressive potluck recipes that will cause people to oh and ah.
It's so nice to have a versatile canned staple that can be used in so many different types of recipes. I'm talking about chickpeas and they are great in hot or cold recipes.
I always make sure that there are a few cans in my cupboard - just in case - and they've never let me down.
Packed full of protein, fiber, and many more nutrients chickpeas as you need to do is simply drain and rinse and you're on your way.
The ingredients for this chickpea salad recipe have all of your favorite veggies and the grated carrots mix in really well. No hard chunks just texture and sweetness to compliment the lemon dressing.
The lemon dressing recipe only takes a couple of minutes to make but it goes a long way in tying all of the ingredients together.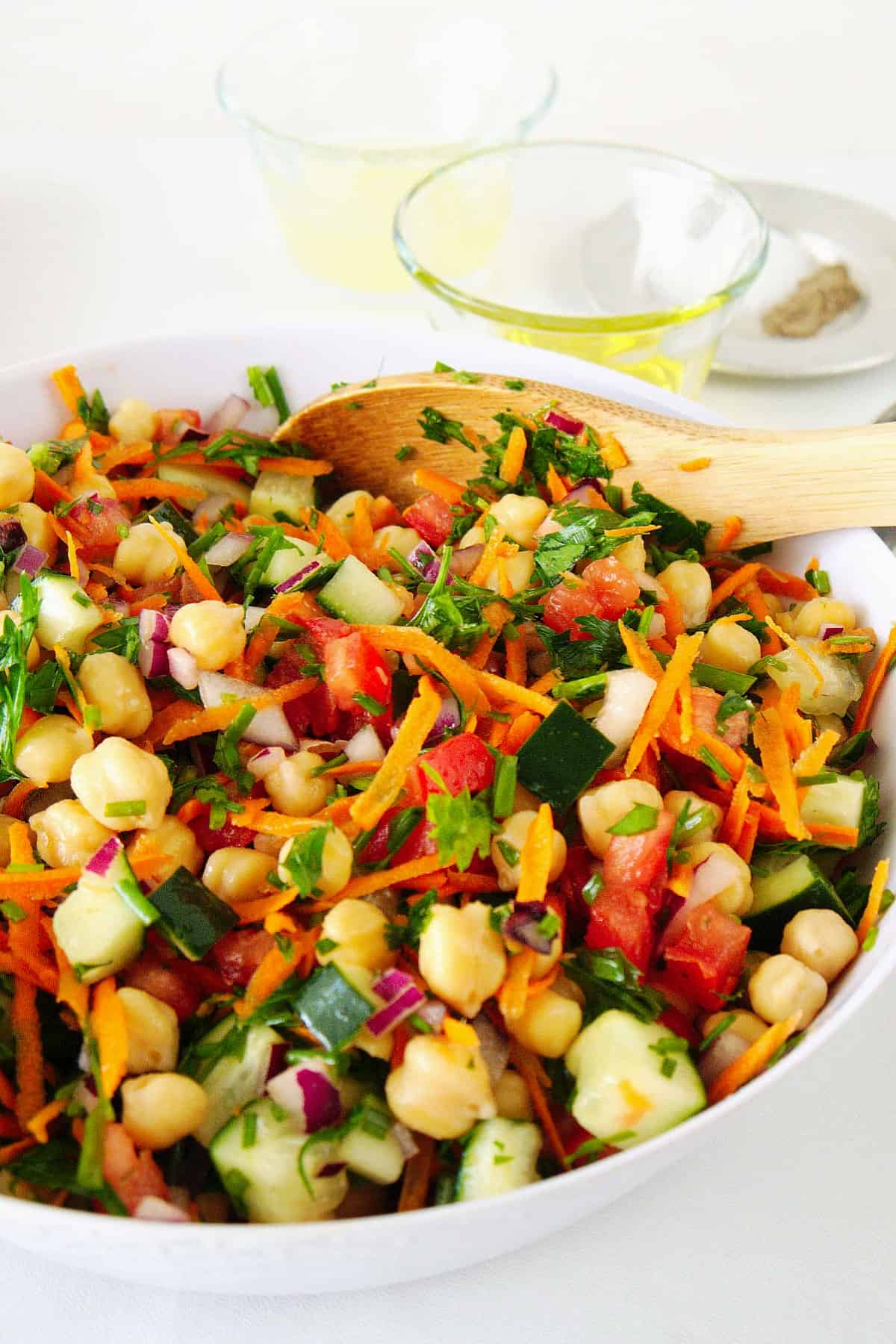 📋 Ingredients
Tomatoes in any type that you like the most or whatever looks really good in the grocery store that week. My choice is usually plum tomatoes but fresh juicy ones work really well too.
Red onion is the darling of fresh salads. Dice them small and if you need a milder onion scallions or green onions would work.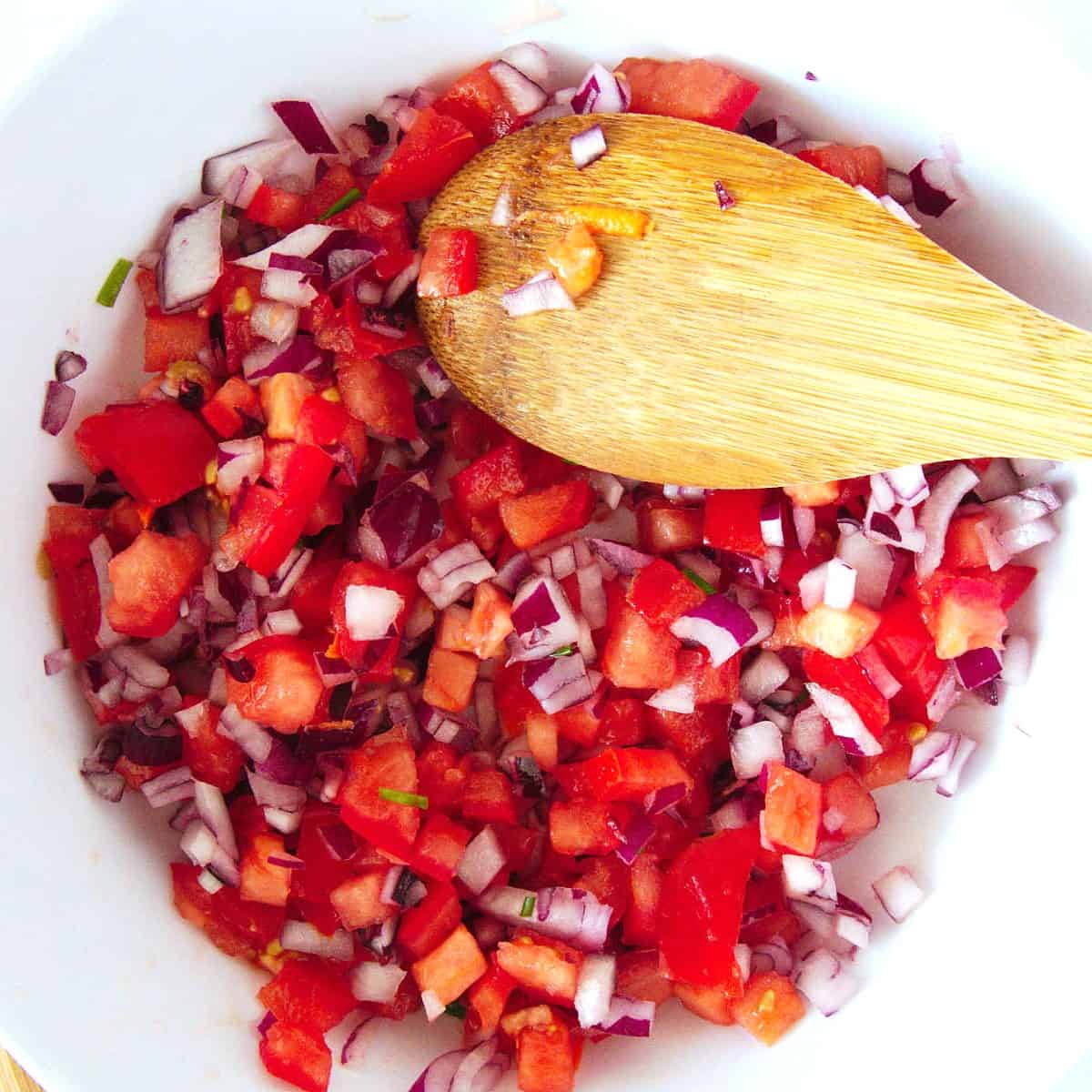 Cucumber can be the regular type of cucumber or an English cucumber. I used English and left the skin on.
Shredded carrot is a great addition for a little sweetness that contrasts really well with the lemon dressing. It's a beautiful visual contrast too.
Fresh parsley is measured loosely not compacted and is the key to a fresh Mediterranean chickpea salad.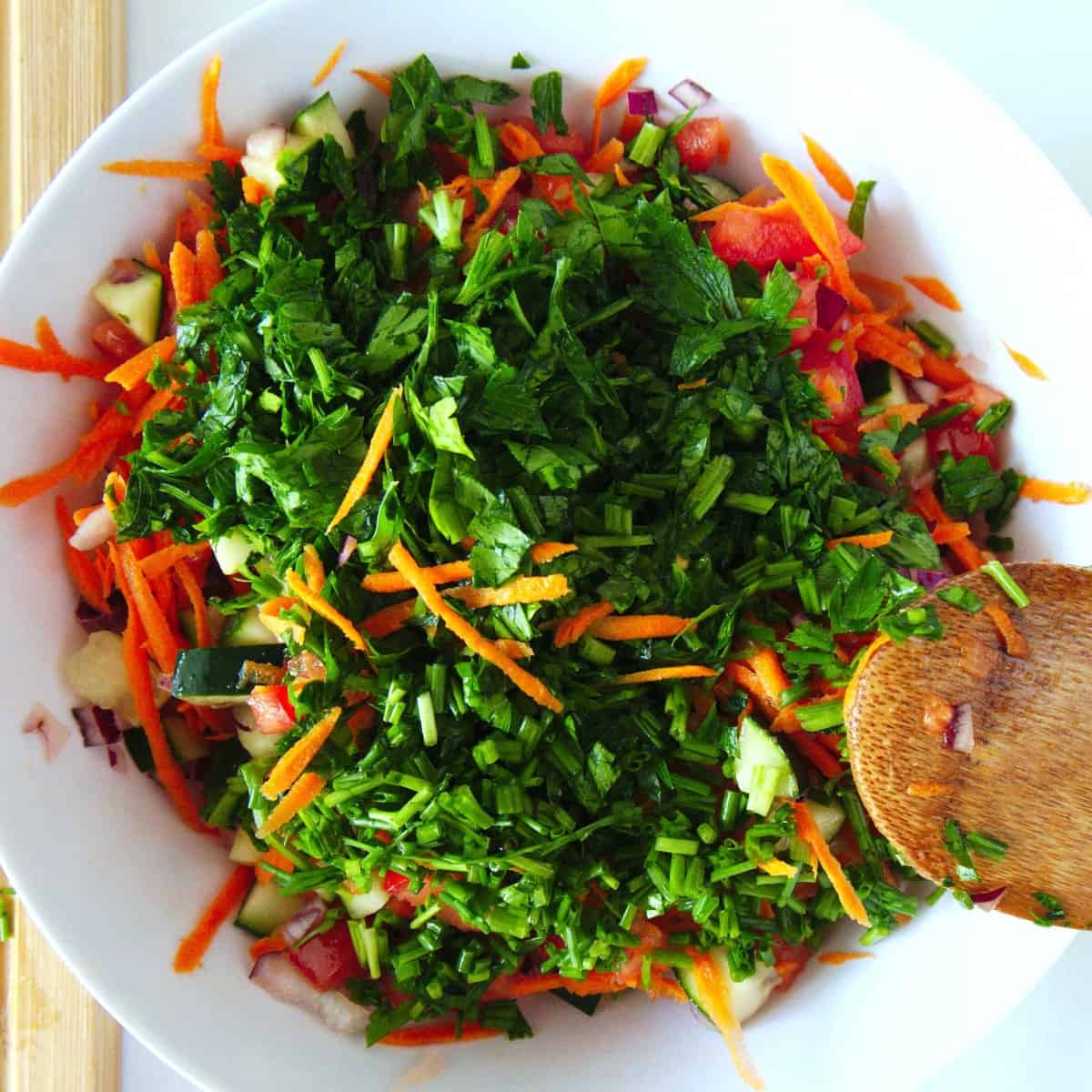 Chickpeas should be drained and rinsed for this recipe. You don't need to blot them dry.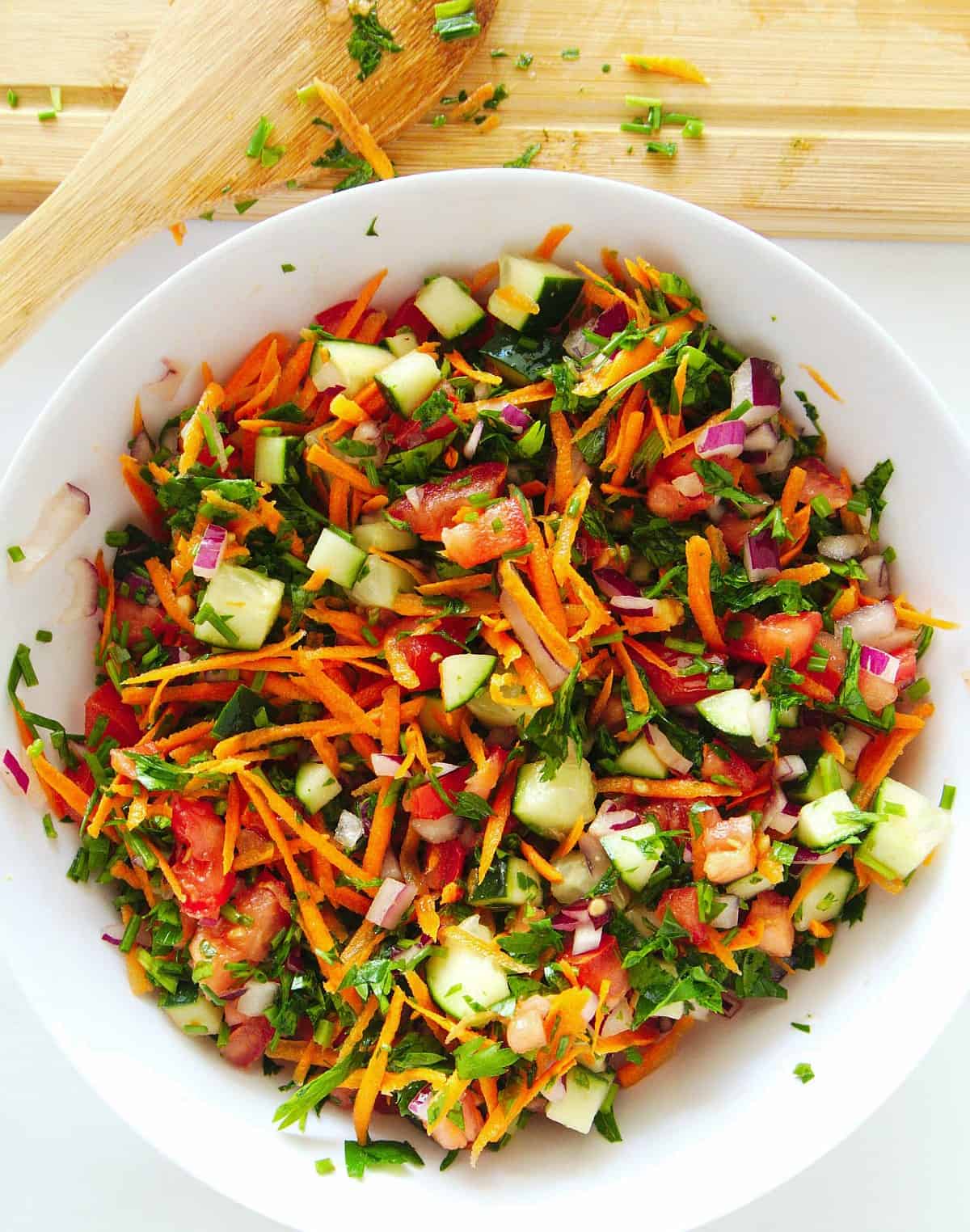 🔪 Instructions
With a knife chop, cut, and dice all of the ingredients and have them ready to combine. Since most of the ingredients are fresh veggies make sure you choose the best quality.
This recipe is so simple as you can see in the photos above. Just add the veggies into a large bowl and mix lightly.
The order I used was the red onions and tomatoes, then the cucumber.
Next add the grated carrots and chopped parsley.
Lastly, before the dressing, comes the chickpeas.
Mix well and continue with the dressing.
Whisk together the simple lemon dressing and pour over the chickpea mixture. Toss to coat, then serve immediately. Pita bread goes along nicely with it too.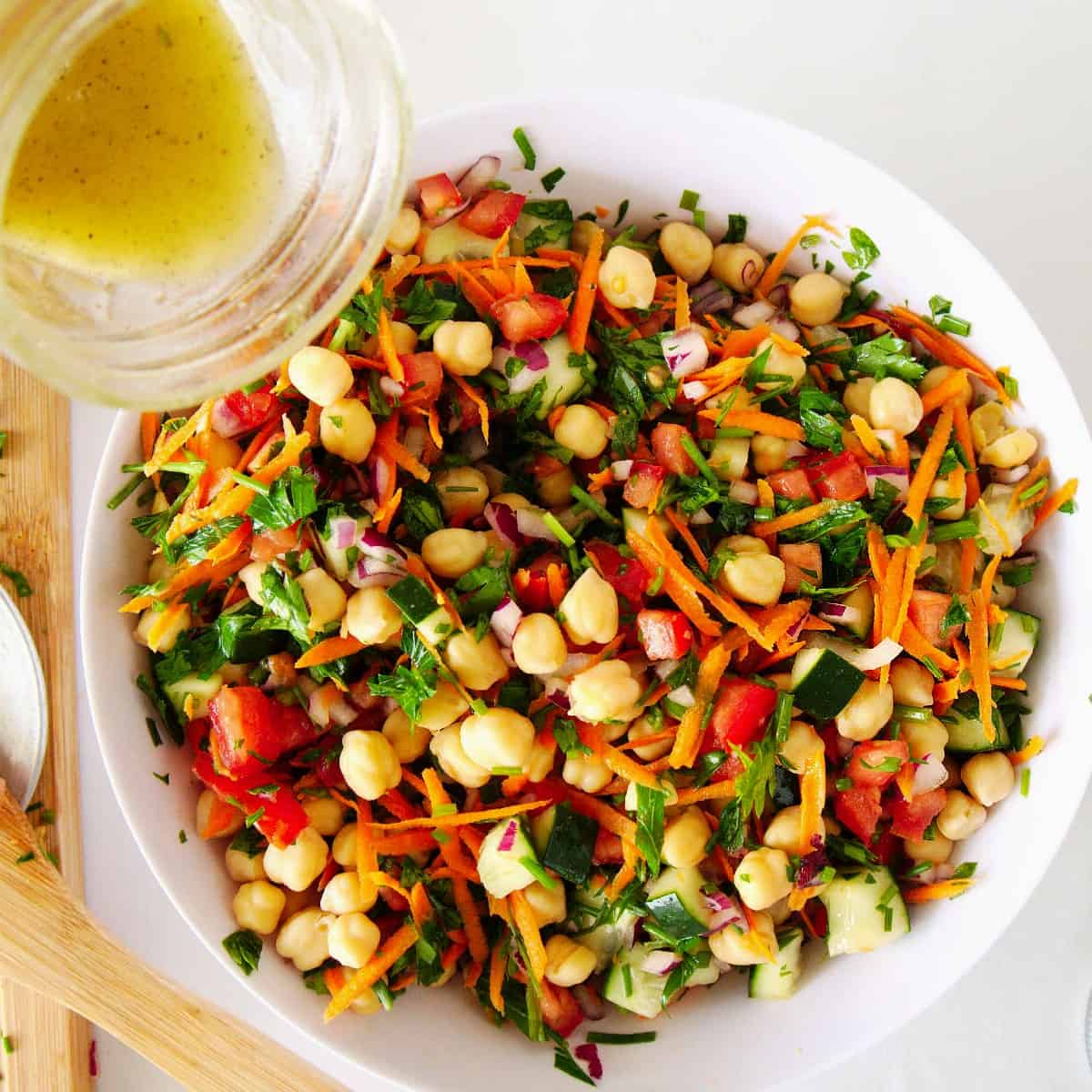 🍋 Simple lemon dressing recipe
The dressing is simple, fresh, and is the perfect dressing for such a lively salad.
Fresh lemon juice lightens up the salad and makes all the ingredients taste fresh.
Extra-virgin olive oil balances the lemon and makes the dressing texture smooth.
Chives give that little bit of oomph that needs to finish the salad.
Salt and pepper help to season the salad — a must!
💭 FAQ's
Can you eat chickpeas straight out of the can without any preparation?
Yes, that is how this salad uses canned chickpeas. In fact, I think I have more recipes that use chickpeas raw rather than cooked.
Can I add extra veggies?
Yes! The choices are up to you and what your family may like. Some people add celery and even avocado.
Is there an oil free dressing that can be used?
Yes, you can use any of your favorite oil free dressings but I think a lemon juice or vinegar-based dressing would be best. Not a creamy one. Even parts of lemon juice, sweet rice wine vinegar, and a little maple syrup and mustard would be very good.
Can I use dried chickpeas instead of canned?
No problem! Cook the dried chickpeas using your favorite recipe and freeze them for future use. Take out about one 12 to 14 ounces for this recipe. Keep in mind canned chickpeas are firmer than home-cooked.
How long does Mediterranean chickpea salad last?
Three to four days and give the leftover salad a good stir before serving to redistribute the dressing.
Can you switch out the parsley?
Yes, but there are only a few that will work well. Fresh dill or mint would be delicious. They would both mix well with parsley too.
👩🏻‍🍳 Chef's tips
Don't throw away the liquid from the can. It is aquafaba and can be used in multiple recipes including making a whipped topping. It freezes really well.
Don't leave any of the vegetables to large so the salad is well balanced in flavors.
The chickpeas will soak up the flavors of the dressing so if you can set it in the refrigerator for a while it will enhance the salad. Let sit for at least 30 minutes.
The salad will keep about four days in the fridge so it is a nice option to have if you need a make-ahead dish. If you want to make it ahead don't add the tomatoes. Wait until the day of serving as the tomatoes break down too fast.
This salad doesn't need to be cold to be enjoyed so have no worries about having to keep it refrigerated when serving. It is delicious at room temperature.
🥗 More easy salad recipes
If you take a photo of your fresh vegan chickpea salad recipe I would love to see it. Follow me over on Instagram and tag me on your photo @vegan_in_the_freezer.
📋 Recipe
Mediterranean Chickpea Salad
Mediterranean Chickpea Salad is an easy recipe with lots of color and texture.
Ingredients
15

ounces

Chickpeas

- can of chickpeas, drained and rinsed

1

cup

Cucumber

- chopped

1

cup

Carrot

- grated

¾

cup

Red onion

- chopped

2

cups

Tomatoes

- chopped

¾

cup

Fresh parsley

- chopped, measured loosely not compacted

¼

cup

Chives

- chopped
Lemon Dressing
¼

cup

Lemon juice

- freshly squeezed

2

tablespoons

Extra virgin olive oil

1

teaspoon

Salt

⅛

teaspoon

Ground black pepper
Instructions
Preprepare all of the vegetables.

In a large bowl combine the tomato, onion, and cucumber. Mix well.

Add the carrot, parsley, and chives and mix until well combined.

Mix in the chickpeas and again stir until well mixed. Set aside.
Lemon Dressing
Mix all of the ingredients together.

Pour the dressing over the vegetables and stir until well combined.

Taste and add more salt and/or pepper to meet your taste preferences.

You can serve the salad right away or store the salad in the fridge until you are ready to use it.
Notes
This recipe makes 5 cups which is 4 side dish serving that measure about 1 ¼ cups each.
Nutrition
Serving:
1
Serving
Calories:
275
kcal
Carbohydrates:
38
g
Protein:
11
g
Fat:
10
g
Saturated Fat:
1
g
Sodium:
622
mg
Potassium:
712
mg
Fiber:
10
g
Sugar:
10
g
Vitamin A:
7076
IU
Vitamin C:
37
mg
Calcium:
90
mg
Iron:
4
mg