Just when you think you've got a plant-based recipe on your hands, you scan all the way to the bottom of the ingredients list and see it. The singular yet completely un-vegan step in an otherwise vegan-friendly dish: "Brush the top lightly with egg wash." Nooo!
It may be discouraging, but we urge you, don't toss that recipe just yet. Instead, see if one of these best vegan egg wash substitute options will do the trick!
Whether you are skipping the egg wash because you stay plant based, are seeking egg substitutes due to an allergy, have just run out of eggs , or are looking for a cheaper option (hey, eggs are expensive these days!) we've got all of the best egg wash substitutes you need to know right here. And yes, all of them are 100% vegan. Let's get to it!
What is Egg Wash?
Traditional egg wash is, of course, made from eggs. However, depending on the recipe, the exact mixture of one egg wash may vary from one to the next.
Some egg washes are made from whole eggs while others may be made from just the egg whites or just the egg yolk. Sometimes the egg is whipped and mixed with other liquid ingredients like water or milk, while other recipes instruct to use the egg wash on its own.
In any of these cases, the key is that the egg is mixed in a way that renders it completely fluid, as egg washes are most often intended to be brushed onto the surface of foods and therefore require fluidity in order to be evenly spreadable.
What is Egg Wash Used For?
There are a number of reasons why egg wash is called for in a recipe.
Most commonly, egg wash is applied to the exterior of baked goods such as pie crusts, puff pastry, biscuits, and bread dough. The proteins and fats in the egg help the food to achieve that picture perfect golden brown exterior!
Egg wash is also used as a sealant when adhering pieces of dough to one another, such as when making foods like stuffed pastas or layered desserts. Once again, the makeup of a whole egg is perfect here as it turns rigid as it bakes, thereby gluing separate pieces of dough together or helping toppings like sprinkles or crystal sugar to stick to surfaces.
A third use for egg wash is as a crucial step in the breading process of foods which are to be fried--think eggplant slices for eggplant parmesan, crunchy onion rings, or breaded veggie bites. Eggs + flour create a glue which helps the bread crumbs--or other breading--to stick to the food you want to make crispy.
The Top 10 Vegan Egg Wash Substitutes
Choosing the right vegan egg wash substitute will completely depend on which of the above purposes you need it to fulfill, as well as your own dietary preferences and tastes.
We'll cover the pros, cons, and uses for each of the following top 10 vegan egg wash replacement options:
Plant Based Milk
Vegan Butter
Oil
Aquafaba
Vegan Yogurt
Vegan Mayonnaise
Flax Meal
Maple Syrup or Agave Nectar
Fruit Preserves, Jam, or Jelly
Store Bought Vegan Egg Replacers
1. Plant Based Milk
Dairy free milk makes for one of the best alternative egg washes due to the fact that it contains proteins + water in a makeup that is similar to that of an egg. Plus, it's already in a completely brushable, liquid form!
Non-dairy milk is excellent for achieving a golden brown sheen atop baked goods such as vegan dinner rolls, pie crusts, and flatbreads. Depending on the recipe, you may also have some luck using plant milk as a glue, but we definitely don't recommend using this one as part of the bread-crumbing process--you'll just end up with a wet mess!
Almond milk, soy milk, oat milk, and rice milk are among some of the best options for egg wash replacing. Coconut milk can also be used, just be sure it is fully mixed and stay away from coconut cream which is extremely thick and will not spread evenly.
Whichever plant based milk you choose, be sure to use unsweetened or low-sugar versions, as high-sugar or "creamer" style plant milks will make them prone to burning.
How to Substitute
You'll need:
Non-dairy milk of your choice--such as almond, soy, oat, or coconut.
Use a pastry brush to lightly brush the plant based milk atop your baked goods where egg was is called for, then bake as directed.
2. Vegan Butter
Melted vegan butter is an excellent vegan egg wash alternative as the high fat content helps foods to brown and crisp evenly while also imparting a bit of attractive shine to the tops of things! It also provides a wonderfully rich flavor that is complementary to recipes for both sweet pastries and savory vegan baking recipes.
Unfortunately, melted butter is not so great as a sealant nor as an adherent, since that high fat content is more slippery than sticky. You'll want to use vegan butter as a browning agent only.
When using vegan butter, be sure to watch the salt content here as some vegan butter is quite salty and using it in place of egg wash could cause the resultant dish to be more sodium heavy than anticipated. When using butter as an egg wash substitute for dessert applications specifically, reach for an unsalted version if possible!
How to Substitute
You'll need:
Gently melt the vegan butter, being careful not to take it all the way to the browning stage.
Use a pastry brush to apply a very light coating of the melted butter to your crust or the tops of any doughy baked good, being careful not to soak the dough.
3. Oil
In the same way that melted butter does a great job at browning and crisping the tops of your favorite baked good recipes, simple oil will do the trick as well! Like butter, oil works well for browning, but is not the best egg wash substitute for gluing doughs together nor as part of a 3 step breading process.
For maximum versatility, you'll want to opt for something with a neutral taste such as vegetable oil or a light olive oil, but feel free to play around with other types if you like! Refined coconut oil plays especially nicely for desserts while toasted sesame oil adds a nice flair to some savory applications.
Keep in mind that different oils have different smoke points and therefore will behave differently when exposed to the heat of the oven. In general though, the lighter the color of the oil, the more heat it can withstand before burning.
How to Substitute
You'll need:
Cooking oil of your choice such as vegetable oil, avocado oil, olive oil, or melted coconut oil
Use a pastry or a basting brush to lightly coat the top and/or edges of your baked good recipe when and where the egg wash is called for, then continue with the recipe as directed.
4. Aquafaba
Next time you make up a batch of Mediterranean Chickpea Salad, don't dump all of that liquid that comes in your cans of chickpeas! As you may already be aware, this stuff is called aquafaba and it makes for an excellent egg wash substitute.
The reason it works? The starches in the garbanzos escape into the surrounding liquid during the canning process, thereby creating a liquid that is ready to be brushed and browned on anything you need! A bit of canned chickpea liquid will certainly be better than nothing for helping to seal dough together or adhere bread crumbs to foods, but if possible, you'd do better to use another egg alternative for these types of applications.
Though canned chickpeas may seem to have a strong and slightly funky bean flavor/aroma, the liquid from the can won't impart these notes into your dessert so don't worry too much about that. Aquafaba is a surprisingly versatile option that plays nicely with most flavor profiles, whether sweet or savory.
How to Substitute
You'll need:
Place a mesh strainer over a bowl and pour the chickpeas through, reserving the beans for another use. To replace an egg wash that calls for 1 whole egg, use 3 tablespoons of aquafaba. To replace an egg wash that calls for just 1 egg white, use just 2 tablespoons of aquafaba.
No need to whisk or whip the liquid here, just use a pastry brush to dab the liquid onto your dough or dip food into the chickpea liquid before breading.
5. Vegan Yogurt
Unlike many of the other vegan egg wash alternatives we've covered so far, vegan yogurt can actually be used as a binding agent or as part of the breading and battering process. Its texture is thick and sticky enough to make breadcrumbs and flours adhere, thereby helping to achieve a crispy crunchy finish.
Due to its thickness, yogurt will leave a streaky appearance when brushed onto the top of pastry so keep that in mind before you count on using this option for a picture perfect golden brown crust. If you'd like to give it a shot for this purpose, you may want to whisk the yogurt with a bit of non dairy milk or water to make it a bit more liquidy.
In any case, when using vegan yogurt to replace regular egg wash, it's best to opt for plain so as to ensure the flavors take a backseat to what's going on in your dish. However, you could use vanilla yogurt or another subtly sweet flavor in dessert applications. Either way, be sure to stay away from highly sweetened yogurts here as additional sugar content can make this ingredient prone to burning.
How to Substitute
You'll need:
If using the vegan yogurt as a means to achieve golden brown color on the top of baked goods or dough, whisk your yogurt with a splash of plant milk or water before using a pastry brush to apply.
Otherwise, stir your yogurt well and use it as a binding agent or as a step in a breading process where egg wash is called for.
6. Vegan Mayonnaise
Vegan mayonnaise has a similar viscosity to that of vegan yogurt, but with a higher fat content--meaning it will add an even richer crispness to anything it is spread on!
You can use vegan mayo to brown the surfaces of baked goods, just whisk it with enough water to make it spreadable first. However, vegan mayonnaise really shines as a binding and breading agent, as when combined with bread crumbs or a flour coating, it helps to create a wonderfully crispy and cohesive breading.
That said, this vegan egg wash replacement is definitely going to be on the savory side so you probably want to stay away from it when working with desserts and sweets.
How to Substitute
You'll need:
Vegan mayonnaise of your choice (check out our buying guide to the Best Vegan Mayo!)
Lightly coat foods in a layer of vegan mayo to help breading or other toppings adhere, or whisk the mayo with enough water that you can easily and uniformly brush it atop savory baked goods to help with golden-browning.
7. Flax Meal
If you're a vegan baker or someone who has egg allergies, you've likely already heard all about the "flax egg"--one of the best and most well known Vegan Egg Substitutes. Therefore, it's no surprise that flax eggs can be used as a wonderful substitute for egg wash as well!
Flax works here because when ground and mixed with water, flax seeds release a gooey, starch rich liquid which is insanely comparable to the consistency of eggs. Spreading this mixture atop baked foods will help to add shine and golden coloring, but no matter how finely ground, the flecks of flax meal will still be entirely visible on the surface of your doughs and pastries. Therefore, flax is an option better used for sealing edges of pastry or pasta together, or as a binding agent.
Extra bonus: flax seeds are super nutrient dense so any excuse to pack more of these little powerhouses into your diet is a win!
How to Substitute
You'll need:
For every 1 egg that your egg wash calls for, whisk 1 tablespoon of flaxseed meal (also known as ground flax seeds) with 3 tablespoons of warm water until well combined. Let the mixture sit for about 5 minutes, then stir. The mixture should have a gooey, sort of gelatinous consistency.
Spread this mixture on dough or pastry in place of egg wash, or use it as a binder where egg wash is called for.
8. Maple Syrup or Agave Nectar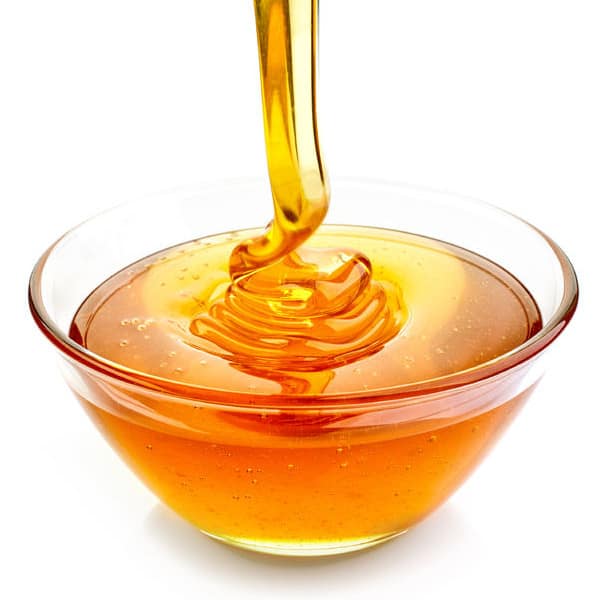 A liquid sweetener such as maple syrup or agave nectar is great for adding shine and golden brown coloring to the top of baked goods, but won't work very well as a binding agent nor should be used as part of a dredging process. Due to the high sugar content, you're in high risk territory for burning here so you'll want to use maple or agave syrup only on foods which cook briefly, or you can brush it onto your dough or pastry towards the end of the cooking time.
Also, you're more likely to have better results if you mix the sweetener with a bit of plant milk or warm water, as this will make the syrup more spreadable as well as cut the sugar content a bit. And it goes without saying, this option is more ideal for desserts and sweet treats as opposed to savory applications.
Be sure to stick to liquid sweeteners like maple or agave--or even brown rice syrup or date nectar!--as honey--and sweetener mixtures that include honey--are not suitable for a vegan diet.
How to Substitute
You'll need:
Liquid sweetener such as maple syrup, agave nectar, or another plant based syrup.
Non dairy milk or water.
For best results, whisk the syrup with an equal amount of warmed plant milk or warm water, then brush this mixture on top of your pastry or dough before baking in the oven.
9. Fruit Preserves, Jam, or Jelly
This might sound like an off beat solution but trust, us, jams and jellies work wonders as an egg wash substitute! Not only do they encourage browning and caramelization, but they also leave a nice, glossy sheen atop baked goods.
Of course there are tons of different fruit preserves out there so you want to carefully consider flavor, texture, and even color before using it as an egg wash substitute. Stay away from richly colored preserves like blueberry and concord grape instead opt for items like apricot jam or orange marmalade for more optimal versatility, which although sweet, can sometimes even be used for savory dishes as well.
Keep in mind that jams and jellies are lumpy when cold or at room temperature, so it will need to be warmed gently before using. And, double check the ingredients label on your preserves before assuming they are vegan, as every now and then a jam or jelly will contain gelatin--which is made using animal products.
How to Substitute
You'll need:
Fruit preserves, jam, or jelly–ideally lightly colored and flavored options like apricot or marmalade.
Gently warm some of the preserves in a small saucepan over low heat, stirring often and being careful not to scald the bottom. Allow the mixture to cool briefly, then brush the top of pie crusts, cookies, or biscuits with the warm and fluid jam.
10. Store Bought Vegan Egg Products
There are tons of different ready-to-use vegan egg products on grocery store shelves nowadays, and the selection seems to be continually growing! There are many different ingredients used to create these products, from soy to seeds and beans.
This is great news for those of us who want the convenience of an egg wash substitute that is designed precisely for the purpose and ready to work with. The downside is that these products tend to be more expensive than many of the other vegan egg substitute options we've covered so far.
Some vegan egg replacer products are in liquid form and others are in powders, so be sure to consult the packaging in order to reconstitute your particular brand of vegan eggs and how to incorporate them into your recipe. Most packages will offer guidance as to the ratio of egg replacer to use in place of one egg.
How to Substitute
You'll need:
Store bought vegan egg substitute of your choice.
Follow the package directions for reconstituting the product if needed, then use the liquid to replace egg wash when called for in your recipe–for brushing and browning, binding, or for breading!
Vegan Egg Wash Substitute FAQs
Is Egg Wash Optional?
In some cases, yes! When a recipe calls for egg wash to be brushed on top just before baking, the only reason for this is for visual appeal in the form of golden-browning and/or to help toppings stay in place. Therefore, you could most often skip this step if you are okay with a paler outcome.
However, the egg wash that is called for in situations such as sealing pasta or dumplings or as part of a breading and frying process are structurally important to the final dish, and skipping the egg wash entirely would probably have some unfortunate consequences on your dish.
What is a Vegan Substitute for Egg in Dredging?
Out of all of the roles you may have for a vegan egg wash alternative, dredging might just be the most complicated one to fill.
The best vegan substitutes for egg wash in dredging and breading are flax eggs, vegan mayo, vegan yogurt, or store bought vegan egg products. Each of these products has a thick, sticky consistency which will help to create the glue needed to get those bread crumbs or coatings to stick!
Can You Use Cornstarch Instead of Egg Wash?
Sometimes! Cornstarch didn't make the cut as far as one of our top 10 vegan egg wash substitutes, however, it does have some utility when used as part of a breading process as it gets very crispy when baked or fried.
Final Thoughts on Choosing the Best Vegan Substitute for Egg Wash
As you can see, a recipe calling for a simple egg wash is by no means off limits for those of us who can't or choose not to eat eggs. There are so many 100% vegan options to use in place of egg wash, whether the purpose of the egg wash is for browning, crisping, sealing, or battering.
For brushing and browning sweets and desserts, we recommend using plant based milk, maple syrup, agave nectar, or fruit preserves. Meanwhile, for savory applications such as pizza crusts or savory filled doughs, some of your best bets are vegan butter, vegan mayonnaise, or oil.
If you're looking to egg wash to seal pasta edges or help a coating stick, flax meal will definitely do the trick as will any number of store bought vegan egg products.