There are many vegan sour cream substitutes out there to explore. While regular sour cream may not be an "everyday" ingredient in the same way other dairy products like butter and milk are, for certain dishes, nothing quite hits like a dollop of this perfectly tangy, cool, and creamy stuff. If you adhere to a vegan diet though, choosing just the right dairy free alternative can be tough!
Whether you need something to cool down a bowl of spicy chili (try our version here!), are rounding out the toppings for your famously hot vegan taco night, or need something to replace the sour cream called for in your favorite baked recipes, we're getting into all of the best substitutes for sour cream right here, right now.
What is Sour Cream?
Real sour cream (also sometimes called "cultured cream") is a fermented cow's milk dairy product that is similar to other items like yogurt, kefir, and buttermilk.
The fermentation happens when sugar-loving lactic acid bacteria are encouraged to proliferate in dairy cream. The bacteria happily consume the plentiful natural sugars found in the milk, producing acidity as a byproduct. This reaction is precisely what gives products like sour cream their characteristic tangy taste and thick texture!
What is Sour Cream Used For?
Sour cream is used in a multitude of ways and across a range of recipes, so you may be looking for a sour cream alternative that works in a number of different applications. As we cover each dairy free sour cream substitute, we'll discuss which of the following 3 main applications to which it is best suited.
For Baking. Sour cream is called for in many baked good recipes like sour cream coffee cake, pound cakes, and cookies as it adds moisture and richness to the end result.
For Cooking. Sour cream is important in a number of different recipes from classic onion dip, creamy salad dressing, super rich potato salad, or for bringing thickness and tang to simmering sauces and soups.
As a Topping/Dip. This is perhaps the most common application of sour cream! Sour cream is a favorite for dolloping atop all sorts of dishes both spicy and mellow. You may be looking for a sour cream alternative to top your baked potatoes, spicy soups, enchiladas, or for dipping items like vegetable crudité or crunchy fried snacks.
The Top 8 Vegan Sour Cream Substitutes
Choosing the right vegan sour cream substitute will depend on what you're looking for it to do in your recipe as well as any dietary restrictions or food preferences that you have. There are many options though and our top 8 favorites are:
Vegan Sour Cream
Vegan Yogurt
Vegan Cream Cheese
Vegan Mayonnaise
Coconut Cream/Coconut Milk
Cashews
Tofu
Avocado
1. Vegan Sour Cream
Use it For: Baking, Cooking, Topping/Dip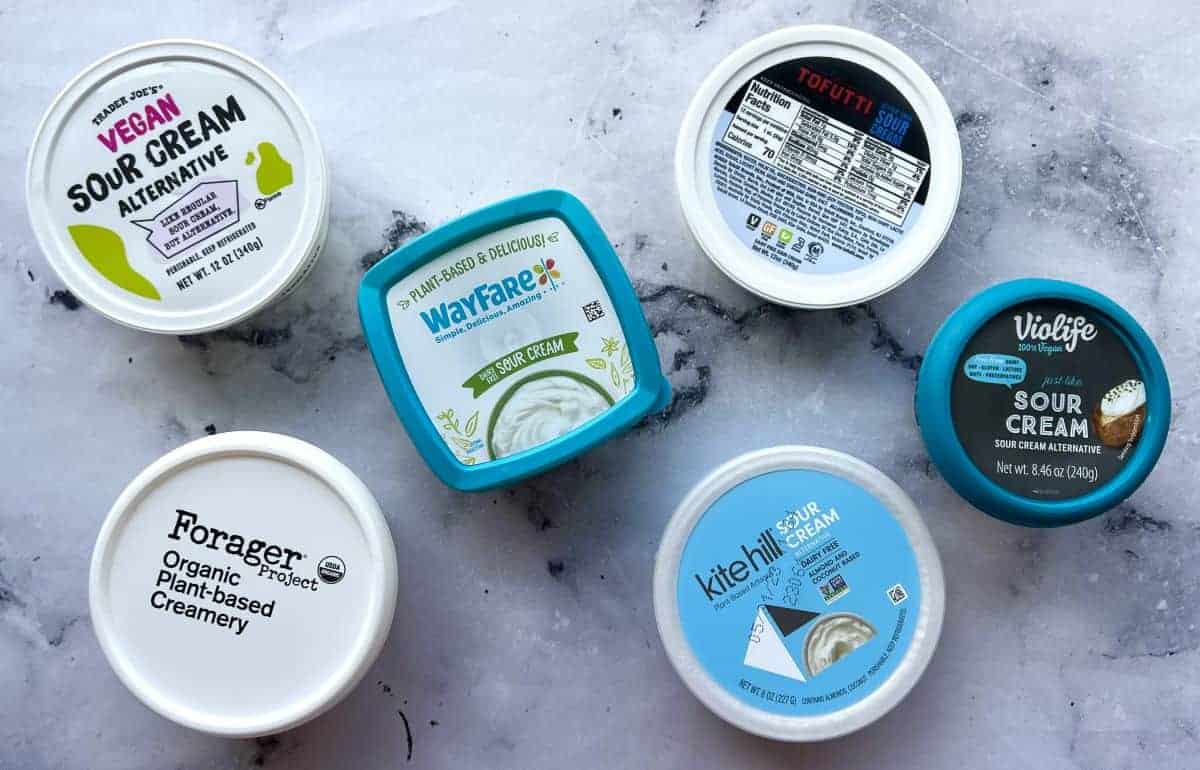 For anything that regular sour cream can do, store bought non dairy sour cream can do it too!
One vegan sour cream recipe will vary to the next, but for the most part you can expect the ingredients to be nut, coconut, legume, or starch based. In our Best Vegan Sour Cream product taste test and review, we found some vegan sour cream brands totally nail it in terms of texture while others are more "sour creamy" in terms of taste.
Most grocery stores have at least a couple different dairy free versions of this popular dairy product, so you can compare and contrast ingredients and use our product guide as a jumping off point before you make your selection! Since these products are made from such a range of ingredients, be sure to take any food allergies or dietary restrictions into account when shopping.
How to Substitute
You'll need:
Store bought dairy free sour cream of your choice
Start by replacing regular sour cream with vegan sour cream at a 1:1 ratio when baking or cooking. If using as a topping or dip, we noted that some of the available brands are quite thick in texture so you may want to whisk in a splash of plant based milk or water as a means to make the sour cream more dippable or dollop-able.
2. Vegan Yogurt
Use it For: Baking, Cooking, Topping/Dip
Seeing as yogurt and sour cream are so similar to one another, it only makes sense that they both make a great substitute to replace sour cream when called for.
Be sure to check the flavor and sugar content of your vegan yogurt before just tossing it in the mix. There are tons of vegan yogurt options out there, but your most versatile bet would be to reach for unflavored, unsweetened non dairy yogurt as this will play nicely in both sweet and savory dishes. If you are using the vegan yogurt to replace sour cream in a sweet baked good though, sweetened vanilla vegan yogurt would likely work with most flavor profiles.
Keep in mind that many yogurts are tangier than sour cream, so the flavor profile may be a bit different. And, if gluten is a concern for you, just check and make sure that any oat milk based yogurts are made with gluten free oats.
How to Substitute
You'll need:
Store bought vegan yogurt of your choice (or homemade, if you prefer!)
This is an easy swap, just replace the sour cream your recipe calls for with an equal amount of vegan yogurt! Due to the varying moisture contents of different vegan yogurts, you may have to experiment a bit when using this swap in baked goods and add more or less depending on your preferred level of moisture in your final product.
3. Vegan Cream Cheese
Use it For: Cooking, Topping/Dip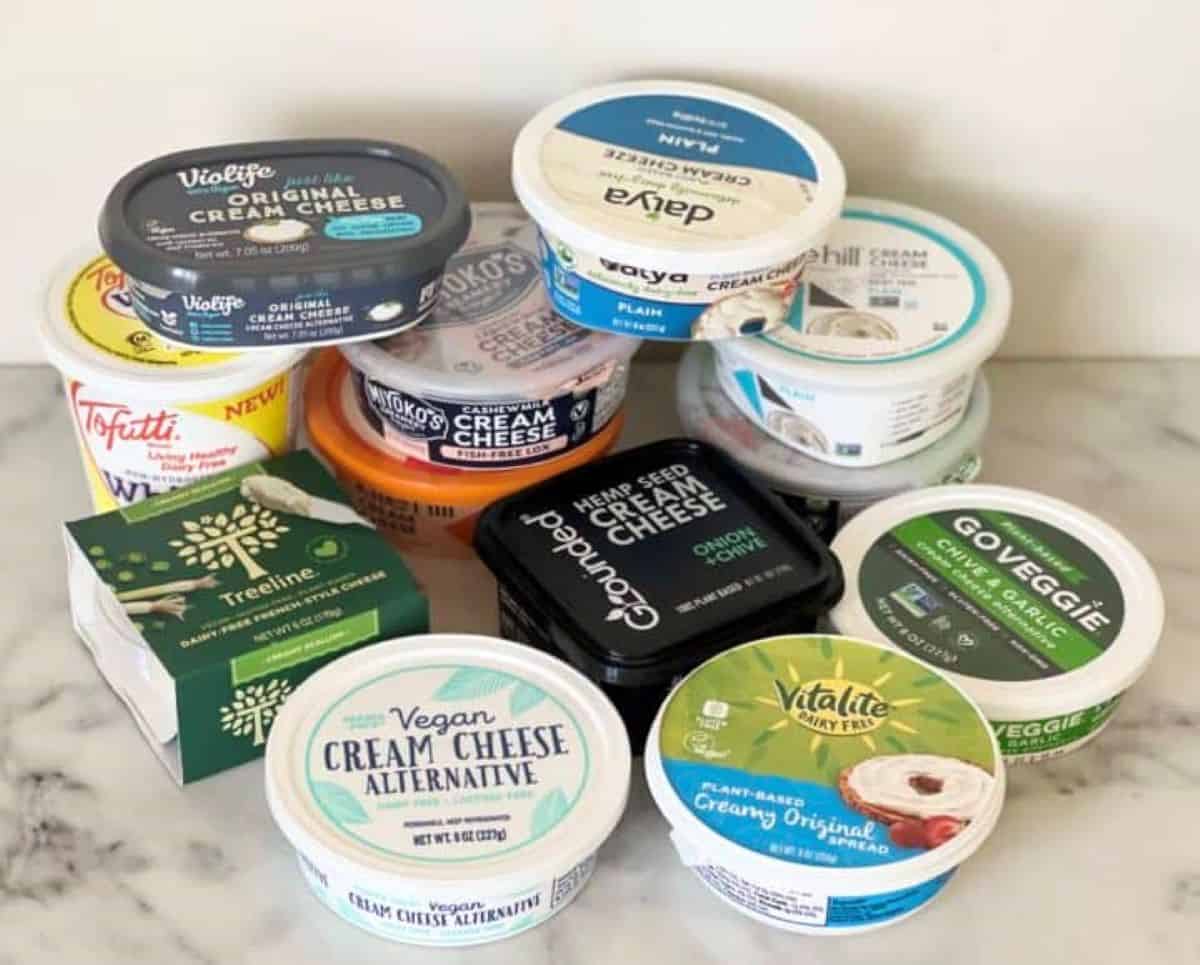 With its creamy texture and tangy flavor, vegan cream cheese strikes many of the same notes as sour cream and therefore can serve as an excellent stand-in.
Like other vegan dairy products, plant based cream cheese may be made from nuts, seeds, starches, or legumes and comes in a range of flavors and textures--just check out our guide to the Best Vegan Cream Cheese for some insight!
No matter which cream cheese brand you have on hand or pick up at the store, it will without a doubt be noticeably thicker in texture as compared to the sour cream you are looking to replace, so you'll need to thin it out a bit in order to achieve a workable consistency.
This vegan sour cream substitute option is great as a topping, to make into a dip, or for stirring into creamy soups and sauces but we do not recommend this one for baking with.
How to Substitute
You'll need:
Store bought vegan cream cheese of your choice, at room temperature
Plant based milk, or water
To turn your cream cheese into 1 cup of tangy vegan sour cream substitute, you'll want to combine 6 ounces (¾ cup) of it with 3-4 tablespoons of any plant milk.
Whisk vigorously to combine the two ingredients into a smooth, creamy mixture. Or, use a blender or mixer if you prefer. This will prove very difficult if the vegan cream cheese is cold, so be sure to let it sit at room temperature prior to mixing.
Use this mixture at a 1:1 ratio to replace regular sour cream when called for!
4. Vegan Mayonnaise
Use it For: Baking, Topping/Dip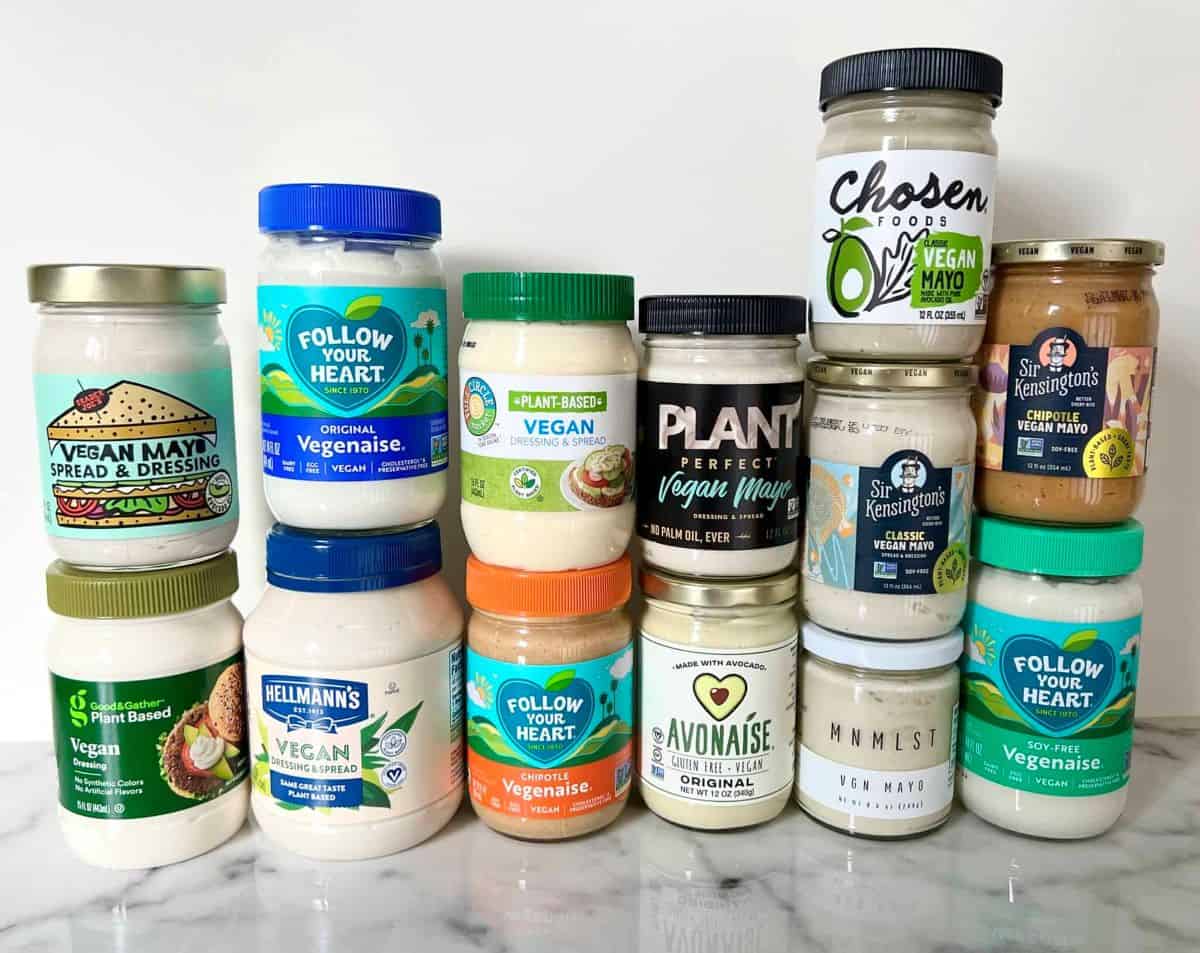 Vegan mayonnaise has a thick texture and creamy consistency that makes it well suited to replace sour cream in certain situations.
When using vegan mayonnaise to replace sour cream in baked goods, it's an easy swap that will impart a rich flavor and lots of moisture thanks to the oil content. You can also use vegan mayo as a topping in some cases, though due to the higher fat content, you may want to use a bit less than your standard-sized dollop of sour cream. To bring the flavor more in line with that of sour cream, add a few drops of acidity, but be sure to taste your vegan mayo first, as during our Best Vegan Mayonnaise taste test and review, we discovered some brands to be inherently quite tangy!
Unfortunately we don't recommend using vegan mayo as a sour cream sub in soups, sauces, or other cooked dishes as the emulsified nature of the mayo makes it likely to separate and experience some textural difficulties when exposed to heat.
How to Substitute
You'll need:
Store bought vegan mayo of your choice
An acid (such as fresh lemon juice, apple cider vinegar, or white vinegar), if desired
If using the vegan mayo in a baking recipe, you can replace the amount of sour cream called for with an equal amount of vegan mayo.
If using the vegan mayo as a topping or dip ingredient, we recommend whisking ½ cup vegan mayonnaise with a few drops of acidity, then using it to taste. Go lightly at first, it will be rich!
5. Coconut Cream/Coconut Milk
Use it For: Baking, Cooking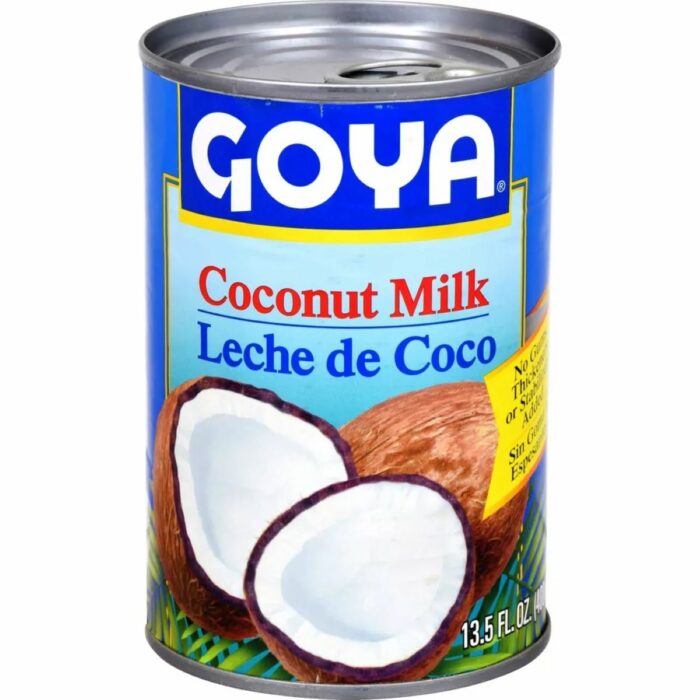 Coconut cream has a fat to water ratio that is amazingly similar to that of dairy cream, so it's little wonder that this stuff makes for a perfect vegan sour cream substitute! Thick, velvety, smooth, and lightly sweet--coconut cream hits all the right notes for cooking with. Think about stirring it into soups and sauces in order to create a rich end result, or turning into a super creamy dairy free dressing or herbaceous dip.
To make this swap, you can either buy pure coconut cream (NOT cream of coconut!). Or, place a can of full fat coconut milk in the refrigerator, then remove and skim the thickest portion of the coconut milk which will be collected towards the top of the can. This part is the "coconut cream", and what you want to use as your sour cream substitute. Save the rest of the coconut milk for another use!
Keep in mind the coconut flavor will definitely be noticeable here so be sure to take the overall flavor profile of your dish into account before making this exchange
How to Substitute
You'll need:
1 cup of coconut cream
1-2 teaspoons lemon juice or vinegar
Pinch of salt
To make 1 cup of coconut cream sour cream, whisk all of the ingredients together until smooth and well combined. Taste and adjust the acidity and salt if needed, then use this mixture as a 1:1 replacement for sour cream.
6. Cashews
Use it For: Cooking, Topping/Dip
Just as in our Homemade Cashew Creamer, cashew nuts can be used to create other creamy dairy substitutes like sour cream, in a completely plant based way of course!
This swap works because cashews have a high fat content as compared to other tree nuts, and blending soaked cashews produces an amazingly smooth and creamy product. Purees made from other nuts tend to remain gritty and coarse.
The following vegan cashew sour cream substitute has a mild flavor which makes it versatile, and a rich texture that is helpful for thickening sauces, soups, or serving as a topping. However, this substitute is not ideal for replacing sour cream in baked goods. The addition of cashew cream also boosts the nutrient value of your final dish, as cashews are rich in protein and healthy fats as well as vital minerals like iron and magnesium.
One more important note: be sure to use raw cashews here as opposed to roasted cashews. While roasted cashews are plenty tasty, they will produce a much nuttier cream and greatly alter the flavor of your dish.
How to Substitute
You'll need:
1 cup raw cashews
½ to ¾ cup plant based milk, or water
Lemon juice, to taste
Place the raw cashews in a deep bowl or dish and add cool water, making sure all of the cashews are completely submerged. Soak the cashews overnight.
After soaking, drain the cashews and add them to a high speed blender (note: a regular blender may not have enough power to blend those cashews completely) along with ½ cup of plant milk. Cashew milk is a great choice here but feel free to use your favorite! Blend on high until thick and smooth, adding more plant milk or water if the result seems too thick.
Add a few drops of lemon juice or vinegar if you want some tang and use the mixture as a 1:1 replacement for sour cream when called for.
7. Tofu
Use it For: Baking, Topping/Dip
Is there anything tofu can't do? This soy based product is wonderful for so many reasons. It is thick, smooth, mildly flavored, and an excellent source of protein. This means not only is it a great choice for turning all of your favorite baking recipes into vegan friendly options, but it also makes them more nutritious as well!
The texture and macronutrient breakdown of tofu produces excellent results when baked into cakes, cookies, and breads and the versatile flavor profile means that it makes a great topping as it complements nearly any dish or seasoning. However, this one doesn't have as much thickening power as some of the other substitute options so you may want to try something else when it comes to cooking sauces or whipping up a batch of dressing.
You'll want to be sure to use silken tofu here, and stay away from firm or extra firm. This will ensure that your vegan sour cream substitute blends up nice and silky smooth! Just like the other options, you can acidify things with a few drops of citrus juice or vinegar, but we also like the savory richness that a pinch of nutritional yeast adds to the picture here.
How to Substitute
You'll need:
One 12-ounce block silken tofu
2-3 teaspoons lemon juice or vinegar (plus more to taste, if desired)
Pinch of nutritional yeast
Plant based milk or water, as needed
Toss all of the ingredients into a blender and whiz away! If the mixture seems to come out too thick for your purposes, add a splash of non-dairy milk or water, then continue blending and checking for consistency. Use the mixture as a 1:1 replacement for regular sour cream.
8. Avocado
Use it For: Baking, Topping/Dip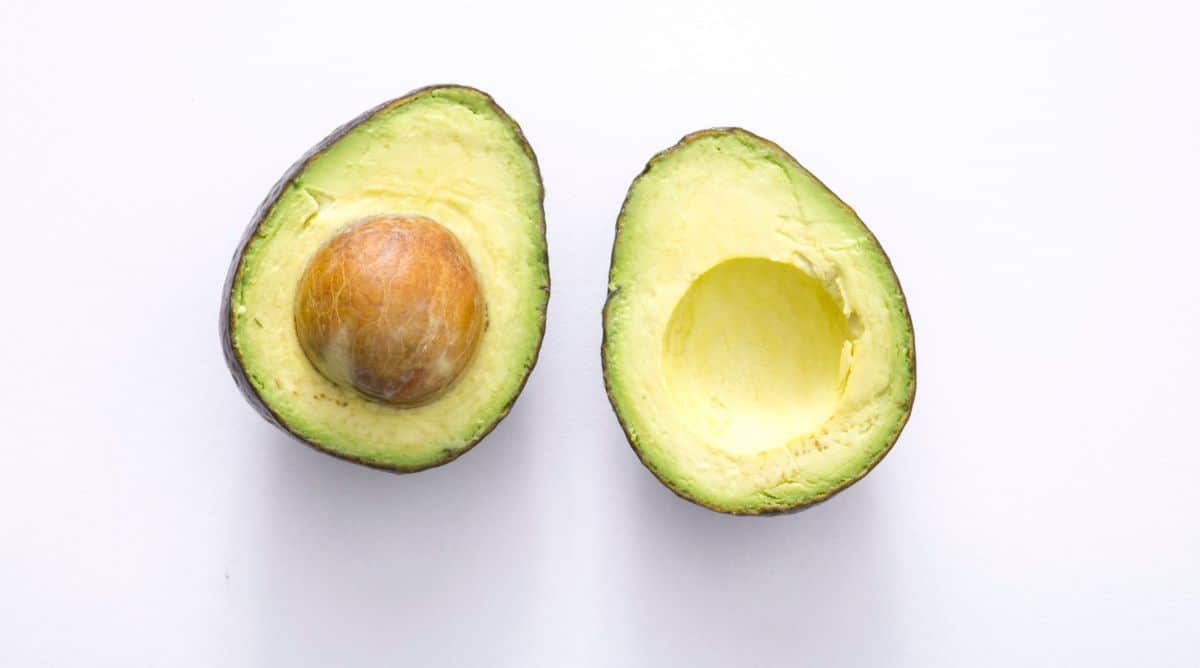 Avocado might not be the first vegan sour cream alternative you'd think to reach for, but it will definitely do the trick in some situations! Here's why.
Avocado is naturally high in fats, has a rich, slightly nutty taste, and a wonderfully creamy texture that can mimic that of sour cream quite nicely. Though avocado is not inherently "dairy-like", with just a little elbow grease, you can alter it to produce a rich, smooth, velvety cream.
For the best result, you'll need to blend that avo with a splash of plant based milk. You can use any type you like here--almond, cashew, oat, or soy. Many of these milks often have vanilla flavoring and added sugars, so be sure to check the ingredients panel and take this into account in light of the other ingredients your recipe calls for.
Make sure to use very ripe avocados here as under ripe fruit will be harder to blend smoothly. You may also opt to add a few drops of acidity for some tang that will strike a similar note to sour cream. Using avocado to replace sour cream in baked good recipes is a great swap, as is using it for a topping! Creamy dreamy avocado atop a pile of potatoes or as a dip for onion rings? Sign us up!
How to Substitute
You'll need:
1 very ripe, medium size avocado, lightly mashed
¼ cup plant based milk, any type
Acidity such as lemon juice or apple cider vinegar, if desired
Place the mashed avocado and plant milk in a blender and buzz until a smooth and creamy desired consistency is achieved. If you like, add a few drops of acid for tang, then use this creamed avocado to replace sour cream in baked goods or as a topping.
Vegan Sour Cream Substitute FAQs
What's the Best Sour Cream Substitute for Baking?
If you're looking to replace the sour cream that your baking recipe calls for, either store bought vegan sour cream or coconut cream/full fat coconut milk will be among your best bets.
The role of sour cream in baked goods is to add moisture, richness, and promote a tender end product due to its high fat content. Therefore, the high fat content and creamy texture of these two substitute options will work nicely.
For other, slightly out of the box solutions, try avocado (also high in fats) or vegan mayo!
Is There a Cashew Sour Cream?
Yes! The Forager Project Dairy Free Sour Cream (as featured on our Best Vegan Sour Cream taste test and review) is made from a base of cashew milk and coconut milk.
Is Lactaid Sour Cream Vegan?
No, Lactaid sour cream is not vegan. This might seem tricky, but there is a big difference between products that are lactose free and those that are dairy free.
Lactose free products are still made of regular milk, derived from animals. However, they have a specific enzyme added which removes all of the lactose--a specific milk sugar which causes stomach upset for many folks.
Dairy free products, on the other hand, are completely free from any dairy whatsoever, and therefore are inherently free from lactose as well.
Is Daisy Sour Cream Vegan?
Nope, regular Daisy Sour Cream is not vegan as it contains milk, and the brand does not produce a vegan option.
Final Thoughts on Choosing the Best Vegan Substitute for Sour Cream
Whether you're looking for a vegan alternative to the sour cream that is called for in your favorite baking recipes, need something that will thicken up a sauce or soup, or you simply want something creamy to dollop atop your baked potatoes or vegan chili, there is a vegan sour cream alternative for each of these tasks.
When it comes to baking, your best options are store bought vegan sour cream products, coconut milk, vegan mayonnaise, or blended avocado. For cooking with and making dressings, try vegan cream cheese or cashew cream. And if you crave a tasty topping, some of our favorite picks are blended tofu or vegan yogurt but of course, go with whichever option sounds best to your particular taste buds!