Sticking to a vegan diet can really upset the balance of your refrigerator's condiment shelf. Where most other condiments--ketchup, mustard, pickle relish, and hot sauce--are all vegan by nature, mayonnaise generally includes egg yolks, making it unsuitable for plant based eaters or those who suffer from egg allergies.
To ensure that everyone, regardless of dietary restrictions or preferences, has equal access to this vital creamy condiment, we've thoroughly compared as many different vegan mayonnaise options as we could find! After a taste test and the careful weighing of important criteria, we selected our top picks from each of 5 categories.
Condiments quandary begone! We've got everything you need to know about the best vegan mayo brands right here.
What is Vegan Mayo?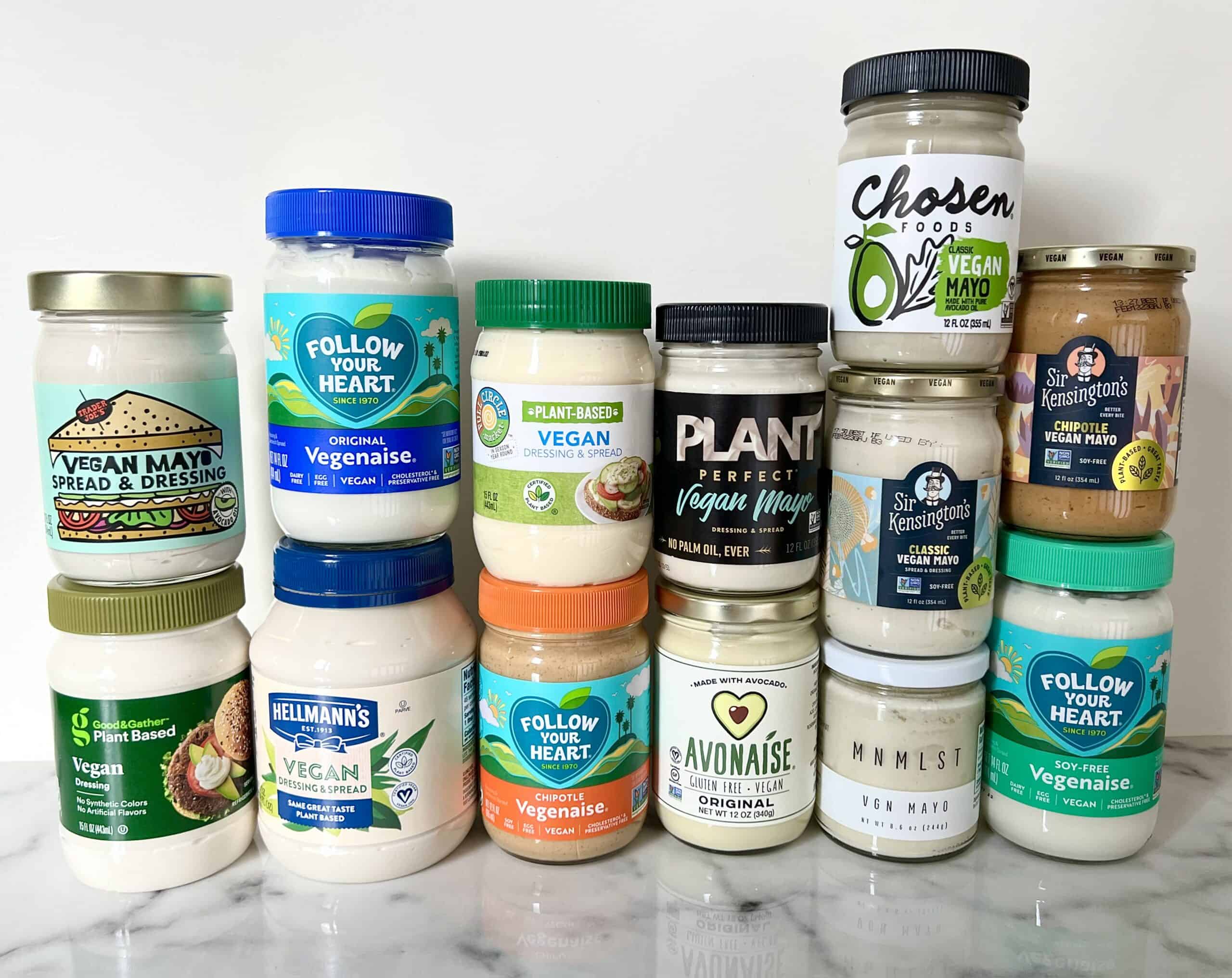 Vegan mayonnaise is a little more complex than simply removing the egg from traditional mayo. The fact is, traditional mayonnaise is completely reliant on the way those egg proteins bind the other mayonnaise ingredients together, giving it that creamy, smooth texture it is known and loved for. Thankfully, these egg proteins can be successfully swapped out for plant proteins, which is exactly what vegan mayos have done.
Due to their remarkable similarity in makeup and consistency, vegan mayo can be used in all of the same ways that regular mayo would be used. Any vegan mayo brand can be used for spreading on sandwiches, dressing potato salads, or serving as a dipping sauce!
Ingredients in Vegan Mayo
By utilizing protein sources such as soy protein, pea protein, or even fava bean protein, vegan mayonnaise can take on a texture and flavor that is quite similar to that of regular mayo.
Other ingredients are often included such as acidifiers like lemon juice or vinegar, seasonings like salt, onion powder, garlic powder, and mustard flour, as well as other natural flavors or special ingredients like roasted garlic or hot chilies.
Vegan Mayo Brands We Tested
In order to nail down the best of the best vegan alternatives for mayonnaise, we tasted, evaluated, and researched the following 13 brands and varieties:
Avonaise Original
Chosen Foods Classic Vegan Mayo
Follow Your Heart Chipotle Vegenaise
Follow Your Heart Original Vegenaise
Follow Your Heart Soy-Free Vegenaise
Full Circle Market Plant Based Vegan Dressing and Spread
Good & Gather Plant Based Vegan Dressing
Hellman's Vegan Dressing and Spread
MNMLST VGN MAYO
Plant Perfect Vegan Mayo Dressing & Spread
Sir Kensington's Chipotle Vegan Mayo
Sir Kensington's Classic Vegan Mayo Spread & Dressing
Trader Joe's Vegan Mayo Spread & Dressing
Allergen Note: though all the brands we listed here are gluten free, dairy-free, and egg-free, please note that there are a few options that do contain other allergen ingredients such as soy, tree nut, and coconut ingredients. Always double check the label of your selection to suss out any hidden sources of ingredients which you may be trying to avoid!
Vegan Mayonnaise Tasting and Reviewing Methodology
There are a surprising number of plant based mayo brands and varieties out there, consisting of a wide range of ingredients and flavor options. To organize this spectrum of products, we categorized the competition into the following 5 groups: Best Classic Vegan Mayo, Best Flavored Vegan Mayo, Best Soy-Free Vegan Mayo, Best Avocado Oil Based Vegan Mayo, and Best All-Around Vegan Mayo.
In order to rank each vegan mayonnaise fairly, we scored each product based on the following criteria.
Flavor: the overall objective taste of each vegan mayo brand, as well as how it compares to traditional mayonnaise.
Texture: the consistency of each vegan mayo as it pertains to mouthfeel, as well how well it spreads and mixes into recipes. Once again, we used the characteristically creamy texture of regular mayo as the textural point of comparison.
Appearance: closely related to texture but still distinct, as this includes questions of cohesiveness (is the mayonnaise homogeneous or separated?) as well as color. Most importantly--mayo should look tasty and appetizing!
Value: standardized as a price per ounce measure.
Quality & Nutrition: the quality of the ingredients used as well as the nutritional makeup of each mayonnaise, especially fat content, calorie content, and sodium content.
Unique Characteristics: such as special flavorings or notable ingredients as well as any distinctions of packaging and presentation.
Best Classic Vegan Mayo: Hellman's Vegan Dressing and Spread
Sometimes when seeking alternative products, you just wish they would have the same flavor as the original. Very often this is not the case, but if you're looking for a plant based mayo which tastes as close to the real deal as possible, this is it!
Reviewing Hellman's Vegan Dressing and Spread
Here is how Hellman's Vegan Dressing and Spread scored in each of our criteria categories:
Flavor: 4.7/5.0
Texture: 5.0/5.0
Appearance: 5.0/5.0
Value: 5.0/5.0
Ingredient Quality & Nutrition: 4.5/5.0
Unique Characteristics: 4.8/5.0
Overall Score: 4.8
After over 100 years in the mayo-making business, the folks at Hellman's sure know their way around this essential condiment. However, it was not until 2016 that they finally launched a completely plant based version of their best selling mayonnaise and, well, you know what they say about good things taking time.
If you ask us, Hellman's Vegan Dressing and Spread does this big brand name some serious justice as it was easily the most "mayo-like" vegan mayonnaise out of all the varieties we tested. Upon cracking the seal of the cap you could easily see the excellently creamy, cohesive texture of the mayo with a uniform white coloring. These factors make it perfect for filling the shoes of regular mayonnaise in just about any role, such as our Vegan Chickpea Salad Sandwich!
Hellman's opts to use canola oil as the base of their vegan mayonnaise, and the label even makes mention of the fact that they are "committed to sourcing oils responsibly". With a bit of poking around their website, we were able to find out that these efforts include working with family farms to ensure that they have sustainable operations in terms of land use, energy consumption, and emissions, among other things.
There are several other impressive verifications on the label from a vegan certification to an assurance that this mayonnaise is free from artificial flavors. There is also a quality guarantee, which is not at all a bad thing to have, especially if you are trying a new product for the first time, and a scannable QR code which takes you to a web page full of useful food facts and information. We also love that Hellman's now packages its products in 100% recycled plastic jars (yes, it is recyclable again after you're through with it!) and this mayonnaise was actually the most affordable at just $0.25 per ounce.
One thing we didn't love so much about Hellman's Vegan Dressing and Spread is that the flavor is just a bit on the sharp side as the inclusion of distilled vinegar really has a bite to it! Upon examining the ingredients label you'll also take note of the fact that there are some pretty complicated ingredients listed such as calcium disodium edta and modified food starch. While the jury is still out on any proven harmful effects of ingredients such as these, we always prefer to see whole food ingredients on products as opposed to these long and complicated names. One other thing to note is that this is the only vegan mayonnaise we evaluated that mentioned it contains some bioengineered derived ingredients.
Pros:
Is the most like traditional mayonnaise in terms of flavor, texture, and appearance.
Has a creamy, perfectly uniform texture with plenty of body.
Hellman's is taking strides to ensure that the oils used in their vegan condiments, among other products, are produced with sustainability in mind.
Certified vegan and free from artificial flavors.
Comes with a quality guarantee.
Scannable QR code on the back of the label takes you to an informational webpage.
Packaged in a 100% recycled plastic jar.
Most economical of all the mayos we tested, at just $0.25 per ounce!
Cons:
Flavor is a bit sharp on the vinegar flavor if you ask us, the mayo would be better off with a different acidifier.
Ingredients panel features a few heavily processed ingredients.
Contains bioengineering-derived ingredient(s).
Best Flavored Vegan Mayo: Sir Kensington's Chipotle Vegan Mayo
Okay so classic is great and all, but what do you reach for when you really want to wake up those taste buds? Big time flavor of course! It's true you could always spice up any plain vegan mayo to boost the excitement factor as well, but we were pleased to find there to be a number of pre-flavored vegan mayo varieties ready and waiting for us on the supermarket shelves--and one which certainly stood out!
Reviewing Sir Kensington's Chipotle Vegan Mayo
Here is how Sir Kensington's Chipotle Vegan Mayo scored in each of our criteria categories:
Flavor: 4.8/5.0
Texture: 4.8/5.0
Appearance: 5.0/5.0
Value: 4.5/5.0
Ingredient Quality & Nutrition: 4.8/5.0
Unique Characteristics: 5.0/5.0
Overall Score: 4.8/5.0
Sir Kensington's is a quirky little company which launched in 2008 with mayonnaise's rosy colored fellow condiment--ketchup! Since then the company has created a line of fun-looking and great tasting products which their slogan "better every bite", sums up quite nicely.
First off, both of the Sir Kensington's products we evaluated simply looked good right off the bat. From the styling of the packaging to the texture and color of the mayo sealed within the squat glass jars, Sir Kensington's Chipotle Vegan Mayo immediately claimed the title of "best looking".
Once you get your spoon into this stuff though, you realize that it is by no means all about appearances here! There are a number of impressive ingredients on the nutrition panel such as organic aquafaba, organic lemon juice, fair trade coconut sugar, chipotle pepper powder, and smoked paprika.
Everything comes together to make one of the best vegan mayos we tasted--hot but not too killer, with pleasant flecks of spice distributed throughout the body of the sauce. It has a great aroma, flavor, and texture, and we can easily see this being a great choice for slathering on veggie burgers, dunking French fries into, and delivering bold flavor to any situation where you want to add more flavor than just mayo alone. In addition to being non-GMO verified, this vegan mayonnaise is also keto certified, soy-free, and Sir Kensington's is proud to be a certified B-corp!
All of this flavor is a double edged sword however, as of course the emboldened flavor profile is not going to fit into every situation you'd find yourself reaching for a swipe of mayonnaise. It is definitely packing some heat, so this is not for the faint of tongue, and we think that using this product in some classic applications such as to dress your potato salad might be a bit much.
Also, though Sir Kensington's products do seem to be in many stores and regions, the vegan versions of their products were a little harder to come by. As always, check online if you're having trouble finding certain products in your local stores!
Pros:
Great appearance, from the intriguing packaging choices right down to the vibrant coloring and the creamy texture of the mayonnaise itself.
Contains some very high quality ingredients such as organic aquafaba and fair trade coconut sugar.
Awesome flavor, with just the right dose of spice to perk up your sandwiches and dippable snacks.
Non-GMO verified, keto certified, and soy-free.
Sir Kensington's is a certified B-corp, demonstrating their dedication to positive social and environmental impacts!
Cons:
The flavor could certainly be too strong for some folks, and could easily overwhelm certain dishes where plain mayo is called for.
The vegan versions of Sir Kensington's products seemed to be a bit harder to track down and may not be available in all areas.
Best Soy-Free Vegan Mayo: Follow Your Heart Soy Free Vegenaise
When it comes to vegan products, finding soy-free stuff can be quite the challenge! This plant protein is one of the first in line when it comes to replacing meat and dairy ingredients, as well as for filling the role of a binding agent in prepared foods such as vegan mayonnaise. Seeing as soy is one of the top 8 allergens as recognized by the FDA, we thought it important to evaluate the best soy-free alternative to mayo as well.
Reviewing Follow Your Heart Soy Free Vegenaise
Here is how Follow Your Heart Soy Free Vegenaise scored in each of our criteria categories:
Flavor: 4.6/5.0
Texture: 4.6/5.0
Appearance: 5.0/5.0
Value: 4.6/5.0
Ingredient Quality & Nutrition: 4.8/5.0
Unique Characteristics: 4.6/5.0
Overall Score: 4.7/5.0
For over half a century, Follow Your Heart has been cranking out plant based products and it all started with their original egg-free mayonnaise: Vegenaise. Now, their original product did contain soy products and continues to do so. However, the folks at this revolutionary company recognized the importance of developing a soy-free option for folks and we think they came up with a real winner.
Follow Your Heart Soy Free Vegenaise has a fluffy white consistency and offers a nice creaminess when spread. As well as being certified plant based, it is also non-GMO verified and free from preservatives! We noticed that despite their factory-sealed status, all of the vegan mayos from this brand were found in the refrigerated section of each store we visited. Not only does this pave the way for freedom from additives, but if you ask us, it also makes a difference as far as ensuring the mayonnaise keeps its fresh taste and cohesive texture.
We also love the super simple, straightforward, easy-to-read ingredients list on this plant based mayo. Each jar contains nothing more than the following: sunflower oil, filtered water, brown rice syrup, apple cider vinegar, pea protein, sea salt, mustard flour, and lemon juice concentrate!
Unfortunately the "always refrigerated" decision made by these mayonnaise-makers is a bit of a catch-22 for us, the consumers. While it does boost their flavor and freshness, it does pose a bit of a problem if you're looking to stock up on a few jars of your favorite varieties or if you always like to have a backup of your most-used condiments tucked away in the pantry in case of emergency depletion! From the moment you buy each jar of Follow Your Heart mayonnaise, it will be consuming fridge space and that's just a fact.
Also, we thought the flavor of this one could use a bit of a boost. It was rather plain, which does make it great for use in recipes such as our Vegan Macaroni Salad, but for sandwich spreading or snack dipping, this vegan mayo unfortunately doesn't offer the richest flavor.
Pros:
Is an excellent plant based mayonnaise option--without the soy!
Has a great cohesive, creamy texture.
Certified plant based and non-GMO verified.
Is free from preservatives and kept fresh by constant refrigeration, even when factory-sealed.
Features an ingredients list that consists of whole food ingredients with easily recognizable names!
Cons:
The need for constant refrigeration could be a downside if you are low on fridge space or are looking for a vegan mayo option to stock your pantry with.
Though its flavor is a good blank canvas for use in recipes, it might be a bit bland for use on its own or as a sandwich spread.
Best Avocado Oil Based Vegan Mayo: Avonaise Original
There's no debating the fact that avocado oil is having a moment. Not only does it have an irresistibly buttery flavor, but it also has a ton of health benefits, from a high proportion of omega-9 fatty acids to important nutrients like vitamin E and lutein. For these reasons among others, it only makes sense that mayonnaise makers start to include this tasty and healthful oil in their products and we were overwhelmed with the number of vegan mayonnaise options that featured this green fruit as the start of the show!
Reviewing Avonaise Original
Here is how Avonaise Original scored in each of our criteria categories:
Flavor: 4.⅗.0
Texture: 4.5/5.0
Appearance: 4.5/5.0
Value: 4.⅗.0
Ingredient Quality & Nutrition: 5.0/5.0
Unique Characteristics: 4.8/5.0
Overall Score: 4.6/5.0
Where Follow Your Heart coined the term "Vegenaise", one alternative mayo brand has taken things a specific step further by applying their own twist to the term. Meet: Avonaise. Out of all of the different avocado oil based mayos we tried, we definitely agree that this one is most deserving of its namesake designation.
This avocado oil mayo looks different from the start, bearing a deep golden yellow color, leading you to wonder if you are actually somehow in possession of a homemade vegan mayo as opposed to the store bought version it masquerades as. It has a well-blended texture--as opposed to some of the other avocado oil mayonnaise options which we found to be on the verge of separation due to the inherent heft of that avo oil.
It is both vegan and non-GMO verified, and we were happy to see a few organic ingredients listed in the nutrition panel. Even though this is not a completely organic product, the inclusion of organic ingredients demonstrates some real care has gone into this product. In addition, some unique ingredients such as avocado pulp (not just the oil!), crystallized lemon (YUM!), lemon oil, and rosemary extract are featured as well. This plant based mayo is also the lowest calorie of all the brands we tested, coming in at just 50 calories per 1 tablespoon serving and it features the absolute lowest sodium content with just 60 milligrams per serving!
Be forewarned that this mayonnaise is definitely not a shy one. Due to the inclusion of both avocado oil and olive oil, it is certainly assertive in terms of a fruity, slightly bitter flavor which could easily take over if you plan on using it for dishes like our Vegan Waldorf Salad. A little will go a long way with this one!
We also found the texture to be a bit looser than the other plant based mayonnaises we tried--a bit more on the runny and drippy side as opposed to thick and fluffy. Also, avocado oil is expensive, and this version was just about at the top in terms of price tag, costing us $0.72 per ounce.
Pros:
Is very on-trend, boasting avocado oil as the main ingredient and all of the health benefits that come along with it!
Has a deep yellow coloring that gives it the appearance of homemade mayo as opposed to store bought.
Nicely emulsified despite the weight of the oils used.
Certified vegan and non-GMO verified.
Contains a few organic ingredients as well as unique inclusions like crystallized lemon and avocado pulp.
Contains the lowest calorie content and lowest sodium content of all vegan mayos we evaluated!
Cons:
Has a strong oily taste thanks to all that avocado oil and olive oil, presenting fruity and slightly bitter notes that may not be well-suited for all purposes.
Texture is a bit more loose and runny as compared to the other plant based mayos.
At the top of the charts in terms of price, coming in at $0.72 per ounce.
Best All-Around Vegan Mayo: Trader Joe's Vegan Mayo Spread & Dressing
So far we've covered the best vegan mayonnaise options for a range of specific needs and desires, from soy-free to flavored and classic to specialty oil based! If you want a simple, straightforward, middle-of-the-road vegan mayo though--this is the one for you!
Reviewing Trader Joe's Vegan Mayo Spread & Dressing
Here is how Trader Joe's Vegan Mayo Spread & Dressing scored in each of our criteria categories:
Flavor: 4.6/5.0
Texture: 4.8/5.0
Appearance: 4.9/5.0
Value: 4.9/5.0
Ingredient Quality & Nutrition: 4.⅘.0
Unique Characteristics: 4.8/5.0
Overall Score: 4.7/5.0
This plant based mayonnaise option so perfectly embodies those characteristics that any Trader Joe's aficionado will tell you they love most about this store. This specialty grocer is well-known for keeping things simple, with fewer choices but better choices, and--as the only vegan mayo to be found in the store!--their Vegan Mayo Spread & Dressing is an example of just that.
First things first, this basic mayo has great texture with an excellent amount of floof (yes that is one of our incredibly scientific units of measure) that is hard to come by in a product free from any volumizing egg ingredients. Their secret? Aquafaba! This viscous liquid, which is the result of soaking garbanzo beans in water, can hold an amazing amount of air when whipped. We also love the nice little specks of black pepper that are dotted throughout the spread, giving it a lovely sort of homemade appearance.
Trader Joe's uses avocado oil to make their vegan mayo but it does not taste near as heavy on the tongue as some of the other avo-based options we tasted. Perhaps it is balanced by the inclusion of seasonings such as onion powder and garlic powder, which you can't necessarily put a finger on, but add an overall savory quality to this dressing. And, as is the case with most of the products from this favorite purveyor, this vegan mayo is super affordable (the second cheapest of all, in fact!) at just $0.42 per ounce.
We do feel that they went a bit too heavy handed on the mustard powder (aka mustard flour) in this one, as the mustard taste is a bit bold. Also, this option is towards the bottom of the list as far as nutrition goes. Not only is it the highest in sodium content, delivering a walloping 120 milligrams per 1 tablespoon serving, but it is right on par with traditional mayo in terms of calorie content as well with 90 calories per serving.
Pros:
Lovely texture with a good amount of volume thanks to the power of aquafaba!
Cracked black pepper adds a nice flavor and homemade appearance to the dressing.
Made from avocado oil, but the flavor is far from heavy or bitter, unlike some of the other avocado oil mayonnaises.
Includes other tasty seasonings like onion powder and garlic powder--yum!
Super economical choice at just $0.42 per ounce.
Cons:
Has a pretty strong mustard flavor that might overwhelm a dish, or not be to everyone's liking.
Delivers the most sodium per serving out of all the varieties we tested with 120 milligrams.
Pretty high in calorie content as well, with 90 calories per 1 tablespoon serving.
Best Vegan Mayo FAQs
Is Vegan Mayonnaise Healthier Than Regular Mayonnaise?
In many cases, yes, plant based mayo options are indeed healthier than regular mayo for one big reason: saturated fat content. Traditional mayonnaise tends to be higher in saturated fats whereas vegan mayo will typically have more monounsaturated fats, which are healthier. Plant based mayo is also almost always cholesterol free while regular mayo contains a decent dose of the stuff due to the use of eggs.
That said, some vegan mayonnaises are still quite processed and may contain unhealthy ingredients, not to mention calorie-laden sweeteners. Your absolute healthiest option in most cases is to make your own vegan mayo as this allows you to be in full control of ingredient quality and macronutrient quantity. Try our recipe for Homemade Almond Mayonnaise if you're looking for a good place to start!
Is Miracle Whip Vegan?
You may have noticed a glaring omission from our list of mayonnaise alternatives: Miracle Whip! While this dressing is marketed as a lower fat alternative to mayonnaise--leading some folks to think it must not contain egg yolks--the unfortunate truth is that Miracle Whip does indeed contain egg ingredients. If you're a plant based eater, stay away from this stuff!
Ranking the Best Vegan Mayo: The Bottom Line
Though there are an amazing number and variety of egg-free mayo options out there to choose from, the sad truth is that some of them just aren't all that great! Some plant based mayos suffer in terms of texture or flavor while others succeed in these areas at the expense of quality or cost.
We hope that our efforts to weigh these factors and settle on which vegan mayonnaises reign supreme will help to make your choices just a bit easier next time you find yourself in the condiments aisle, unsure of which brand to reach for.
Looking to remove the egg from other areas of your culinary life? Check out our guide to the Best Vegan Egg Substitutes to find out all your different options for replacing the eggs in your favorite baking and cooking recipes!