Vegan bacon products these days are better than ever! Whether you seek a satisfying bacon alternative to pile high on your breakfast sandwich or need something to serve alongside a tofu scramble, rest assured there are options out there that mimic the taste and texture of real bacon amazingly well.
How do we know this to be true? Because we've taste tested and reviewed as many of the best vegan bacon options as we could find, of course! We've worked our way through thin & crispy, thick cut, well-seasoned, soy-based, gluten-free, double-smoked, and more vegan bacon options in a quest to find the best meatless bacon brands currently available. We'll tell you all about each of our top favorites, just stick with us, bacon lovers!
What is Vegan Bacon?
Traditional bacon is made from pork and has a very distinct combo of sweet, smoky, and salty flavors. Therefore, by adding smoke and salt to plant based ingredients, a "fake bacon" like product can be achieved!
Types of Vegan Bacon
The ingredients in each vegan bacon product may vary widely from one to the next. There are classic vegan bacons made from the "tried and true" plant based meat alternatives such as wheat gluten, soy protein, or tempeh (made from fermented soybeans).
Other vegan bacon options may get their texture from more creative combinations of ingredients like rice flour or tapioca starch, fruit purees, vegetable starches, and even mushrooms.
Ranking the Best Vegan Bacon Brands
The Test Subjects
We gathered, cooked, and taste tested the following 10 unique brands and varieties of vegan bacon:
Good2Go Veggie Blaz'N Bacon
Hooray Foods Plant Based Bacon
It's Big Crunchy Bacony Bits Y'all
Lightlife Smart Bacon
Lightlife Smoky Tempeh Bacon
Madly Hadly Original Coconut Bacon
MyBACON Original Recipe
Sweet Earth Foods Hickory & Sage Flavored Benevolent Bacon
Thrilling Foods Plant-Crafted Bakon Strips
Upton's Naturals Bacon Seitan
The Methodology
We classified our batch of vegan bacon products according to common characteristics, thereby establishing 6 distinct categories of review. We set out to select a winning bacon from each of the following:
Best Crispy Vegan Bacon
Best Thick Cut Vegan Bacon
Best High Protein Vegan Bacon
Best "Meaty" Vegan Bacon
Best Unique Vegan Bacon
Best Vegan Bacon Bits
The Taste Test
We cooked each vegan bacon according to package instructions for stove top cooking. To ensure comparable results, we used the skillet cooking method for all of the bacons, even though some offered instructions for oven or microwave oven cooking.
We sampled each cooked vegan bacon while still hot from the skillet (as soon as it had cooled down enough for our little taste buds of course!) and then conducted a second round of taste testing after the bacon strips had cooled down to room temperature. This allowed us to evaluate what taste and texture differences result when eating the bacon hot and freshly cooked or chilled on a sandwich.
The Criteria
As we tested these products, we gave each a grade in the following criteria:
Taste & Texture: considering the balance of smoky, salty flavors in each vegan bacon as well as its consistency after cooking, while looking for characteristics like crispiness, chewiness, and overall "meaty" qualities.
Nutrition Content: specifically the calories, fat, sodium, and protein content of each bacon as well as any micronutrients and the overall ingredient quality.
Unique Characteristics: such as a special flavor, unique ingredient(s), or noteworthy methods of preparation.
Value: in terms of dollar per ounce.
Production & Packaging: where each vegan bacon is made and how widely available it is, as well as any special packaging factors like convenience or use of environmentally friendly materials.
We then used all of the 5 criteria scores to calculate an overall average score for each of our best vegan bacon contenders. The highest scoring bacon in each of the aforementioned 6 categories were dubbed our winners!
Best Crispy Vegan Bacon:
Hooray Foods Plant Based Bacon
Size: 5-Ounce Package
Base Ingredient(s): Coconut Oil, Rice Flour, Tapioca Starch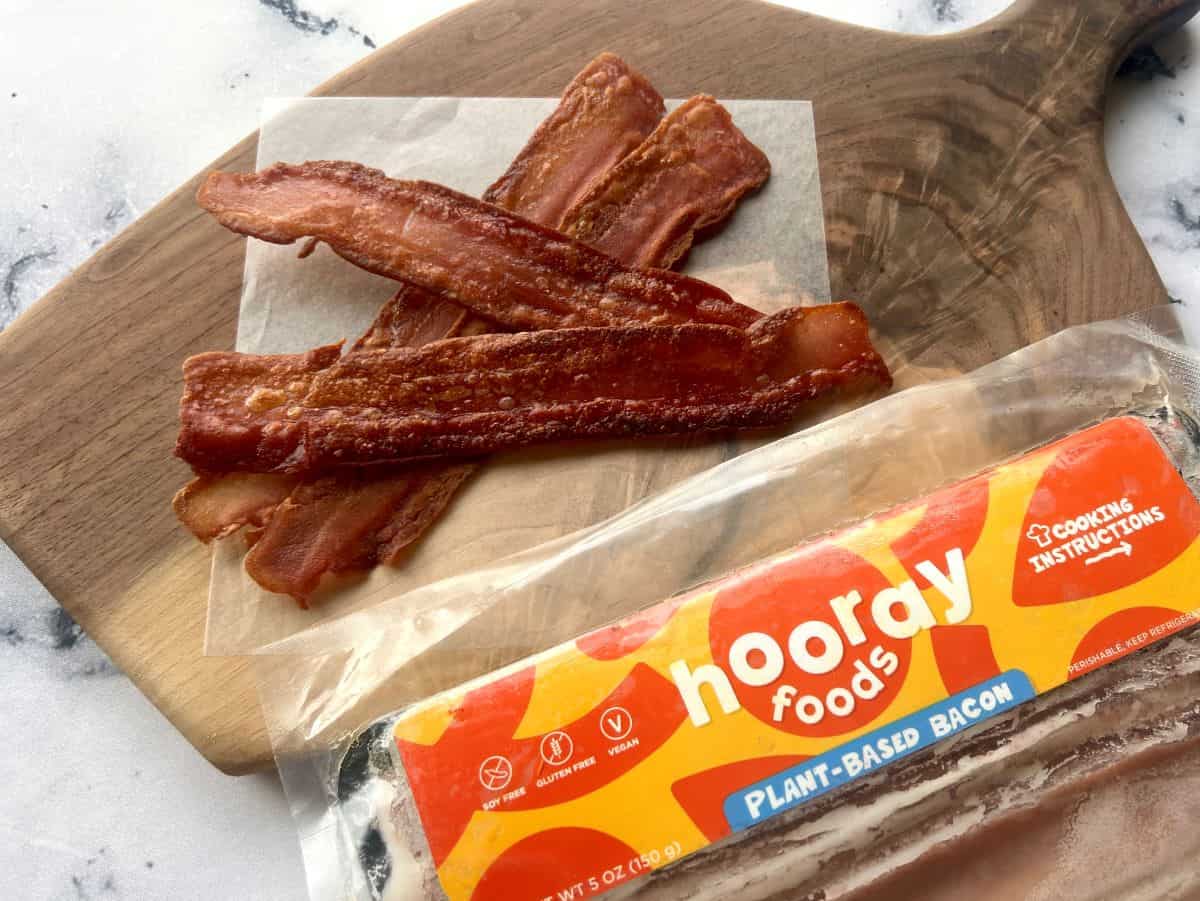 Here is how Hooray Foods Plant Based Bacon scored in each of our criteria categories:
Taste & Texture: 4.8 / 5.0
Nutrition Content: 4.7 / 5.0
Unique Characteristics: 4.4 / 5.0
Value: 4.4 / 5.0
Production & Packaging: 4.8 / 5.0
Overall Score: 4.7 / 5.0
Out of all the vegan bacon options we tried, the classic plant based bacon from Hooray Foods cooked up the crispiest, lightest, and most bacon-like of all. The winning texture comes from a smart and unexpected combination of coconut oil, rice flour, and tapioca starch to which beet juice concentrate is added for a bacon-like appearance. The strips even feature the classic "meaty" looking stripes interspersed with bands that turn somewhat translucent as they cook.
And, as they're seasoned with a tasty blend of liquid smoke, umami-rich mushroom extracts, and just the right touch of maple syrup, these slices taste amazingly like the real deal too! These characteristics lend this vegan bacon towards versatility, and we can see it being perfect as a snack, sandwich topper, or alongside breakfast entrees like our Vegan Tofu Scramble or the seasonal fave: Vegan Pumpkin Pancakes.
Each serving of Hooray Foods Plant Based Bacon contains just 110 milligrams of sodium--the lowest of all vegan bacons we tested--and is free from soy, gluten, and nitrates. We also love that thanks to coconut oil as a main ingredient, the bacon produces its own fat to cook in--no cooking oil or vegan butter needed here. These plant based slices are safe to freeze, allowing you to stock up on bulk purchases so that you always have the bacon you need on hand!
A few things to note: you must bring this bacon to room temp before cooking for best results, so you'll need to plan ahead when this bacon is on the menu. It's also important to use a nonstick pan when cooking this one.
While we concede to the fact that bacon is and always will be a "treat" food, we don't love that there is minimal nutrient content in this one. Where other vegan bacons offer a bit of protein and sometimes fiber, this option has a big fat zero in both of those columns, along with no vitamin or mineral content either.
Pros:
Supremely bacon-like in terms of crispy texture and meaty appearance!
Taste is spot on--salty, smoky, sweet, savory.
Lower in sodium than other vegan bacons.
Gluten free, soy free, and nitrate free.
No cooking oil needed.
Safe to freeze.
Cons:
Must be at room temperature before cooking.
Must use a nonstick skillet.
Low in nutrient value--no protein, no fiber, no vitamins/minerals.
Best Thick Cut Vegan Bacon:
Thrilling Foods Plant-Crafted Bakon Strips
Size: 8-Ounce Package
Base Ingredient(s): Tofu
Here is how Thrilling Foods Plant-Crafted Bakon Strips scored in each of our criteria categories:
Taste & Texture: 4.5 / 5.0
Nutrition Content: 4.2 / 5.0
Unique Characteristics: 5.0 / 5.0
Value: 4.5 / 5.0
Production & Packaging: 5.0 / 5.0
Overall Score: 4.7 / 5.0
Thrilling Foods Plant-Crafted Bakon Strips are the hands down winner in the thick cut department! Each of these vegan bacon strips is nearly ¼" thick--we measured! Each pack of Bakon Strips is hardwood smoked and dry salt cured, resulting in a deeply smoky (we could smell this one even before opening the package!), very savory taste. Light sweetness comes through thanks to maple syrup and we love the thick layer of cracked black peppercorn that covers the top edge of each slice for its looks, and as well as for the pleasant spice it leaves lingering behind in your mouth.
The heft of these slices lends them to endless versatility. In addition to being all too tempting to eat by the slice, we think the rich flavor and hearty texture of this vegan bacon will stand up nicely to sandwiches like Ultimate Roasted Vegetable Sandwich, your favorite vegan BLT, or make our Vegan Mushroom Pecan Burgers into a vegan bacon burger!
Once cooked, the texture of this bacon offers a nice balance of crunch and chew, and the uniformity of the slices lends these strips to extremely even cooking. Thrilling Foods is proud to be picky about sourcing, carefully selecting ingredients which are as healthy and environmentally friendly as possible. The palm oil used is RSPO (Roundtable on Sustainable Palm Oil) certified--meaning it does not contribute towards deforestation--and they use only non-GMO soybeans. Each serving provides 6 grams of complete protein, 2 grams of dietary fiber, and is keto friendly!
Unfortunately, this vegan bacon boasts the highest calorie and fat contents of all we tested, with 90 calories and 5 grams fat per serving. Also, the thick slices take the longest to cook of all the bacons we tested, requiring about 14-18 minutes on the stove top.
And before even getting these strips onto the stove top, you first need to get them separated from one another–a difficult task indeed! Several slices cracked and split on us during separation and you must be extremely careful when turning these over in the pan as they get even softer and more fragile before they crisp up. Metal tongs are a no go! Take our word for it.
Pros:
Bakon slices are thick and hearty, crunchy and chewy!
Features an excellent smoky maple bacon flavor with cracked peppercorn.
Strips are sturdy enough to pile on sandwiches, or, eat by themselves!
Uniformity makes these easy to cook evenly.
Ingredients are carefully sourced--from the sustainable palm oil to GMO-free soy.
High in protein and fiber.
Cons:
High in calories and fats.
Has the longest cooking time of all vegan bacons we tested.
Strips can be difficult to separate from one another.
Flipping and turning the strips while cooking requires a delicate hand.
Best High Protein Vegan Bacon:
Upton's Naturals Bacon Seitan
Size: 5-Ounce Package
Base Ingredient(s): Vital Wheat Gluten
Here is how Upton's Naturals Bacon Seitan scored in each of our criteria categories:
Taste & Texture: 3.8 / 5.0
Nutrition Content: 4.8 / 5.0
Unique Characteristics: 4.5 / 5.0
Value: 4.6 / 5.0
Production & Packaging: 4.6 / 5.0
Overall Score: 4.4 / 5.0
Upton's Naturals is quickly proving itself to be a major player in the vegan product market! After landing top spots in both our Best Boxed Vegan Mac and Cheese and Best Vegan Hot Dog countdowns, their Bacon Seitan is the latest of their items to cross our product review desk. We had some issues in the taste and texture department with this one, but let's start with the good stuff!
First and foremost, the protein content of this vegan bacon is unmatched. Each serving contains 8 grams of plant based protein, making this wheat based bacon alternative a great way to contribute towards your protein goals. We always appreciate a limited ingredients list when we see one, and in addition to vital wheat gluten, Upton's Bacon Seitan contains just soy sauce, wheat flour, hickory smoke, paprika, salt, and onion.
We found these strips to be very quick cooking--requiring just 3-5 minutes on the stovetop--and nice and sturdy too! Contrary to many of the other bacons we tested which were quite fragile, these strips are strong and tolerant to flips and movement during cooking. You can even freeze this vegan bacon and we love that it is low fat as well, with less than 1 gram total fat per serving. And as is the case with most of Upton's product packaging, it is compostable and made with recycled materials.
Now, on to the bad news. First off, this vegan bacon was incredibly tough to find in our area. We checked all the local markets and several online vegan grocery stores before finally locating one that had this product in stock.
Also, the taste and texture here is far from that of traditional bacon. The flavor doesn't seem quite smoky nor savory enough, and we found it difficult to achieve crispness without the strips taking on a tough, chewy texture. And finally, the slices in our package were super irregular in terms of cut. Some were thick while others were thin and this made for challenging cooking as well.
Pros:
Highest protein content of all vegan bacons we tested.
Features a limited ingredient list of all whole foods.
Cooks quickly.
Slices are strong and easy to manipulate during cooking.
Safe to freeze.
Low in fat.
Comes in recycled, compostable packaging.
Cons:
Not readily available.
Taste and texture is unique--not like that of traditional bacon.
Slices are not uniformly cut which makes cooking difficult.
Best "Meaty" Vegan Bacon:
Good2Go Veggie Blaz'N Bacon
Size: 5.5-Ounce Package
Base Ingredient(s): Soy Protein
Here is how Good2Go Veggie Blaz'N Bacon scored in each of our criteria categories:
Taste & Texture: 4.8 / 5.0
Nutrition Content: 4.4 / 5.0
Unique Characteristics: 4.3 / 5.0
Value: 4.1 / 5.0
Production & Packaging: 4.6 / 5.0
Overall Score: 4.4 / 5.0
If you prefer your vegan bacon to be less crispy-crunchy and more meaty-tender, Good2Go Veggie's Blaz'N Bacon is where it's at! These bacon strips look shockingly ham-like but are actually just a perfectly crafted mixture of soy protein, vegetable & plant starches, wheat fiber, and even fruit puree. The mixture is seasoned with soy sauce, brown sugar, garlic, and hickory extract before being pressed into perfect, bacon-like strips. The flavor is supremely bacon like as well, with a wonderfully smoky hickory flavor perfectly balanced by that savory soy sauce and pungent garlic.
Out of all the vegan bacon products we tested, this package offered the most uniform, easy to work with slices. The strips are long and lean but sturdy and perfectly uniform, making it easy to achieve even cooking. We also really appreciate the versatility offered by this option. When cooked briefly, these strips deliver an experience akin to that of Canadian bacon. Or, cook it a bit longer and the strips will start to curl, crisp, and take on a hearty texture that would satisfy vegans and meat eaters alike!
The packaging recommends roasting these strips in the oven at 350℉ for 10 minutes, but they also do well with pan frying, air frying, baking, broiling, or even microwaving.
One thing to be aware of here is that although the packaging specifically tells you not to add cooking oil to the pan, we found that the amount of oil in the product itself was not enough. The strips are rather dry and seemed to have a tendency toward burning, so we found that a drizzle of oil to be necessary to help this bacon cook properly.
Also, this was our most expensive vegan bacon of the entire taste test, coming in at over $2.00 per ounce. And it's important to note that this vegan bacon option is not very allergen friendly. It contains both soy and wheat ingredients, so for those with a soy allergy and/or gluten sensitivities, this vegan bacon alternative is a no go.
Pros:
Has an appearance like that of real ham!
Base is a creative mixture of soy protein and vegetable starches.
Seasoning blend results in a perfectly smoky, sweet, savory bacon-like flavor.
Slices are uniform in shape and size, easy to cook and work with.
Very versatile--can be cooked briefly like Canadian style bacon or longer for crispier bacon.
Cons:
Cooking instructions are a bit off--this one definitely cooks better with the addition of some oil.
Very expensive.
Not suitable for those with soy and/or wheat allergies.
Best Unique Vegan Bacon:
MyBACON Original Recipe
Size: 6-Ounce Package
Base Ingredient(s): Mushroom mycelium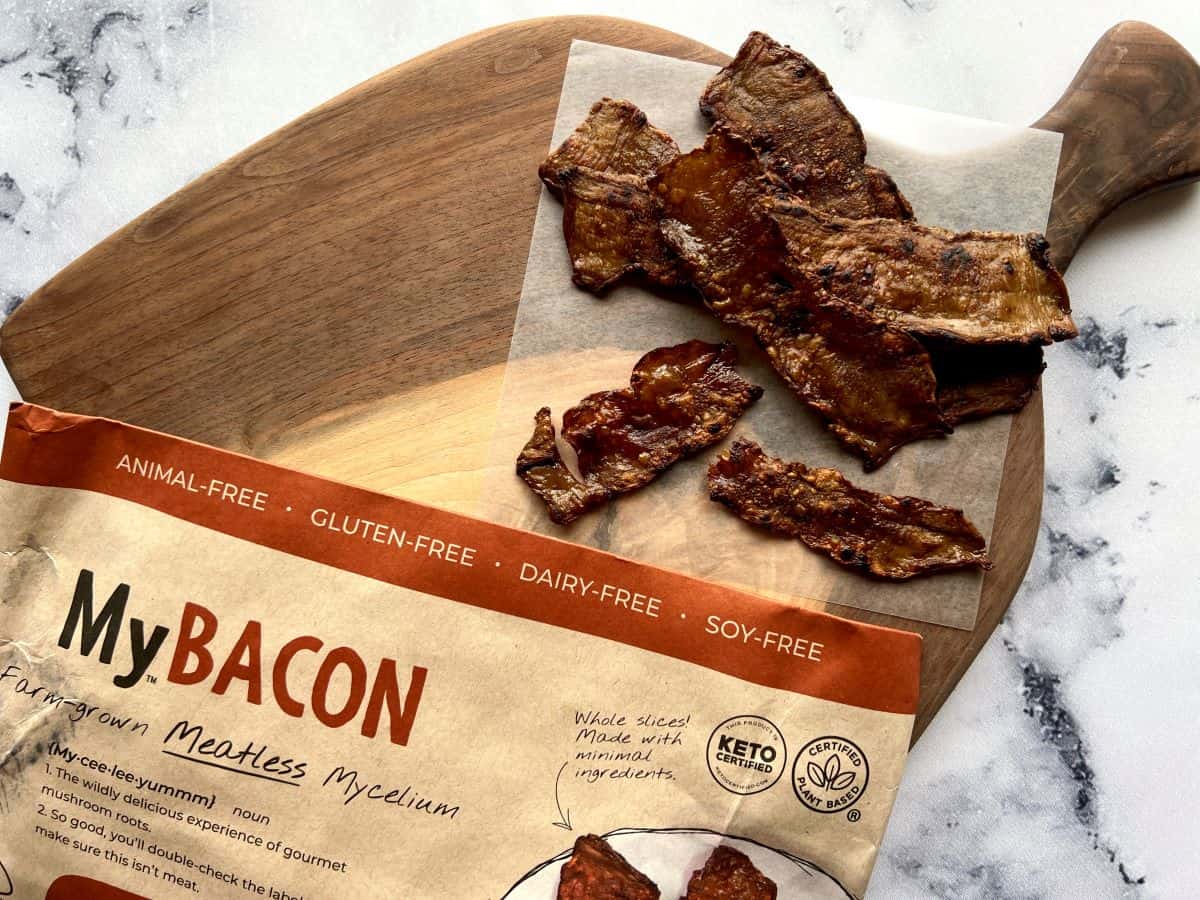 Here is how MyBACON Original Recipe scored in each of our criteria categories:
Taste & Texture: 4.2 / 5.0
Nutrition Content: 4.4 / 5.0
Unique Characteristics: 5.0 / 5.0
Value: 4.3 / 5.0
Production & Packaging: 4.6 / 5.0
Overall Score: 4.5 / 5.0
Where most vegan bacon options are based on soy or wheat ingredients, MyBACON gets its savory taste and meaty texture from an unlikely source: mushrooms! This bacon is not made from the mushrooms you see at the grocery store, however, it's made from mushroom mycelium, the fibrous root-like structure that grows underneath the soil.
The mycelium is grown in Green Island, NY and aside from it, this bacon contains just a few other whole food ingredients: salt, coconut oil, sugar, natural flavor, and beet juice concentrate. This bacon alternative is gluten free, soy free, and keto certified. Unlike pork bacon--or most of the other vegan bacons we tested--each serving of MyBACON provides 2 grams of dietary fiber.
We love that this bacon is fully cooked after just 6-8 minutes in a hot skillet, and that the strips come pre-coated in plenty of coconut oil meaning you don't need to worry about oiling your pan or requiring a nonstick skillet. This also makes the slices very easy to separate from one another.
The box has a visual cooking "guide" on the inside flap--which, we admit, is a little vague--but thankfully, there are also cooking tips and a scannable QR code takes you to their website where you can watch a video of a MyBACON chef in action! And as for the taste: we are pleasantly surprised by how much this bacon impressed us. Not only does the mycelium take on a crispy texture with proper cooking technique, but it has a deeply savory and truly bacon-y taste. We loved this one!
Unfortunately, this dreamy crispy texture was not easy to achieve with all of the slices as some were very thick in some parts while thin in others. The thin sections got crispy quickly but the thicker parts ended up chewy and a bit rubbery. Still tasty! But not as bacon-like as we would have liked.
Also, MyBacon has the highest sodium content of all the products we tested, with 340 milligrams--15% your DV!--in every 2-slice serving.
Pros:
Ingeniously crafted from mushroom mycelium, a fibrous structure found under mushrooms.
Features a limited ingredient list of all whole foods.
Gluten free and soy free.
Keto certified.
Slices are pre-oiled--no grease or nonstick skillet needed!
Comes with detailed cooking tips and even a link to a cooking video.
Flavor is umami rich, savory, and meaty.
Cons:
Texture on some of the strips is a bit chewy and rubbery.
High in sodium.
Best Vegan Bacon Bits:
It's Big Crunchy Bacony Bits Y'all
Size: 2.69-Ounce Package
Base Ingredient(s): Soy
Here is how It's Big Crunchy Bacony Bits Y'all scored in each of our criteria categories:
Taste & Texture: 4.7 / 5.0
Nutrition Content: 4.5 / 5.0
Unique Characteristics: 4.8 / 5.0
Value: 3.9 / 5.0
Production & Packaging: 4.8 / 5.0
Overall Score: 4.6 / 5.0
No bacon-centric product review would be complete without bacon bits of course! Our favorite among the vegan bacon bits we tried: It's Big Crunchy Bacony Bits Y'all!
Aside from having the most entertaining name, we found this alternative bag of bacon bits to be hands down the best and most convincing replacement for real bacon crumbles. These offer the perfect smoky, salty hit for sprinkling over a big green salad, topping a pile of Vegan Jalapeno Poppers, or for giving our Vegan Chickpea Salad Sandwich a little something extra. Both the taste and texture of these bacon bits is right on as they are crunchy and satisfying, smoky yet sweet, with just the right amount of tang and spice thanks to the inclusion of cider vinegar and black pepper.
In addition to serving as the perfect topping or ingredient, we could even see ourselves snacking on these right out of the bag at times! The bacon bits are large enough to pop into your mouth one by one, or you could chop them up if it's smaller-sized bacon bits you're after.
We love that this company only uses certified non-GMO soybeans and if you like these Big Crunchy Bacony Bits, they also make several varieties of jerky to try as well! Each 1-Tablespoon serving has just 30 calories and 1 gram of fat. And, if you want something to feel extra good about, each purchase of these bacon bits helps to support Rowdy Girl Sanctuary, a vegan farm and animal sanctuary located in the heart of Texas.
One thing to be aware of: this bag of bacon bits advises you to refrigerate after opening! Not something you would expect from a dehydrated, shelf stable product such as this one. We also don't love how the front of the bag boasts "22g Protein!" on the front, only to find out that this figure is the total protein content of the entire bag which contains eleven servings.
Pros:
Good for both snacking, sprinkling, or mixing into other recipes!
Offers a perfectly sweet yet smoky flavor, like actual bacon bits.
Made with non-GMO soybeans.
Low in calories and fat.
Each purchase helps to support a nonprofit animal sanctuary.
Cons:
Needs to be refrigerated after opening.
Protein content on the front of the bag is misleading.
Best Vegan Bacon FAQs
Is Vegan Bacon Better For You Than Regular Bacon?
Typically yes! The lower fat, saturated fat, and cholesterol counts do make vegan bacon healthier as compared to regular bacon.
That said, vegan bacon still does fall in under the "processed meats" umbrella and most products are high in calories and sodium while not offering many health benefits aside from a boost of protein and some potentially healthy fats. For these reasons, vegan bacon is best considered as an occasional treat!
Where Do You Buy Plant Based Bacon?
Plant based meat alternatives are found in most major grocery stores these days, although in some areas, selection may be limited. We found each of our local markets to have at least a brand or two, but for some of the more unique options, we had to visit some natural food stores and even order from online vegan grocery stores.
How Do You Cook Vegan Bacon?
We find our vegan bacon to yield the best results when cooked in a frying pan, with a bit of oil depending on the inherent fat content of the bacon itself.
Many brands offer alternate cooking instructions as well, for oven roasting, air flying, or even microwaving!
Can You Eat Vegan Bacon Raw?
While there shouldn't be any foodborne pathogens in uncooked vegan bacon, eating it raw is not a good idea. During the processing and packaging of prepared foods such as plant based meats, there is always the possibility that bacteria is introduced to the product before being sealed.
Certain bacteria can even proliferate in the absence of oxygen, so don't let a vacuum seal fool you! It is always the safest option to cook packaged foods thoroughly and according to package directions.
Is MorningStar Bacon Vegan?
Unfortunately, no. While Morningstar Farms Veggie Bacon Strips are free from meat, they do contain egg and milk ingredients which of course, are not vegan.
Final Thoughts on the Best Vegan Bacon
Whether you like crispy bacon or meaty bacon, want something protein packed or are looking to try the latest and greatest in the alternative ingredient market, there's all kinds of vegan bacon options out there to suit!
Drop us a line and let us know if we omitted your favorite vegan bacon from this review! There were a few key players--such as Tofurky's Tempeh Bacon and Yves Veggie Bacon--that we couldn't get our bacon-loving hands on and we'd like to know what you think of them and how they stack up to our top picks!
Want more plant based bacon goodness? Try replacing the smoky, salty flavors of bacon in another way with one of these Vegan Bacon Substitutes. No matter how you get your bacon on, there are plenty of vegan ways to get the job done.