Roasted Vegetable Sandwich has two kinds of roasted peppers, fried sweet potatoes, sautéd mushrooms and more. Italian style sandwich with a vinaigrette.
How do you like the roll that is surrounding this big fat Roasted Vegetable Sandwich? Ed made it and quite a few more to tell you the truth.
You see, I asked my husband for a breadmaker for Christmas. His response was 'Do you?', kind of questioning. That's all. Just 'Do you?'.
So I went into 'Yeah, I want to start making our own bread and I think with all my other cooking that would help me out a lot'.
He just pursed his lips and shook his head like – yeah, okay – that sounds good. End of conversation. I know he is thinking a whole lot more.
Sometimes he is quite. Sometimes he isn't. Sometimes he makes me laugh!
The story continues …
So, we are at relatives at Christmas and we spend a lovely day and open all of our packages together. I got a slew of cool kitchen gadgets and a beautiful bread maker – I am all excited.
Everybody got cool stuff but I just really want to tell you my bread story.
When we get home I am rushing into the house with my arms full.
There are only 3 steps to go up and I am excited and I am hurrying and I can't see the steps and my big toe catches on the step and I go down. Down hard!
The step edge goes right across my shin bone and I'm rolling back and forth on the ground holding my leg repeating over and over 'Please, don't be broken. Please, don't be broken'.
It worked because my leg wasn't broken but I was laid up 6 weeks. I kid you not!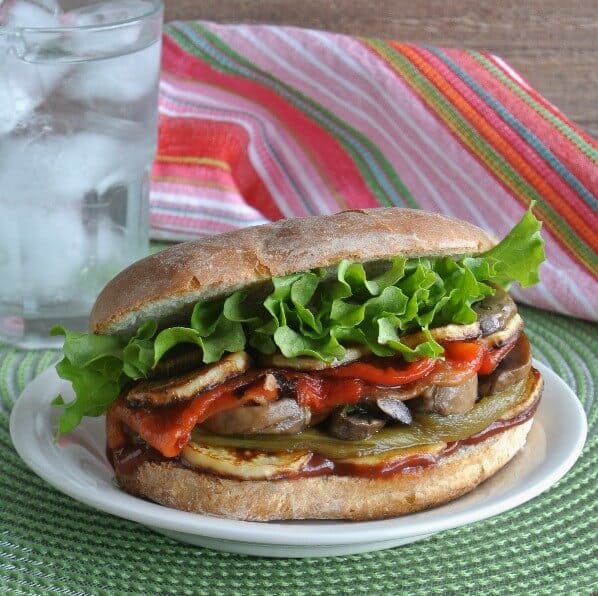 This post contains affiliate links. Read my disclosure policy here.
Evidently, when Ed was pursing his lips and nodding yes back before Christmas he must have liked the whole idea of making our own bread too.
I don't even think it was two days after my fall before he had the breadmaker out and started a basic loaf.
That was over five months ago and I haven't made any bread yet. Haven't bought any either. Ed makes all of our bread. What a good idea I had.
So, to make a long story short, hahaha! … To continue, I wanted a different kind of roll for this vegetable sandwich that I was thinking of.
Something that would look good in a photo for the blog. We were at Costco and I mentioned it to Ed and he said, 'I'll make you some!'. Great!
The Most Luscious Roasted Vegetable Sandwich You'll Ever Want.
That is how these perfect rolls were created. Now, you can just buy some nice roll and I am sure this sandwich will be just as wonderful for you too. But still, I can't wait to give him another assignment.
For this luscious Roasted Vegetable Sandwich, there are two kinds of roasted peppers, fried sweet potatoes, sautéd mushrooms and more.
This wonderful Italian style sandwich is finished off with a drizzling of vinaigrette. Pile it high!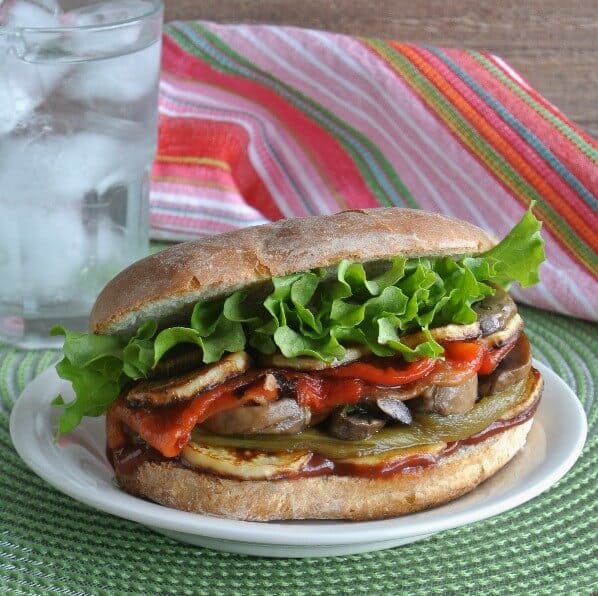 Print
Roasted Vegetable Sandwich
Roasted Vegetable Sandwich has two kinds of roasted peppers, fried sweet potatoes, sautéd mushrooms and more.
Ingredients
2

green chili peppers

3

tablespoon

coconut oil, divided into three for sautéing

1

white onion, sliced

1

sweet potato

16

ounce

button mushrooms

1/2

cup

Italian dressing or a mix of oil and vinegar with Italian spices

4

big sandwich rolls

Any lettuce that you like for the sandwiches
Instructions
First - roast your pepper. All can be done at the same time. The red and green peppers.

Heat the broiler.

With tongs place the bell pepper on the top shelf turning often to get all sides blackened.

It is a good idea to put a baking sheet on the rack below the peppers because when you go to turn them with your tongs juices can drip out.

When the peppers are black, take them out of the over.

Let cool and then rub off the blackened skin with a damp paper towel or peel with a paring knife if you are having trouble. Just grab an edge of the skin with the knife and peel off.

Cut out the stem end and take out all of the pepper seeds. Set aside.

While the peppers are roasting. Heat 1 tablespoon coconut oil in a skillet to medium heat.

Add the onions and saute until the onions are translucent. About 10-15 minutes.

You can also do the mushrooms at the same time. In fact, You can do all of this at the same time but you will dirty more pans. Do it all at once or do it back to back, overlapping a little.

In a skillet heat 1 Tablespoon oil to medium high heat.

Add the sliced sweet potatoes, brown on one side and then flip and brown on the other.

Remove from heat and set aside.

In the skillet add 1 Tablespoon oil and heat to medium high heat.

Add the sliced mushrooms and saute for about 20 minutes. drain the liquid and then set aside.

There you have all your prepared vegetables.

Cut the rolls down the center and spread apart. Drizzle 1/8 cup of Italian dressing on each side of the rolls.

Add any other condiment that you might like such as mustard or ketchup.

Divide all the vegetable in layers between the four rolls.

Add a lettuce layer of your favorite lettuce.

Put the top on and take a big bite!
Nutrition
Nutrition Facts
Roasted Vegetable Sandwich
Amount Per Serving (1 Sandwich)
Calories 362
Calories from Fat 171
% Daily Value*
Fat 19g29%
Sodium 567mg24%
Potassium 709mg20%
Carbohydrates 41g14%
Protein 8g16%
Vitamin A 6475IU130%
Vitamin C 81.2mg98%
Calcium 67mg7%
Iron 2.3mg13%
* Percent Daily Values are based on a 2000 calorie diet.
Other Vegetable Sandwiches That You Really Should Make and I Think You'll Like them a Lot!
This Cauliflower Po Boy Sandwich is one of those sandwiches that will surprise the heck out of you. It is amazingly delicious!
There are nine other sandwiches I want to show you and none of them are vegetable burgers. But I'll restrain myself and just go for one more.
This one os the Loaded Chickpea Salad Sandwich. It's become a classic!