Out of all of the different foods out there, there's no debating the fact that bacon ranks way up there on the list of foods with a fan club. Whether you have recently changed up your diet to avoid meat products, or are simply looking for a fresh take on a plant based way to satisfy that undying bacon craving of yours, finding a quality vegan bacon substitute might be a top concern of yours!
There are some complex vegan bacon recipes out there, but truthfully, you can come up with a suitable vegan bacon substitute by simply implementing a few minor tweaks to some products you might even already have in your kitchen.
So, get ready to welcome pasta carbonara, bacon burgers, loaded baked potatoes, and bacon wrapped dates into your life with open arms, because by the time we're done with you, you're bound to have a new favorite vegan bacon or two!
Bacon Basics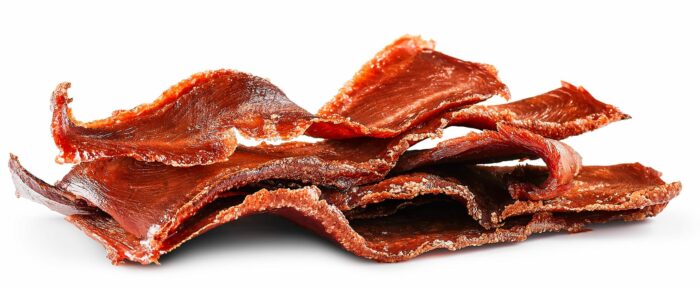 Bacon is one food item which needs little explanation. Most folks are well aware that it is a cured and smoked pork belly product! However, in the case of making vegan substitutions for bacon, focusing on the key characteristics of bacon is more important than what it's made of.
A few qualities of bacon to consider when selecting a vegan substitute are:
Smokiness: perhaps the most important characteristic of bacon is that crave-worthy smoke flavor and aroma! Thankfully, there are other ways to go about achieving a smoky taste that have nothing to do with meat products.
Saltiness: as we know, a salty flavor is a key association with real bacon as well, as due to the curing process, bacon is inherently sodium-laden.
Fat Content: bacon has a super high fat content which gives it a general richness and also is responsible for its ability to achieve a crispy texture when cooked.
Umami: the combination of salty, smoky, and fatty results in a particular umami--or savory--flavor which is what most folks refer to as "bacon flavor".
Texture: depending on how it is cooked, real bacon can either be supremely crispy, chewy, or melt-in-your-mouth tender. This juxtaposition of textures is a unique characteristic of bacon and certainly one to consider when making a substitution.
13 Best Vegan Bacon Substitutes
There are many different paths you can take towards a suitable bacon replacement, whether your aim is to try to mimic all of the characteristics of real bacon as closely as possible, or you simply want to hit just a few of the right notes, one of the following options is sure to hit the right spot your taste buds are looking for.
Our top 13 picks for replacing bacon in all of your favorite dishes are
Store Bought Vegan Bacon Products
Tempeh
Tofu
Carrot Bacon
Potato Skins
Mushrooms
Seitan
Rice Paper Bacon
Coconut Bacon
Smoked Vegan Cheese
Chickpeas
Breadcrumbs
Smoked Seasonings
The instructions given for each of these substitute options are loose, meaning you are free to adapt them to however they best suit your preferences or a particular recipe you have at hand! When using store bought products, always double check the ingredients label any included seasonings before you go spicing things up too much.
1. Store Bought Vegan Bacon Products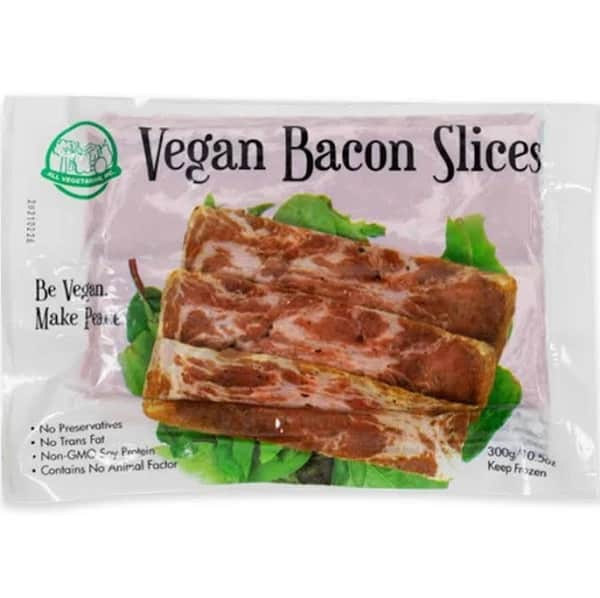 Fondly referred to as "facon" (fake bacon!), store bought vegan bacon products are often made from grains like wheat and soy as well as vegetable ingredients such as corn and peas. Once combined, these mixtures are flavored and processed in a way that results in products that mimic the taste and texture of actual bacon with amazing likeness! You can opt for many different flavors of vegan bacon products as well as vegan bacon bits for all of your salad topping and baked potato stuffing needs.
If you are seeking a bacon substitute because pork specifically is not a part of your diet, turkey bacon is of course a viable option for you. For plant based eaters, go ahead and check the vegan section of your local grocery store to find a suitable stand in. Take a careful look at the ingredients label though, as some of the most popular choices are vegetarian bacon options as opposed to vegan.
How to Substitute
Easy--just swap out the pork and swap in the vegan bacon! You can use as much or as little as you like, depending on the flavor profile of the particular facon you've selected. Just keep in mind that although it is meat-free, these products still tend to be highly processed and therefore using them in moderation is advisable.
2. Tempeh
Made from fermented soybeans, tempeh is already a popular choice when it comes to meat replacement options. It is hearty, savory, and satisfying as well as packs 5 grams of protein per ounce! For these reasons, as well as the fact that it takes on a crispy, chewy texture when cooked, this stuff makes for one of the best vegan bacon alternatives out there.
Tempeh has a strong, nutty flavor and many tempeh products already have some seasonings mixed in, so be sure to consider the starting taste of your tempeh before dressing it up to make tempeh bacon.
How to Substitute
You'll need:
Tempeh
Coconut oil, or another neutral oil
Soy sauce
Smoked paprika
Slice your block of tempeh into thin strips, or crumble it into chunks if you'd like an effect more like bacon bits. Fry the tempeh strips or pieces in a skillet with a few spoonfuls of oil until they are golden brown, then sprinkle with soy sauce and smoked paprika to taste. Allow the seasonings to sink into the tempeh, then remove from the heat and use wherever bacon strips or crumbles are called for!
3. Tofu
When it comes to mimicking that characteristic crispy yet chewy texture that bacon is so well-known for, tofu is a great option! This one takes a few more components than some of the other vegan bacon substitutes on our list, but if you ask us, the result is well worth a couple of extra steps.
Be sure to use extra firm tofu here, well-drained of any excess liquid, and dried very well using a clean kitchen towel. The more water that is off of the surface of the tofu, the crispier your tofu bacon will become! Tofu bacon is ideal for use where whole bacon strips are desired, as part of a breakfast spread or stacked on a big ol' sandwich!
How to Substitute
You'll need:
Extra firm tofu
Soy sauce
Raw sugar, or coconut sugar
Liquid smoke
Neutral oil
Slice the tofu into thin strips of your desired length then marinate them in a mixture of soy sauce, raw sugar, and liquid smoke. After about 30 minutes, you can fry the tofu bacon in a hot, oiled skillet. Just a few minutes per side will do! The tofu bacon will continue to get crispier as it cools down.
4. Carrot Bacon
It might sound a little kooky, but carrots have the surprising ability to cook up in a way that mimics actual bacon in terms of both appearance and texture. With a few other ingredients to impart some bacon-like flavor, this is easily one of the best vegan recipes for a bacon alternative. Pair the finished product with a few thick slices of tomato, some fresh green lettuce, and a slather of your favorite vegan mayo on bread for an amazing plant based BLT!
Part of the key to this carrot bacon recipe is in the way you slice the carrots, as this has the most impact on the final texture of your bacon. You can go ahead and use your favorite vegetable peeler for this, just try your best to achieve carrot ribbons of uniform thickness and width so that they all cook evenly. If you're full stocked on kitchen gadgets and have your own mandolin, feel free to use that as well! (Carefully, of course.)
How to Substitute
You'll need:
Carrots, sliced into thin, wide ribbons
Olive oil
Maple syrup
Soy sauce
Smoked paprika
Toss your carrot ribbons in a mixture of olive oil, maple syrup, soy sauce, and smoked paprika and allow them to marinate for about 15 minutes. Place the carrot ribbons flat on a parchment paper lined baking sheet and roast in a 400℉ oven, flipping the pieces as needed so that they cook evenly. As they cool, season your sliced with a bit of extra salt if you like!
5. Potato Skins
With just a bit of work, potato skins make an excellent vegan substitute for bacon! First off, they are naturally thin, therefore they do well to mimic the "thin & crispy" effect that bacon has. Potato peels also readily soak up a bit of oil and it goes without saying that they take to frying extremely well, becoming perfectly crunchy after a quick dip in some hot oil.
We also love this option for the fact that it reduces food waste! Seeing as potato peels are often discarded when making dishes like potato soup or mashed potatoes, turning them into a crispy treat like potato skin bacon is a real win-win! Potato skin bacon is wonderful when used in place of whole bacon strips, or when crumbled and used as a topping.
How to Substitute
You'll need:
Long strips of potato peel, ideally from Idaho or russet potatoes
Neutral oil
Smoky seasonings, such as smoked paprika or smoked salts
Dry the peels thoroughly on paper towels or a clean kitchen oil, then drop them into a skillet of hot vegetable oil for a few minutes until they turn crispy and golden. Drain the fried potato skins on clean paper towels and season with whatever smoky seasoning you have on hand--smoked paprika will always do the trick, or try hickory smoked seasoning blends!
6. Mushrooms
It's no secret that mushrooms are one of the first foods that come to mind when talking umami, therefore it only makes perfect sense that they should have a place in the list of best vegan bacon substitutes! In addition to their naturally savory flavor, they also have a spongy texture which soaks up any flavoring ingredients you add and results in a crispy on the outside, chewy on the inside experience when cooked.
Not all mushrooms will work here though. Your best bets are shiitake mushrooms, Portobello mushrooms, or king oyster mushrooms as each of these possess a hardy structure which holds up nicely during the cooking process. Depending on the size of your mushrooms, the pieces may be suitable to use in place of whole bacon slices--such as on sandwiches--while smaller pieces of mushroom bacon are great for stirring into other dishes or using as a topping.
How to Substitute
You'll need:
Cleaned mushrooms, stems removed
Olive oil
Smoked paprika
Salt
Slice the mushrooms into strips of your desired size and toss them with a hearty drizzle of olive oil, smoked paprika, and salt. Roast them on a baking sheet (be sure they are in a single layer with plenty of room!) in a 350℉ oven until they are golden brown and crisp around the edges. Your mushroom bacon will get even crispier as it cools!
7. Seitan
Made of wheat gluten, seitan is actually a meat replacement option that is made from dough as opposed to soy like many other options. It may have a bit of a funny, spongy look to it but these characteristics are exactly what make seitan a good candidate for a plant based bacon substitute. This stuff readily soaks up flavor and has a very satisfying chewy texture.
You can use either store-bought seitan or go ahead and make your own homemade version using your favorite recipe. Needless to say, this option is not gluten free so be sure to make a different choice if you are avoiding wheat or wheat products!
How to Substitute
You'll need:
Seitan, thinly or thickly sliced
Soy sauce
Sesame oil
Liquid smoke
Agave nectar
Neutral oil, for the skillet
Seitan is a bit easier to work when sliced thickly as opposed to thin strips, but feel free to go with whatever you like! Marinate your seitan slices in a mixture of soy sauce, sesame oil, liquid smoke, and agave for at least 15 minutes, then fry the pieces in a hot oiled skillet for a few minutes per side until crispy and delicious!
8. Rice Paper Bacon
Thin? Check. Crispy? Check. Salty, savory, delicious? Check, check, check! Rice paper vegan bacon is one bacon substitute that hits all of the right notes--but it still remains undiscovered by some folks. Made from rice starch that is mixed, rolled, and dried, rice paper is a pantry staple, most often recognized as the wrapping that holds Vietnamese spring rolls together.
The mellow flavor of rice paper means it has an easy time soaking up all of the flavor from a perfectly smoky-sweet marinade, and the paper thin (literally!) nature of this stuff sets it up for success in the crispy texture department.
How to Substitute
You'll need:
Rice paper sheets
Soy sauce
Maple syrup
Olive oil
Smoked paprika
Garlic powder
Slice the rice paper sheets into strips of your desired size: we recommend 1 inch wide and about 4 inches long for ease of handling. In a shallow bowl, make a tasty mixture of soy sauce, maple syrup, olive oil, smoked paprika, and garlic powder. Stack 2 rice paper strips together and, as a pair, dunk them briefly in plain water and then into the marinade. Place all of the marinated rice paper strips on a parchment paper lined baking sheet and bake at 400℉ until crispy, about 7-8 minutes.
9. Coconut Bacon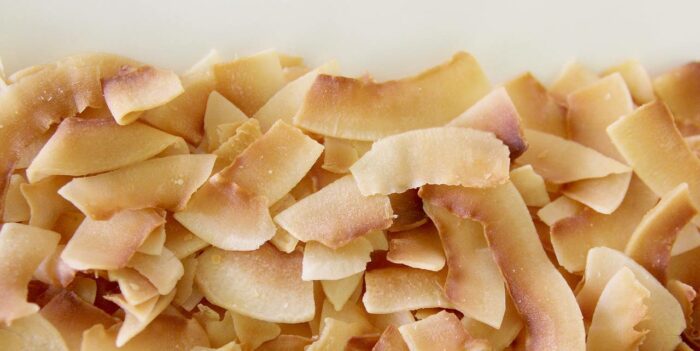 When toasted, coconut flakes take on an appearance so similar to bacon, you might have even the meat eaters in your life doing a double take! They're thin and inherently crunchy, meaning it's just up to you to fatten them up with a good dose of cooking oil and bacon-ify their flavor profile.
Be sure to use unsweetened coconut flakes for this, not shredded coconut, as the flakes are larger and crunchier--key factors to successful coconut bacon! These bacon-y coconut flakes are perfect for topping soups, salads, pastas, or even vegan ice cream!
How to Substitute
You'll need:
Unsweetened coconut flakes
Olive oil
Liquid smoke
Soy sauce
Toss the unsweetened coconut flakes with olive oil, liquid smoke (just a small spoonful will be plenty!) and soy sauce. Spread them in a thin layer on a parchment paper lined baking sheet and roast at 350℉, stirring occasionally during cooking. The coconut flakes should be sizzling and golden brown after 10 minutes.
10. Smoked Vegan Cheese
Non-dairy cheese makes a surprisingly great alternative to bacon, so long as it has some element of smoke flavoring. Popular varieties of smoked dairy cheeses are provolone and gouda, and we are pleased that most stores seem to offer plant based versions of these choices as well. There are a few smoked "mozzarella-style" products out there but generally, we recommend avoiding those here as their texture and moisture content will introduce some other differences into your recipe.
Of course, if you eat dairy and have simply landed on our page (welcome!) in search of meat free bacon substitutes, then feel free to use a non vegan smoked cheese.
How to Substitute
How to implement your smoked cheese product in place of bacon in your recipe will vary from recipe to recipe. For sandwiches that call for bacon, you can go ahead and just omit the bacon and swap in a slice (or two!) of smoked plant based cheese instead. This also works well for vegan burgers!
If your recipe calls for bacon of a crumbled nature, break out the cheese grater and give the recipe a shower of smoky cheese over the top--such as in pastas or casseroles. Or, you can always cube it in cases where chunks of bacon would normally be, such as atop a salad or mixed into a pile of breakfast potatoes.
11. Chickpeas
Chickpeas obviously aren't going to pass for a bacon strip any time soon, but they can play the role of bacon bits or add bacon-y flavor to a recipe!
Their inherently savory, nutty flavor makes them the perfect starting point for the addition of the smoky, salty flavors you want in a bacon substitute. Plus, they crisp up quickly and easily in the oven and make for a wonderful salad topping, pasta dish ingredient, and taste great when stirred into a pile of sautéed leafy greens. No need to have a recipe in mind before whipping up a batch of these smoky chickpeas though, they make a great snack all on their own–any time the crunchy, salty craving strikes you.
How to Substitute
You'll need:
Canned chickpeas, drained and rinsed
Olive oil
Smoked paprika, BBQ seasoning mix, or liquid smoke
Salt
Toss the chickpeas with plenty of olive oil, salt, and whatever smoky seasonings you prefer. A dash of liquid smoke works well here but feel free to stick with the smoked seasoning blends if you like! Spread the chickpeas in a single layer on a baking sheet and roast in a very hot oven until they are golden brown. Your chickpea bacon bits will continue to develop their crunch as they cool!
12. Bread Crumbs
Bread crumbs, as a satisfactory vegan bacon alternative? Yes, you heard us! The fact is, bread has that perfect texture for soaking up plenty of fat--becoming delightfully crispy in the process!
While this option won't do the job in cases where you are looking to replicate the concept of bacon slices or large pieces, it is an ideal way to produce some convincing vegan bacon bits. Use this method for sprinkling on salads, topping baked potatoes, adding crunch to casseroles, or any other situation where you need a shower of crunchy, smoky bites!
How to Substitute
You'll need:
Bread crumbs, or bread to make your own
Olive oil or plant based butter
Seasonings: smoked paprika, salt, garlic powder, and/or nutritional yeast
Toast bread crumbs (we recommend panko style or hand-torn, rough breadcrumbs here) in a sauté pan of olive oil or your favorite plant based butter until they become crispy and browned. Season them with smoked paprika--key for imparting that smoky bacon flavor!--salt, and other savory seasonings of choice such as garlic powder or nutritional yeast. Use these smoky, oil-rich bread crumbs in any case where bacon bits would fit.
13. Smoked Seasonings
So far we've discussed using smoked seasonings in conjunction with other ingredients to create a vegan bacon substitute, but in situations where flavor is more important than texture, a simple seasoning can be used on its own to replace bacon in a recipe. Some examples of this may be dishes like baked beans, where bacon is often added at the beginning so as to perfume the entire pot with a smoky aroma, as well as stews, chilis, and casseroles. In these cases, you can often entirely omit the meat and sub in a few spoonfuls of seasoning mix instead.
There are a ton of smoked seasonings out there to choose from. In addition to the aforementioned choice of smoked paprika, you'll find that many BBQ seasonings and grill seasonings often contain smoked flavors which would work nicely here as well. Or, keep your eyes peeled for smoked salts. There are even hickory and Applewood smoked salt mixes available from some online retailers and specialty shops!
How to Substitute
How to substitute bacon with a dry seasoning will depend entirely on the particular spice mix you have. For smoked salts, you most likely want to use less than any BBQ or grill mixes, so as to avoid over salting the overall dish. The best advice we can give you here is to simply add a small sprinkle of your smoky seasoning to your recipe, then taste and adjust as needed!
Best Vegan Bacon Substitutes: The Takeaway
Whether you are seeking a plant based bacon alternative as a result of following a vegan diet or simply seeking to live a healthier lifestyle, there are a slew of options at your disposal.
If you're looking for bacon alternatives that are most convincing, reach for some of the store bought options or try your hand at seitan bacon, tofu bacon, carrot bacon, or coconut bacon! If your focus is mainly on achieving a bacon-like flavor in your dish, some simple seasonings might do the trick or you could whip up a batch of vegan bacon bits using chickpeas, bread crumbs, or crumbled seitan.
We hope that one of these options serves to fill the role of bacon in all of your favorite dishes, and satisfy even the toughest of your bacon cravings. As you can see, it's perfectly possible to get that salty, smoky, savory flavor in your life--without eating meat!