Vegan Mushroom Pecan Burgers Have a hearty and chewy texture that really adds a lot to a great veggie patty. All kinds of goodies inside for protein and flavor.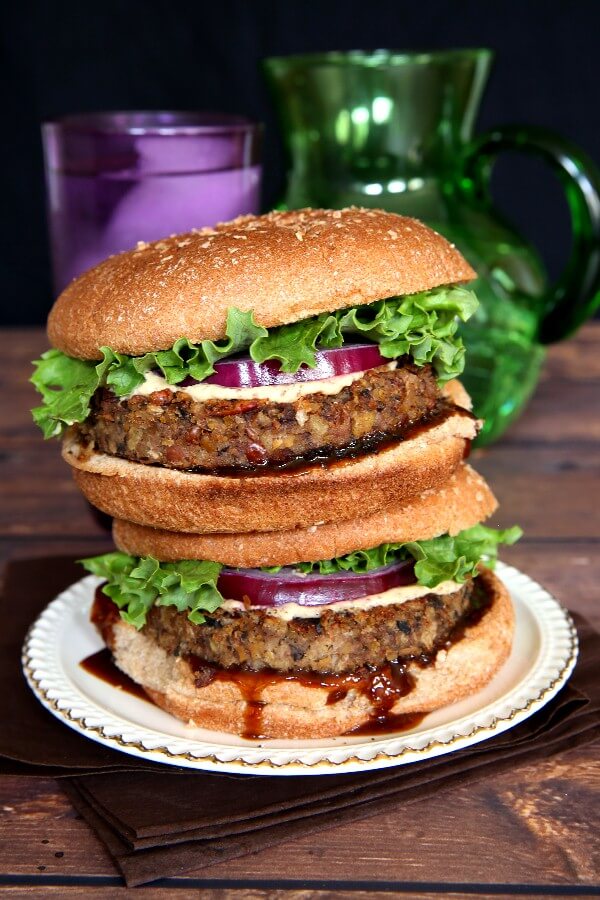 I've seen lots of mushroom walnut burgers but some people just don't like walnuts. They have a very distinct earthy taste that bothers some people.
Now as for me I've never had a nut that I didn't like. But hey! Why not change it up and make a mushroom pecan burger.
The combination of the two tastes goes so nice together. And why not switch out the lentils for chickpeas? There again - less earthy in flavor.
You need a binder for the burger and mashed chickpeas sound perfect.
Once in a while, I need aquafaba and it doesn't always coincide with me needing chickpeas. Because of that, I freeze the chickpeas for another time. This time is perfect.
🔪 Veggie burgers that don't fall apart
That's a major question around these here parts. It's a tough one and none will really stay together like the meat versions except ones that have vital wheat gluten added inside. Then you are almost making 'meat' anyway. I will absolutely get that recipe on very very soon.
Some do stay together more than others though so here are some hints.
Add sticky and starchy ingredients. Things like potatoes, beans, tomato paste, lentils and even a little bit of nut butter. They are all sticky and help a lot.
Dry ingredients that get sticky when mixed with moisture such as breadcrumbs, oats, cooked quinoa and cooked rice.
An egg replacer can act as a binder. My favorite is chia seed meal. It gels up almost instantly.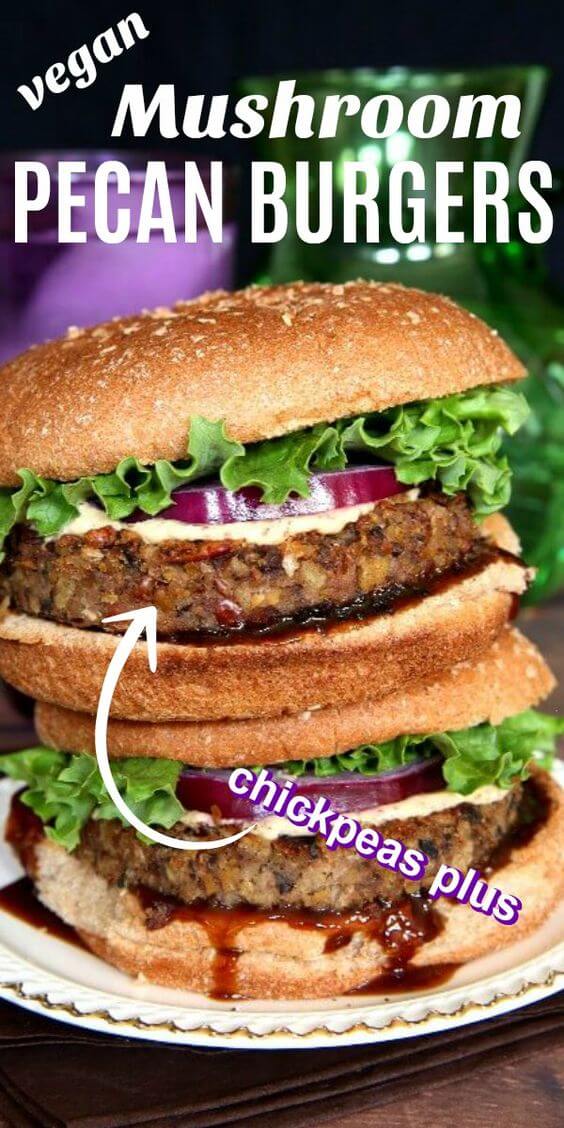 💭 Chefs tips
It's tricky when adding vegetables such as mushrooms and carrots. They have a lot of moisture. That's one reason I like to sauté the mushroom and onion first. It gets out a lot of the moisture besides adding amazing flavor.
Don't get your mix too wet. It truly does need to stick together. Not mushy but sticky enough so that it doesn't fall apart as you're pressing it into a patty.
Have everything well mixed and then form into a patty, firmly, that is as even as you can.
When cooking, gently place into hot oil and fry until crispy. Do not push down with the spatula. That will separate the ingredients.
When flipping the burger do so gently. You can even hold a fork or knife under the edge that's getting flipped over as you lay it down more lightly into the pan.
🍔 More great vegan burgers
Besides these Vegan Mushroom Pecan Burgers, there are so many great burger recipes on this blog. Sliders and other sandwiches too!
Below is a photo of a great Black Bean Burgers recipe. Click on it and check the recipe.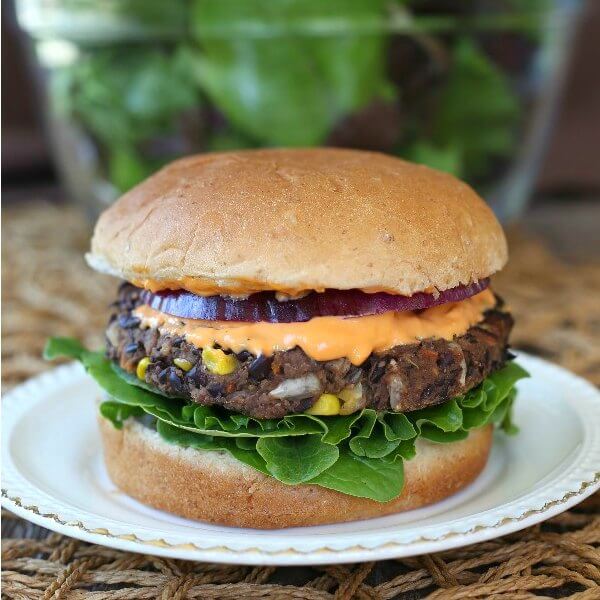 And one more that is an oldie but a goodie that uses Lentils. It's a but spicy too. Check out Spicy Green Lentil Burgers!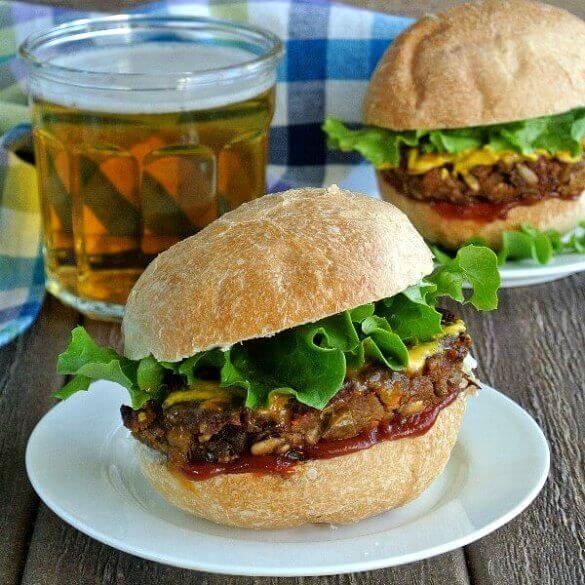 Looking pretty good, eh? Now let's get back to our vegan mushroom burger that has such a good bite.
💭 Pin for later
PIN IT to your lunch, dinner or sandwich board to save for later!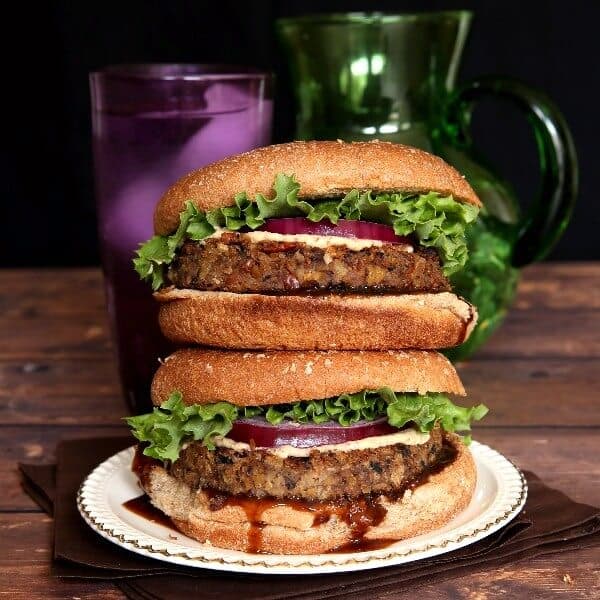 If you take a photo of your loaded vegan mushroom burger I would love to see it. Follow me over on Instagram and tag me on your photo @vegan_in_the_freezer.
📋 Recipe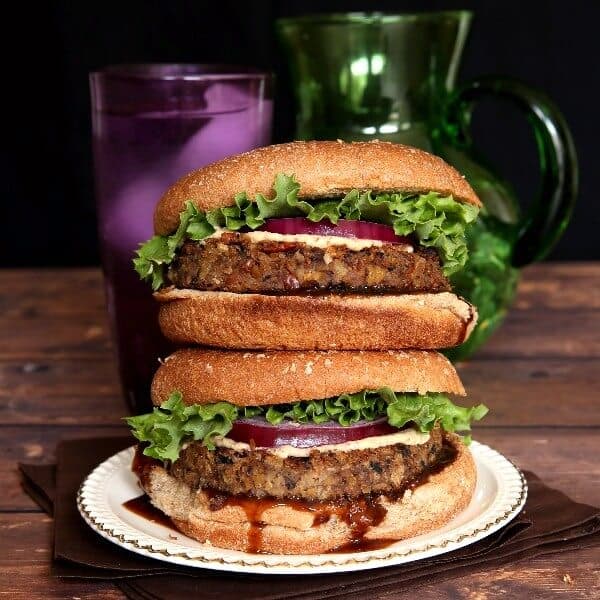 Vegan Mushroom Pecan Burgers
Vegan Mushroom Pecan Burgers Have a hearty and chewy texture that really adds a lot to a great veggie patty.
Ingredients
8

ounces

portobello mushrooms - I used sliced

¼

cup

red onion, diced

2

cloves

garlic, minced or chopped fine

1

cup

pecans, diced small

1 ½

cup

instant oats or rolled oats ground small

2

tablespoons

hoisin sauce

1

tablespoon

tahini or almond butter
Instructions
Add 2 tablespoons of water to a large skillet. Raise to medium high and add the sliced portobello mushrooms. Sauté for 5 minutes.

Add the onion and sauté for another 5 minutes. Add the garlic and cook 2 more minutes.

Remove from heat and add to a food processor. Also add the chickpeas, pecans. Add the oats if they are rolled and not instant.

Process with a few pulses to have all of the ingredients in small pieces. No chunks.


Add to a large mixing bowl and add the hoisin sauce, and tahini. If you are using instant oats add that now too.

Mix well together. You can even use your hands and work it very well together.

Form into six patties. You can also press them into a round form such as an English Muffin tin round or a pancake ring. One that is about 3" across.

Fry in oil on one side until crispy browned and then carefully flip and brown on the other side. Ready for serving!
Notes
I served these delicious patties on whole wheat buns with hoisin sauce on the bottom bun and vegan mayo on the patty. Then curly green lettuce and a slice of red onion.
Nutrition
Serving:
1
Serving
Calories:
285
kcal
Carbohydrates:
30
g
Protein:
9
g
Fat:
18
g
Saturated Fat:
1
g
Sodium:
350
mg
Potassium:
592
mg
Fiber:
8
g
Sugar:
3
g
Vitamin A:
25
IU
Vitamin C:
5.4
mg
Calcium:
69
mg
Iron:
3.6
mg