Tofu Scramble- Filling and flavorful, this tofu scramble is the ultimate breakfast. Tofu, baby Bella mushrooms, and white onions sauteed in a delicious combination of herbs and spices with nutritional yeast to add an extra cheesy flavor. Serve with fruit, toast, or potatoes for a hearty and satisfying meal.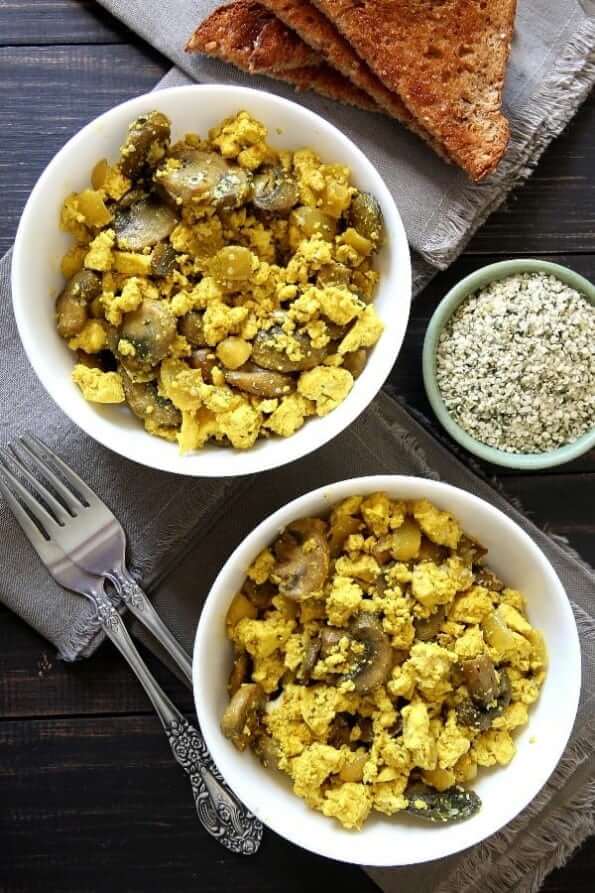 What's the best way to start your day? Some people say it's important to have a nutritious breakfast, but others prefer to just grab something on the go. Nowadays, there are so many different options for breakfast that it can be hard to decide what to eat. Why not try a breakfast scramble if you're looking for a quick and easy option? They are simple to make, nutritious, and can be eaten on the go!
This tofu scramble is a delicious and easy vegan breakfast packed with protein and nutrients. Tofu scramble is perfect for those mornings when you're looking for something hearty and filling but don't want to spend much time in the kitchen. You can easily customize this recipe to fit your taste preferences, and it's a great way to use up any vegetables you have on hand. Whether you're serving it for breakfast, lunch, or dinner, this tofu scramble will surely be a hit!
Jump to:
Why You'll Love This Vegan Scramble Recipe
Full of Flavor- The combination of mushrooms, onions, and spices in this tofu scramble recipe creates an incredibly satisfying and flavorful dish.
Customizable- Mix and match vegetables, herbs, and spices to make this tofu scramble fit anyone's taste!
Easy to Make- This tasty breakfast is ready in under 30 minutes, making it a perfect hearty start to the day.
Simple Ingredients- You can easily find all the ingredients in this recipe at your local supermarket.
Great to Make Ahead- Tofu scramble can be stored in the refrigerator for up to 4 days. It's great for meal prepping. You'll always have a morning meal available when you need it.
Reheats Well- Tofu scramble can be reheated in the microwave or stovetop. It's just as delicious the second time around!
Equipment Needed To Make Tofu Scramble
Large Skillet
Spoon for Stirring
Knife
Spatula
Measuring Cups and Spoons
Ingredients For Tofu Scramble
Extra Firm Tofu
Mushrooms
White Onion
Nutritional Yeast
Turmeric
Black Salt
Garlic Powder
Ground Black Pepper
Water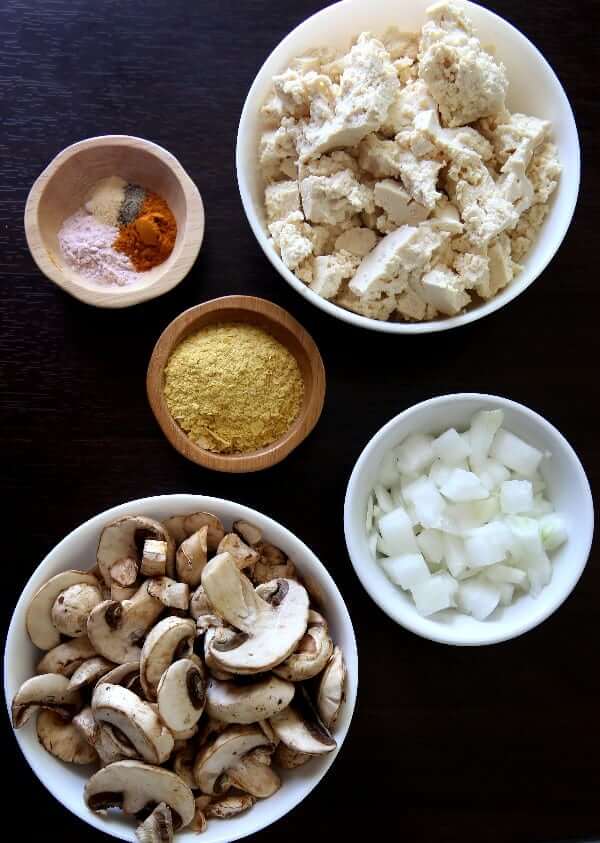 How To Make This Delicious Tofu Scramble
Before making this tofu scramble, you will need to press the tofu for at least 15 minutes to release any extra liquid. Once the excess liquid has been pressed out, break the tofu into small chunks and set it aside.
In a large skillet, combine the water and mushrooms, and sautée for about 5 minutes over medium heat. Add onions, then sautée until soft and transparent. Once the onions are clear, move the vegetables to one side of the pan and add the tofu chunks and the seasonings.
Mix the seasonings and vegetables with the broken-up tofu, forming scrambled egg-like consistency. When everything is coated and cooked, you're ready to eat.
What to Serve/Pair With This Tofu Scramble
There are endless possibilities when it comes to serving tofu scramble. Here are a few ideas to get you started:
Serve it with a side of toast for a classic breakfast meal.
Top it with avocado, salsa, hot sauce, and/or vegan cheese for an ultimate scramble.
Stuff it into a tortilla or pita pocket for an easy on-the-go meal.
Pair it with roasted potatoes and vegetables for a hearty brunch.
Serve it alongside a bowl of fresh fruit for a light and refreshing meal.
No matter how you decide to serve it, this tofu scramble is sure to be a hit!
Popular Substitutions & Additions
As with most recipes, there are always going to be substitutions and additions that you can make. Here are some popular ones for this perfect tofu scramble recipe:
Herbs- Feel free to add in any of your favorite herbs! Rosemary, thyme, and basil all go great with this dish.
Vegetables- You can add about any vegetable to this scramble! Green bell peppers, diced tomatoes, and spinach are all great options.
Cheese- If you're looking for an extra cheesy flavor, you can top off your tofu scramble with some vegan cheese shreds.
Protein- For an extra protein boost, you can add some cooked chickpeas or beans.
How To Reheat & Store Tofu Scramble
What Is The Best Way To Store Vegan Tofu Scramble?
This tofu scramble is best when stored in an airtight container in the refrigerator.
How Long Will Vegan Tofu Scrambles Last In The Fridge?
Vegan tofu scramble will last in the fridge for up to 3 days when stored in an airtight container.
Can I Freeze This Tofu Scramble?
Yes, you can freeze this recipe! Place the tofu scramble in a freezer-safe container and store it in the freezer for up to 2 months. When you're ready to eat it, thaw it overnight in the fridge before reheating.
How To Reheat Easy Vegan Scramble?
There are a few different ways that you can reheat this tofu scramble.
The first option is to reheat it in the microwave. Place the desired amount of tofu scramble in a microwave-safe dish and heat it for 1-2 minutes or until heated.
Another option is to reheat it on the stovetop. Add the tofu scramble to a skillet over medium heat and cook until warm. You may need to add a splash of water or oil to help prevent it from sticking to the pan.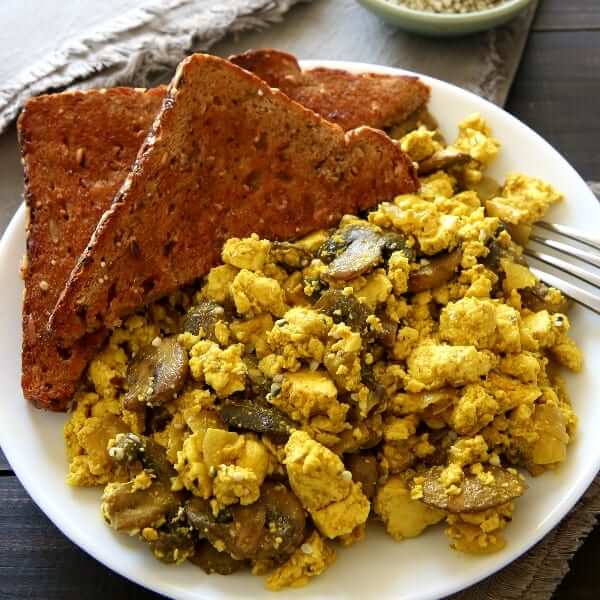 Best Vegan Tofu Scramble FAQs
I don't like nutritional yeast. Can I leave it out?
Yes, you can leave out the nutritional yeast if you don't like it. The scramble will still be tasty, just not as cheesy. Alternatively, you can add your favorite shredded vegan cheese.
Is this tofu scramble spicy?
No, this tofu scramble is not spicy. If you're looking for a bit of heat, you can always add some red pepper flakes or your favorite hot sauce.
What type of tofu should I use for this scramble recipe?
I recommend using extra-firm tofu for this recipe. However, if you can't find extra firm tofu, you can use firm. Just remember that it may not hold together as well and will be more crumbly.
Is there a way to know when the tofu is done cooking?
Yes. The tofu is cooked when it is firm to the touch and turning golden in color. You don't want to overcook the tofu, or it will become dry and crumbly.
Do I have to press the tofu?
No. Pressing the tofu is not necessary, but I do recommend it. Pressing the tofu helps remove excess water so that it can better absorb the flavors of the dish. If you don't have a tofu press, you can wrap the tofu in a clean dish towel and place something heavy on top, such as a cast-iron skillet and let it sit for at least 15 minutes.
Can I Make This Tofu Scramble Ahead Of Time?
Yes, you can make this tofu scramble ahead of time! Just store it in an airtight container in the fridge and reheat it when you're ready to eat.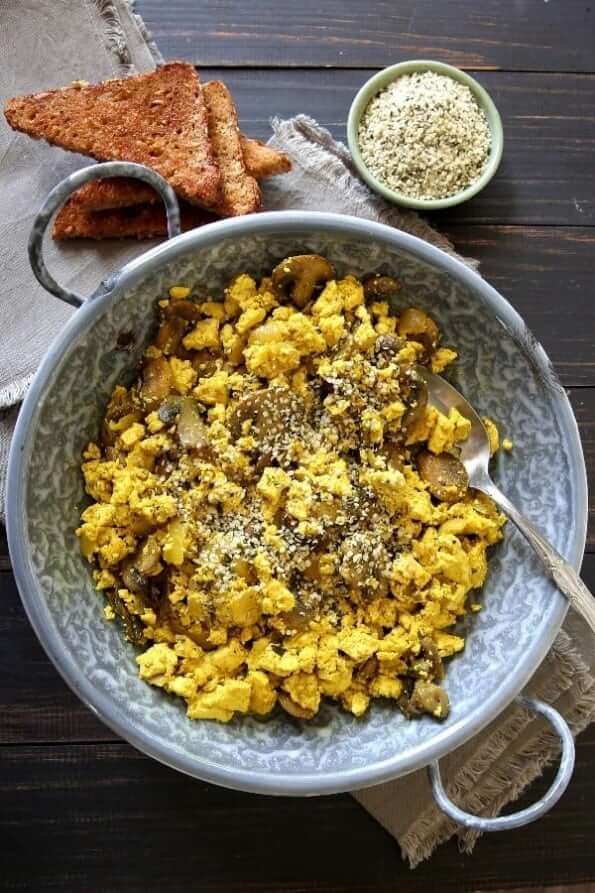 Don't Forget To Come Back And Let Me Know How Your Easy Tofu Scramble Turned Out!
📋 Recipe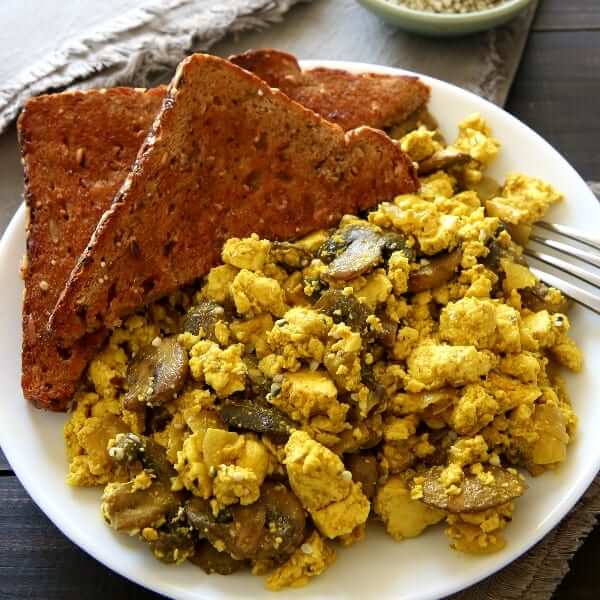 Best Tofu Scramble Recipe
Making Tofu Scramble is an easy breakfast home run.
Ingredients
14

ounces

tofu, extra firm

8

ounces

mushrooms, baby bella, sliced

½

cup

onion, white

¼

cup

nutrition yeast

¾

teaspoon

turmeric

¾

teaspoon

black salt (Kala Namak) or regular salt

½

teaspoon

garlic powder

⅛

teaspoon

ground black pepper
Instructions
Press the tofu for at least 15 minutes to release all of the extra liquid. Break up into small chunks and set aside.

Add about 2 tablespoons water to a large skillet and heat to medium-high.

Add the mushrooms and begin to sauté for about 5 minutes and then add the diced onion. Sauté for 10 minutes.

Push to the side of the pan and add the tofu and all of the seasonings.

Start to sauté some more and mix well making sure all of the tofu is well covered with the turmeric and nutritional yeast. Break up the tofu, as needed with the edge of the spatula but leave small chunks.

When mixing is completed and everything is hot you are ready to serve.
Notes
If you need to set it aside a bit the tofu scramble will reheat in a microwave. Make sure it is in a large microwave-proof bowl.
Nutrition
Serving:
8
Ounces
Calories:
88
kcal
Carbohydrates:
8
g
Protein:
10
g
Fat:
2
g
Saturated Fat:
1
g
Sodium:
505
mg
Potassium:
453
mg
Fiber:
2
g
Sugar:
3
g
Vitamin C:
1
mg
Calcium:
35
mg
Iron:
2
mg