Vegan hot dogs have long been our favorite solution to the "what type of entrée should I bring to the neighborhood barbecue?" dilemma. For many folks, summertime means you'll be attending (or hosting!) at least one such cookout. For plant based eaters, these events can present quite a quandary as far as what to eat while others are grilling up their burger patties and regular footlongs. Thankfully, a pack of tasty vegan hot dogs offers a quick and easy remedy!
You may be surprised at just how many vegan hot dog brands there are out there to choose from, though. Some have been around since the early days of the vegan movement while others are newcomers to the scene. So, we're taking it upon ourselves to get all of these vegan dogs in the same place, giving each a thorough taste test and evaluation. Stick with us for everything you need to know to keep enjoying your favorite plant based hot dogs all summer long!
What is a Vegan Hot Dog?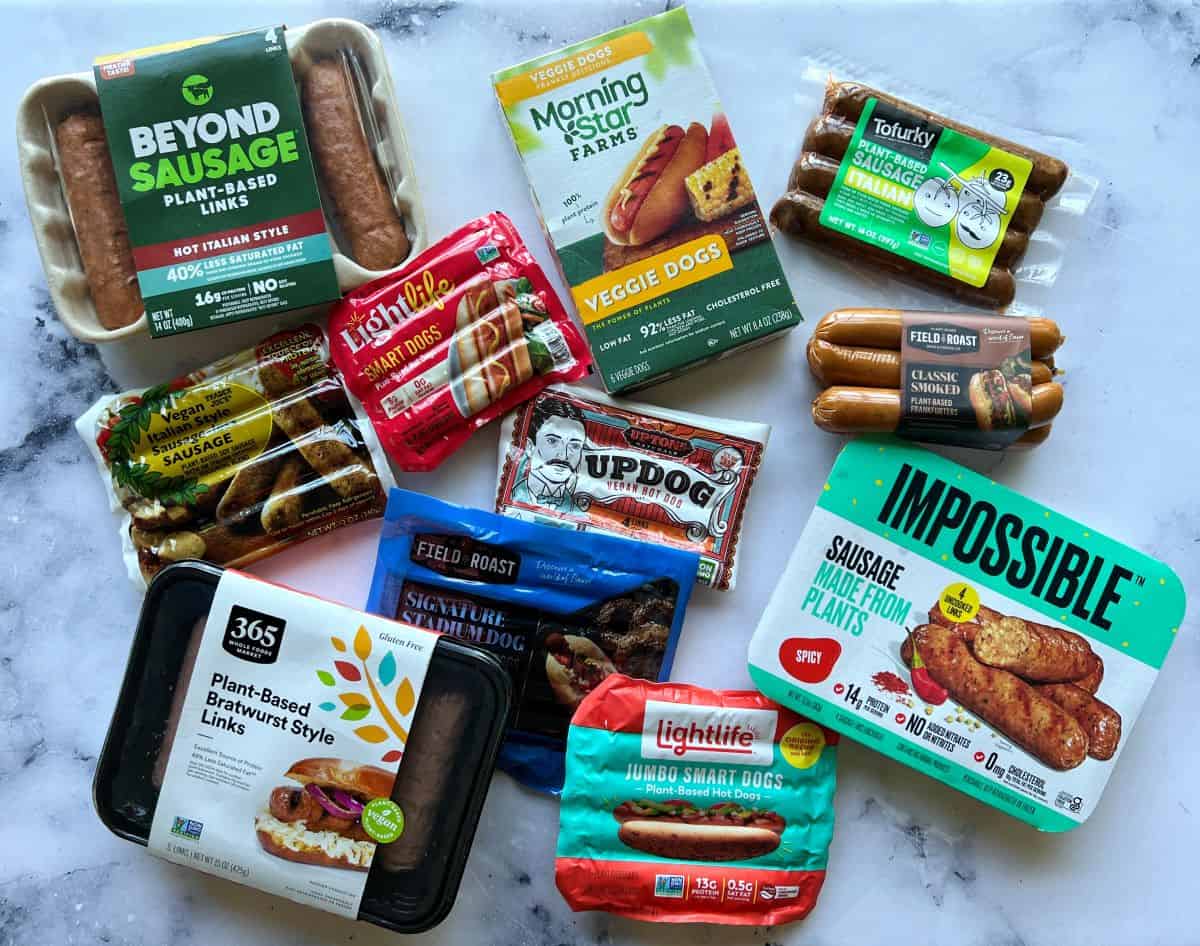 Vegan hot dogs were created with the intention of giving the same experience of regular hot dogs--without the use of animal products of course. Just because you eat plant based doesn't mean you don't enjoy the idea of a savory sausage sandwich (hit us with your best is-a-hot-dog-a-sandwich debate points in the comments!) piled high with toppings and condiments.
We encountered a few different plant based hot dog options out there on today's market, from classic frankfurter style vegan dogs to heartier sausage style links.
What Are Vegan Hot Dogs Made From?
As opposed to a real hot dog, which is made from any number of animal proteins that are blended and seasoned, vegan hot dogs are made from entirely plant based ingredients.
Vegan links are often made from tofu, seitan, or vital wheat gluten in order to produce a texture more like classic hot dogs. Others may be made with legumes, grains, or other plant proteins like brown rice protein and faba bean protein.
The mixture is then blended with seasonings before being transferred into plant based casings, often made from glycerin or alginate.
Ranking the Best Vegan Hot Dogs
The Test Subjects
Our vegan hot dog search turned up the following 11 brands and varieties of plant based frankfurters and vegan sausages:
365 Whole Foods Market Plant-Based Bratwurst Style Links
Beyond Meat Hot Italian Sausages
Field Roast Classic Smoked Plant Based Frankfurters
Field Roast Signature Stadium Dog
Impossible Foods 'Made From Plants' Spicy Links
Lightlife Smart Dogs
Lightlife Jumbo Smart Dogs
MorningStar Farms Veggie Dogs
Tofurkey Plant Based Italian Sausage
Trader Joe's Vegan Italian Style Sausage-Less Sausage
Upton's Naturals 'Updog' Vegan Hot Dog
The Methodology
We grouped our vegan hot dogs according to common characteristics, establishing 6 distinct categories of review from each of which, a winner would be chosen:
Best Classic Vegan Hot Dog
Best Jumbo Vegan Hot Dog
Best Smoky Vegan Hot Dog
Best High Protein Vegan Hot Dog
Best Gluten Free Vegan Hot Dog
Best Snappy Vegan Hot Dog
The Taste Test
Our tasting panel put their expert taste buds to the test, comparing the flavor, texture, and overall experience of each vegan hot dog.
Each hot dog was cooked according to package-specific directions and served hot on a toasted, split top bun. We tasted the dogs plain as well as with common condiments like ketchup and mustard so as to evaluate how well each variety of links would pair with these likely accompaniments.
The Criteria
During the taste testing and overall evaluations, every vegan hot dog was giving a score in each of the following 5 criteria:
Taste & Texture: considering the flavor and consistency of each vegan sausage in comparison to one another as well as in light of classic "hot dog like" characteristics such as coarseness of the fillings to the "snap" of the casing.
Nutrition Content: taking into account the calorie, fat, sodium, and protein content of each vegan link as well as vitamin and mineral content. We also take a look at the overall quality of ingredients used.
Unique Characteristics: this may be a special flavor, noteworthy ingredient, unique presentation, or any other factor that sets one vegan hot dog apart from the competition.
Value: since some vegan hot dogs are significantly larger than others, we are considering both the price-per-ounce as well as the price-per-link of each vegan hot dog here for a more well rounded price comparison.
Production & Packaging: evaluating how each vegan frankfurter is produced, how readily available it is, if there are any notable manufacturing processes at play, and any positive or negative notes on packaging.
We used all of the 5 criteria scores to calculate an overall average score for each plant based hot dog variety. The highest scoring dogs in each of the aforementioned 6 categories were dubbed our winners!
Best Classic Vegan Hot Dogs: MorningStar Farms Veggie Dogs
Weight: 8.4-Ounce Package
# of Links per Package: 6
Here is how MorningStar Farms Veggie Dogs scored in each of our criteria categories:
Taste & Texture: 4.4 / 5.0
Nutrition Content: 4.6 / 5.0
Unique Characteristics: 4.5 / 4.0
Value: 4.8 / 5.0
Production & Packaging: 4.2 / 5.0
Overall Score: 4.5 / 5.0
Enjoying a hot dog smothered with all of the condiments and toppings can be thought of as quite a classic experience--but not so easy to pull it off using entirely plant based ingredients! MorningStar Farms manages to do just that though, with their classic Veggie Dog.
We found ourselves surprised by just how "hot doggy"--yes, a real adjective we are employing for the purposes of this product review--these veggie hot dogs are. They somehow managed to nail the sweet yet savory and mildly spiced nature of a regular hot dog, and the texture is shockingly close to that of real meat hot dogs as well.
These vegan dogs have a base of wheat gluten, giving them that perfect chew, which is mixed with pea protein, cellulose, and a number of thickeners and stabilizers. The mixture is seasoned with brown sugar garlic powder, and paprika and--here's where the "veggie" part finally comes in--is colored with a number of vegetable concentrates from the likes of carrots, tomatoes, and radishes.
These vegan hot dogs feature the lowest calorie count per link with just 60 apiece and also have very low fat, just half a gram per link with 0 saturated fats. These hot dogs come in fully recyclable packaging from the outer cardboard box to the interior plastic pouch, and after looking over their website, we were happy to see that MorningStar Farms goes the extra mile by actively investing in renewable energy.
Though these veggie dogs are actually the cheapest per link--just $0.92 each!--they are actually one of the most expensive when you look at the per ounce calculation. That's because these dogs are pretty tiny! And for how expensive they are, you think they would be a bit more carefully packaged. Where most of the other dogs and sausages we tested are vacuum sealed, these veggie dogs are loosely floating around inside a plastic pouch inside a cardboard box. As a result, we found some freezer burn on some of our links.
It's also important to note that while all of the other vegan dogs we tested were fresh (but safe to freeze) MorningStar Farms is the only variety that needs to be kept frozen right up until you're ready to throw these dogs on the grill.
And a final note, these veggie dogs are far from the most nutritious links we tested. While it's true they are low in calories and fat, they honestly don't offer that much else. With the lowest dose of protein of all the hot dogs we tried--just 9 grams per serving--and a measly micronutrient content of just 2% your DV of iron, there's not a lot else going on either.
Pros:
On the nose in terms of classic hot dog texture and flavor!
Vital wheat gluten base mixed with thickeners, spices, and real vegetable concentrates.
Low in calories, just 60 per link.
Low in fats, just .5 grams total fat and 0 saturated fats per link.
Comes in fully recyclable packaging.
MorningStar Farms invests in renewable energy projects.
Cons:
Most expensive per ounce.
Hot dog links are very small.
Packaging is not sufficient to protect from freezer burn.
Not very nutrient dense--these veggie dogs are low in protein and vitamins/minerals.
Best Jumbo Vegan Hot Dogs: Lightlife Jumbo Smart Dogs
Weight: 13.5-Ounce Package
# of Links per Package: 5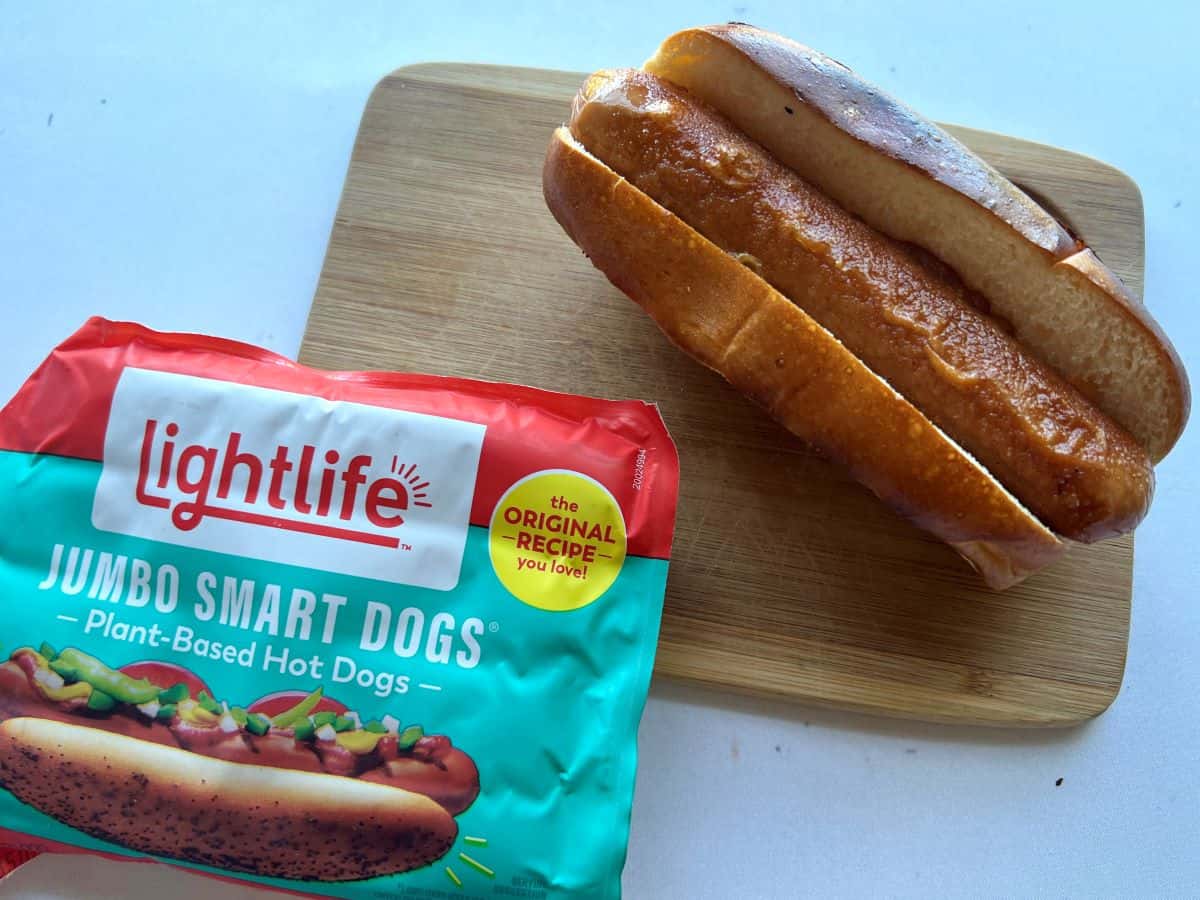 Here is how Lightlife Jumbo Smart Dogs scored in each of our criteria categories:
Taste & Texture: 4.8 / 5.0
Nutrition Content: 4.6 / 5.0
Unique Characteristics: 4.7 / 5.0
Value: 5.0 / 5.0
Production & Packaging: 5.0 / 5.0
Overall Score: 4.8 / 5.0
What's better than a classic hot dog? A jumbo classic hot dog of course! These Jumbo Smart Dogs from the plant based geniuses at Lightlife are just the right size to truly satisfy, and with a company history like theirs, you can bet they know what they're up to.
Lightlife got its start way back in 1979 when they created the first tempeh product that was mainstream enough for grocery store and supermarket shelves. Since then, they have launched a number of other vegan products and are proud of the fact that their Smart Dogs are the best selling vegan hot dogs across the US!
Made from a mix of soy protein and pea protein, these hot dogs have the most hot dog-like shape and appearance of all dogs we tested. Seriously, you would think one of these was just any ol' frank based on first glance. Our tasting panel found these links to cook up just a wee bit on the drier side but still, extremely convincing in terms of taste and texture.
These vegan dogs are non-GMO project verified and each 1-link serving provides 15% your DV of potassium and 10% your DV of iron. Also, Lightlife is completely carbon neutral! This means that they take steps to reduce their total greenhouse gas emissions, and for whatever emissions they do produce, they invest in an equal or greater amount of carbon offset efforts.
Unfortunately, these plant based links are very high in sodium. Each jumbo sized dog has 620 milligrams per serving which represents 27% your DV. We also weren't huge fans of how the skin of these franks cooked up. We found the skin became oddly puffy and bubbled while not doing very well at taking on color during cooking.
And one final note, these vegan dogs do contain carrageenan--a seaweed derived additive that due to controversy over health impacts, some folks opt to avoid.
Pros:
Jumbo version of Lightlife's best selling original Smart Dogs!
Appearance is just like that of a regular hot dog.
Taste and texture are spot on hot dog-like.
Non-GMO project verified.
Great source of potassium and iron.
Lightlife is a carbon neutral company.
Cons:
Very high in sodium.
Skin gets puffy, odd looking, and not all that golden brown as it cooks.
Contains carrageenan.
Best Smoky Vegan Hot Dogs: Field Roast Classic Smoked Plant Based Frankfurters
Weight: 16-Ounce Package
# of Links per Package: 6
Here is how Field Roast Classic Smoked Plant Based Frankfurters scored in each of our criteria categories:
Taste & Texture: 4.6 / 5.0
Nutrition Content: 4.5 / 5.0
Unique Characteristics: 5.0 / 5.0
Value: 4.6 / 5.0
Production & Packaging: 4.6 / 5.0
Overall Score: 4.7 / 5.0
Field Roast Meat and Cheese Co. is putting out tons of tasty plant based products, from sausages and deli slices to frozen buffalo "wings" and plant based cheeses. When we came across their Classic Smoked Frankfurters we had an inkling they might make the top cut, and we were right!
We love the minimally processed nature of these dogs, especially in light of the fact that hot dogs--vegan or otherwise--are typically some of the most highly processed foods out there. The ingredients list features all easy to understand, recognizable ingredients like: vital wheat gluten, expeller pressed oils, tomato paste, apple cider vinegar, onions, garlic, celery seed, and paprika for coloring.
These GMO free hot dogs are packaged in an attractive little bundle of sausage links which gives off super classic hot dog vibes and, they are certified carbon neutral as well! When it comes to cooking these smoky little sausages, we really enjoyed the excellent aroma they give off and they have a lovely texture and appearance.
We were a little worried they might have a tendency to fall apart once the outer plastic film is peeled back (more on that in a moment) but to our delight, they kept intact and the casing of each vegan dog actually sears quite nicely. These vegan dogs are high in fiber and low in carbs, coming in with 6 grams of dietary fiber (21% your DV!) and just 1 net carb per serving, making them a keto-friendly pick. Also, they provide 20 grams of protein per link!
Now for that plastic film we mentioned. Though this inedible casing does nicely hold the shape of the sausages and make for a fun packaging option, having to remove the film from each dog before cooking was definitely a bit of a pain.
Also we found the ends of the sausages to be less than completely tied off, which led to some messy juice leakage in the refrigerator. At least it's not raw meat drippings! But still a mess, nonetheless.
Pros:
Ingredients list is composed of easy to understand, whole food ingredients.
Packaged in a fun little bundle of linked frankfurters.
Have a super rich, smoky taste and aroma.
Certified carbon neutral.
Dogs hold their shape well and sear nicely.
High in fiber, low in carbs = keto-friendly!
20 grams of protein per serving.
Cons:
A plastic film coats each hot dog link, requiring extra work to remove it before cooking.
Packaging is tied off with metal clips that do not completely seal the ends, leading to some mess during storage.
Best High Protein Vegan Hot Dogs: Tofurkey Plant Based Italian Sausage
Weight: 14-Ounce Package
# of Links per Package: 4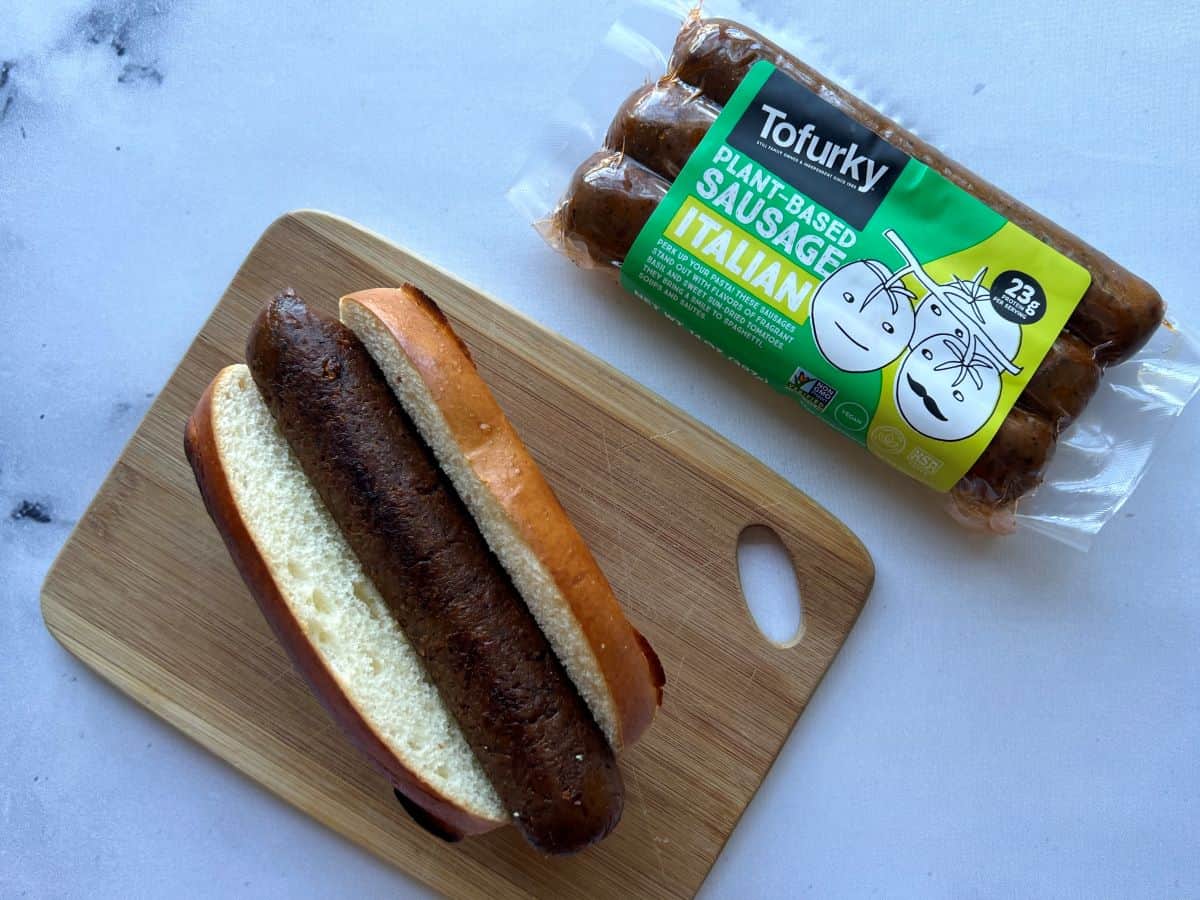 Here is how Tofurkey Plant Based Italian Sausage scored in each of our criteria categories:
Taste & Texture: 5.0 / 5.0
Nutrition Content: 4.2 / 5.0
Unique Characteristics: 4.8 / 5.0
Value: 5.0 / 5.0
Production & Packaging: 4.7 / 5.0
Overall Score: 4.7 / 5.0
Getting enough protein can be especially difficult for non meat eaters, making it extra important that meat alternatives like vegan hot dogs are as protein packed as possible. While not exactly "hot dogs" per se, these Plant Based Italian Style Sausages from Tofurkey make the cut for the fact that they are loaded with 24 grams of complete protein per link--the highest of all hot dogs and vegan sausages we evaluated.
Aside from being chock full of muscle-building goodness, these links also scored the highest for flavor according to our tasting panel. Made from a vital wheat gluten and tofu blend and then seasoned with real sun dried tomatoes and sweet basil, these sausages are sweet, savory, herbaceous, and just the right amount of spicy.
We love that these dogs are among the heftiest we tested, with each sausage weighing 3.5 ounces. This means that no matter if you're eating it on a bun with the toppings piled high or using it to whip up a big batch of Vegan Sausage Ragu with Orecchiette Pasta, you'll be left feeling satiated. Plus, each link provides 15% your DV of both iron and potassium!
As far as the company itself, we love Tofurkey's funky vibe and the fact that they've been family owned and operated since they started up in 1980. They're also a certified B Corp, meaning they make extra efforts to be an environmental and socially minded force for good.
It's important to note that during cooking, these sausages seem to become quite dry on the exterior, so you'll definitely want to brush them with oil and watch out when grilling or skillet cooking on high heat as they have a tendency for burning.
Also not only are these dogs the highest in calories of all we tested, with 260 per link, but they are also quite high in total fats and net carbs as well. And, food allergy sufferers take note, these sausages contain both soy and wheat ingredients, giving them a double whammy as far as allergen warnings go.
Pros:
Super high in protein--24 grams per link!
Tasting panel favorite in terms of taste.
Unique vital wheat gluten + tofu blend is perfectly seasoned with sun dried tomatoes, basil, and spices.
Largest in size and filling!
Excellent source of iron and potassium.
Tofurkey is family owned/operated and a certified B Corp!
Cons:
Links are very dry on the outside--cook with oil and look out for burning.
Highest calorie dogs of all we tested.
High in fats.
High in net carbs.
Best Gluten Free Vegan Hot Dogs: Impossible Sausage 'Made From Plants' Spicy Links
Weight: 13.5-Ounce Package
# of Links per Package: 4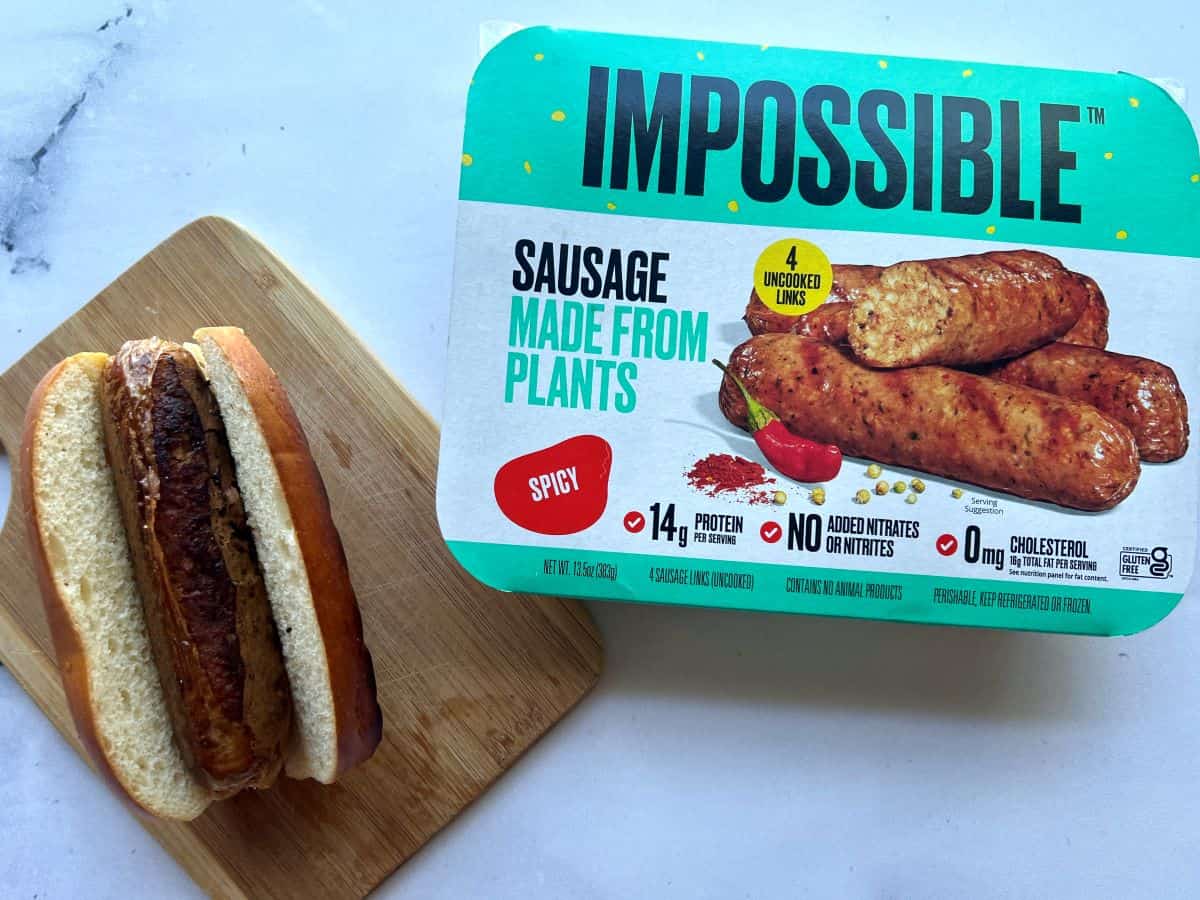 Here is how Impossible Sausage 'Made From Plants' Spicy Links scored in each of our criteria categories:
Taste & Texture: 4.8 / 5.0
Nutrition Content: 4.0 / 5.0
Unique Characteristics: 5.0 / 5.0
Value: 4.2 / 5.0
Production & Packaging: 4.8 / 5.0
Gluten free vegan hot dogs can be a little harder to come by, due to the fact that many of these plant based meat alternatives rely on wheat products for texture and chew. If you look though, there are a few options out there and our favorite comes in the form of the Spicy Plant Based Sausages from Impossible Foods.
These links are made from a base of soy protein which is seasoned with a mouth watering mix of spices like paprika, black pepper, chili pepper, coriander, red pepper, garlic powder, and onion powder. The mixture is all wrapped up in a very thin casing, which we found to sear and crisp really well. Although it is fairly fragile and did tear during cooking, the filling held together just fine.
The super umami flavor of these dogs is by far the most "meat like" of all of the vegan links we tested, and our tasting panel loved the aroma and moderate spice level these sausages bring to the table. Each and every sausage link provides a micronutrient benefit worthy of a multivitamin: 110% your DV of vitamin B12, 40% DV of niacin, 35% DV of zinc, 30% DV of folate, 20% DV of vitamin B6, and smaller quantities of iron, calcium, riboflavin, and potassium. And, most importantly here, these dogs are certified gluten free!
One thing to be aware of when working with these vegan sausages is that they are very soft prior to cooking. You want to be sure not to place anything on top of them in the refrigerator--they will get smooshed--and don't grab them too tightly with a pair of tongs. Due to this fragility and the paper-thin casing we mentioned earlier, we can imagine these sausages might be tough to grill, but we did not try this cooking method for ourselves yet.
They are also rather expensive, with each link costing $2.00, and they are very high in fat. Each link has 16 grams total fat–the highest of all dogs we tested, and 7 of those grams come in the form of saturated fat. That's 35% of your DV!
Pros:
Made from soy protein--no vital wheat gluten or flour here!
Seasoned with an exciting mix of spices, peppers, and herbs.
Flavor is deeply savory and the most like regular sausage of all we tasted.
Each link is an excellent source of several vitamins and minerals.
Certified gluten free!
Cons:
Sausages are very soft before cooking and the casing is thin, so handle with care.
Highest price point of all we tested, costing 2 bucks per link!
Very high in total fats and saturated fat.
Best "Snappy" Vegan Hot Dogs: Upton's Naturals 'Updog' Vegan Hot Dog
Weight: 10-Ounce Package
# of Links per Package: 4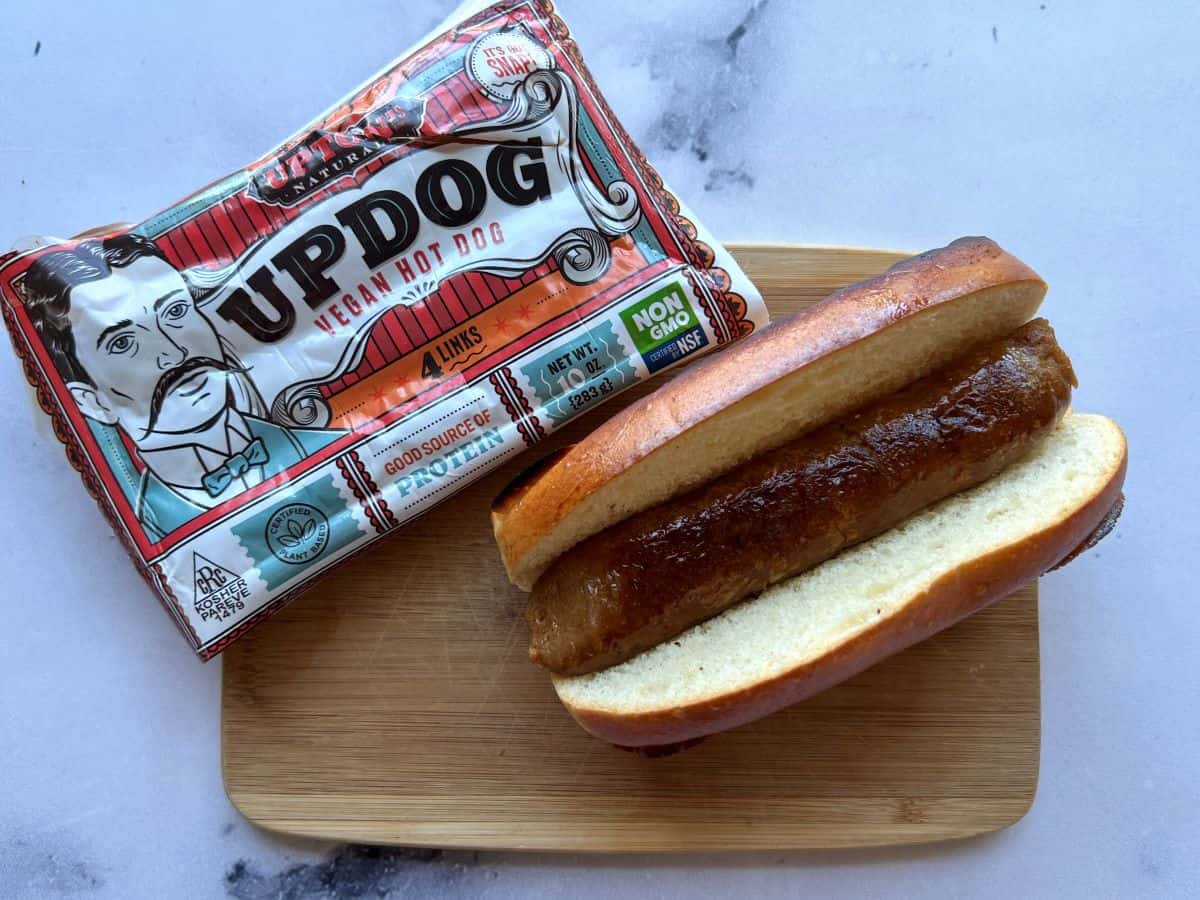 Here is how Upton's Naturals 'Updog' Vegan Hot Dog scored in each of our criteria categories:
Taste & Texture: 4.5 / 5.0
Nutrition Content: 4.4 / 5.0
Unique Characteristics: 4.5 / 5.0
Value: 4.6 / 5.0
Production & Packaging: 4.5 / 5.0
Overall Score: 4.5 / 5.0
Ask a person what makes a hot dog a hot dog and you're likely to get a range of answers. For some folks it may be the flavor, for others, the appearance. If, for you, it's all about the snap, you'll definitely want to reach for the Updog' Vegan Hot Dog from Upton's Naturals.
Their signature, satisfying snap comes courtesy of an algae-based casing. At first glance, it doesn't seem to be much but once your Updog is cooked and cut or bitten into, it offers an excellent bite and crisp coating. The ingredients list is fairly simple, with nothing too complicated or overly processed. It all starts with a base of vital wheat gluten and wheat flour which is seasoned with cider vinegar, paprika, onion, garlic, ground mustard, celery seed, and real hickory smoke. The result is a sweet yet savory, slight smoky vegan dog that is perfect for piling the toppings on or for eating by itself.
These dogs are best cooked on the grill or stovetop as boiling or microwaving could take away from the "snappy" texture of the casing. These dogs are certified GMO free and have just half a gram of saturated fat per serving. Each link also provides 20 grams of plant powered protein and 10% your DV of both potassium and iron!
On the downside, these vegan dogs were harder to find and don't seem to be available in all grocery stores. We did finally find a pack at our local Whole Foods Market though, but other than that lucky find, we struck out! (Round of applause for the baseball metaphor in the hot dog article please.)
Also, we can't say these links are all that "hot doggy" in flavor or texture, they're a bit too sweet and soft to really hit the right note, although our tasting panel did find them to be tasty, just in their own lane. And, holy sodium content, each modestly sized Updog contains a whopping 710 milligrams per serving--over 30% your DV!
Pros:
Features a unique algae based casing, making for a snappy hot dog experience.
Ingredients list is simple and minimally processed.
Overall flavor is sweet, savory, and pleasantly smoky.
Certified GMO free.
20 grams of protein per serving.
Good source of potassium and iron.
Cons:
Not as widely available as other vegan hot dog brands.
Features a more unique flavor profile, not completely hot dog-like.
Very high in sodium.
Best Vegan Hot Dog FAQs
Are Vegan Hot Dogs Healthier Than Regular Hot Dogs?
Typically, yes, vegan hot dogs are better for you than meat-based frankfurters. Plant based links are generally lower in fats, cholesterol, and calories than regular hot dogs while also being higher in fiber and micronutrients.
The answer to the question "are vegan hot dogs healthy?", on the other hand, looks a bit different. Vegan hot dogs are still a highly processed food, therefore are best eaten in moderation and balanced with plenty of fresh, minimally processed foods.
What Should You Serve with Vegan Hot Dogs?
Here's a few of our favorite recipes that will nicely complement that platter of perfectly cooked vegan hot dogs!
Make a Chicago style dog! Put your favorite vegan hot dog on a poppy seed bun, then top it with plenty of yellow mustard, diced onions, pickled peppers, and a pickle wedge.
Chilled salads like our Vegan Macaroni Salad and Vegan Watermelon Salad are perfect additions to the cookout table.
Whip up a batch of our vegan coleslaw dressing and drizzle it over a pile of shredded cabbage for a quick and crunchy side.
Beans and franks are a classic combo! Take it for a modern twist by pairing your favorite vegan hot dog with our Old Fashioned Baked Beans.
Nothing quite completes a hot dog experience like a side of crunchy fries. Try our Air Fryer Sweet Potato Fries for a healthier yet equally tasty alternative!
How Do You Cook Vegan Hot Dogs?
When it comes to cooking your vegan links, there are many different methods to choose from! Most brands we evaluated offer instructions for grilling, boiling, and pan frying their hot dogs. Other methods include steaming and air frying.
Due to the range of ingredients used to produce different brands of vegan dogs, some hold up better to certain cooking methods as opposed to others. We did our best to make note of these tendencies during our product test and review, but sometimes, trial and error is the name of the game!
Are Plant Based Hot Dogs Vegetarian?
Yes! All plant based hot dogs can be considered vegetarian hot dogs. However, keep a close eye on the ingredients label as not all plant based hot dogs are vegan.
Some plant based sausages may include ingredients like egg whites, cheeses, or refined sugars--which, while still suitable for vegetarians, render these types of dogs unsuitable for a vegan diet.
Are Hot Dog Buns Vegan?
Not always! Unfortunately, many hot dog buns include ingredients like milk, eggs, or butter and may be sweetened with non-vegan sweeteners like honey or refined sugars.
Make sure you double check the ingredients list on that pack of hot dog buns before buying!
Final Thoughts on the Best Vegan Hot Dog Brands
Whether you have been sticking to a plant based diet for many years or you are an omnivore looking to mix some alternatives into your diet, the world of plant based sausages is surely worth exploring! From frankfurters worthy of their own vegan hot dog cart to sausage links that are as protein packed as possible, there are a ton of different vegan dogs and sausages to choose from.
On top of the 11 brands and varieties we tested and reviewed, there are even more vegan hot dogs out there to try which may not be available in all areas. Drop us a line and let us know your favorite if we omitted it from our review!
Looking for some other ways to get your long sandwich fix sans the sausage? Try our hearty Vegan Philly Cheesesteak, or a sizzling Vegan Banh Mi Sandwich with Spicy Tofu.